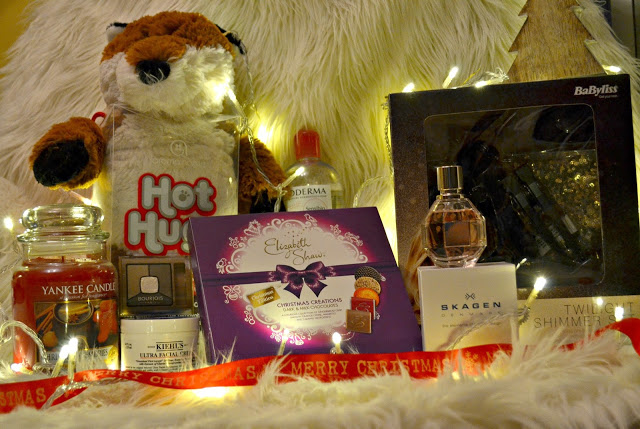 If like me, you still haven't finished your Christmas shopping and have run out of inspiration, look no further!
Whether it be your Wide, Girlfriend, Sister or Mother, the lady in your life isn't always easy to buy a gift for, just ask my husband, so I've put together a selection of gifts that I think would make great gifts for a lady in your life. There's something to suit most budgets and a good range of different ideas.
Babyliss Twilight shimmer set £19.99
I don't think you can ever go wrong with beauty products for a woman. The Babyliss shimmer set is a lovely gift suitable for teenagers upwards. The set contains a compact light weight hair dryer, a concentrator nozzle, 2 sectioning clips and a sparkly gold bag which is an ideal size for storing make up on a night out. At just £19.99 at Lloyd's Pharmacy it's a great buy for any hair care enthusiasts!
Aroma Home Cozy Hotties £8.99
At 31 I think I'm a little too old for teddy bear cuddling but, if it's a Cozy Hottie then it feels much more acceptable. You can heat it in the microwave to help ward off those Winter chills.
Christmas Memories Yankee Candle £22.99
I absolutely adore candles. I love how amazing the smell makes my home. I don't think I know any ladies who don't love them. They make great gifts and with all the beautiful festive scents around, they make a great Christmas gift,
Kiehl's Ultra Facial Cream £43.50
I always think skincare goodies make great presents. It's nice to be treat to something luxurious and I think the Kiehl's Ultra Facial Cream is a great treat to receive. The light weight cream sinks into your skin in seconds and completely hydrates and moisturises in seconds without leaving any residue.
Elizabeth Shaw Christmas Creations £5
Find me a woman who doesn't enjoy receiving chocolate in their Christmas stocking! There's nothing better than a good selection of chocolate and this one from Elizabeth Shaw is fab. It contains four different types of chocolates :- dark gingerbread crisp, milk Amaretto Neapolitan, smooth orange cream and dark caramel Neapolitan. The flavours are rather festive and go down a treat with a hot Bailey's coffee.
Bioderma Sensibio H2O £10
Another skincare product I'd love to receive myself this year. I love this stuff and use it every night, it's the only thing that removes every last bit of make up from my skin.
Bourjois Smoky Stories eyeshadow quad £7.99
Sometimes buying make up can be a scary task. Despite the fact I wear make up every day my husband still struggles to grasp what an acceptable colour is. I don't think you can go wrong with a neutral pallet like the Bourjois eye shadow quad.
Viktor and Rolf Flowerbomb perfume £69
One of my favourite perfumes. I absolutely love the smell. It lasts all day and is really feminine and sexy. Remember if you buy from Boots you can also collect your Advantage points to treat yourself!
Skagen watch prices around £120
I love Skagen watches. Their faces always look so clear and simple. I have one with a brown leather strap and it looks so expensive, much more so than the £115 is cost.
Were any of these suggestions helpful?