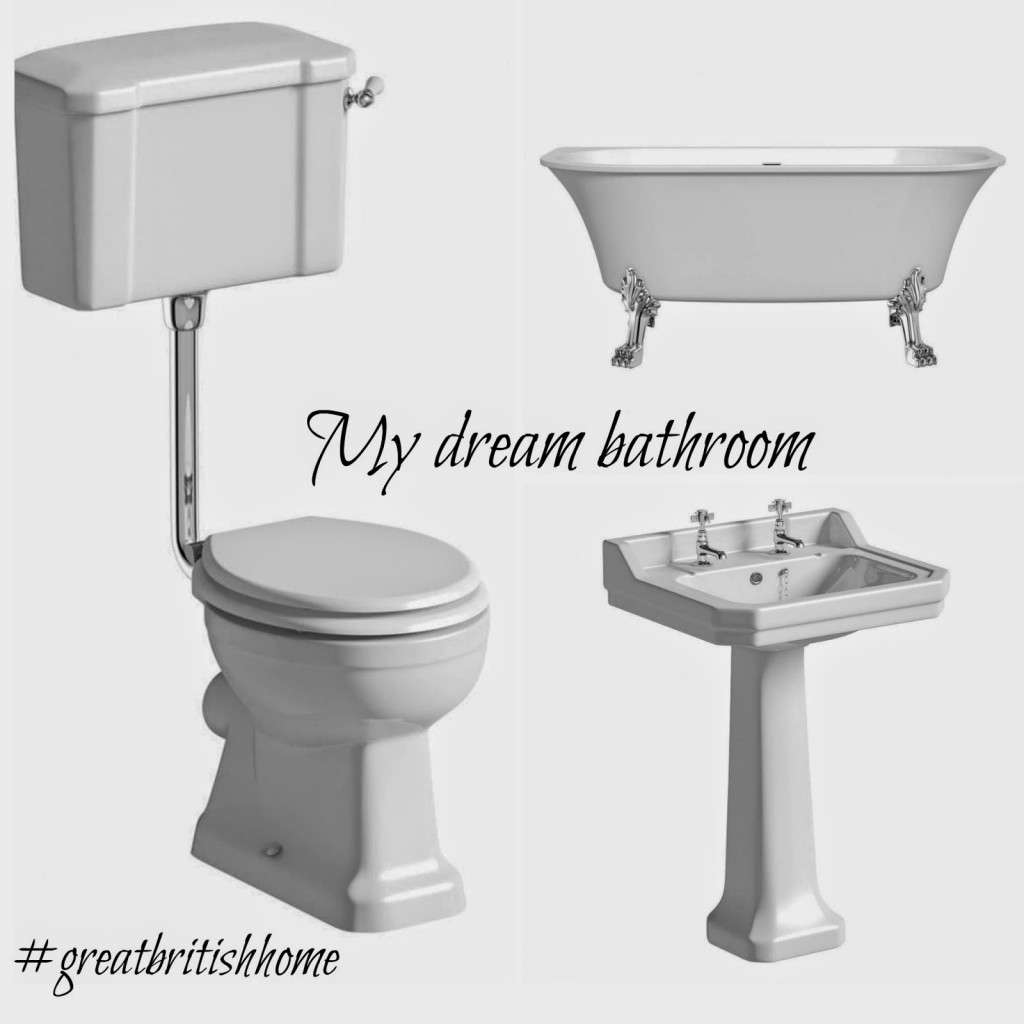 Writing about my dream bathroom makes me excited as I love visualising pretty things but also a little sad, as I came so close to having it. Hubby and I had an offer accepted on our dream home with the biggest bathroom in the world (well almost) a couple of years ago, it was the type of bathroom dreams are made of (mine anyway!). The house was a grand 1800's terraced affair with rooms that echo'd when you spoke. Anyway to cut a long, sad story short, our offer was accepted, we paid a lot of money for a full structural survey and may as well have thrown that money down the beautiful cast iron drains around the house as the survey came back with 32 major faults which meant we had to pull out of the purchase. It still makes me sad now, especially when I head off for a bath or shower as if by some cruel turn of fate we now have the smallest bathroom in the world (yes really!) If you imagine having a shower while your bum skims the toilet seat you'll be able to picture what I mean (the bathroom size, not my bum!).
Anyway enough reminising.
My dream bathroom has a very classic feel. I love elegant designs and would love nothing more than a country manor adorned with all of its original features, I suspect the title 'Lady of the Manor' would have suited me very well.
My beautiful bathroom would look out onto lush green gardens filled with ornate water features and scampering wildlife.
The colours of the bathroom would be quite simple, with white and pastel shades featuring throughout. The floors would be varnished wooden floorboards. It would all look clean and spacious but with a vintage feel.
I would choose the beautiful Camberley range from Victoria Plumb in my dream bathroom. The products are sleek and elegant and have a fantastic vintage feel to them. I love white bathroom suites. They're timeless and are much less likely to become outdated.
If you're on more of a budget but still want similar the lower priced Winchester range is perfect.
Once I had my dream bathroom in place it'd be all about the decor! I'd keep the walls plain and simple and the accessories stylish and minimalistic.
I'd choose a variety of florals, pastels and gold!
As always I used Pinterest for some inspiration. I think the pictures below are stunning. They're so romantic and pretty.
Another thing I think is a total must in a bathroom is a fabulous mirror. I think this stunning ornate gold one would be perfect in my dream bathroom.
And these accessories look like they would finish off the room perfectly.
But …. if I can't have my dream bathroom I would happily make do with being able to have a shower that lasts longer than 30 seconds or being able to use the loo without the door open under the watchful eyes of my son!