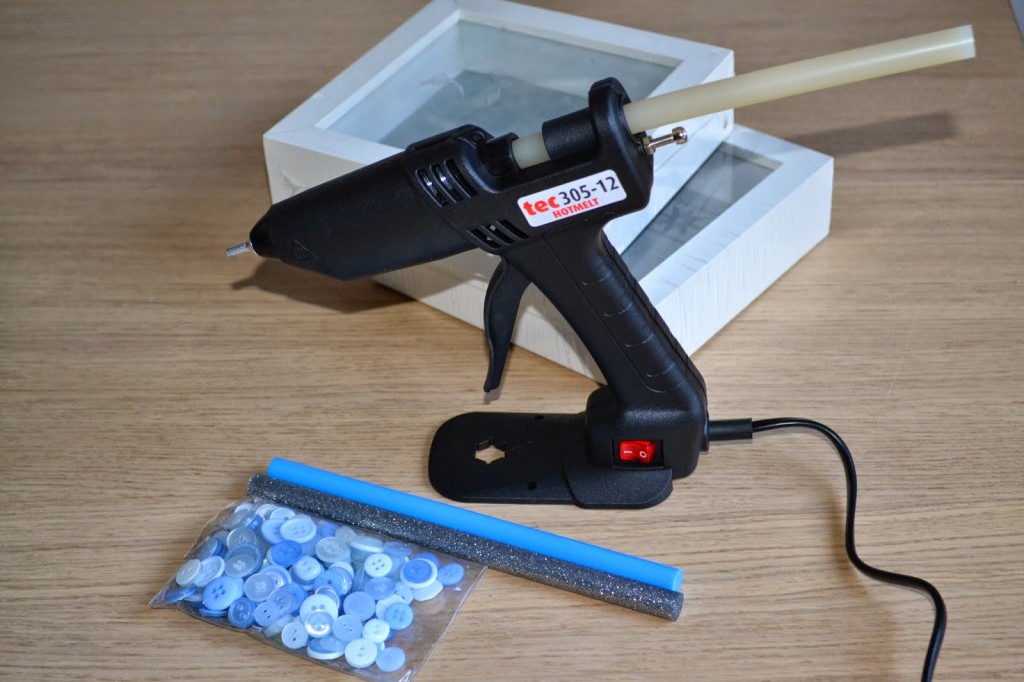 I've had a packet of blue mixed buttons and some white photo frames stashed away for ages in the spare room. The buttons were bought on a little jaunt to Hobbycraft where I tend to get overexcited and buy so many pretty things that I rarely use. The photo frames were bought in Ikea where again, I get overexcited and buy too many things.
After I was kindly sent a Tec 305 glue gun from Glue guns direct I knew I had no excuse not to start using up some of my crafty bits … and making some space in the spare room.
Button photo frames have caught my eye previously, but they often come with a pretty hefty price tag, so being adventurous, I decided to have a go at making my own.
What you'll need:
A plain photo frame
Buttons
A clear surface
Glue – You could use any glue you liked to create the frame but the Tec 305 glue gun and 12mm Tecbond glue sticks seemed like a great choice. The gun heats up to 190°C and is ready to use in a super fast five minutes. It's extremely light weight and easy to use.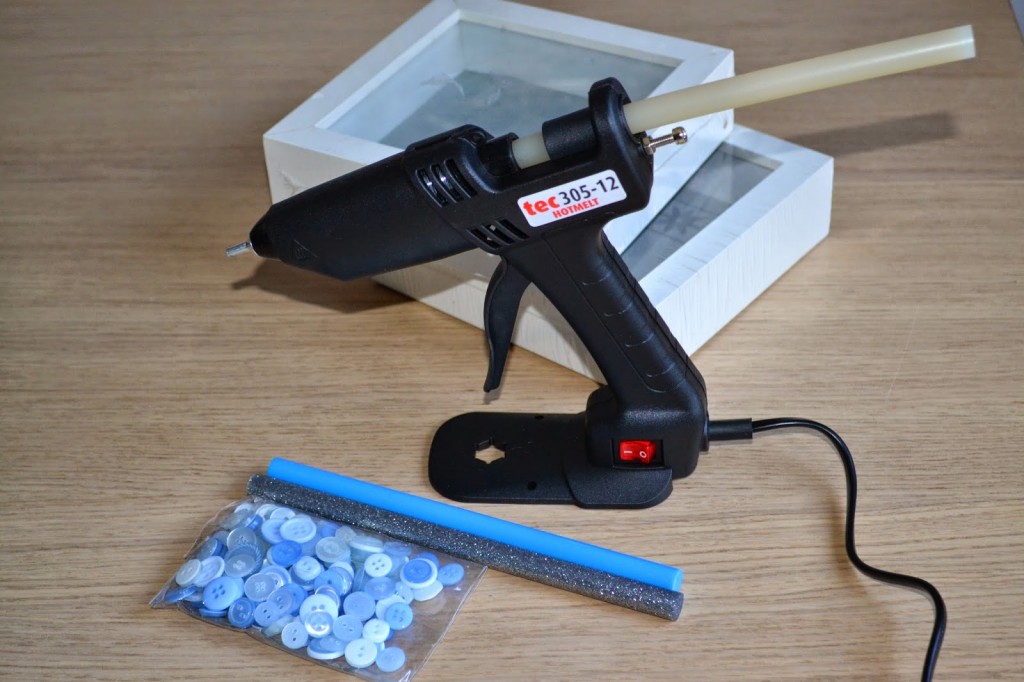 Glue guns I've used previously don't have the fine nozzle that the Tec 305 does, the nozzle combined with the fact the gun doesn't drip makes it ideal for fiddly little craft tasks.
Directions:
Make sure your frame is clean and laid out ready to use.
Turn on the glue gun to give it time to heat up and choose your glue stick. I used
12mm tecbond silver glitter glue sticks
to add a little sparkle to the frame and as a filler between the buttons.
Choose the buttons you want to use. I found it helpful to lay them out so I was able to stick them on quickly while the glue was still wet.
Then simply … get sticking! I made a short trail of hot glue along the edge of the frame and placed each button lightly on top.
Fill in as many gaps on the frame as you can with a mixture of mismatched buttons.
After doing two rows round the frame I thought it still looked a little bare so I decided to make it more 3D by layering the buttons and adding another one on top here and there.
You can add as many or as few buttons as you like. The frame I used is a box frame so ideally I'd have liked to cover the full frame with buttons but I didn't have enough.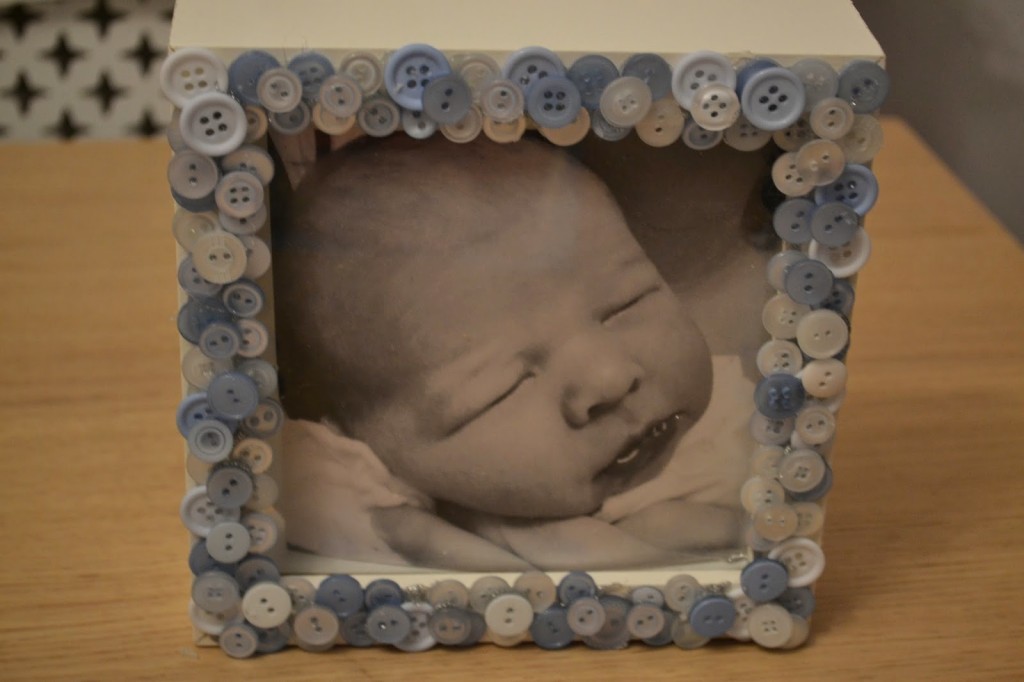 For a first attempt I don't think it looks too bad. I love the colours and each button is securely attached with the glue.
Once the frame was dry I filled it with a picture of the little man.
After I realised how good the Tec 305 glue gun is, I got a little glue gun happy and caught up with various 'sticking' jobs.
I have had the little mans name in wooden letters for quite a while. They're been stacked up on the top of his drawers until I could decide on a place to put them. Ideally I wanted to stick them to the cupboard door in his room but wasn't sure what to fix them on with. I had intended on picking up some wood glue but just never got round too it.
I realised that amongst some of the goodies I'd been sent were some 12mm glue sticks for difficult surfaces, they're ideal for more unusual surfaces and great for sticking things to wood. Great, no more excuses for not getting his letters up.
I used a few dots of hot glue on the back of each wooden letter before sticking them to the cupboard door in the little mans bedroom.
The glue dries quite quickly and extremely strongly! You need to make sure whatever you're gluing is in the right place as you'll not me able to reposition anything once the glue has dried.
The letters look great, and I can't believe how strong the glue is, there's not even the slightest wobble!
Another thing I've found the Tec 305 glue gun perfect for is my Project Life scrapbooking. For those of you that don't know, I'm recording the little mans first year via Project Life which basically, is scrapbooking for the lazy or creatively challenged! It's a combination of photo's, journalling, embellishments and keepsakes all safely stored in an album.
I love being able to stick in some of the things from our life and adventures but I've always had problems getting them to stay put. Who'd have thought sticking shells into an album would be such hard work!? The glue I'd used previously had become unstuck quite quickly and the shells were left floating about amongst the pages of the album, most definitely looking to get lost. For this reason the Tec 305 has been a complete godsend! I've managed to safely secure all of the keepsakes into the album. The shells from the little mans first trip to the beach are no longer on the wander and my album pages look crisp and tidy.
It's nice to know we can carry on collecting memories without worrying that they will get lost.
I'm really impressed with the Tec 305 glue gun. It's lightweight, extremely simple to use and it's suitable to stick pretty much anything. Glue Guns Direct stock a massive range of accompanying glue too, I'd have never guessed there was such a wide range if I hadn't had a look at the website. Glue Guns Direct offer free shipping if you spend over £50, and are a trusted company, having been around since 1979. The website is full of helpful advice and customer reviews to help you decide on the correct product for your needs.
My next challenge is Christmas decorations! I'm going to buy some festive moulds and some more glitter glue sticks and create home made decorations to give out to family members.
*I was sent the glue gun and associated glue sticks for the purpose of the review. Opinions are my own*