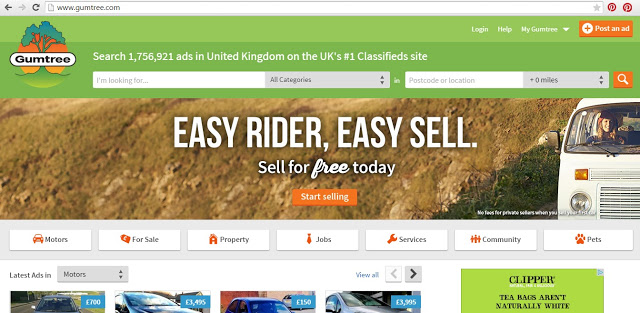 I found purchasing my item easy. Gumtree is very user friendly, you can search quickly and easily both on their full website or via their downloadable app.
After much deliberation I finally found an item to buy. After a quick text to the seller, I found that it was literally 2 minutes drive away. I picked it up that evening without issue and the seller even loaded it into my car for me. Having never used Gumtree before I was extremely impressed by how simple and stress free the purchase was. No waiting round for auctions to end and no emailing back and forth.
The item I found was a solid wood written bureau up for sale at £20. There was little detail in the advert so I took a chance. The bureau was solid and seemed quite old but came and a strong smell of smoke and some resident spiders.
Rather that using the bureau as an indoor storage item decided it would be most suited to the garden. I thought it would make a great display unit for some of my trailing flowers and plants.
One it was home I set about cleaning it with soapy water. Once it was completely dry I applied two coats of outdoor wood primer. I then started on the first coat of paint. I used Annie Sloan Chalk Paint in English Yellow. I've used Annie Sloan paint before with excellent results but I hadn't used such a vivid shade before.
I found the bureau quite difficult to paint if I'm honest. The nooks and crannies were really fiddly and nightmare to get into. It took two coats of paint to get coverage across the bureau.
Once the bureau was completely dry I used some sandpaper to sand some of the edges. I know the 'shabby chic' look isn't to every ones taste but I love the worn edges and vintage look it gives.
After I was satisfied with my sanding I started with some stencilling. I printed out some flower templates and some words and then used a craft knife to cut out the insides before placing them where I wanted them and spraying with Rust Oleum black and white exterior paint.
Once I was happy with the designs and stenciling I left it to dry overnight and then waxed the entire bureau.
My drag bureau became a bright and cheery garden display unit, bringing some sunshine to the garden, whatever the weather.