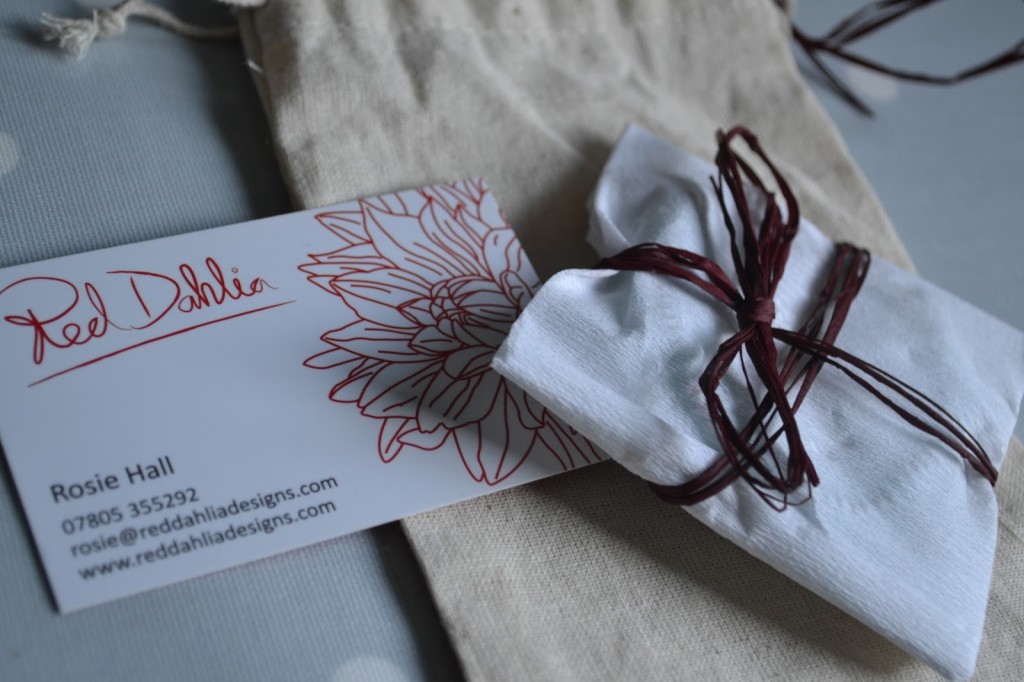 Rosie launched Red Dahlia Designs in February this year, which is a UK based creative outlet where she designs and makes affordable fashion jewellery for all ages. The range includes earrings, bracelets and necklaces.
Rosie very kindly offered to send me one of her beautiful pieces of handmade jewellery to try out.
The piece Rosie sent me arrived neatly wrapped in tissue paper and packaged in a pretty little organic cotton drawstring bag, as do all of Red Dahlia Designs items.
The bracelet looks extremely delicate, so much so, I was worried I'd snap it the first time I used it (I'm not the most graceful woman in the world) BUT, I've hardly taken it off my wrist (only to wash and sleep) since it arrived and it's been perfectly fine. It's obviously well made and clearly able to endure the life of Cat! The bracelet is the ideal width for me, it doesn't swamp my wrist, but it's thick enough to make an impact.
Rosie has recently stepped into the wonderful world of Etsy, opening her Red Dahlia Designs Etsy Store where you can currently save 20% on all the products listed, you just need to enter 20LAUNCH at the check out to receive the reduction on your order.
I am very impressed with both the beautiful bracelet I was sent and how helpful and friendly Rosie was, which gave me the push to order a further two bracelets whilst taking advantage of the great 20% saving on Etsy.
I would thoroughly recommend Red Dahlia Designs, the products are affordable, very pretty and most importantly, well made. The designs are ideal for gift ideas or simply to treat yourself to something pretty!
*I was sent the gemstone friendship bracelet to review. Opinions are my own*