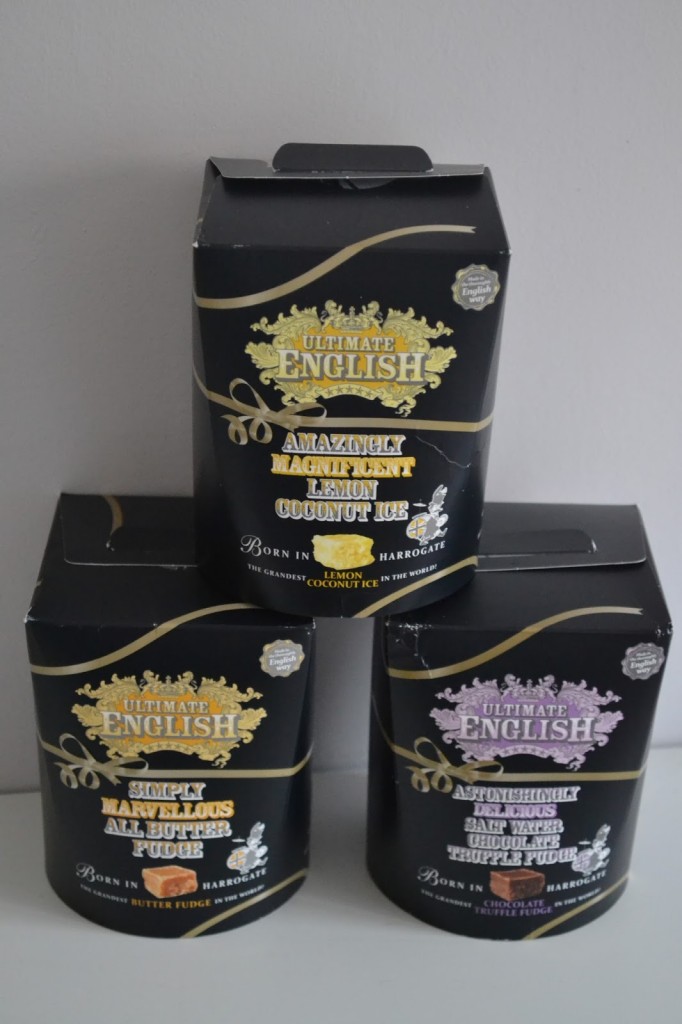 When it's time to buy gifts for others (Christmas really is only 74 days away you know!) I often find myself going back to the same brand, particularly when it comes to confectionery. I think it's often just habit rather than love for the brand.
But, I think I've found a rival for my confections (geddit!?) in The Ultimate English, a range of premium confectionery designed to celebrate traditional childhood favourites from rich butter fudge and toffee to brittles, honeycombs and coconut ice.
They were launched by The Serious Sweet Company, who originated in Harrogate and started making and selling fudge way back in 1843. Rather interestingly, to counteract the not so nice taste of the town's water. The fudge is still hand made and sold in Harrogate today.
I was recently given the chance to try out a selection of their goodies and obviously, I was never in a million years was I going to turn down the opportunity to try some tasty treats.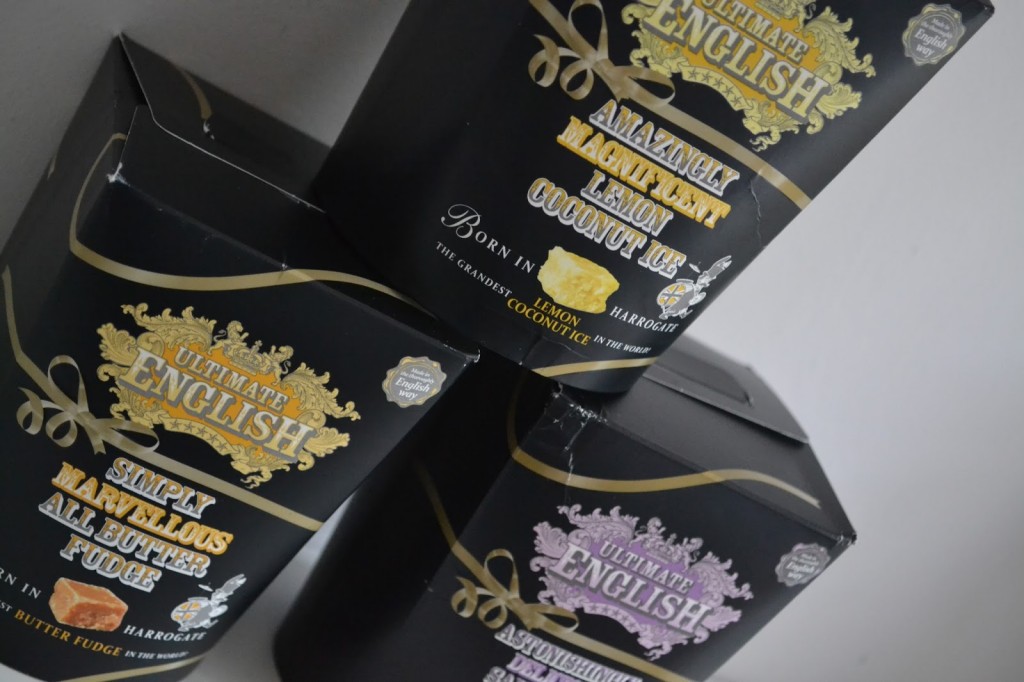 I was sent three of their boxed range to try out.
Each selection is boxed up in a simple yet eye catching container, which look nice enough to give as a gift. The packaging has quite a manly look, which means they'd make a suitable present for both male or female.
Right, on to the treats inside –
Lemon Coconut Ice
The smell of lemon is pretty strong when you open the box and it does smell very fresh and refreshing. This was probably my least favourite of the three treats I tried, but I'm not really a lemon fan, particularly in sweets. My hubby however, is! He was grateful that I didn't really like the flavour as he got to scoff them all himself. He loved them and has already asked if I can try and get him another box.
I found the coconut was the stronger taste in the Lemon Coconut Ice. It over powered the lemon a little but each sweet still had quite a tang to it from the lemon. The recipe actually contains 20% coconut, which also gives it quite a course texture. It's sweet but not overpoweringly so.
All Butter Fudge


A totally delicious, creamy flavour. The indulgent 16% butter recipe is obvious in the beautiful flavour. It literally melts, like butter, in your mouth! Next time we're in Harrogate I will be hunting out where I can buy this freshly made. It really does taste homemade and I challenge any fudge lover not to fall in love at first bite!
Salt Water Chocolate Fudge
THIS. IS. AMAZING. It's one of the tastiest things that has ever been in my mouth! Its thick and creamy and again, melts instantly in your mouth. I'm not usually a fan of flavoured fudge, preferring plain butter fudge, but the Salt Water chocolate fudge is to die for. I might have refused to share this box with my husband at all, and the whole box just fell into my mouth. It's not overly sweet, as I'd anticipated, the chocolate flavour isn't overpowering, but it's enough to made the fudge taste even nicer. It's the type of sweet that once you've tried it, it makes your mouth water in anticipation. Yes, it's REALLY that nice.
Overall, I'm thoroughly impressed with the three varieties I tried from The Ultimate English, the range is tasty, well designed and very moreish. The boxes retail at £3.99 which I think is very good value.
The Ultimate English products are all available across the Yorkshire area and are stocked in a variety of farm shops and smaller more independent food stores. I'm hoping they start an online ordering system soon, as I would love to buy some more, and also try out some of the other varieties.
You can check local stockists in your area at The Ultimate English – where to buy
*I was sent the three boxes to review. Opinions are my own*