I like a little flutter now and again and dream often about what I'd do if I was lucky enough to win a substantial amount (don't we all?!). 'What we'd do if we won the lottery' is a reoccurring conversation topic in our house. It's nice to get carried away and dream about the things you'd buy, the people you'd help and the good you'd do if you won a whopping great to cheque to cash.
Me, well I'd treat my family ( it's only small so it wouldn't cost too much, hehe), buy new cars for the whole family (I'd finally be able to stroll into the car dealership and pick out a top spec Range Rover Sport), I'd buy a nice detached house with lots of land (possibly a small wood and a lake) near where we live now and buy a couple of others, maybe an apartment in London and a slate built cottage in the Lake District. Once we were all comfortable I'd donate some to our local hospital, local animal charities and I'd try and build and fund a place for the homeless. It doesn't sound too fancy does it? On paper that's what I'd do BUT in reality I would probably blow it all on fancy shoes, expensive handbags and far to many bottles of gin!
So what would you do if you won a lot of cash? Would you be sensible and invest it, or would you go wild and buy lots of pretty things?
How would you feel if I told you, you could potentially become a millionaire by reading this post? Intrigued?
Lottoland is a betting website with a difference. It allows you to play the lottery in lots of different countries.
In simple terms, it allows you to play lotto's from around the world without breaking any rules. Obviously the rules for each lottery are different and you wouldn't be able to enter by going down the normal route so with Lottoland you bet on the outcome of the lotto instead. You buy numbers as you would normally and you are still able to win prizes, Lottoland just allow you to place the bet a different way. You're able to enter to win more jackpots from various lotteries that without the help of Lottoland, you wouldn't have access too.
The Lottoland is really simple to look through and very user friendly. I was kindly given £25 credit to try the site out myself.
I decided to try my luck on The Irish Lottery (I know so many people who have won on it) and the American Powerball which I know had a £1 billion jackpot earlier this year.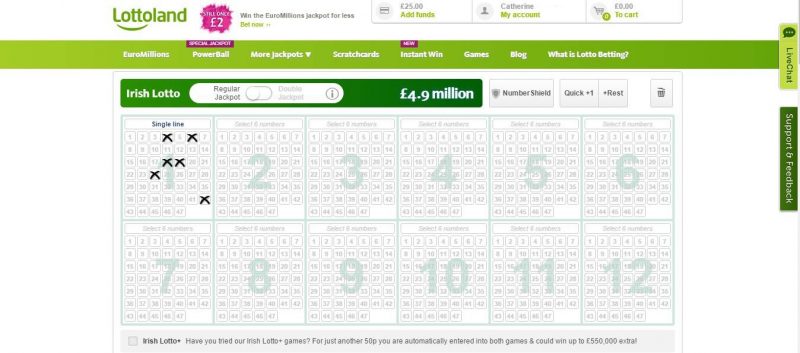 Placing a bet is really simple – you just select the lotto you wish to enter and choose your numbers, or select Quick Picks from the drop down menu for a lucky dip. The cost is then deducted for the balance on your account. It really couldn't be any more simple. If you're luck enough to win an email notification is sent to the email address linked to your account – you don't need to do anything more!
Lottoland also has a range of scratchcards and games that would can play online, they're priced the same as other websites and are easy to purchase and play.
Overall I really like Lottoland. I love it's simplicity and ease of use and of course the fact I could win lots and lots of money!