Love her or hate her, Peppa Pig is a massive hit with toddlers everywhere. There are so many different Peppa and co. products available and because I'm a Peppa Pig Ambassador, I get to try some of them out.
The most recent bundle of Peppa Pig products we were sent contained some absolute crackers, most of which would make great Christmas gifts for a Peppa Pig fan.
The Peppa Pig Smart Tablet features six games to encourage learning of colours, numbers, shapes, letters, characters and musical instruments. It has a touch screen which is easy to use and responsive to toddler fingers. The little man loves it and I'm happy for him to use it because there are lots of different ways in which he can learn new things while using it. It's pretty sturdy and costs just £14.99, and the sounds aren't annoying so it would be a gift I'd be happy for the little man to receive.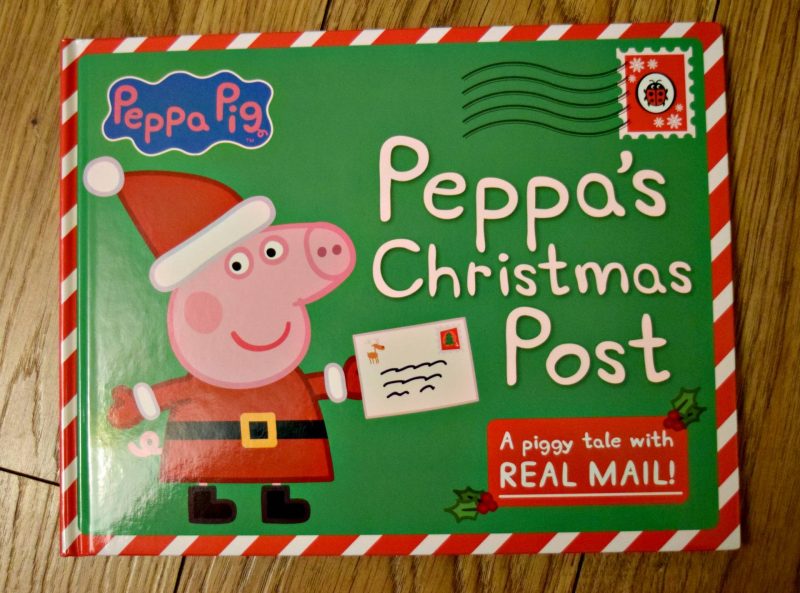 I love the Peppa Pig Christmas Post book from Ladybird. It's a lovely book which features a simple festive tale and also includessix envelopes containing a Christmas card to fill in, decorations to make, a little book of Christmas recipes and even letters to write to Santa.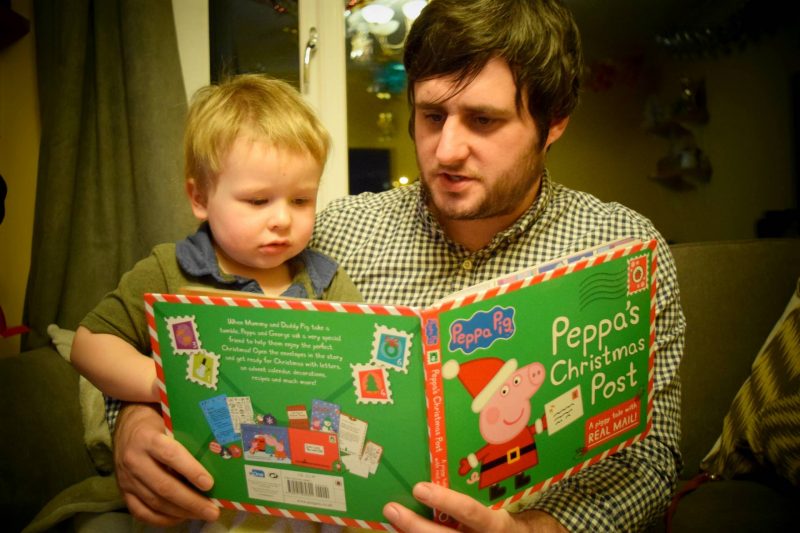 The book is really good quality with strong pages which will withstand less than gentle toddlers. It's a lovely book to read over the Christmas period and a lovely gift to give to any Peppa fan.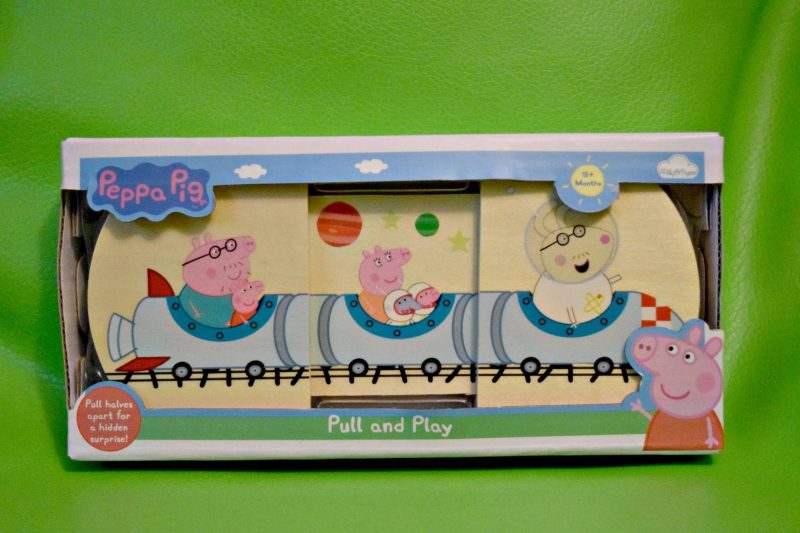 The Peppa Pull and Play is quite a simple toy, probably best suited to younger children. To reveal the hidden image, children simply pull the puzzle. It's double sided with bright images. As it's made by Milly and Flynn, it's sturdy and looks like it costs more than £5.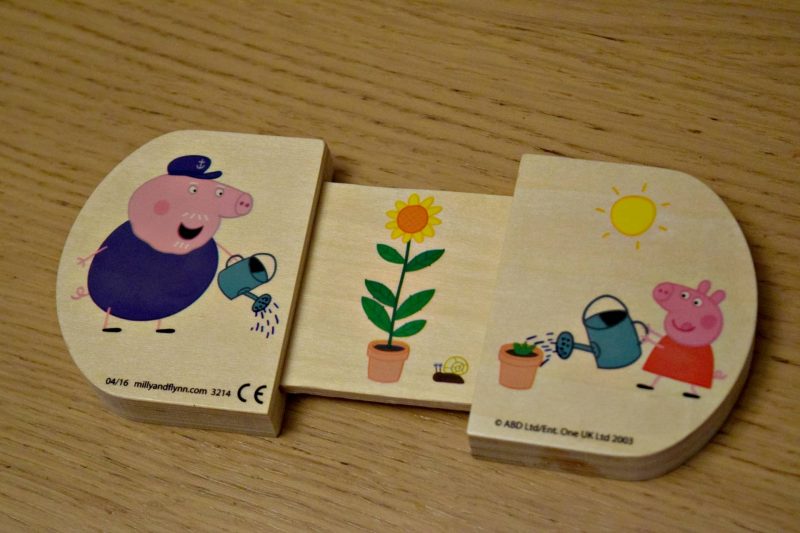 Despite the little man being not too far off 3, he really likes it and likes to pretend he's a magician. As it's quite chunky, it's easy to grasp and he can pull it apart with ease.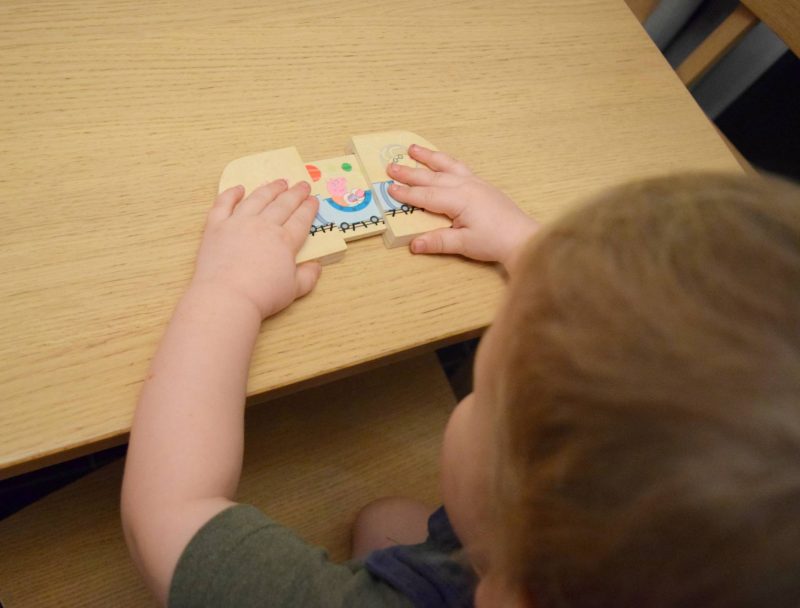 I think it would make an ideal stocking filler for a younger child and a really great gift idea for younger Peppa Pig fans.
Another great Milly and Flynn toy, the Peppa Pig Double-sided Magnetic Play set is a total steal at just £12. The magnetic board is double sided and filled with 30 pieces which can be placed on either side to create Peppa Pig scenes.
It's a great toy for imaginative play and encourages children to create their own pictures and scenes. The quality is really good and when it's not in use, the pieces stick to the board so you don't need to worry about loosing them.
Singing Princess Peppa is a brightly coloured, interactive too who will sing when her hands are held. When your child holds her hands, it looks like they're dancing with her.
Princess Peppa is soft and hugable and the ideal size to be carried around. The little man is really taken with her and she sits near his bed with his other Peppa Pig teddies.
The Peppa Pig Jump and Squeak pogo is a unique toy aimed at children 3 years and up. It's like a pogo stick but without any dangerous metal. It's made from durable foam and can be used both inside and out.
It's really simple to set up and I'm a huge fan of how compact it becomes when it's time to put it away. It helps to improve balance and hand eye coordination and it didn't take the little man long to get to grips with it.
The little man loves bouncing on it, but those squeaks do get a little annoying! I think we'll be saving it for the garden in the Summer.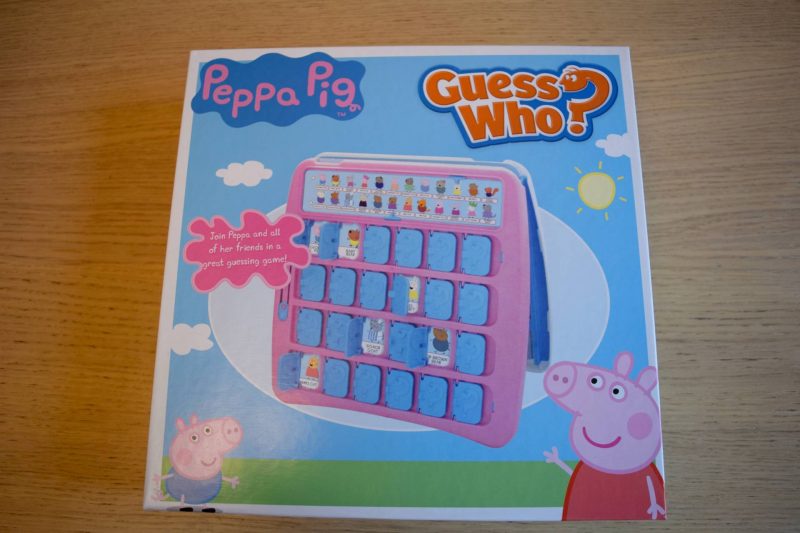 I used to love the original Guess Who when I was younger so I was quite excited to see that there's a Peppa Pig Guess Who.
It's made by Winning Moves and costs £15.99. I think it's probably a little too old for the little man at the moment, he prefers playing with the doors rather than actually playing the game. It's not quite as sturdy as the original Guess Who and we did struggle to keep the two boards together so we found playing was easier if we separated them. It's aimed at children 3 – 8 years and I think it'd be great to play on Christmas Eve with slightly older children.
Another great game made into a Peppa Pig version is Peppa Pig Junior Monopoly. A simple version of Monopoly that features all your favourite Peppa Pig characters.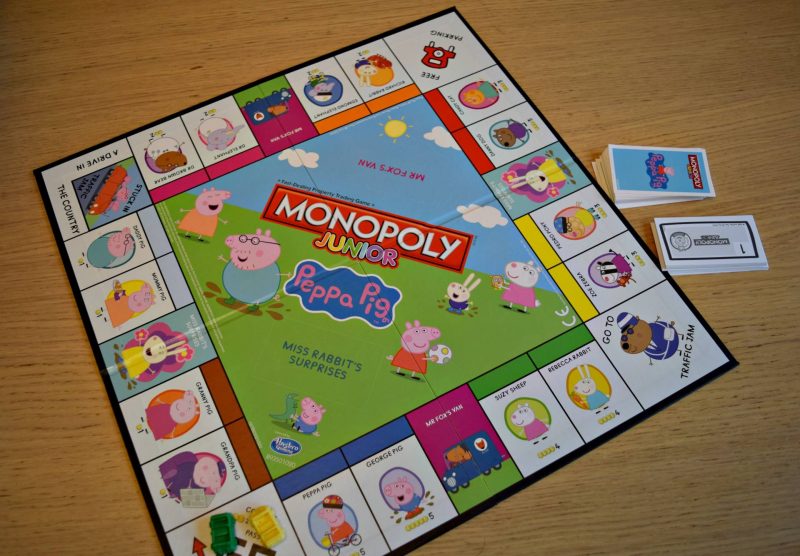 It's a really good quality game for younger players and costs £19.99. It's aimed at children 4 years and upwards but the little man will happily play along with us. He loves rolling the dice and counting the spaces around the board. I think it'll be a lovely game to play as a family when he's a touch older.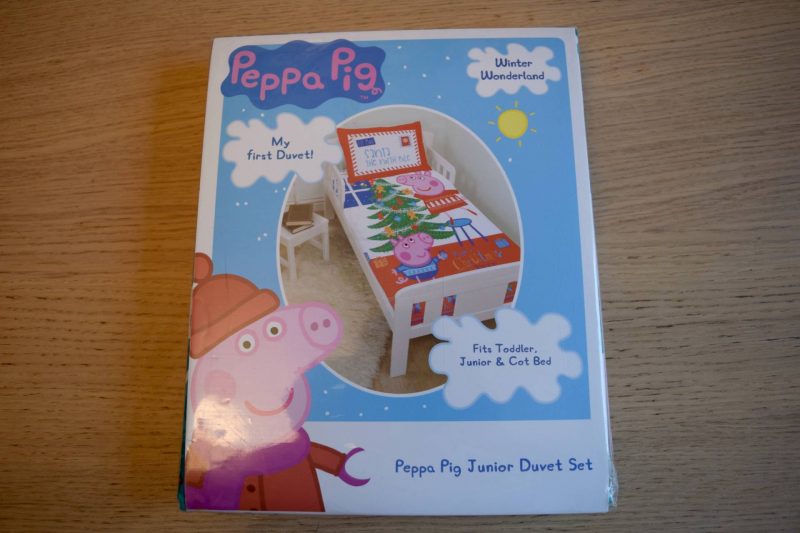 Who doesn't love Christmas bedding? The Peppa Pig Winter Wonderland duvet set is great to use during the festive period.
It fits the little mans toddler bed perfectly and looks great. Make sure you wash it separately on its first wash though, as I found the colours did bleed a little.
The Peppa Pig Christmas stationary (Colouring Set & Sticker Pad) can be picked up from Poundland, Primark or the Works. They're lovely stocking fillers and a great way to encourage a little bit of calm during a very busy and excitable time!
Check our our unboxing video here … and see how many times the little man says 'Peppa Pig'!
* We were sent the Peppa Pig products to feature on the blog. Opinions are my own.