We try and vary our meals out as much as possible but had never tried Caribbean food so we were really excited to try out Turtle Bay in Newcastle.
Turtle Bay is on the left as your exit the front of The Gate. It's set in the old CO-OP building between two other restaurants.
We parked in The Gate where parking costs £4.20 for up to 2 hours and £5.20 for up to 3. There are plenty of other places to park though and bus stop just outside The Gate if you're using public transport.
When we arrived we were quickly seated in the centre of the restaurant ( sadly not a great location for good lighting, hence the dark pictures).
The little man was given a colouring book and crayons which kept him entertained while hubby and I perused the extensive menu.
We visited on a Tuesday lunch time so the restaurant was slightly quieter than I'd expect a weekend or evening to be. Turtle Bay has a casual feel and the decor has a distinct Caribbean feel with exposed bricks, Reggae posters on the walls and twinkling lights wrapped about the concrete pillars. Even the bar is made to look like a beach bar with a vast range of spirits and liqueurs displayed around it. Despite being open over a year now, Turtle Bay still looks fresh and well maintained.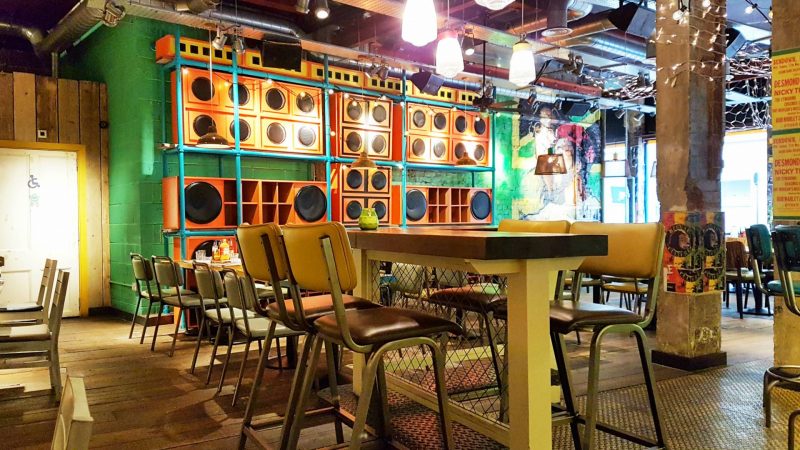 Close your eyes and you're drifted away to somewhere slightly more exotic than Newcastle city centre!
Our waiter was Jonny. He was really friendly and helpful, especially when we asked for recommendations. He asked us how spicy we liked our food and made suggestions on our answers.
After much deliberation, we were ready to order.
Drinks
The menu is jam packed with delicious sounding cocktails but as we had the car and the little man we decided to stay alcohol free during our visit. Hubby picked the peanut butter and banana smoothie which tasted just like a Snickers bar. I chose the Elderflower cooler from the Caribbean softs part of the menu. It was light refreshing and the perfect accompaniment to my food.
I definitely want to return to Turtle Bay child free to take advantage of their 2 4 1 cocktail offer which is available from 11:30am – 7pm daily and then again after 10pm.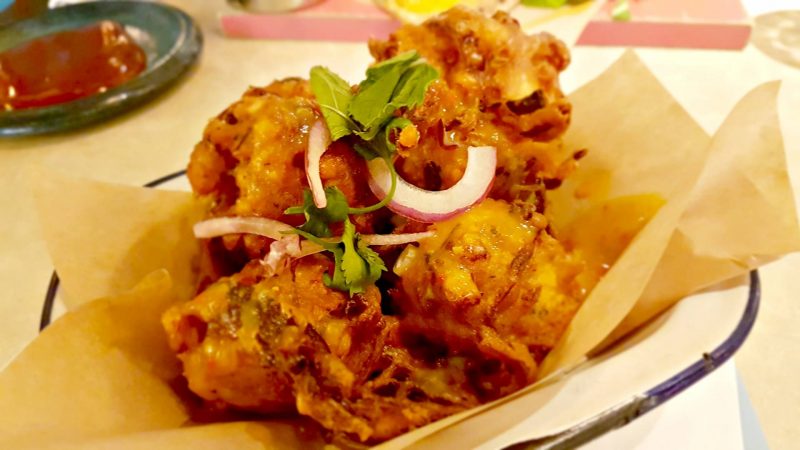 Starters
For my starter I chose sweetcorn fritters upon the recommendation of our waiter. They looked a lot like Onion Bhajis but were lighter and crispier with no grease. They're made using sweet corn, spring onion, coriander and scotch bonnet and come with a West Indian hot sauce. They were so nice, and super filling.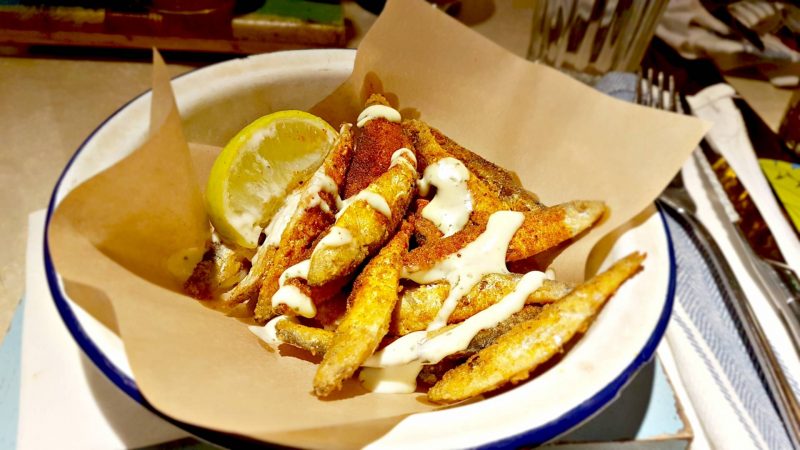 Hubby chose crispy whitebait and was very impressed with the size of the portion. They were served with fresh lime and coriander mayonnaise. He said they were really tasty and reminded him of exotic holidays and beach side restaurants.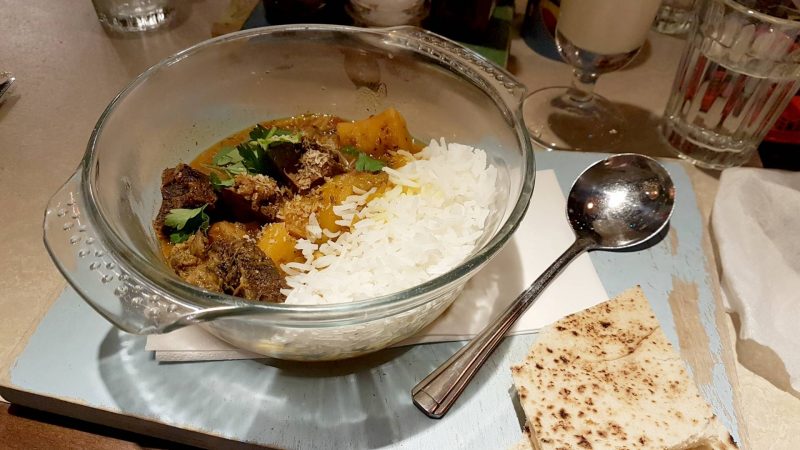 Main Course
As with the starters, the mains were substantial in size and served in authentic dishes and bowls.
Hubby went for the Bajan Beef Cheeks which I had a sneaky taste of and they were amazing. The beef was mouthwateringly good and had just the right amount of kick from the Caribbean spice it had been marinated in. It came with rice and roti flatbread and costs just £10.80.
I chose Trinidad Chicken and Coconut curry which was very mild. It was filled with generous chunks of chicken breast, sweetened with coconut milk, mango and coconut. It was really tasty but I wish I'd chosen something with a little more kick. Served with coconut rice 'n' peas and roti flatbread for £9.95 it was really good value and very filling.
We also ordered a portion of sweet plantain for £2.50 to go with our mains. I loved it, it was a cross between a sweet potato and a banana and was the perfect accompaniment to my left over curry sauce.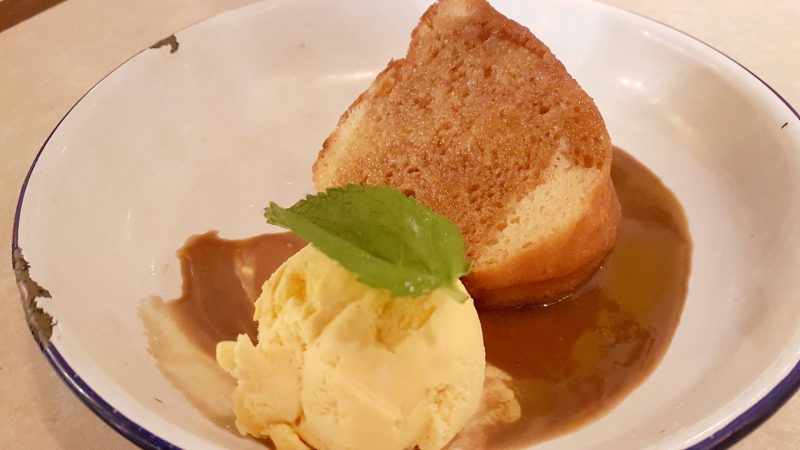 Dessert
Even though we were full we couldn't miss out on trying something from the dessert menu. I really wanted to try the Spiced Rum and chocolate pot but sadly they'd sold out. Instead, I opted for the Caymanas upside down Rum cake and it was amazing. It was a light sponge type cake with sweet rum caramel and vanilla ice cream.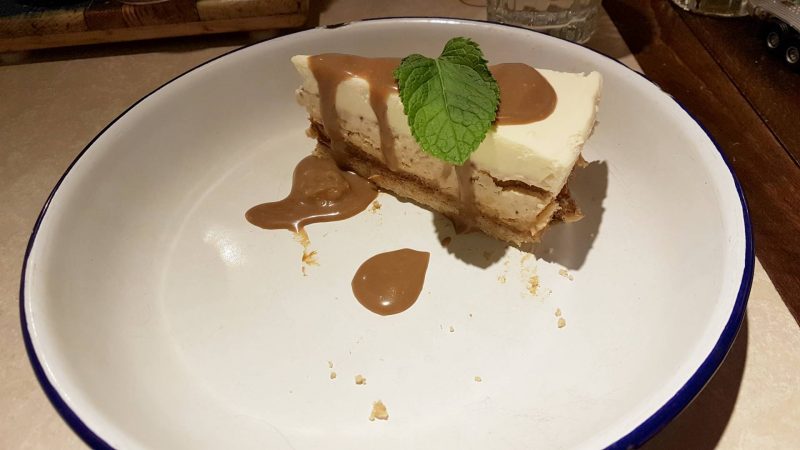 Hubby chose the banana and toffee cheese cake, a triple layered cheesecake with crispy biscuit base, creamy soft cheese, banana and toffee. He said is was delicious and very creamy though the placement on the plate was a little strange.
Both desserts cost £4.95 which I think is a great price for a city centre restaurant.
The little man chose food from the Little Turtles menu where children can pick from 5 options which cost £4.50 each. There is chicken flatbread, flatbread, chicken breast, cheese burger and beef burger all with the choice of fries, sweet potato mash, rice 'n' peas or salad.
The little man chosen the flatbread with cheese and tomatoes, served with fries. To be honest, he wasn't a huge fan. He picked at the cheese on the top but said he didn't really like it and the fries were a little undercooked for him. I think the kids menu is a little boring in comparison to the amazing things on the normal menu. I think if we returned with him, we'd probably order him something from the starter menu or share ours with him.
I think he'd have preferred something from the adults menu just maybe smaller in size.
He was impressed with the ice cream though!
Hubby and I were really impressed with our food. The portions are impressive and everything we tried tasted lovely. Hubby and I will definitely return and take advantage of the 2 4 1 cocktails with our next meal.
There is a good selection of vegetarian, vegan and gluten free options on the menu which I thought was pretty impressive. As well as great food, the service was faultless. The staff were friendly and attentive without being intrusive.
* Our meal was complimentary. Opinions are my own.