The little man has been a huge Peppa Pig fan for about a million years now. If you have a toddler I imagine you'll know exactly how strong the love for Peppa can be!
As well as the popular TV show, there's a huge range of Peppa Pig and friends products available to buy, all of which would make amazing Christmas gifts for any little Peppa Pig fan.
You can see a great range of some of the ones available this year below –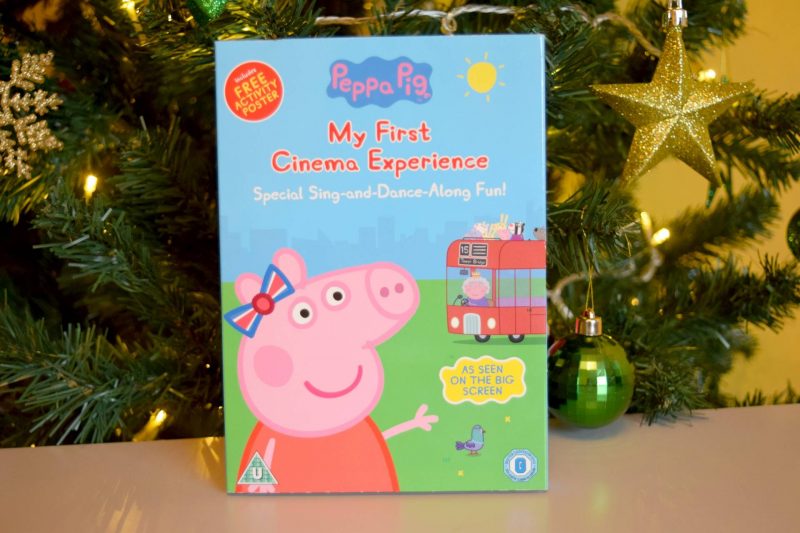 Peppa Pig – My First Cinema Experience DVD
We meant to catch this at the cinema but we didn't manage so I'm glad to see it's now available on DVD. It's perfect for pre-schoolers and will encourage lots of laughs, snort and quite possibly make every child want to jump in muddy puddles.
The DVD is available from Amazon for £8 and all other good DVD retailers.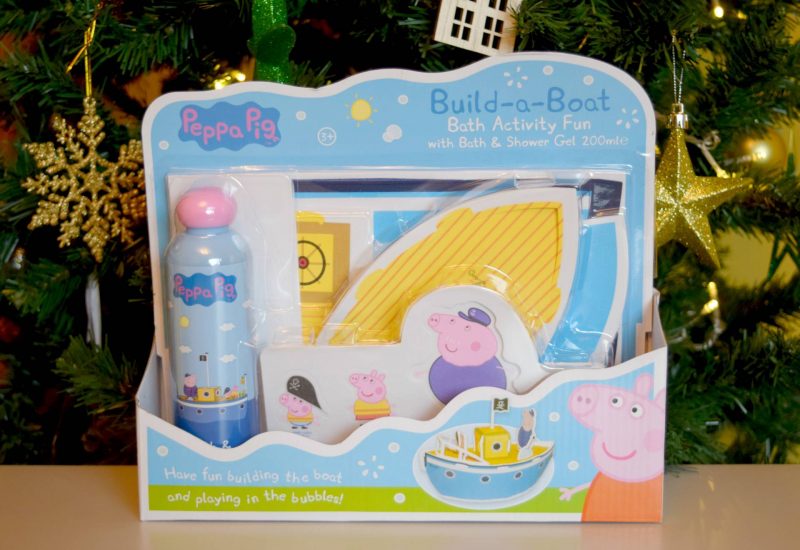 Peppa Pig Build a Boat Bath Gift Set
The set contains a make you own boat and Grandpa Pig, Peppa and George figures as well as a bottle of bath/shower gel.
The little man was drawn to the Build a Boat bath set as soon as he saw it. He's obsessed with bath toys and couldn't wait to make up the boat to take in the bath.
You can pick it up in a range of shops, including The Entertainer, Debenhams and Toys R Us.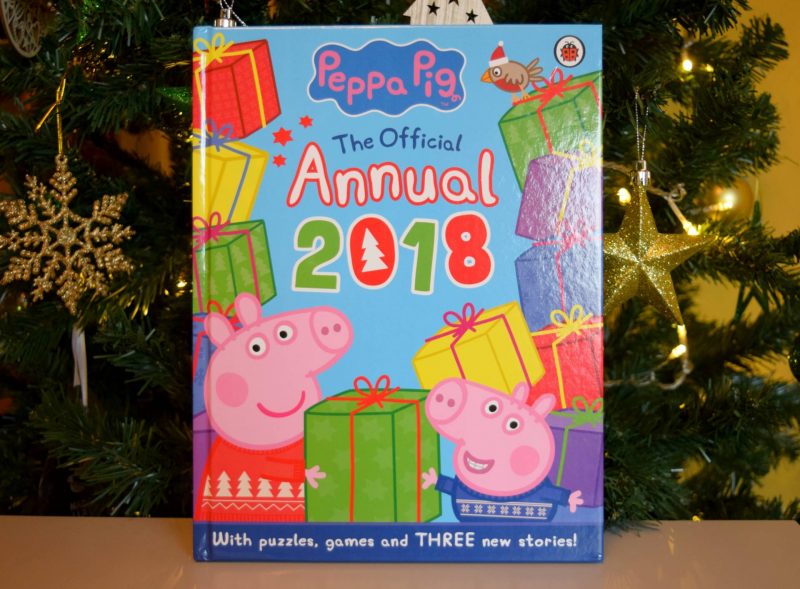 Peppa Pig Annual 2018
I always loved receiving an Annual of some kind amongst my Christmas gifts and this Peppa Pig one is a complete treasure trove of fun.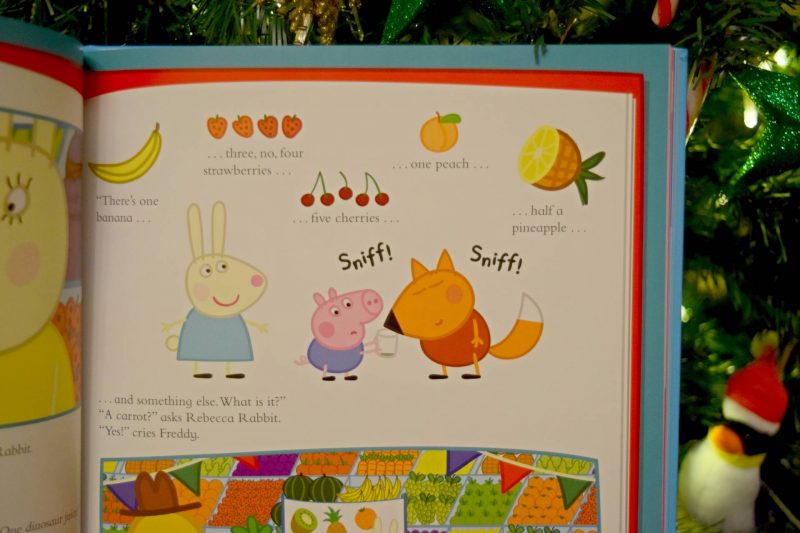 It's packed with pages of puzzles, stories, activities and songs and can be bought in most stores that sell books. It's also currently on offer on Amazon for just £3!
Peppa Pig Space Adventure Kit
The cute Peppa Pig Space Adventure kit is a fab gift for budding astronauts! The Peppa Pig hard case includes various space theme glow-in-the-dark stickers, a build-your-own rocket and light-up projector torch with 3 discs to project different themed space designs on to your walls.
The little man absolutely loves it, the torch has become a bedside favourite and the handy case is perfect for carrying just about everything around!
George Pig Hat and Mittens Set
You can't go wrong with character clothing. This super cute George Pig Hat and Mittens set from VMC Accessories is perfect for the colder weather. The hat is fleece lined and is really cosy and warm. It's ideal for braving the cold and playing outdoors.
Peppa Pig Family Home
Peppa Pig's family home is a lovely playset which is perfect for creative and imaginative play. It's quite big and set over three floors and six different rooms – Kitchen, living room, bedroom, bathroom, office and an attic room. It comes with a range of furniture and Peppa Pig figure, all of which can be moved around the home. If you already own other Peppa Pig playsets, figures or vehicles, the Family Home can be added to these and most of the figures and vehicles will fit alongside it nicely. It retails for £39.99 in most stores but will provide your Peppa Pig fan with hours of fun. If you're quick, you might catch it on Amazon for just over £21!
Peppa Pig Christmas Jumper
How cute is the Peppa Pig Christmas jumper!?
It features some of the little mans favourite Peppa Pig characters combined with some great festive pictures. It's available to buy at Tu at Sainsbury's for £13 – £14 for ages 9 months to 6 years.
Peppa Pig Top Trumps Activity Pack
The Peppa Pig Top Trumps Activity Pack is available from Argos for £4.99. The pack features 5 games and activities and makes the idea travel companion. Children can help develop memory, observation, reading and counting skills and the instruction card and pencil also come in handy.
Peppa Pig Alphaphonics Campervan
The Alphaphonics Campervan is a great learning gift for pre school children. It helps the child learn the phonetic sound of each letter by listening to and repeating Peppa Pig. It also has games to learn letters, repeat letters and also spelling games.
The flashing lights are eye catching and the bright colours and images will appeal to smaller children. It's available to buy at Argos, Tesco, Amazon, Morrisons and various other shops.
Have you seen any other great Peppa Pig gifts this year?
You can check out the little man unboxing these fab Peppa Pig gifts in the video below.
* We were sent the products featured above free of charge to include in this post.