Yesterday we spent the afternoon in Morpeth before popping along to Heighley Gate Garden Centre to have tea with Santa.
Heighley Gate is a Wyevale Garden Centre and absolutely huge. As well as the garden centre itself, they have a great range of concessions from brands like Peacocks, The Works and Bonmarche and a restaurant, cafe and children's soft play area. You could definitely spend the whole day there.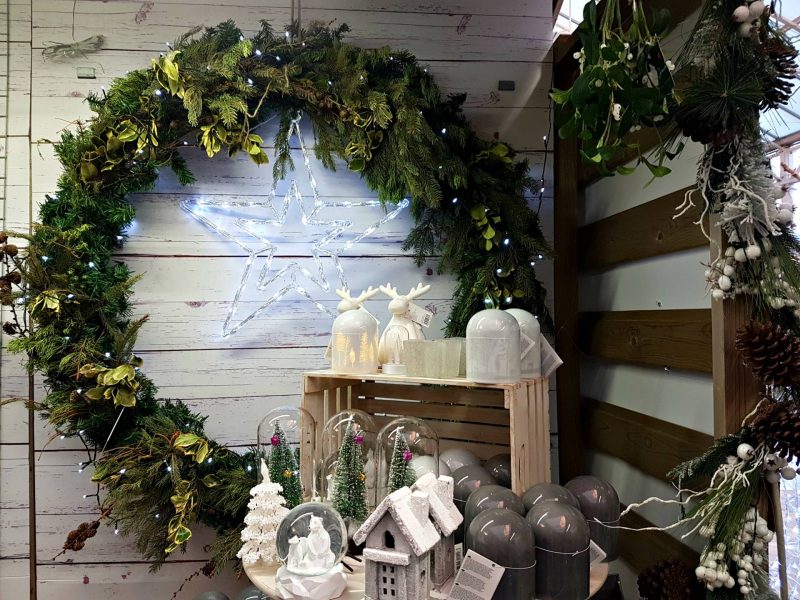 We arrived with plenty of time to explore the rest of the garden centre, check out the beautiful festive displays and purchase some extra Christmas gifts.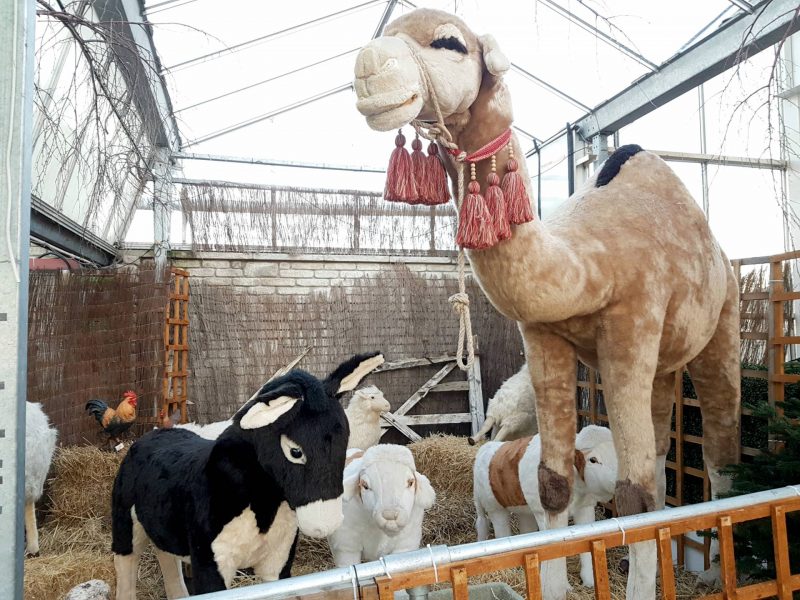 Heighley Gate is a few miles out of Morpeth town centre and a short drive off the A1M. It took us around half an hour to get there from our house.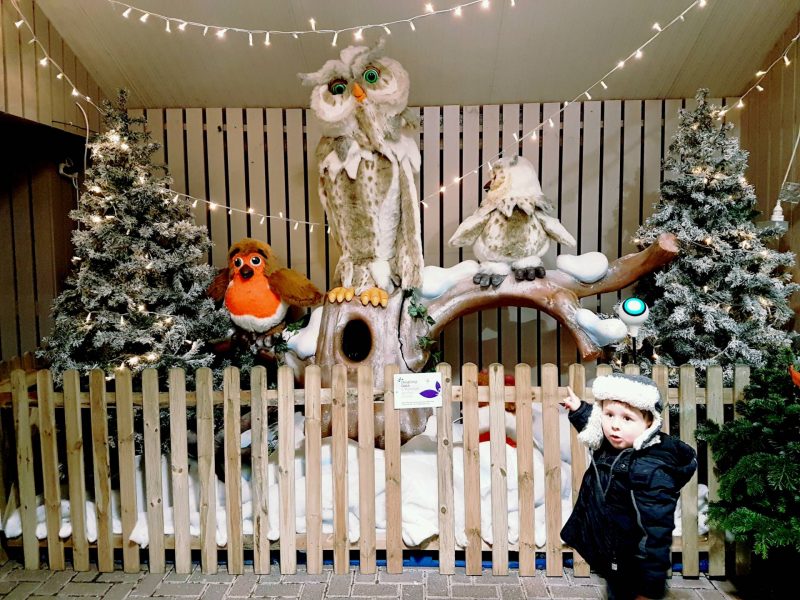 After we'd wandered round the entire garden centre, we headed to the restaurant for our Santa experience. We were first in the queue to be seated and were guided to our festive table quickly, by a friendly Elf. I was glad to see the table was already prepared for the children, with a festive activity sheet, crayons, crackers and a Gingerbread man to decorate.
The adult's afternoon tea ( the option we chose when we booked) was already laid out on each table and we were quickly offered tea and coffee by the elves and the little man was offered some blackcurrant squash.
There was a slight delay in the children's hot tea arriving which meant the little man did start and eye up the cakes and eat a chunk out of his gingerbread man. However, it certainly wasn't an excessive wait and it did make us feel confident his meal would be freshly cooked.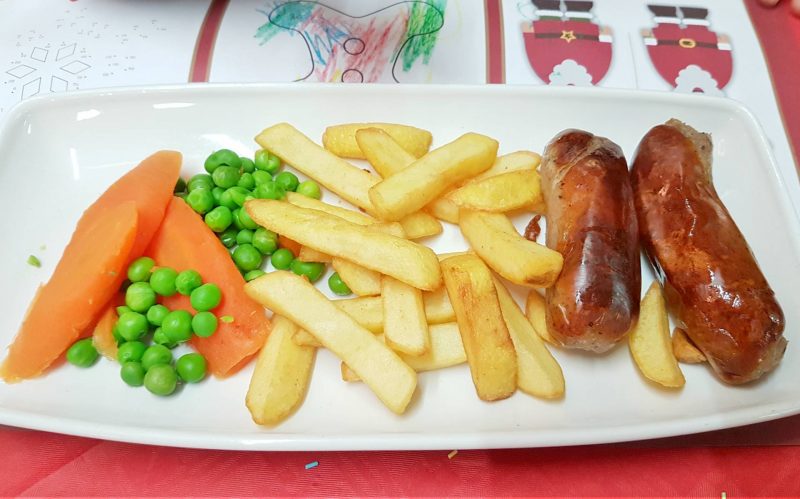 The portion size was pretty good and the little man made no complaint as he wolfed it down.
When booking Tea with Santa your food options are chosen in advance which saves time and decision making on the day. The adults afternoon tea that Hubby and I had is £8 each and the children's hot tea is £10 ( this also includes the Santa experience, festive activities and a gift). The was also a child's cold tea available for the same price and adults could opt for a mini tea for £4.50, each of which included a hot drink.
If you don't fancy tea with Santa, Heighley Gate also offer breakfast with him instead. The prices are the same but the start time is 9.30am instead of 4pm.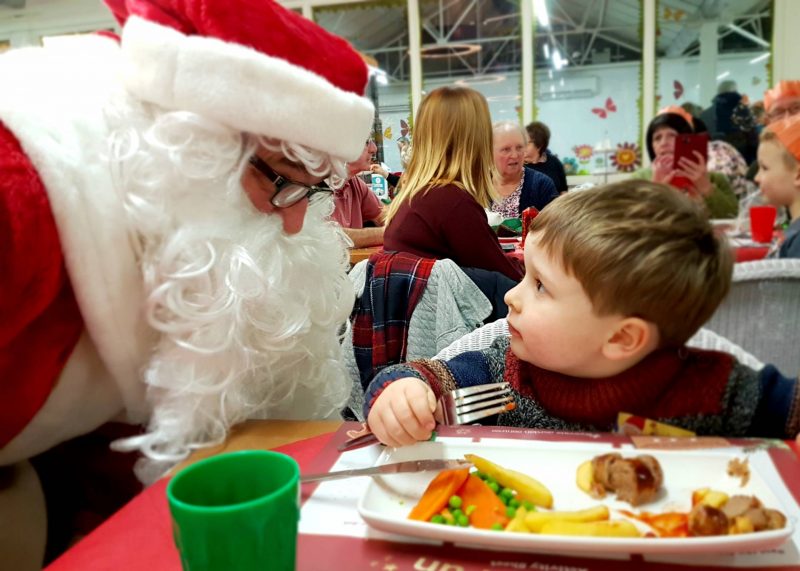 During the food we heard bells tinkling and then Santa arrived. Both he and the elves visited each table, chatting with the kids, giving each plenty of time to have a natter without disrupting their tea.
After his food, the little man started to decorate his gingerbread man, squeezing icing all over and sprinkling sugar strands EVERYWHERE!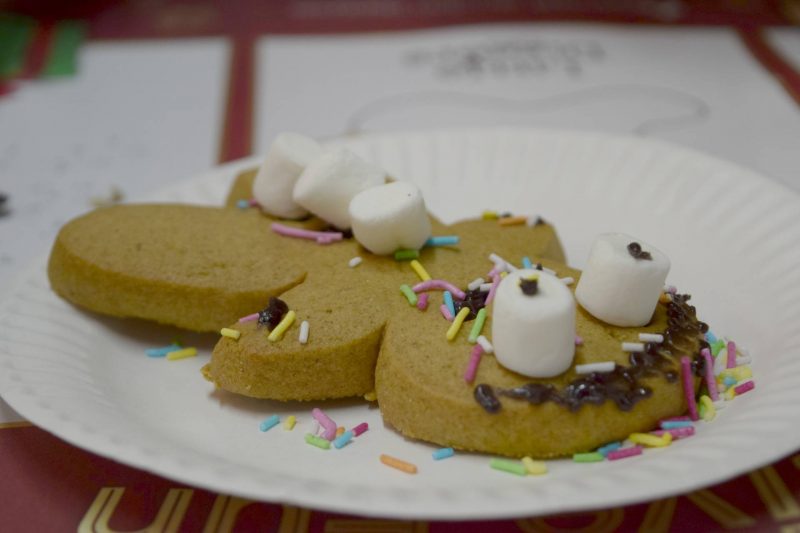 After the food was finished children were asked to sit on cushions on the floor in front of Santa. The elves started up a sing song and some of the children were picked to play instruments next to Santa.
After the singing ended, Santa was ready to speak with each child. The children were called forward one at a time and each had time to have a chat with Santa and tell him all about the gifts they hoped to recieve.
The little man was the second child to be called up so our wait was minimal. He got to sit on Santa's knee ( which is rare these days), have chat and then pick a present from a nice selection of unwrapped gifts. He they joined us back at the table and watched some of the other children be called up to see Santa.
We were able to chat to the little man about what he'd said to Santa, what he thought of his gift and unbox said gift ( a wind up mini train set) and play with it on the table.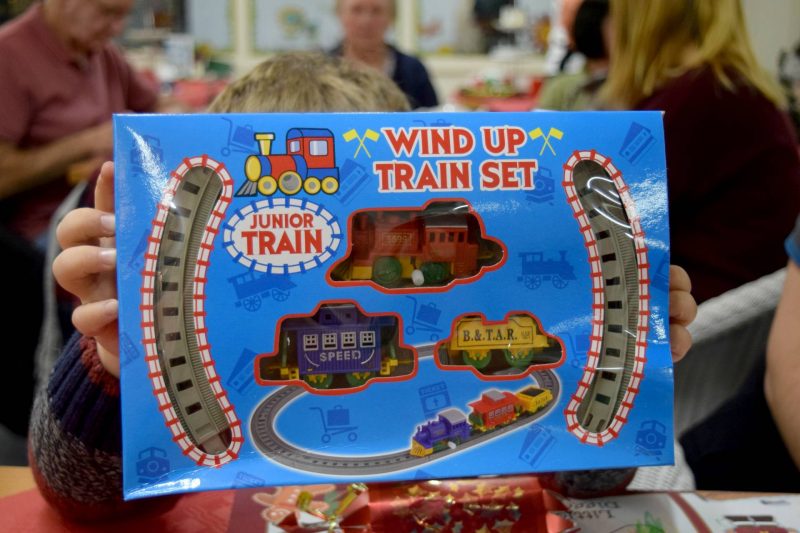 By this point the little man was starting to get a little bit tired and restless, he didn't want to sit at the table and we noticed some of the other families who'd seen Santa were starting to leave. However, at this point, there were still children sat on the floor waiting for their turn with Santa. People packing up and wandering past with their coats on wasn't really ideal for the families still waiting.
We couldn't fault our experience, we all enjoyed ourselves and had a great time. However, I'm not sure the families who waited a long time to see Santa will be as happy as we were. In my opinion, I think it might have been better for Santa to be set away from the group or in his own Grotto so the children waiting could still play games or participate in activities while each child called to see Santa had a more personal experience.
Some of the best bits for us –
I really liked the fact that the toys were unwrapped and the children were able to choose what they wanted themselves. The gifts all seemed pretty good, with Playdoh sets, cuddly toys and dinosaurs being popular choices.
I think the price was very reasonable for Tea with Santa. It's one of the lower priced Christmas events we've been too and I like the fact you can tailor the meals to your own budget. We'll definitely try and get booked up for next year.
We enjoyed the food and found it very tasty, the portion sizes were good and the drinks were replenished during the meal. There was certainly enough to fill us up.
The experience itself for us was really good. Our waiting time to see Santa was short, the little man enjoyed chatting with him and was very impressed with his gift.
If you're not lucky enough to have tickets for Breakfast or Tea with Santa this year, you can still visit Heighley Gate to check out some of their free festive family events. They're all drop in events so you don't even need to book.
*Our tickets were complimentary but opinions are my own.