Last weekend we were invited along to Seven Stories to see one of their Christmas performances, Peas VS. Penguins: Fight for the Festive Freezer!
Parking was easy at Foundary Street – it's free on a Sunday too!
We visited on a Sunday for the 2pm performance but arrived with plenty of time so we managed to squeeze in some lunch and because we hadn't visited for a while, we spent some time checking out the exhibitions.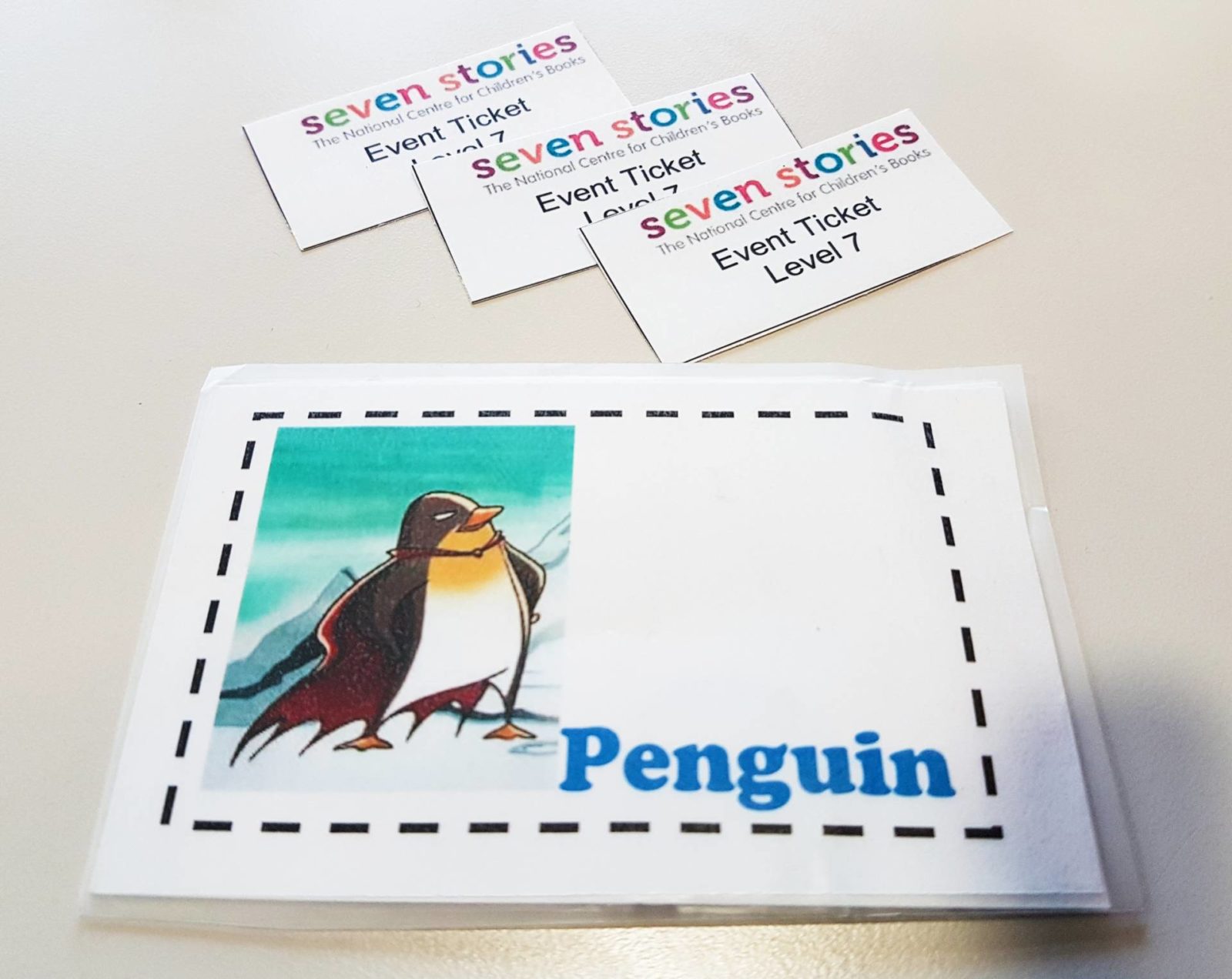 When we entered the building, the little man was given a selection of cards to choose one from. He chose 'penguin' and asked questions about it for the entire visit before we headed into the performance.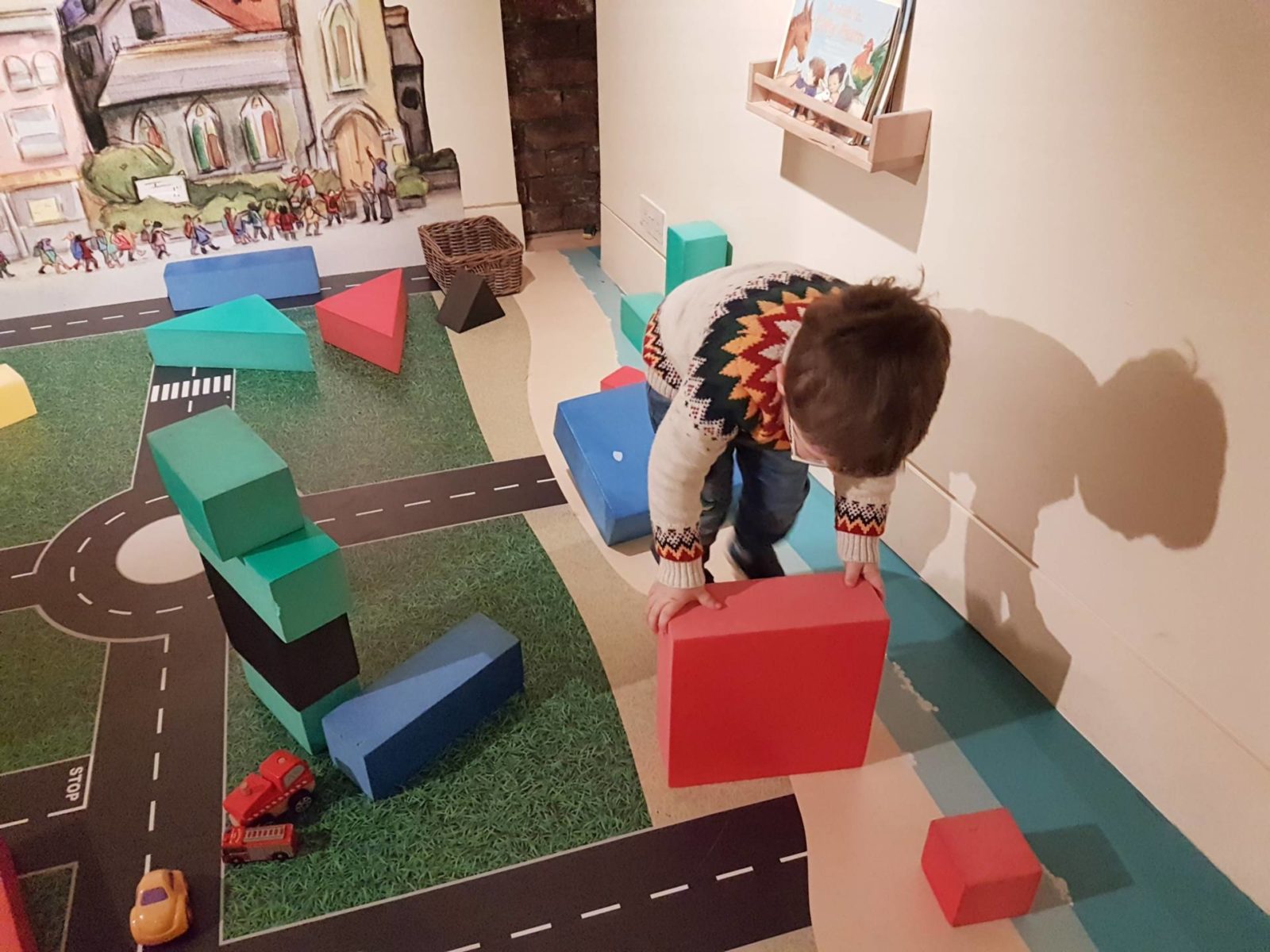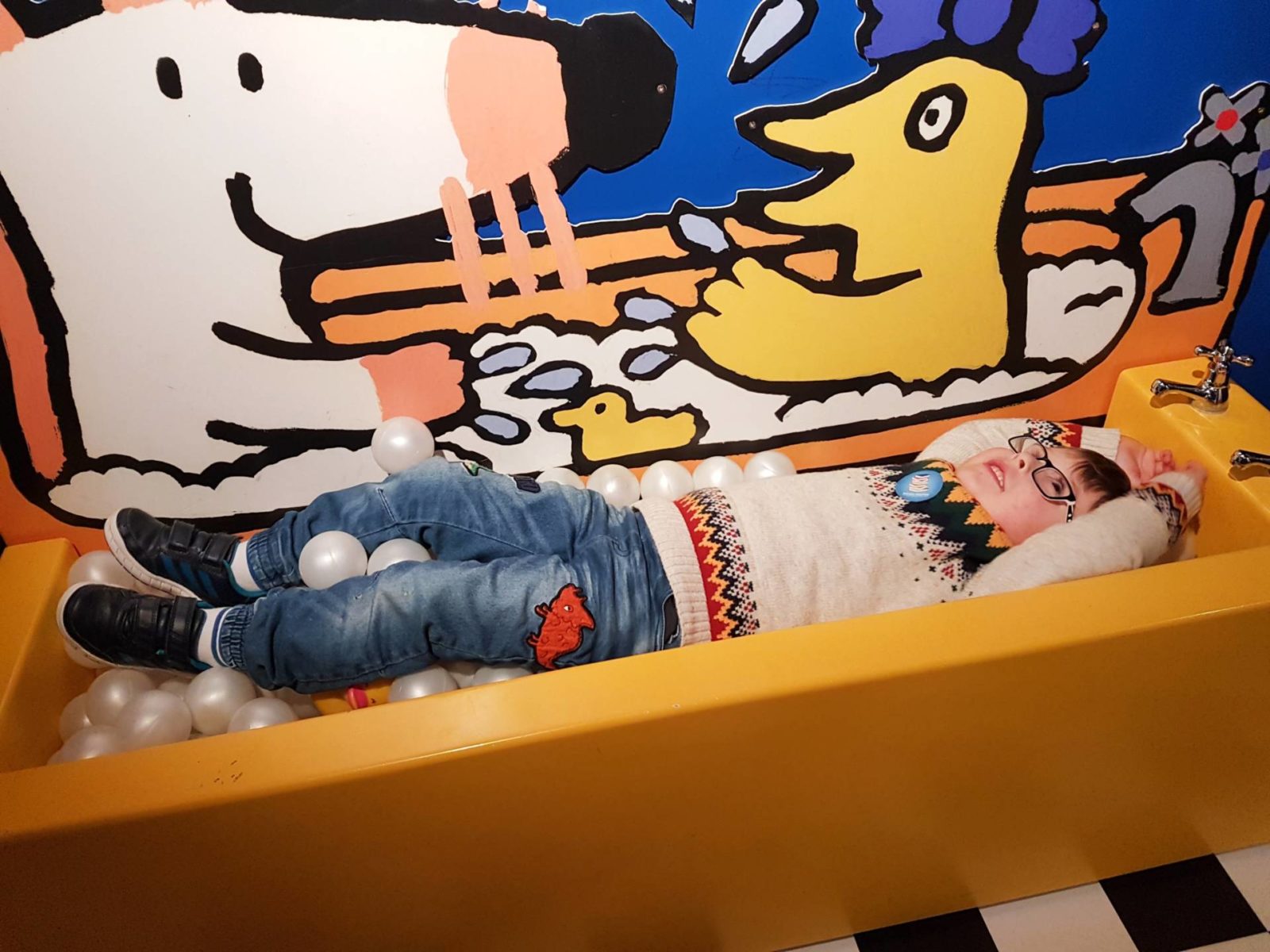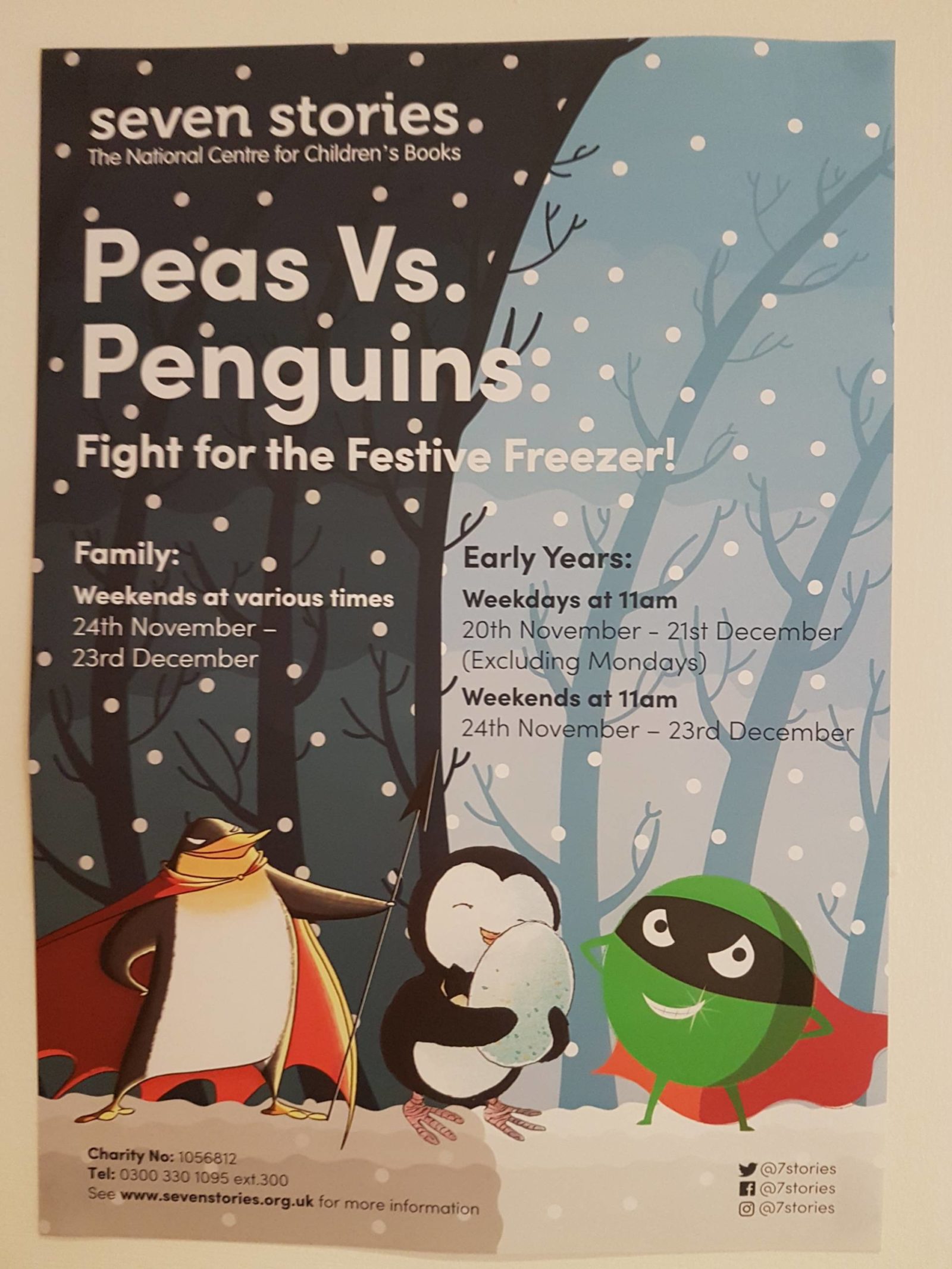 'Something fishy's going on in the howling tundra of the freezer box. Under the rule of Evil Pea and Evil Emperor Penguin, the Pea and Penguin communities have been enemies for as long as they can remember – because… well… come to think of it, nobody can remember exactly why! Will Peas and Penguins give each other the cold shoulder forever? Or can they use teamwork and kindness to end this game of charades and create peas on earth? Join our Story Catchers for a unique live storytelling experience complete with creative activities, cosy family time, lots of silliness and the best seasonal party games (with a twist).
Peas VS. Penguins: Fight for the Festive Freezer! is inspired by the books Supertato: Evil Pea Rules by Sue Hendra and Paul Linnet, All the Way Home by Debi Gliori and Evil Emperor Penguin by Laura Ellen Anderson.
Peas VS. Penguins: Fight for the Festive Freezer! was held in the Diagon Alley themed attic room which is right at the top of the building on the seventh floor. It's a lovely space and we love listening to story time up there when we visit.
The room was set up into two sides with rows of stools on either side and a space between in the middle. All those who'd been given Penguin cards ( like us) downstairs had to sit on the 'Penguin' side and the others had been given 'Pea' cards and had to sit on the other.
Each 'side' had it's own team leader or Story Catcher who looked after their team and ensured everyone got involved. Both were fun and friendly and great with the kids ( and adults).
Peas VS. Penguins: Fight for the Festive Freezer! was a lot more interactive that I expected. I think I'd expected something like a play but there was lots of audience participation and it was lots of fun.
Each group started off with a dance off against the other team, for someone who hates dancing in public, the little man really enjoyed this. He had to do three silly moves, taught to him by the Story Catcher and then perform it in front of the other group. He loved it and the jolly competitiveness between the two teams was such good fun.
Next up was a Peas VS. Penguins version of 'Rock, Paper, Scissors' but instead of the traditional 'equipment' this one was 'Dinosaurs, Smiley Faces and Ice Cream'. Each team made their choice together before showing the other side, the penguins definitely won that round!
The two groups then played a game of Pictionary where the team leaders drew pictures on a large pad of paper and their own team had to guess what the drawing was of. This is where the similarities between both teams started.
The two teams then had a game of musical statues to Christmas songs and everyone realised the two group leaders, Evil Penguin and Evil Pea were really friends after all and it had all be a trick to make people think they didn't like each other.
The groups were then encouraged to join up and pick a partner from the opposition. The little man partner up with a sweet little girl about his age, from the other team and the adorably held hands, separating only when asked to join up their body parts. The kids loved this activity and it was a nice easy one to do.
Lastly, we sang 'Walking in a Winter Wonderland' from a projector screen. Whilst it was nice, I think it was perhaps a little ambitious considering a lot of the children looked to be under the age of 5. I think something like Jingle Bells might have been a better choice.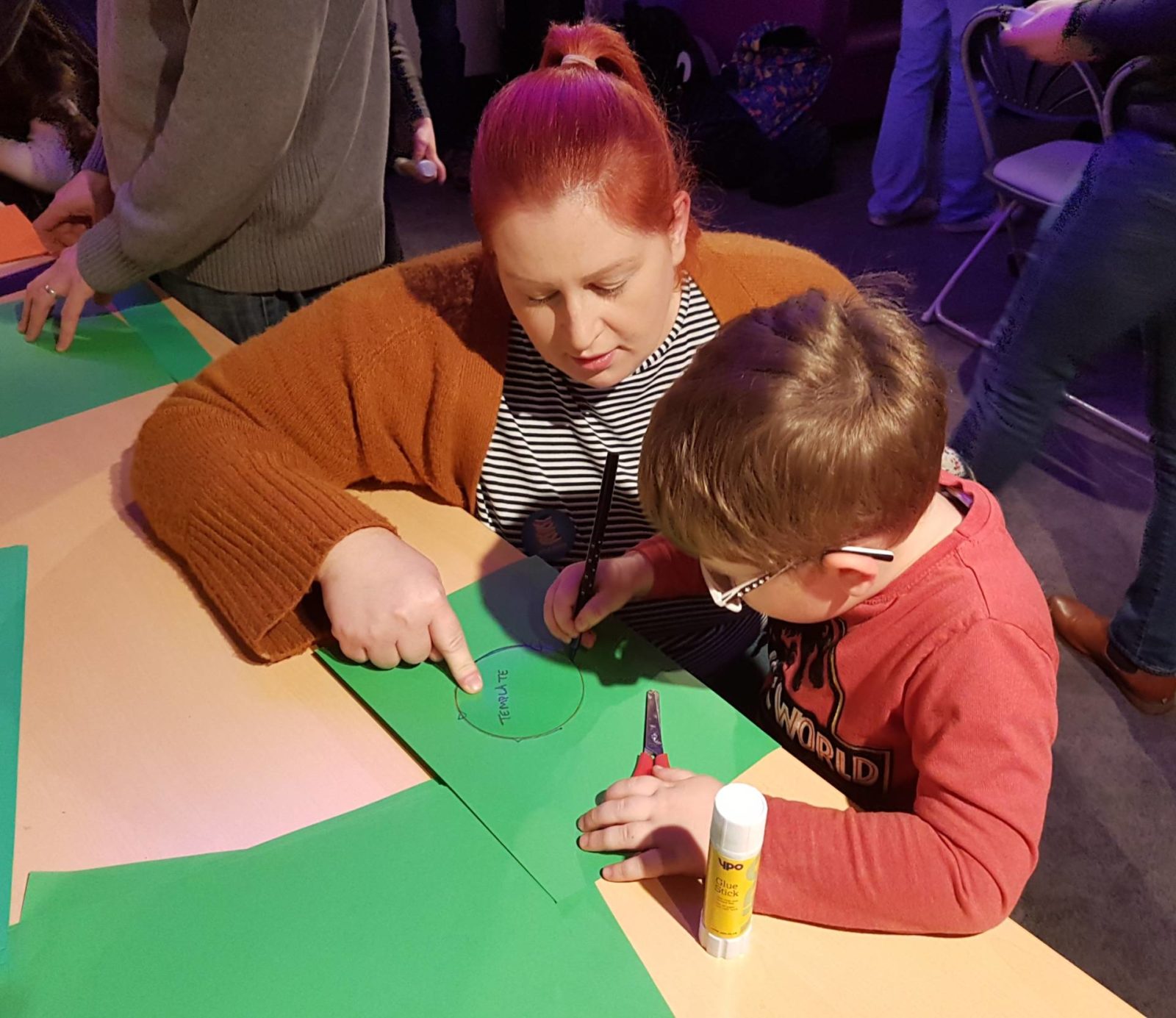 After the group activities had finished, children could get creative and join in with some crafts. They were able to make simple Pea or Penguin headbands and then pose with things like giant frozen lollies and bags of sweetcorn.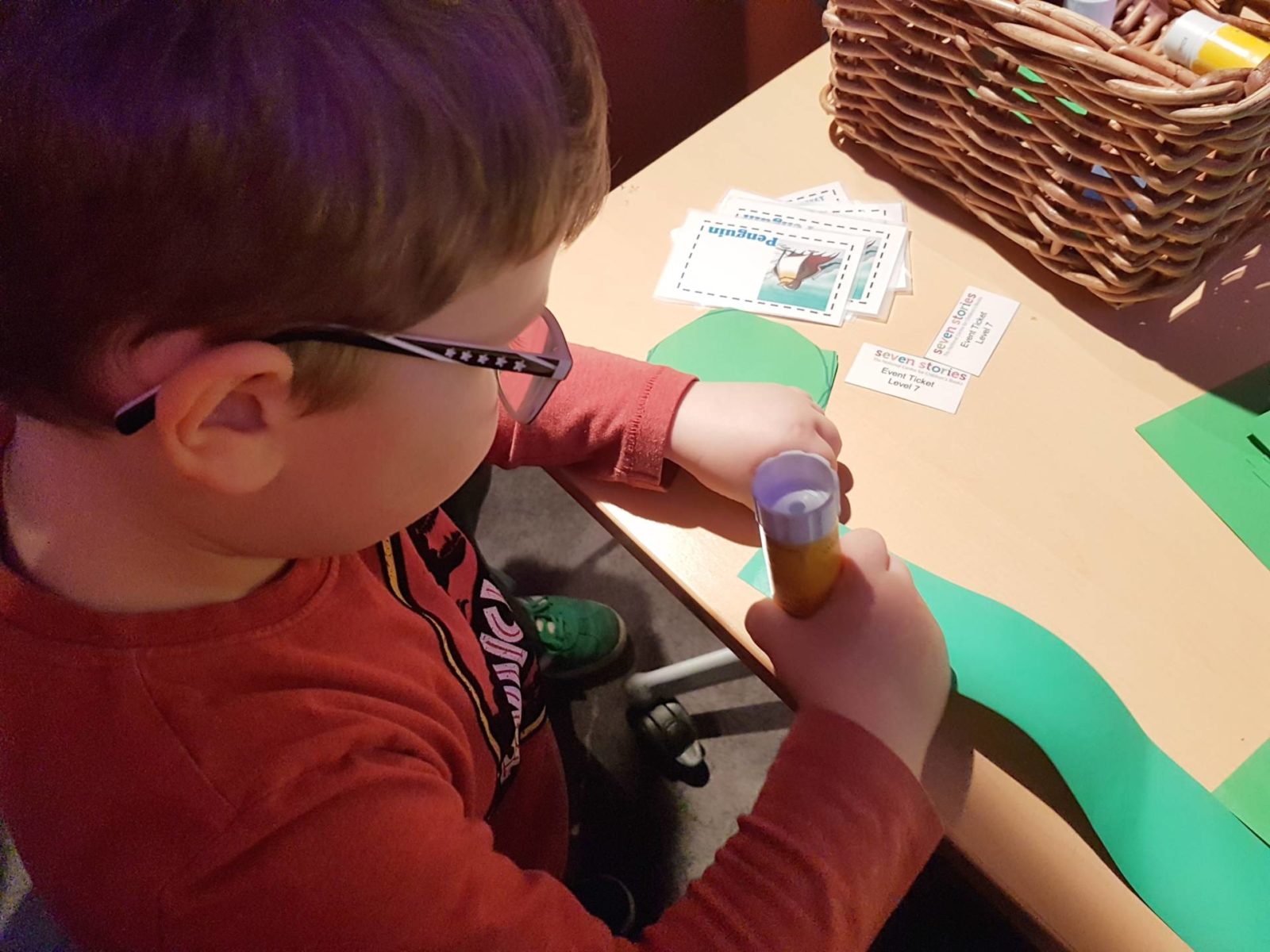 We really enjoyed Peas VS. Penguins: Fight for the Festive Freezer! at Seven Stories, it was lots of fun to be involved in something interactive with lots of audience participation. The little man really enjoyed getting involved and took his role as a penguin very seriously!
The 60 minute session suitable for all the family and £5 per person (including children and adults)
There are still some sessions to book on before Christmas –
Saturday 15th December 11am and 2pm (relaxed session)
Sunday 16th December 2pm
Saturday 22nd December 11am and 2pm (relaxed session)
Sunday 23rd December 2pm
There is also a 'mini' edition of Peas VS. Penguins which is more suitable for pre-school children.
* Our tickets were complimentary in return for an honest review.