AD – We were invited along to a free evening at the launch of the Winter Wonderland
Winter Wonderland is running between 26th November and 9th January at Ocean Beach Pleasure Park at South Shields and the perfect way to get in the Christmas Spirit.
It's the first year they've held the event and entry to the park is completely free – you just pay for what you do.
You don't need to book to visit, just check the opening times for the park, which can be found here. The website is kept up to date so it's worth checking before travelling, particularly if the weather is bad ( the park is closed this weekend due to the weather warning and very high winds). Their Facebook page is very active too, so worth following for news and regular updates.
There is plenty of paid for parking near to Ocean Beach. We parked in the Dunes car park during our visit and paid £2.60 for 3 hours parking. You can do this with coins or via the PaybyPhone app, there is also a Metro Station a short walk away on Ocean Road and plenty of bus stops nearby if visiting by public transport.
Ocean Beach is a lovely park with a selection of rides, foot stalls and arcades. We've visited for years, I remember going as a child and my own two boys love a trip to the seaside, followed by rides at Ocean Beach. As well as the usual attractions in the park, visitors during Winter Wonderland can expect to find a range of additional extras including –
Outdoor rides and the indoor arcades, with varying operating times. You can find out more information here.
* A range of Winter Wonderland themed food and drinks, both hot and cold, from the kiosks.
* A festive licensed bar where visitors indulge in mulled wine, festive beers and other delicious drinks.
* Festive decorations around the Park which are perfect for brilliant photographs and and selfies.
* Ice skating on real ice in a decorated marquee with music and colourful lights.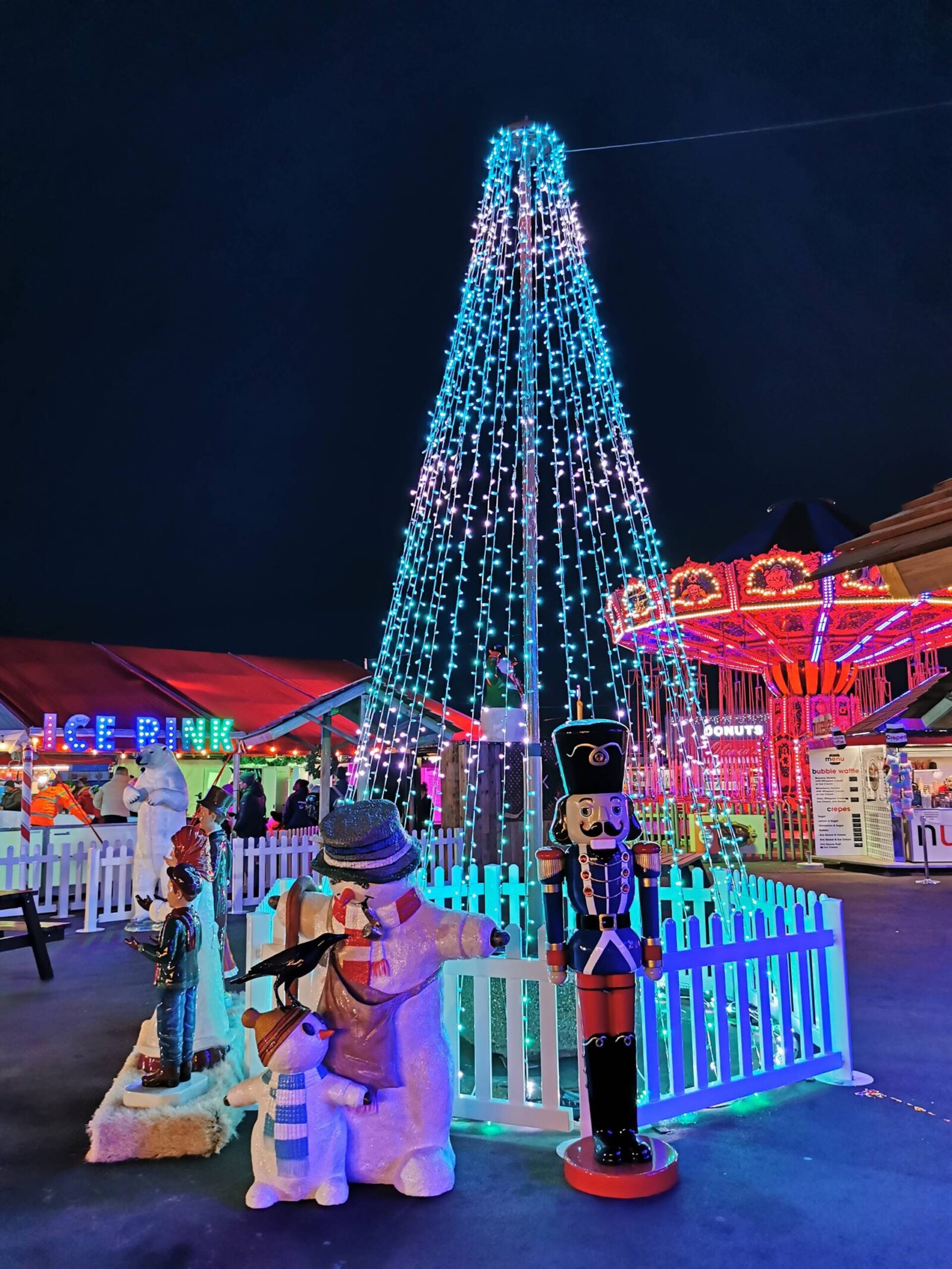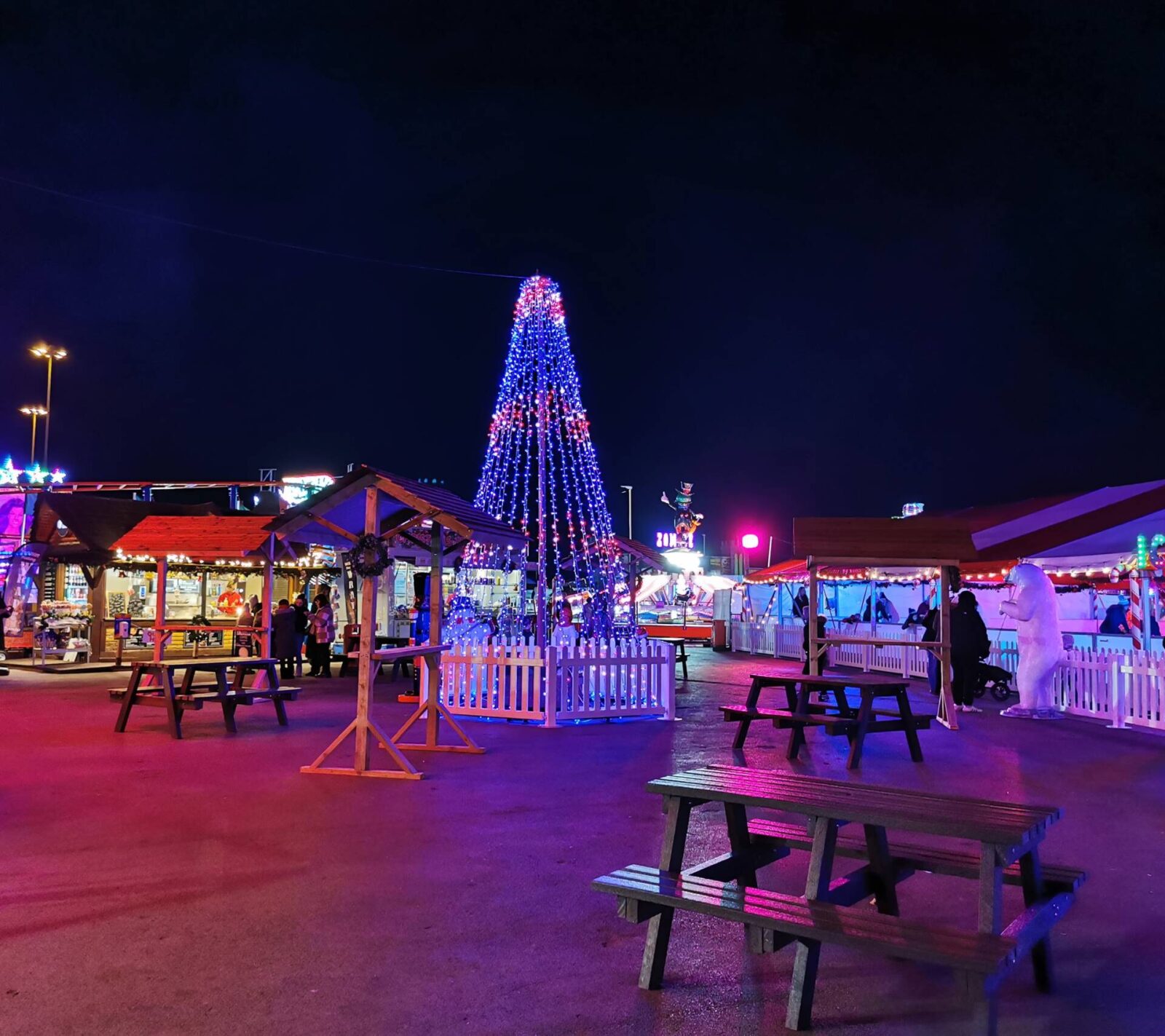 It was lovely to see the park so bright and festive. The addition of the Christmas lights and decorations made a massive difference and gave it such a brilliant, warm atmosphere.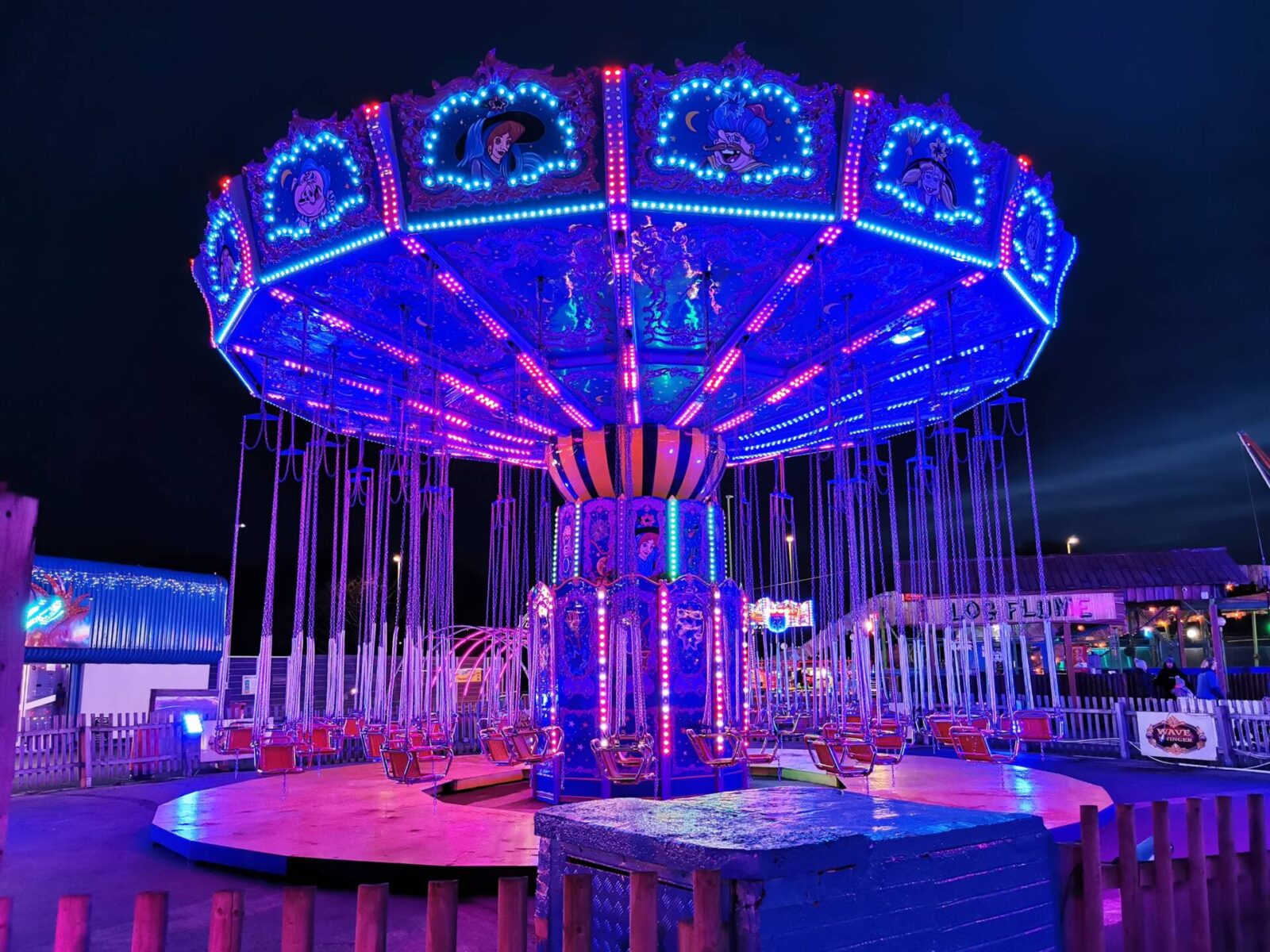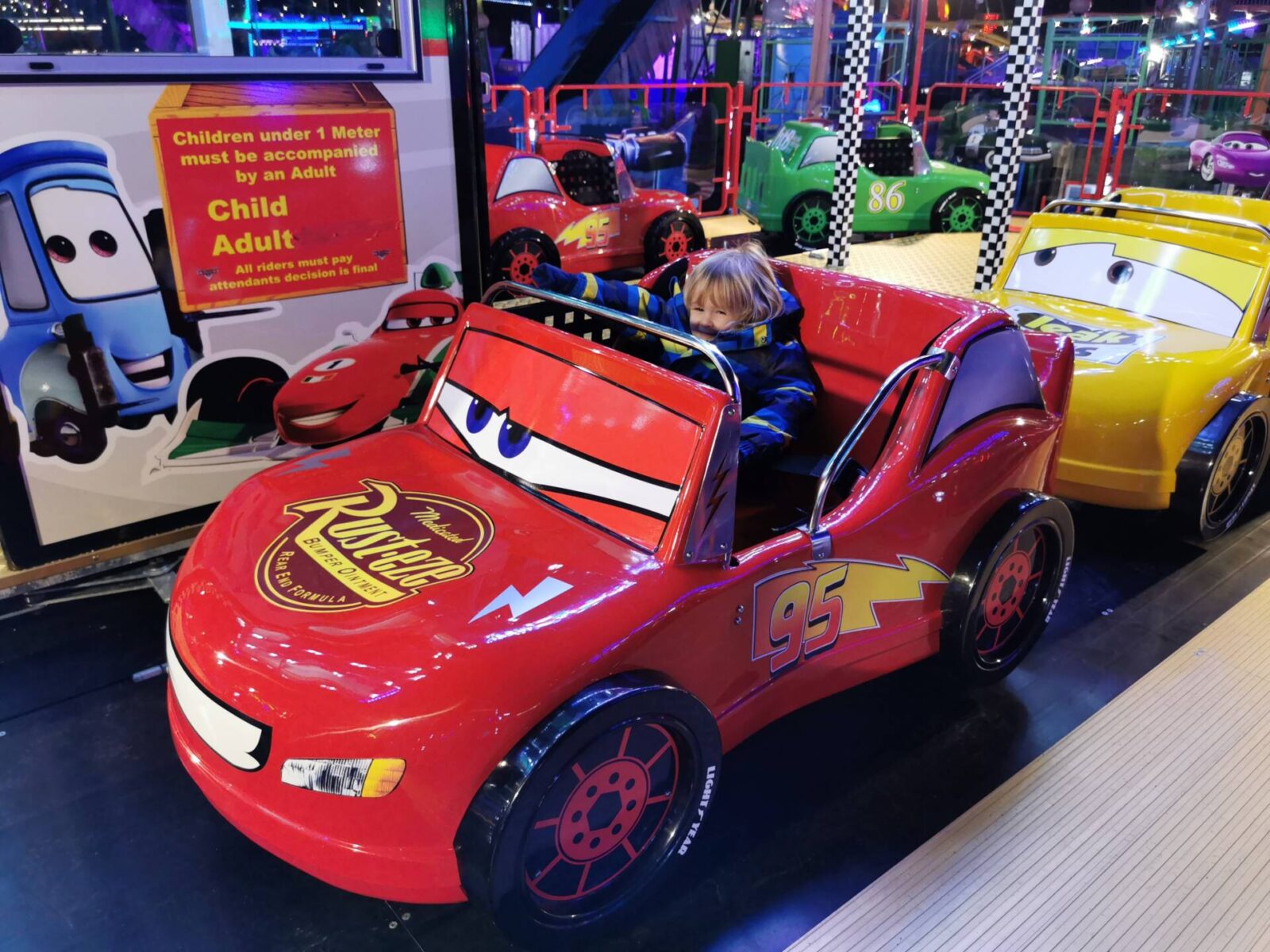 Ocean Beach now run a cashless system for their fairground rides which is really easy to use. You purchase a Tap and Play fun card on site and then you can top them up online or via the machines in the park. You just tap the card on the small screens at the entrance which allows you access and also shows the remaining balance of your card.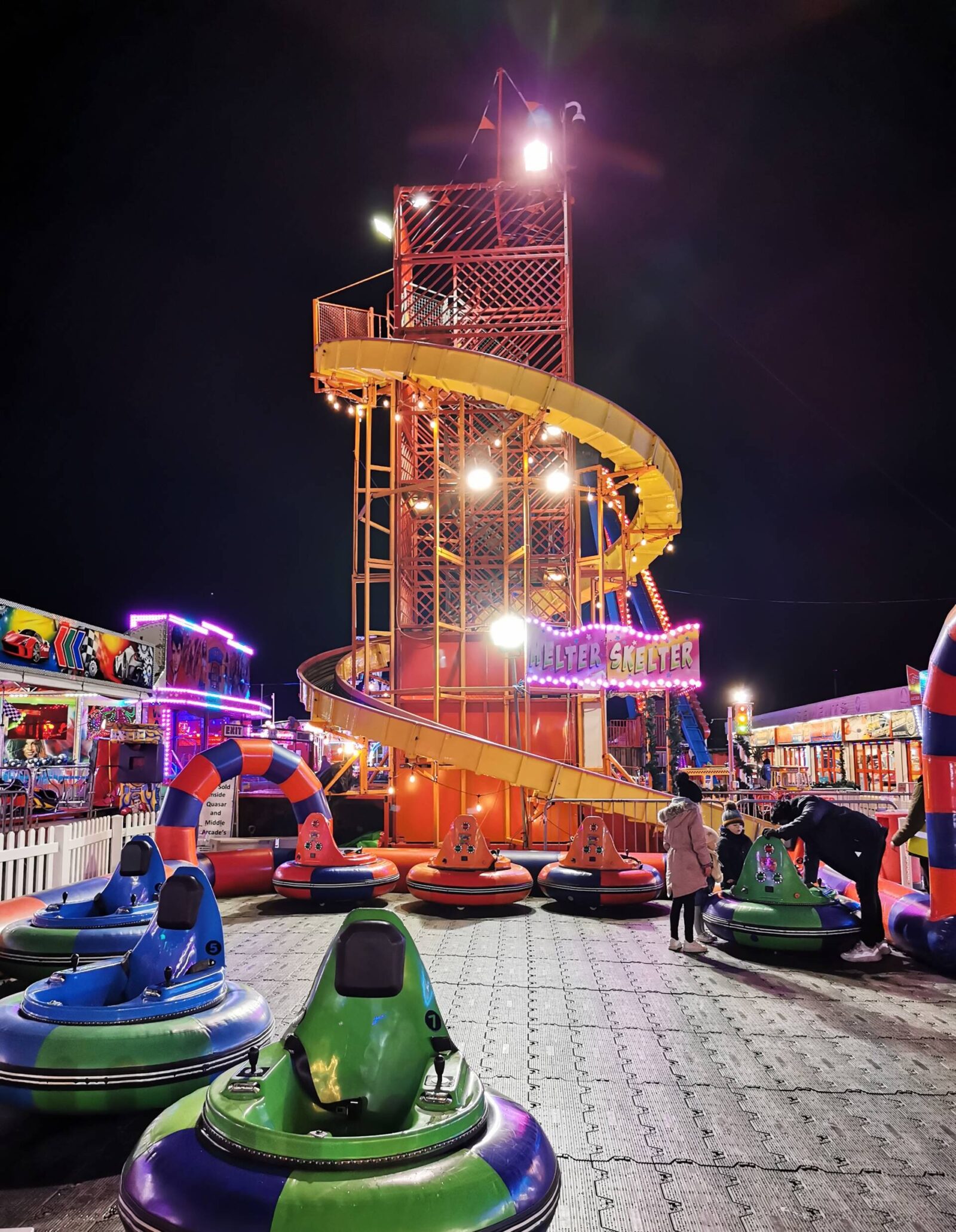 The park has a great selection of rides which are suitable for the whole family. My youngest loved the small carousel type rides where my 7 year old preferred the Helter Skelter and the Bumper Cars. Thrill seekers will love the bigger rides like Spring Break and Shaken and Stirred.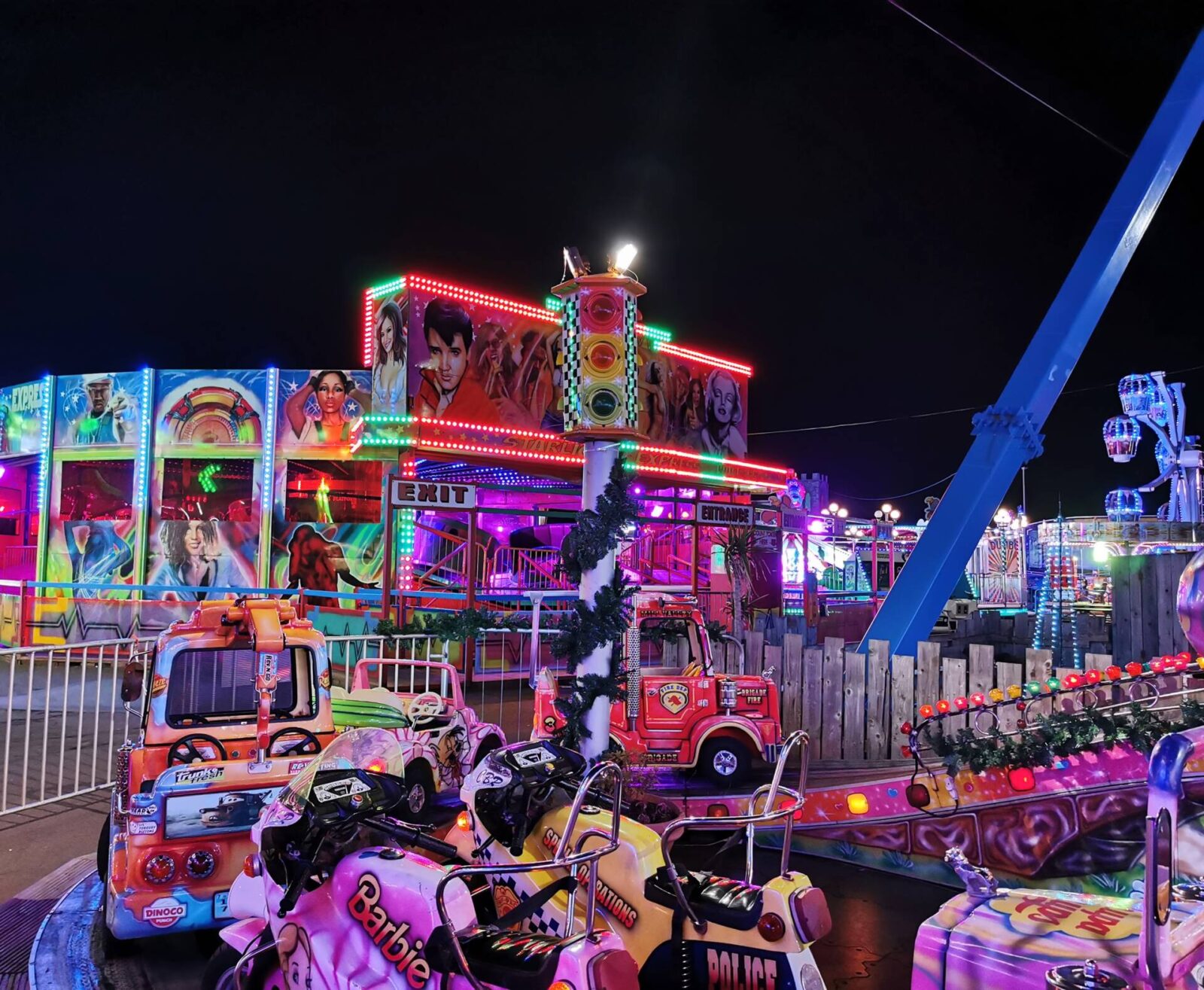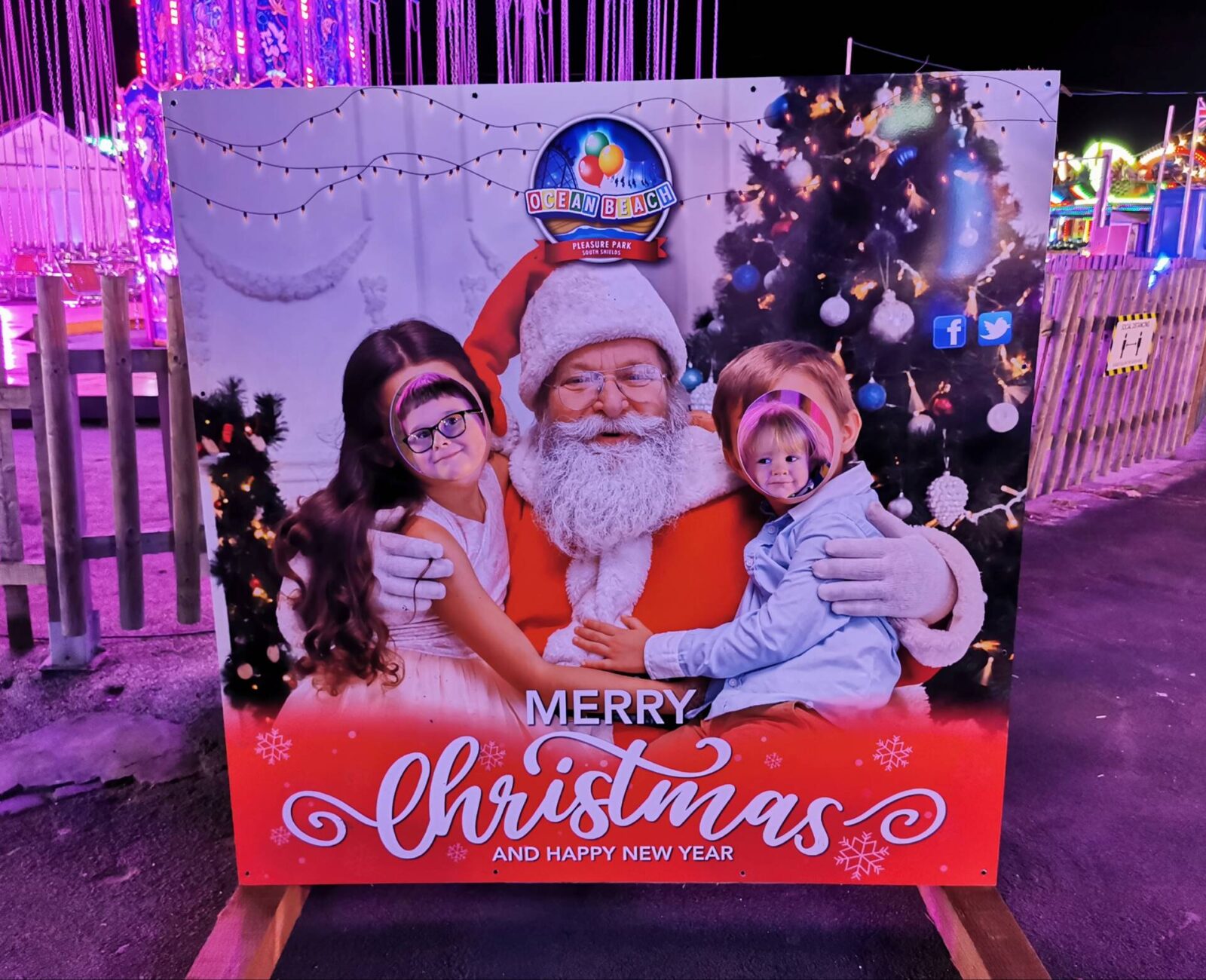 With friendly elves on stilts, an LED dancer and festive music, visitors were able to experience all that Winter Wonderland has to offer before the park opened to the public on 26th November.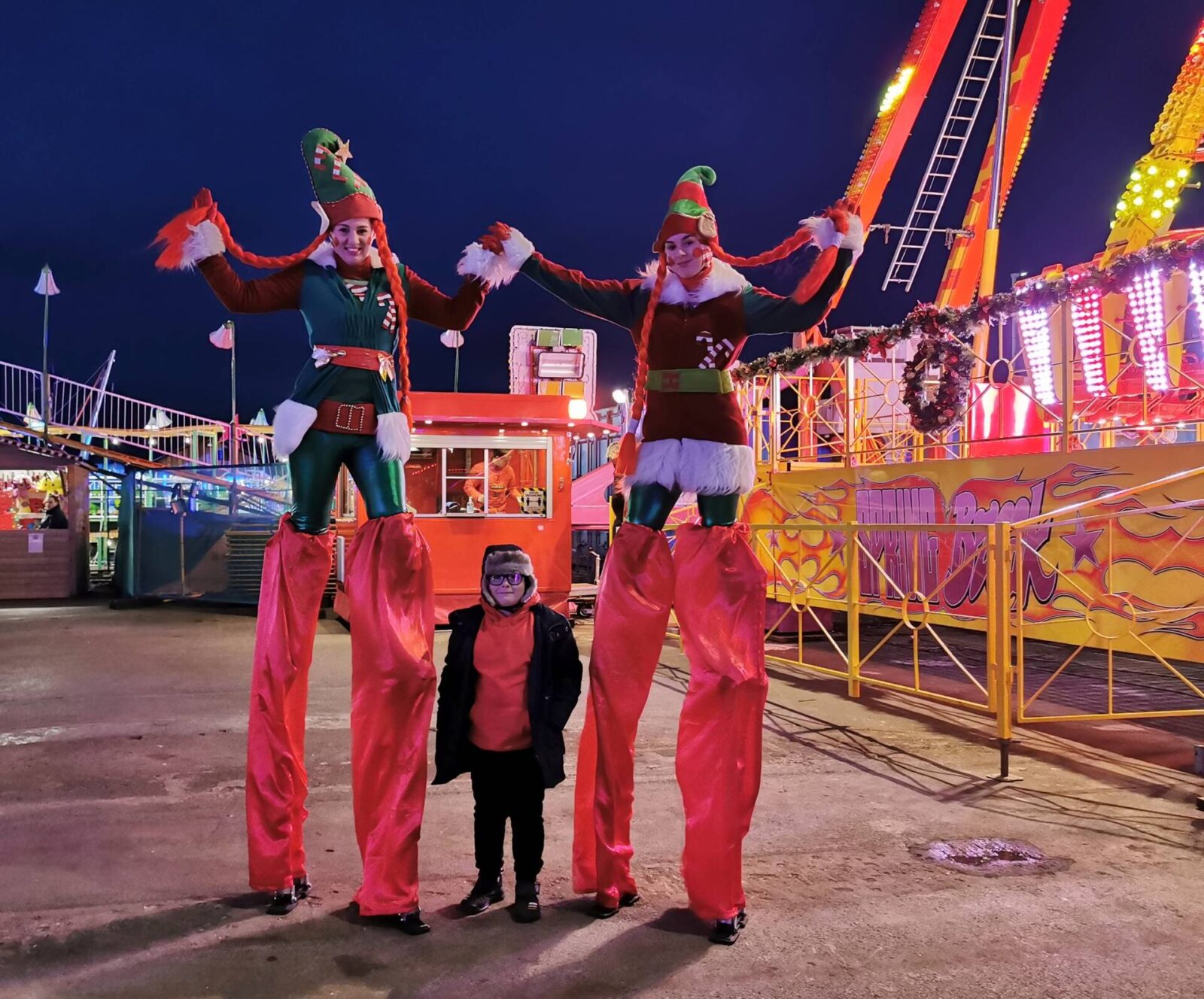 There were plenty of photo opportunities and eye catching entertainment for the whole family. The boys loved the super tall elves and the LED dancer ( who literally never stopped moving!).
Visitors to the park have the opportunity to skate on real ice on the ice rink at Ocean Beach. The large rink is underneath a marquee which is ambiently lit and looks very festive.
Skating lasts for 1 hour and includes the use of skates, skating aids for younger children or those less confident can also be hired at the cost of £5.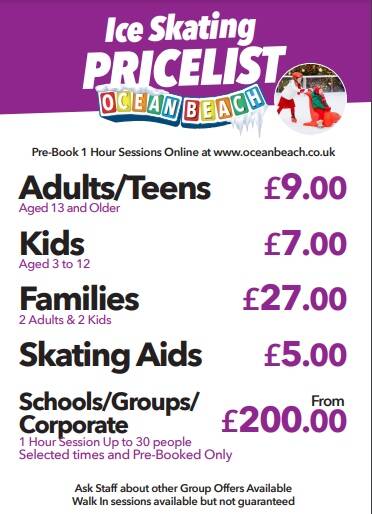 The staff who were manning the ice rink were absolutely brilliant. My eldest went on the ice alone and wasn't very confident (or very upright) and they were great with him. They encouraged him to try and helped haul him up when he landed on his bum!
You can expect to see traditional fairground food at Ocean Beach such as chips ( £2.50), burgers ( between £3.50 – £4.50) and hot dogs ( £2.50 for a standard hot dog in a bun). There are also some slightly fancier options such as –
Hot Christmas meat sandwiches ( chicken, pork and beef)
Pigs in blankets
Christmas foot long sausage with stuffing and cranberry sauce
And for those with a festive sweet tooth –
Poppy's churos, with sugar and cinnamon
Cadbury's hot chocolate with cream, marshmallows and a flake
After Eight hot chocolate
Terry's chocolate orange hot chocolate
Gingerbread hot chocolate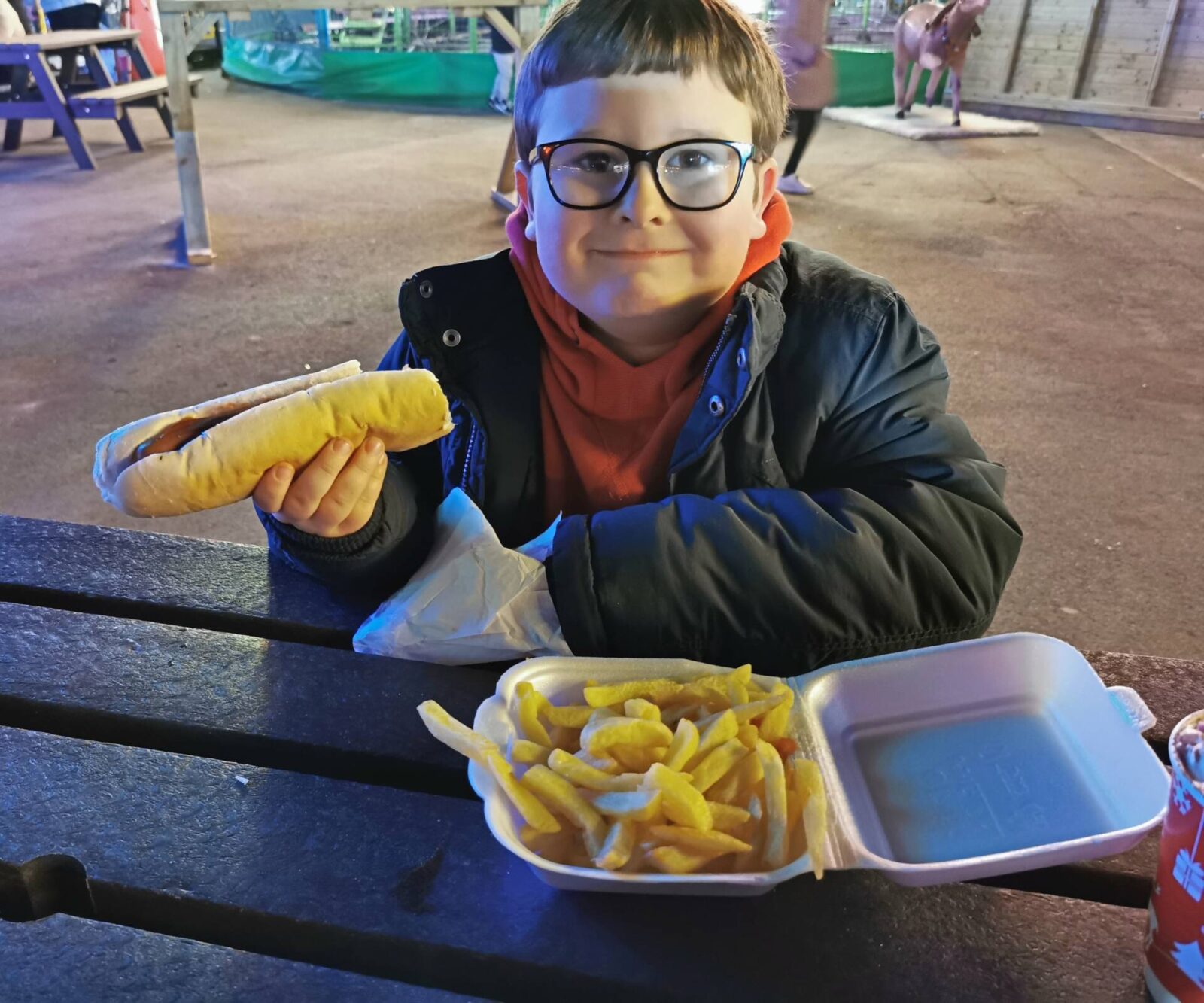 The boys both had hot dogs and chips and I had a cheese burger with bacon and lots of onions. The food was hot and tasty which was perfect for filling tummies after a busy evening on the rides.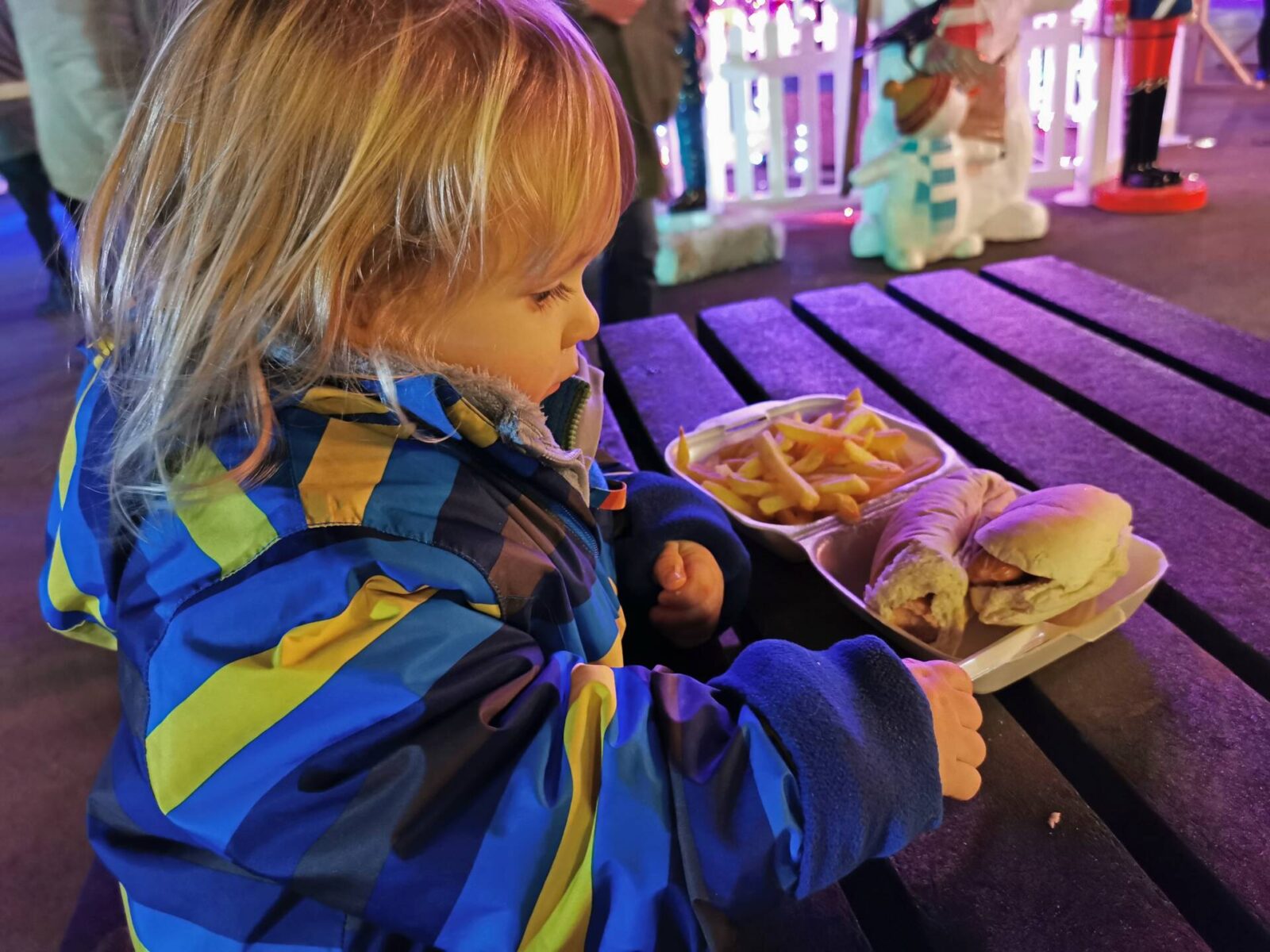 We had a lovely evening at Winter Wonderland and will likely visit again before Christmas. If you're after a fun, festive visit that doesn't include Santa, I'd recommend a visit to Ocean Beach.