Product sent in return for an honest review
It's not something I've written about on my blog but, over the last couple of years I've had some pretty bad health issues, the majority of which are bowel related. 6 months ago I was prescribed medication to treat Crohns and Colitis and although I still don't have an official diagnosis, I'm now under a Gastrologist for a suspected IBD ( Inflammatory bowel disease) and although the medication has helped to calm things down a little I do try to make a conscious effort eat things that help my gut and bowel stay healthy.
I was recently given the opportunity to try out the Probio7 Life Yogurt Making Kit which is designed to deliver 6 million friendly bacteria from three well-researched strains to support gut health. I know that certain probiotic bacteria can prevent or help to minimize intestinal inflammation so I was very keen to try it out. I knew the kids would love it too, they eat masses of yogurt and are always keen to eat things that they help make themselves.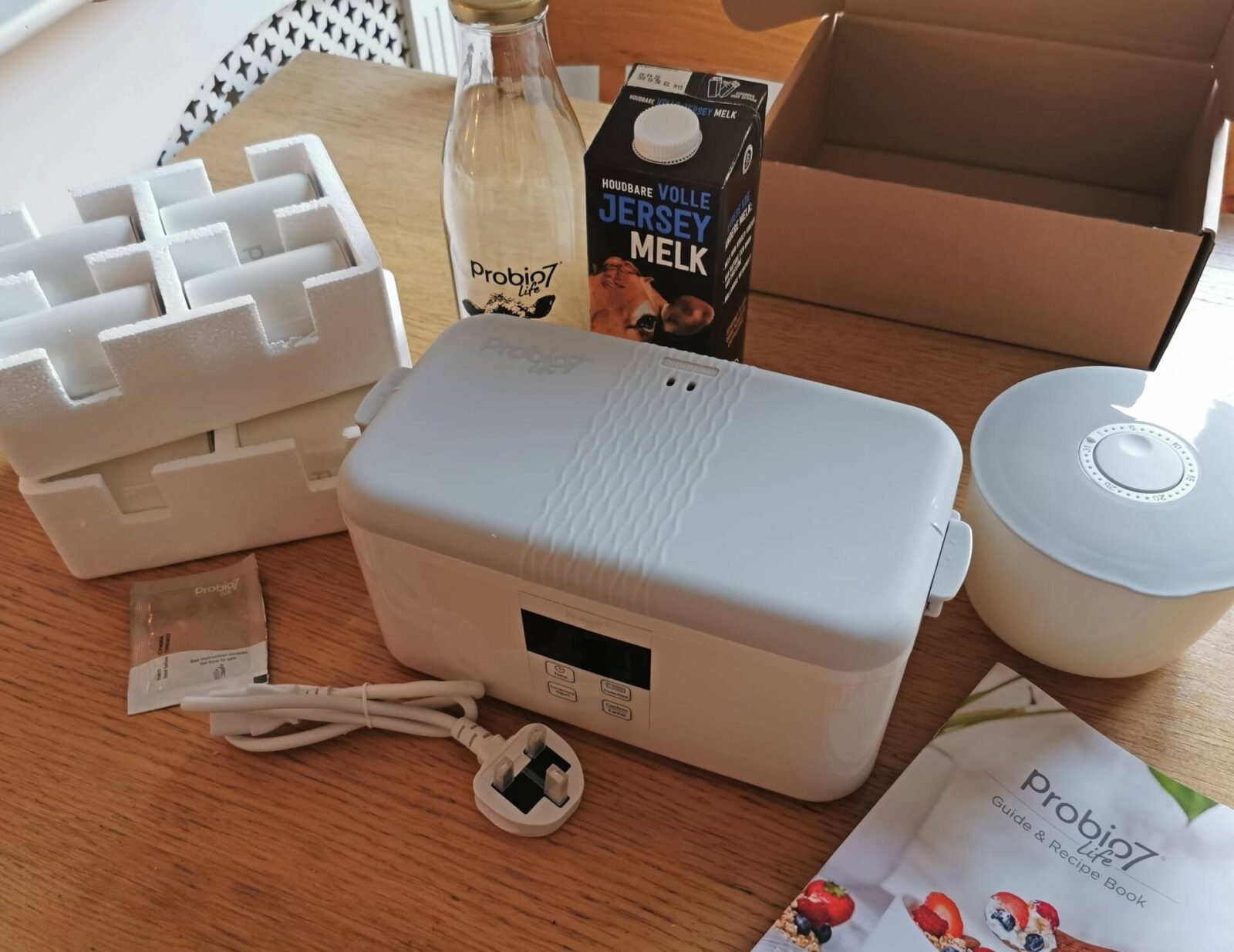 The Probio7 Life Yogurt Making Kit contains a yogurt maker, 8 x 125ml ceramic pots, 2 x 250ml ceramic pots, a glass litre milk bottle, a Greek strainer and a recipe and instruction booklet. The machine looks very simple, with only four buttons on the front, I was also pleasantly surprised to see how small it was. We don't have a lot of bench ( or storage space) in our kitchen so large appliances tend to be a no go.
The smaller ceramic pots are ideal for one person, I used one to eat each morning. The large ceramic pots would be great to use if you're making some kind of pudding or sauce to share ( you can fit 8 of the small ceramic pots inside the yogurt maker, the 2 large ones or 1 large one and 4 small ones).
Once you've washed and cleaned your pots, you're ready to go. Using the yogurt maker is really easy, to be honest, I found the instructions actually over complicated things. Should you have any issues, the machine comes with 1 years manufacturers warranty.
The company suggest using Jersey UHT milk to make your yogurt, as well as it's tasty, creamy flavour it is also full of B vitamins, contains more calcium than other breed of cow, is rich in potassium, contains predominately A2 protein which makes it easier to digest and also contains lots of antioxidants and zinc with is used in several bodily functions.
Firstly you pour your entire litre bottle of Jersey UHT milk into the glass mixing bottle and then add the Probio7 Happy Gut bacteria into it before giving it a good shake to ensure both products are mixed together well.
Although I'm sure a lot of store bought probiotic yogurts are perfectly fine, we don't really know what they contain. With the Probio 7 we know that the main starter bacteria are Lactobacillus bulgaricus and Streptococcus thermophilus. The Probio7 Happy Gut also contains three clinically researched strains to help support your gut health. One of these is Lactobacillus rhamnosus GG, one of the world's most researched strains.
The function of yogurt starter bacteria is to ferment lactose (milk sugar) to produce lactic acid, which creates the yogurt consistency. Once I'd used the Happy Gut bacteria sachet that came with the starter kit ( you only get one), I did try and make yogurt using just UHT milk but unfortunately it doesn't work, the consistency of the milk does not change to yogurt so you will need to purchase further sachets if you wish to keep using the yogurt maker.
When your milk and bacteria sachet are mixed together properly, you need to pour it into the containers you wish to use ( we made 4 small tubs and 1 large tub) and secure the lids.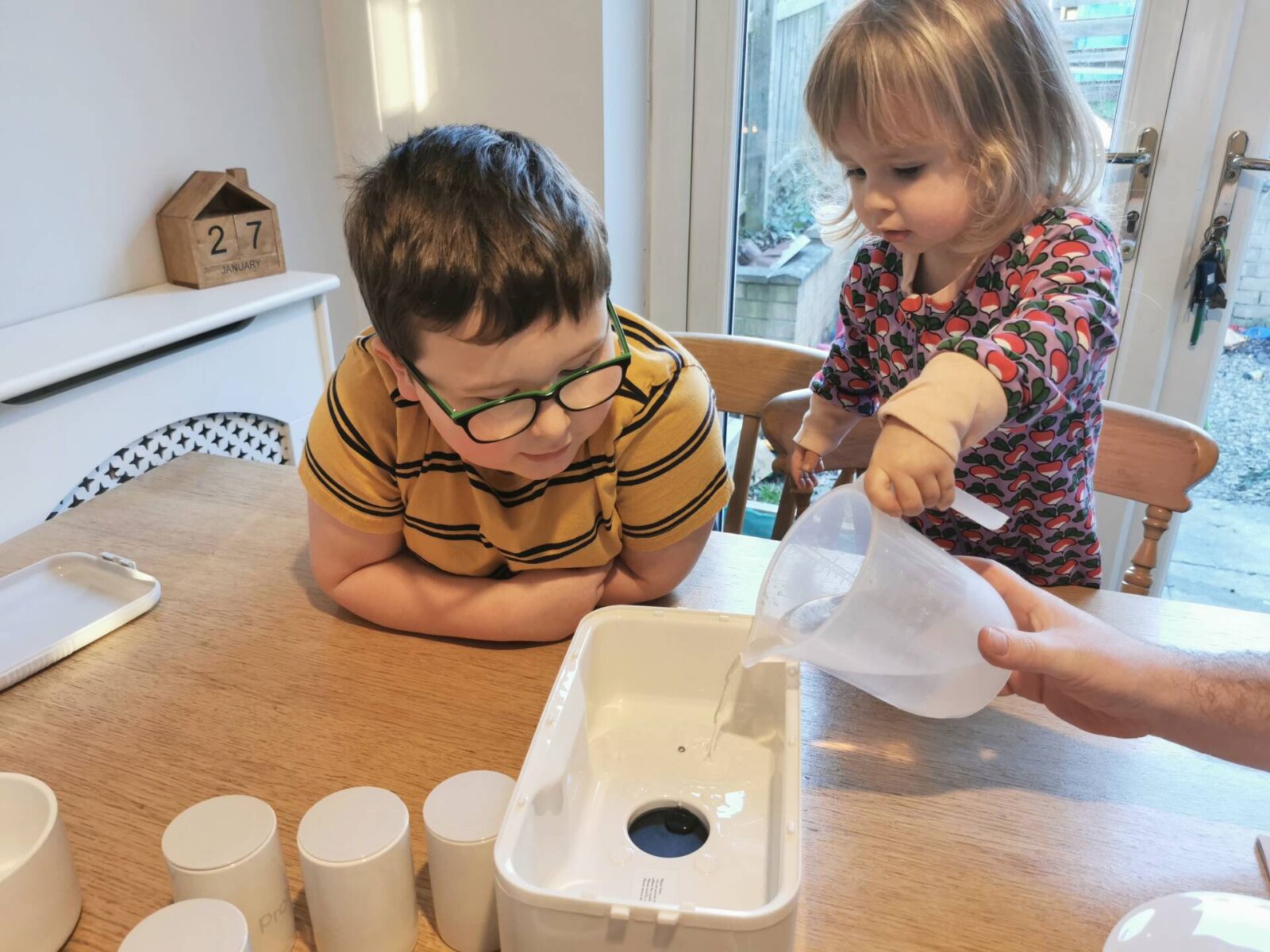 You need to add 400ml of water to the bottom of your yogurt maker, it doesn't actually say whether it needs to be hot or cold so we used a slightly warm water from the tap. Once your tubs are inside, put the lid one and use the sliders on the edge to tighten and secure it.
Once the yogurt maker is plugged into the wall, you click the function button and chose yogurt and then click confirm. The machine doesn't make a sound to acknowledge this so just have to presume the machine has confirmed your choice and is working.
It takes 8 hours to make the yogurt, you can see the time on the front of the yogurt maker counting down. When the 8 hours are over, the yogurt can be eaten straight away though it is recommended to refrigerate it for 24 hours and then eat. You don't need to wait for it it to cool, it can go straight into the fridge where your yogurt will last for 6 days ( if you don't eat it all before then!)
The yogurt has a thick, creamy consistency, it isn't quite the same as shop bought yogurt as it's less wet and a little more stringy if that makes sense. I was really impressed with the rich, creamy flavour even without anything added to it. I had been a little concerned it would have that slightly sour taste of plain, natural yogurt but it was nothing like that.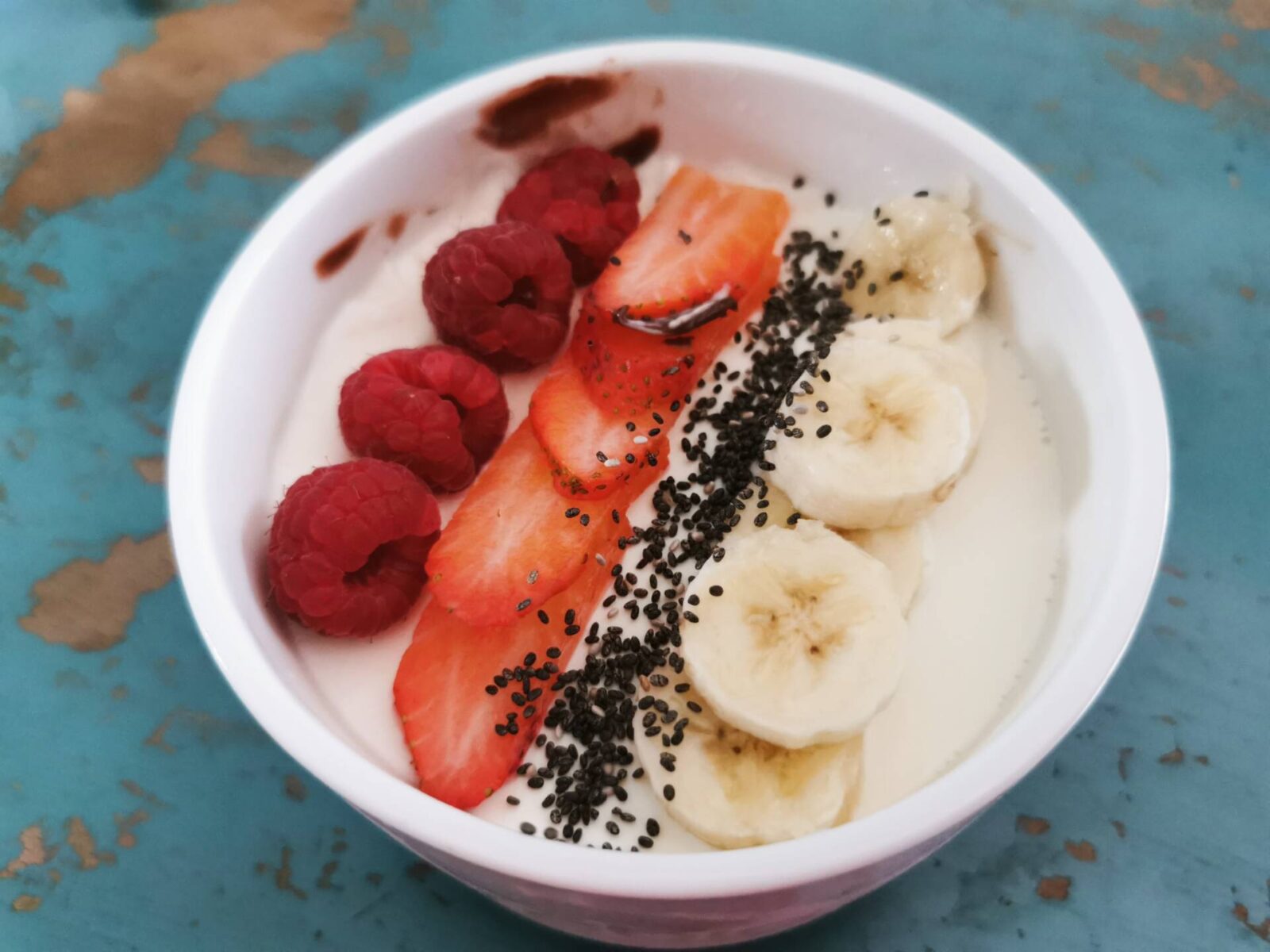 I was more than happy to eat the yogurt by itself but the kids preferred it with fruit and Nutella added to it to sweeten it a little.
The yogurt make things like dips and sauce for pasta and the machine itself can be used to make Natto, Kimchi and soft cheese as well as yogurt.
You will need to repurchase more bacteria sachets and milk once you've used the one included in your starter pack. You can purchase a one off months supply which costs £25 and contains 4 x 1 litre bottles of Holland Jersey UHT milk and 4 x Probio7 Happy Gut bacteria sachets. Whilst it does seem a little pricy, it does include free shipping and that should last you for 4 weeks. Alternatively, you can sign up for a 3 or 6 month subscription so that you never run out. I've order the one off one months supply just to make sure we'll still regularly use the yogurt maker before committing to the more expensive subscription package.
We've been impressed by the Probio7 Life Yogurt Making Kit. It's very easy to use, makes great tasting yogurt and will hopefully make a positive impact on the whole families gut health as we continue to use it.