Complimentary Tickets
On one of the hottest days so far this year we headed along to Inflata Nation at North Shields. It's Inflata Nations sixth venue and has only been open a few months.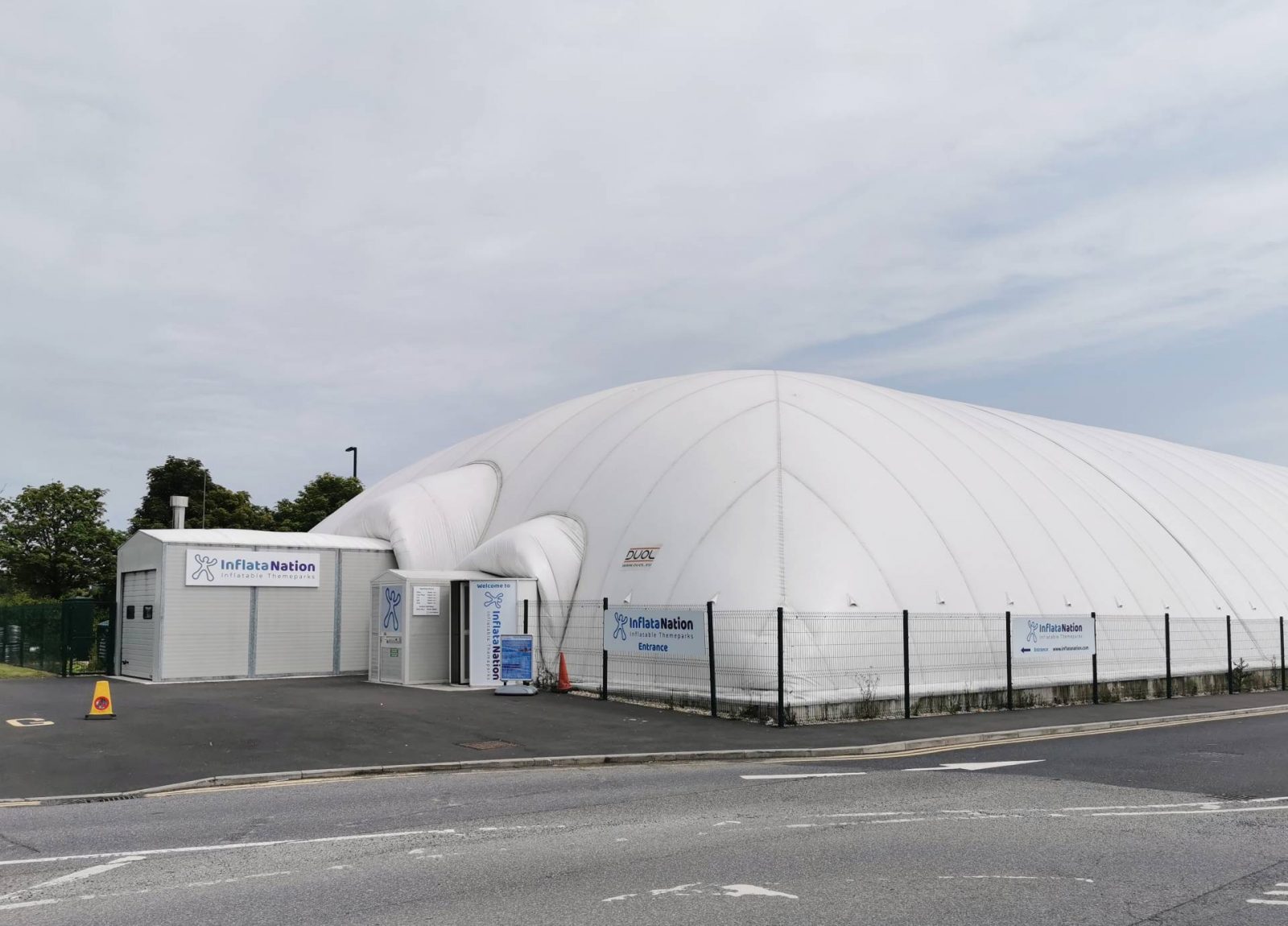 At 20,000 square feet and situated in a huge white inflatable dome, you can't miss it! It's located in the car park of Royal Quays retail park in North Shields and has plenty of free parking around it.
Once you arrive you fill in a simple waiver form and are then directed into a small area with a TV to watch a safety video. As our visit was on probably the hottest day of 2019 so the venue was very quiet, we were asked if we'd like to go on a little earlier than our session at 1pm, so instead of just the hour, we were lucky enough to have an extra 30 minutes of bounce time.
There are lockers where you can leave you belongings near the entrance to the inflatables but as we had little E in the pushchair, we just bundled everything under that and kept them with us.
Big E couldn't wait to get bouncing.
It was pretty quiet during our visit and extremely hot! He was a very sweaty little man in the matter for minutes.
In inflatables are really fun. There are lots of different activities including an obstactle course, huge ball pit, Total Wipeout zone, slide and a gladiator podium.
The Inflata Bubbles were really fun and Big E loved bouncing backwards and forwards across them. I really enjoyed them too, they're definitely something the whole family can enjoy.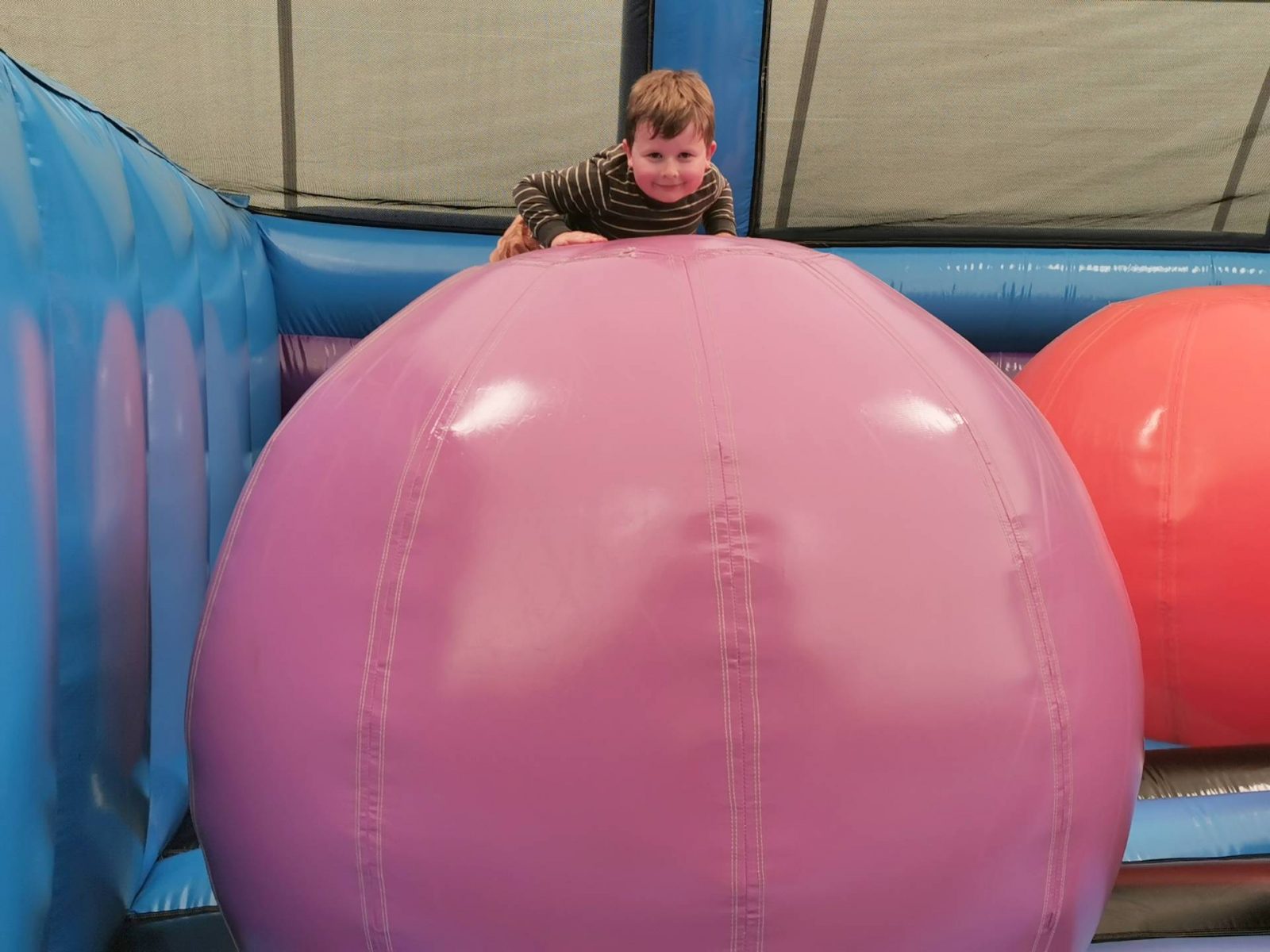 Big E was super brave on the Inflata Balls. They're pretty high off the ground but he still tried to jump across them by himself.
Big E surprised me on the Inflata Giant Drop. He had no fear at all and climbed to the top and whizzed down the slide so many times.
There is also a dedicated Under 4 zone that has its own slide, ball pool and obstacles to climb on. We did notice older children in this area during our visit so I don't think it's very strict on who can go inside.
Infata Nation has two cafes. One is right in front of the entrance to the inflatables and the other is raised above the inflatables so you can see what's going on below.
There were plenty of seats downstairs during our visit so we ordered some drinks and sat there between bounces.
A proper coffee and a slush cost just over £4 which wasn't too bad.
Sadly, we were unable to get upstairs during our visit as the lift was out of order. We had planned to eat after our bouncing session but staff told us they had no other way we could get upstairs with the pushchair. A female member of staff did offer to help hubby lift it upstairs but we decided to go elsewhere to eat.
The menu did seem quite reasonable and the food options looked fine. Big E has already asked if we can visit again, so hopefully we'll get the chance to try out the food then.
The toilets were really clean and bright but did have a distinct lack of toilet paper. I had to pop my head into three different ones before I found one that was stocked up.
The baby change/disabled toilet was really dark too. I think it needs a brighter light especially if you're changing a nappy.
We really enjoyed our visit to Inflata Nation, it was something different for us to try as a family and lots of fun for us all. It is quite a pricey activity, especially considering it only takes an hour. It's not something we could afford to do on a regular basis but really good as a treat.
First hour
Under 4 – £5.95
4 to 15 and Adults – £9.95
Additional hour (if wanted)
Under 4 – £3.00
4 to 15 and Adults – £7.00
Inflata Nation can also host children's parties and they also have a range of classes on – I really like the sound of the adult only sessions!
* Our entry was complimentary in exchange for an honest review.