The little man is a huge fan of Justin and his various guises and we have lots of Mr Tumble toys. After seeing Justin at Geronimo Festival in the Summer, the little man has become an avid fan of Justin's House on Cbeebies. For those of you that don't know, Justin's House is a kids show hosted by Justin Fletcher (of Mr Tumble fame). It features his green Little Monster and his domestic robot Robert and has lots of singing, dancing and fun for younger children.
We have lots of Mr Tumble toys but hadn't really seen anything based on Justin's House until we were kindly sent the Justin's House playset from Golden Bear Toys.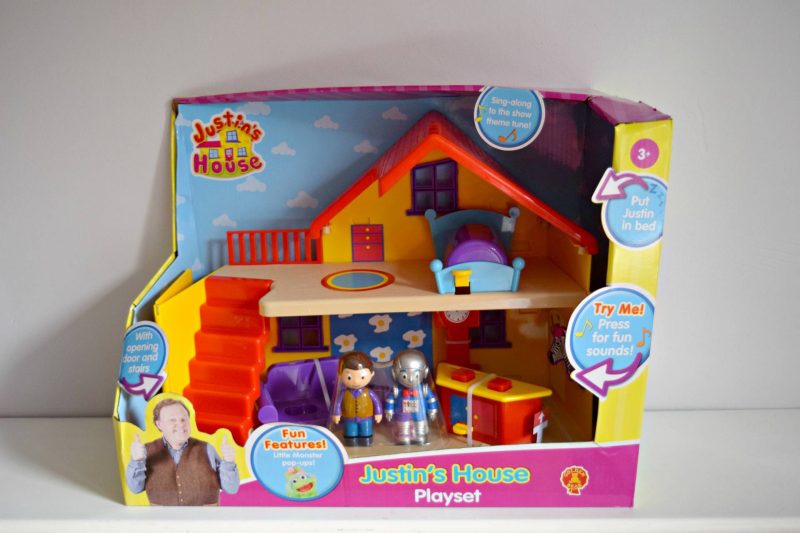 When it arrived I was pleasantly surprised by the size of the playset. It's quite large and chunky so perfect for smaller hands. I love the bright colours which instantly had the little man enthralled. It's probably best described as the front of a dolls house, but with no front or roof, the only thing I think it's missing is a handle – I think it'd be ideal for little people to carry it round with.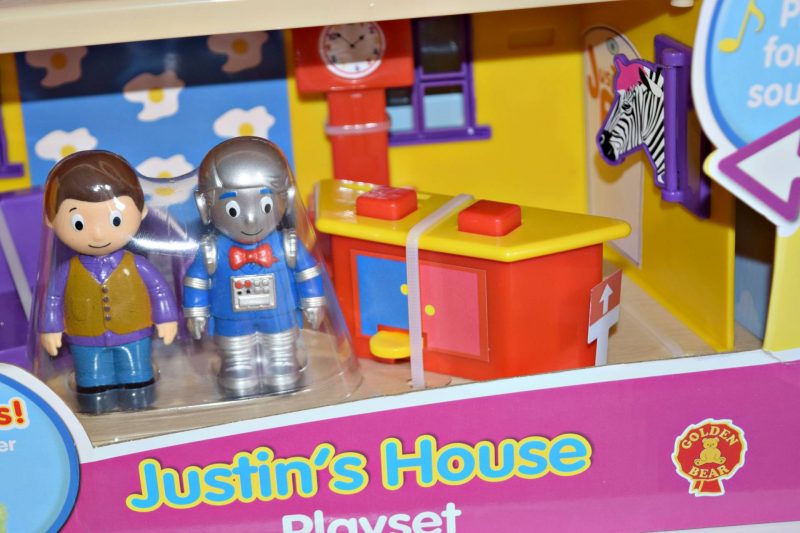 It's set out to look like Justin's House and comes with various extra parts, including Justin and Robert the Robot figurines, changeable character cards and some furniture. The playset also comes with the 2 AAA batteries that are required which I think is really handy. There's nothing worse than hunting round for a screwdriver and batteries with an impatient toddler harassing you.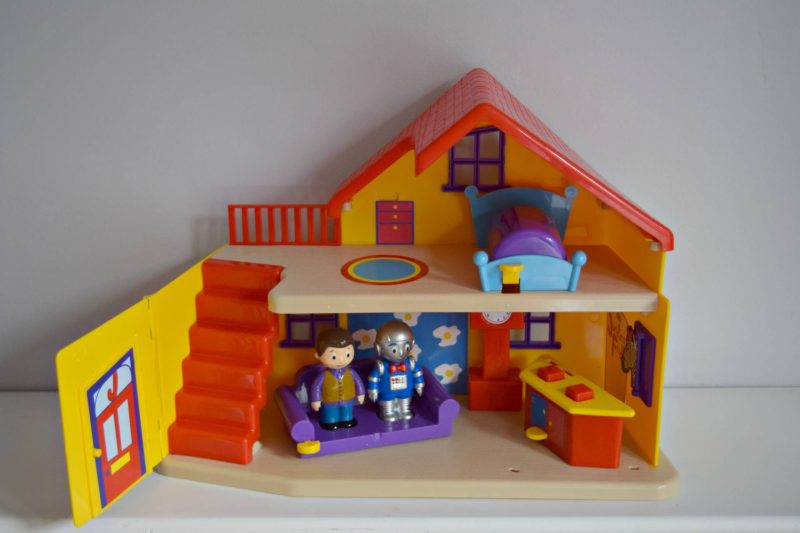 The playset also plays the shows theme tune when you press a button. The little man loves to sing and dance along to it and thankfully, it's quite a good tune and not annoying which I'm sure most parents would appreciate.
The playset is labelled as suitable for children 3 years and over but I do think it's suitable for younger children. None of the pieces are particularly small so I think it'd be ok from 18 months onwards.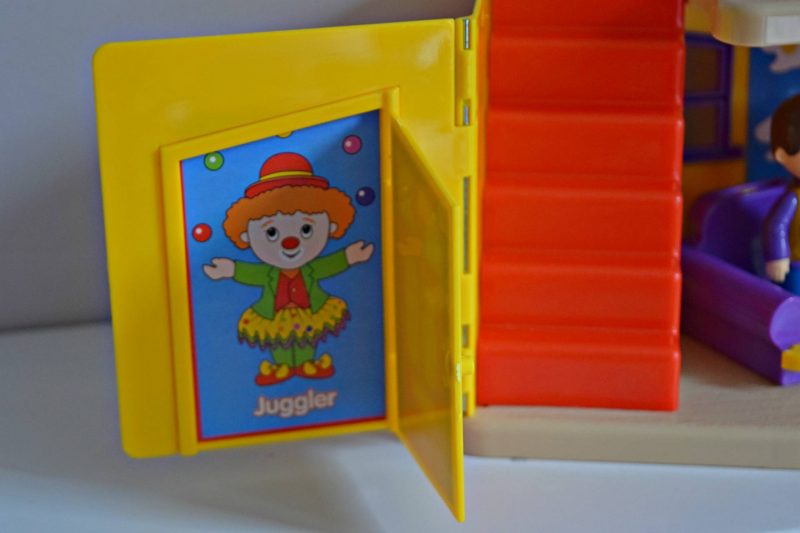 The little man is at the age now where he will happily play by himself and chat away, doing voices for the things he's playing with. It's been lovely watching him march the little figures up and down the stairs and put them to bed. He's even perfected a Robot dance which he tells me Robert the Robot does.
The little man really likes the Justin's House playset and has played with it constantly since it arrived. It's a versatile toy which can be used with other figures (the Happyland ones fit perfectly) and can also easily morph into a garage, a fire station ( those stairs are great for firemen apparently) and even a shop, it just depends where your little persons imagination takes you.
The playset retails at £34.99 which I will admit is a little steep. I think I'd be more likely to pay £25-£30 for it. I'd also like to see the option to purchase additional items. It'd be great to see a Mr Tumble and his iconic spotty bag.
We were sent the toy in return for an honest review.