Products sent in return for an honest review
It's Summertime for Playmobil!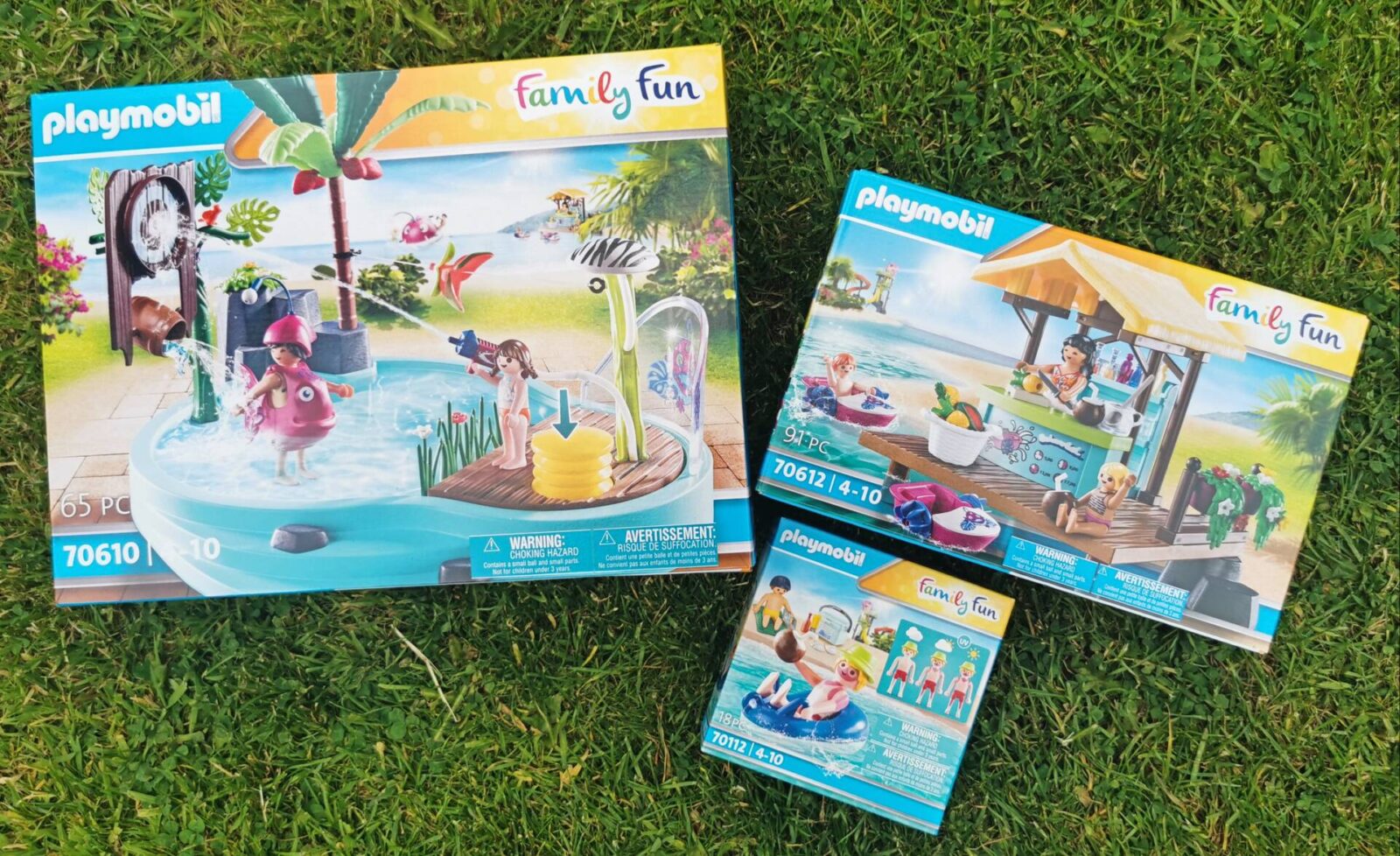 There are a great selection of Summer holiday themed products in Playmobil Family Fun range including a family camper, Adventure treehouse with slide and a Jet Ski with banana boat. You can buy the sets individually or start a collection and play with them all together.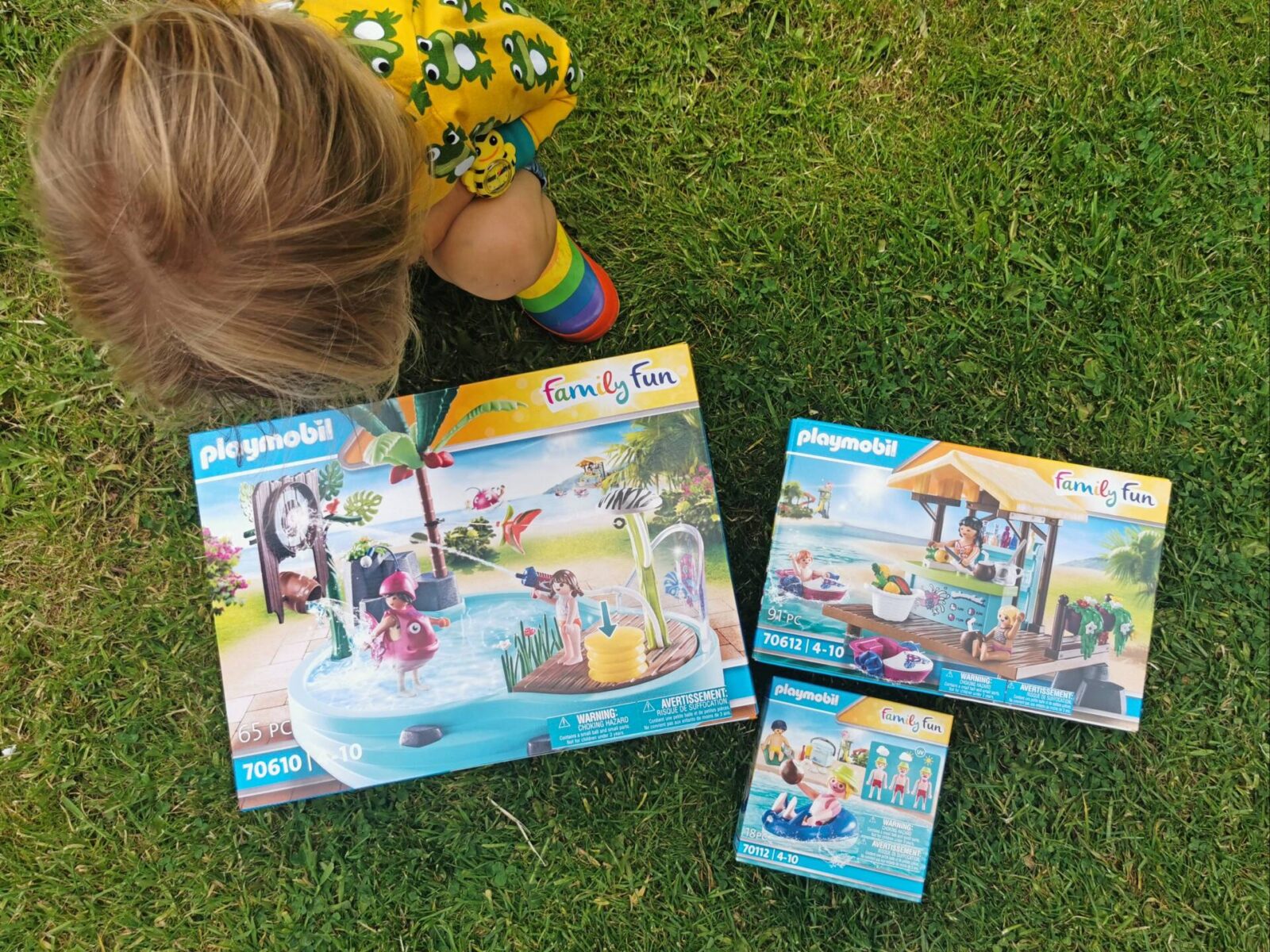 The boys were recently sent three toys from the range and they've thoroughly enjoyed playing with them outdoors while the weather has been so nice.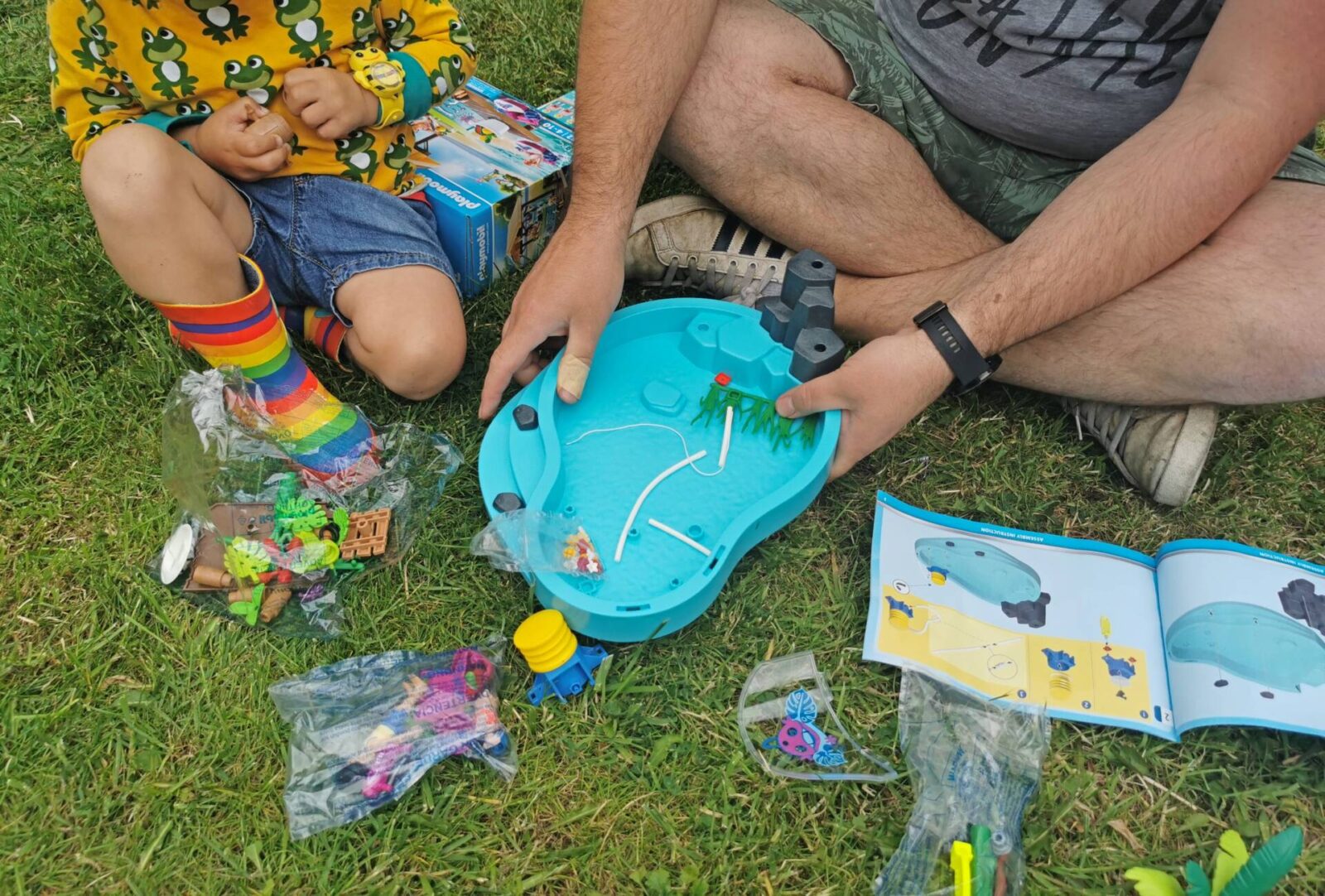 Small pool with water sprayer 70610
The kids loved the fact you can fill the small pool with water. It has a water sprayer which you can fire at the big target at the opposite end of the pool which then fills up a brown bucket that tips over when full and the lady in her pink fish costume made them both laugh.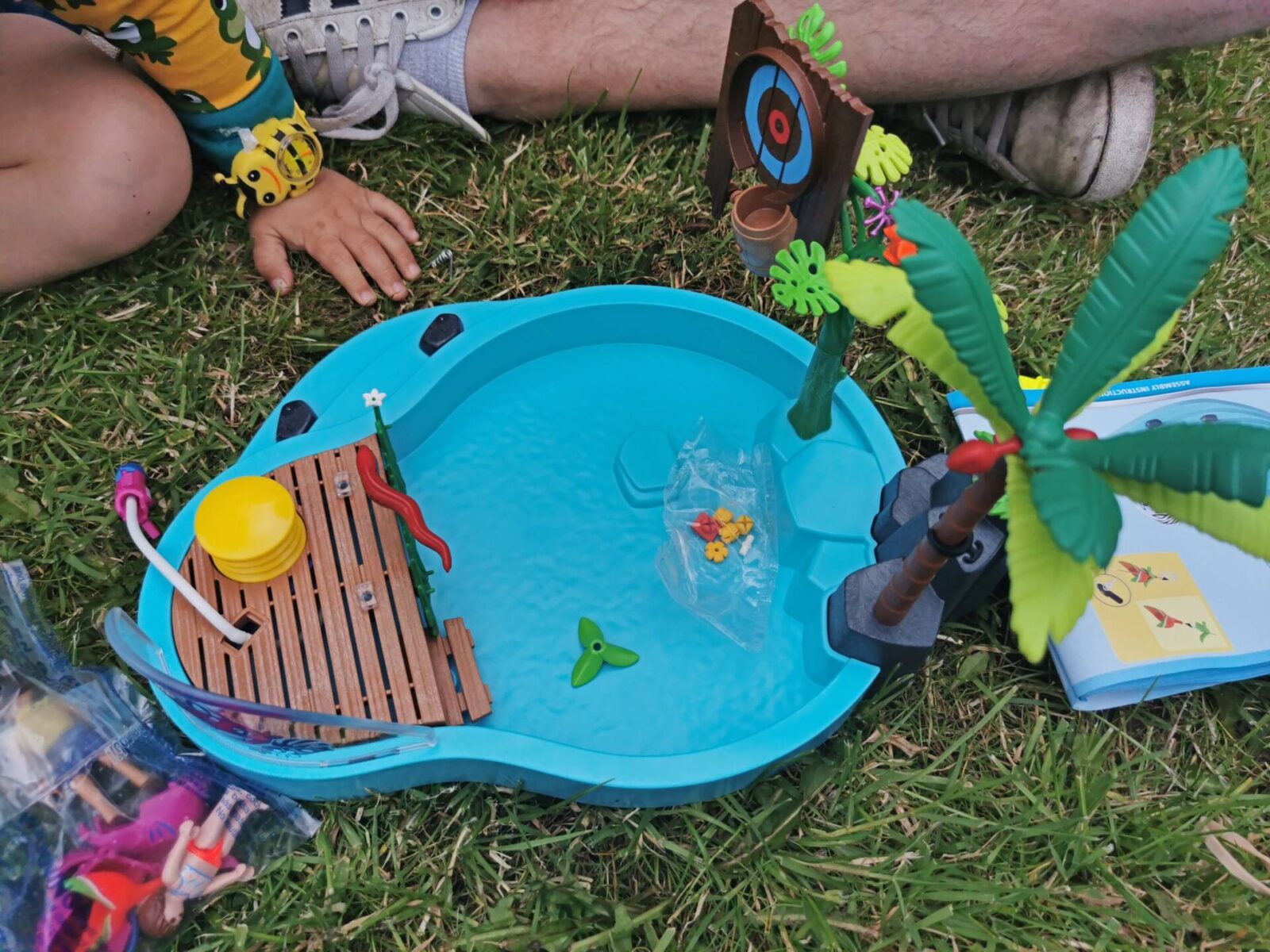 My 8 year old was initially quite keen to start building the small pool with the water sprayer, he enjoyed putting it together to start with but it was soon left to his Dad to finish off.
The playset includes two PLAYMOBIL figures, man and child in bathing suits, a water basin with pump and spray gun, a fish costume, a moray eel and other smaller accessories.
We had some issues with the length of the string that the flowers hang on – ours wasn't long enough to reach the gap it was supposed to cover and the water sprayer is a little hit and miss. Sometimes it does a long, decent spray and then other times it's more of a dribble. Regardless, the kids have loved playing with the boats and figures in the water.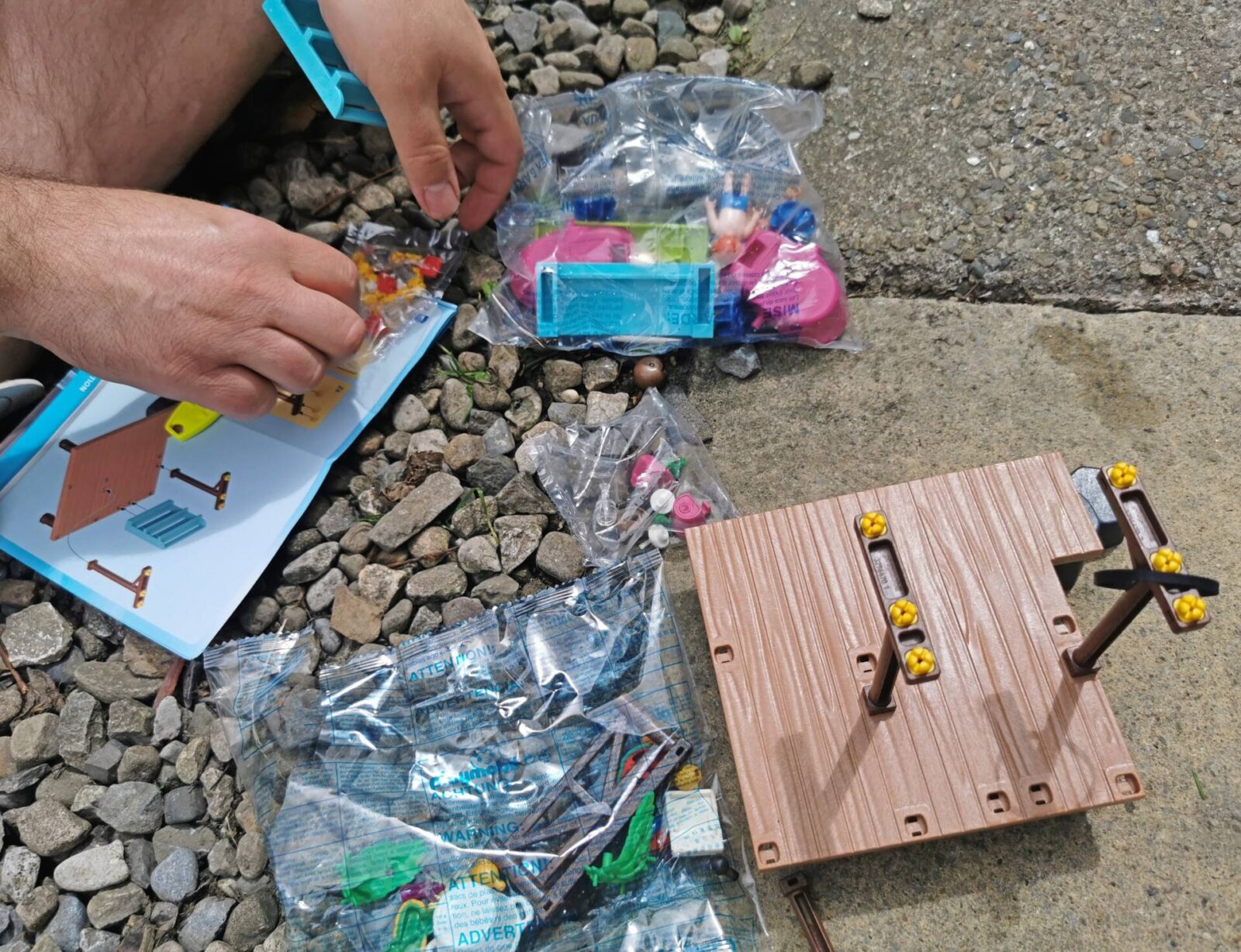 The multi -tasking adult female character comes with a variety of glasses, bottles and a basket full of fruit to chop as well as two paddleboats to rent out. There's also a younger boy and girl character and the two paddle boats will float on water.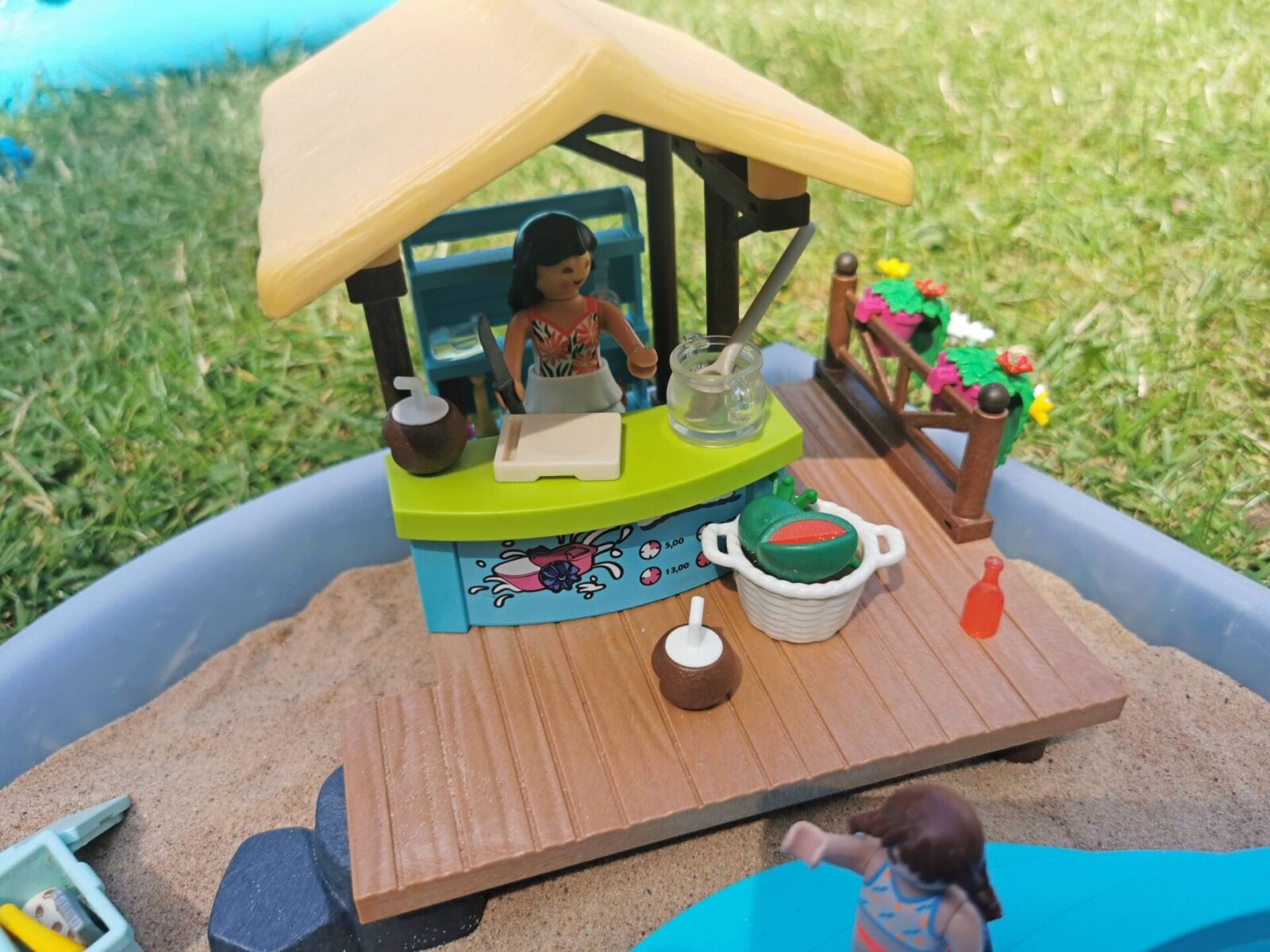 There were quite a lot of small pieces with this set including a shelf for all the bottles and glasses to stand on. Where it's positioned at the rear for the wood kiosk makes it very difficult for even small fingers to stand the smaller accessories up. We found we were able to turn the shelf round and stack the bottles and glasses so the were on the outside of the kiosk which meant the kids were less frustrated by it.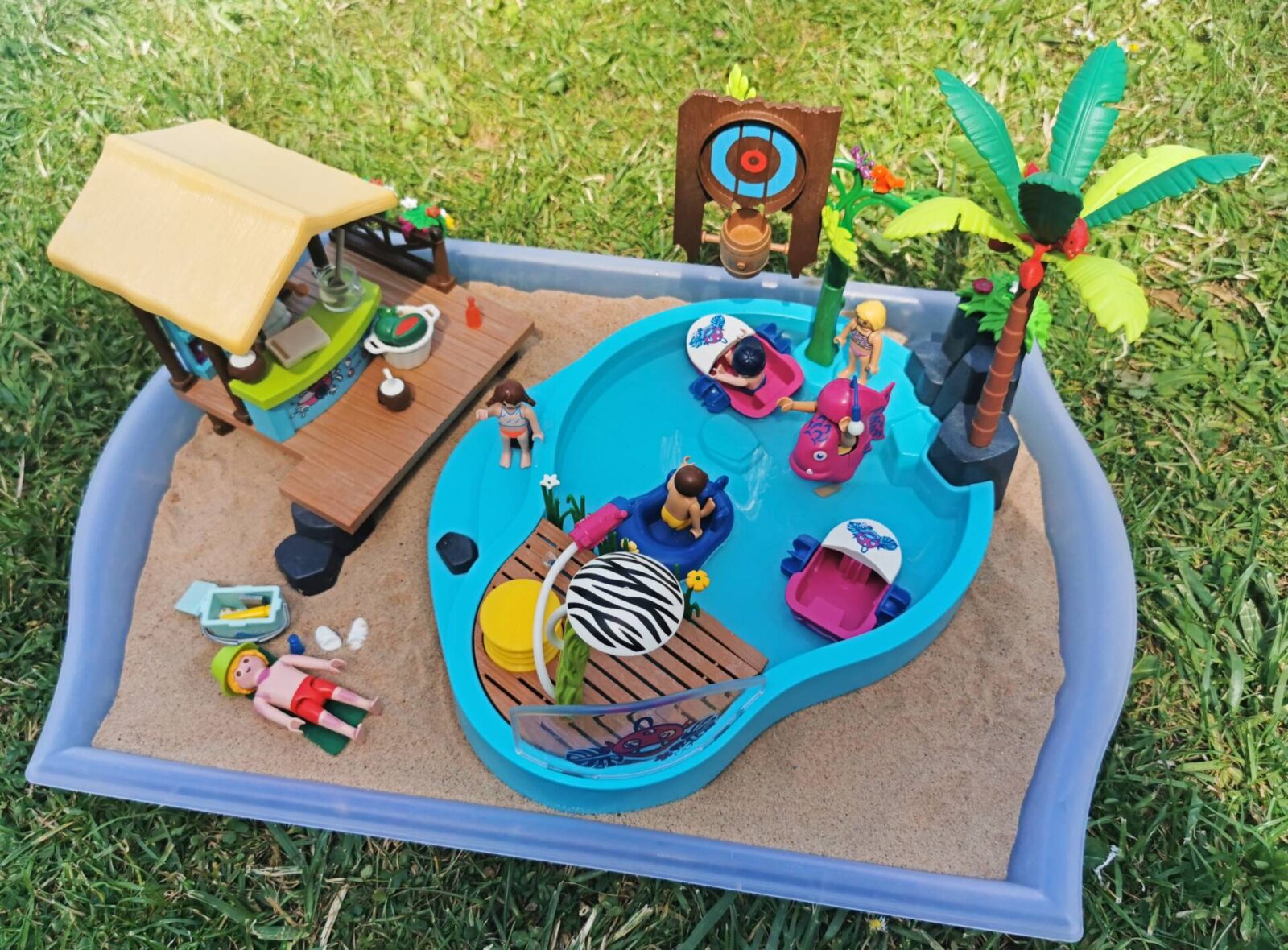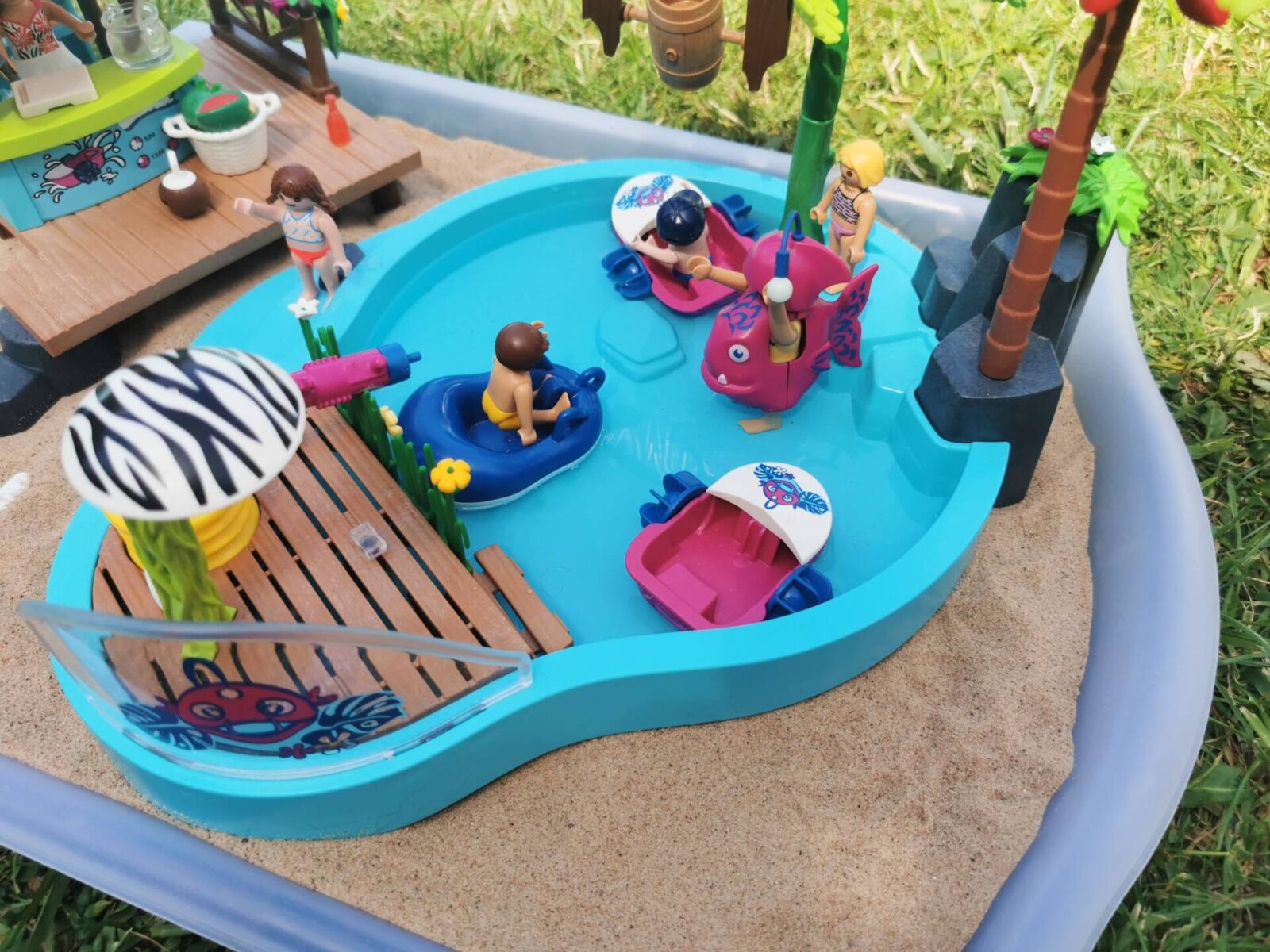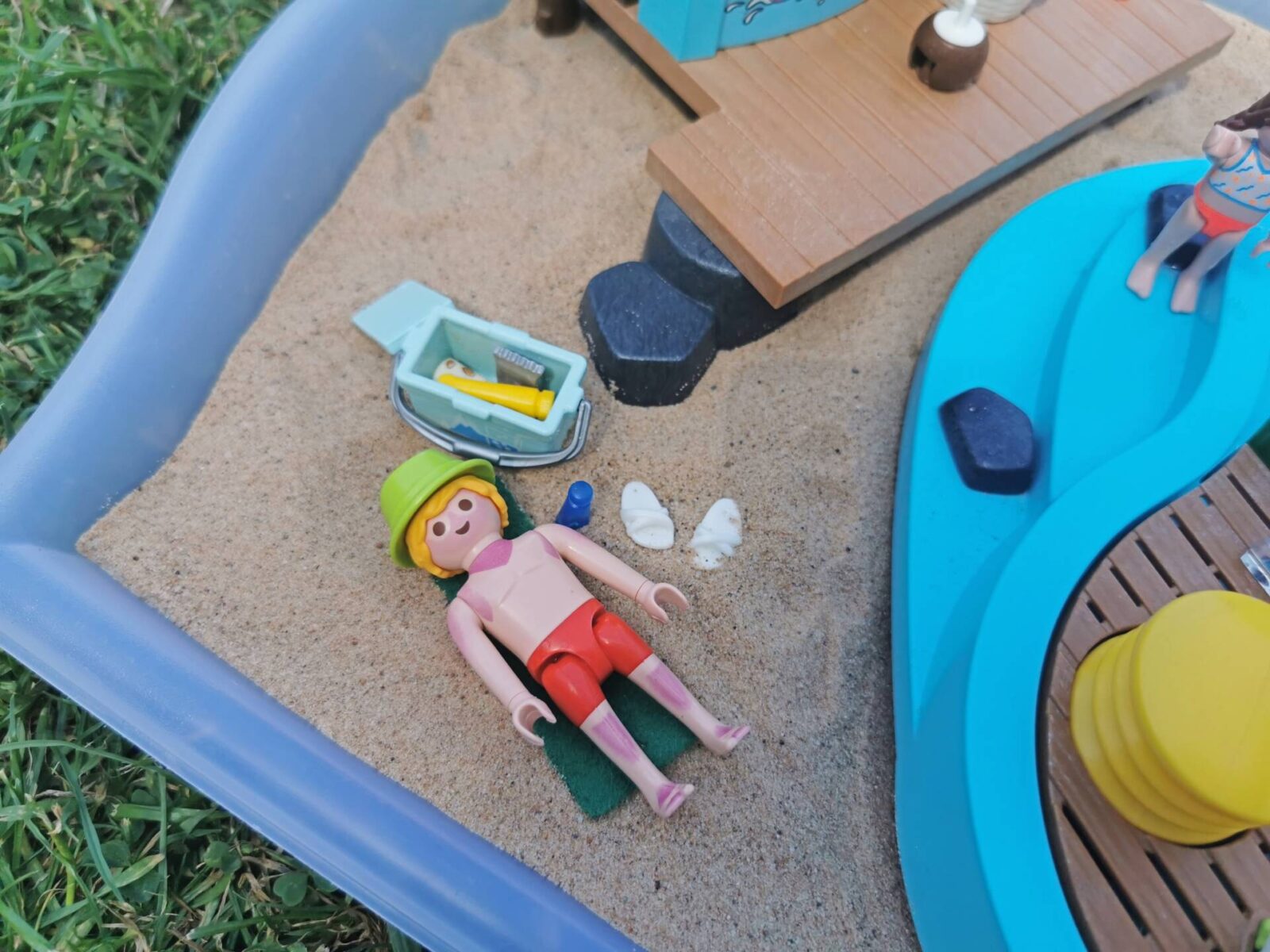 Both boys loved the sunburnt swimmer. Dressed in red shorts, this little character turns very pink when exposed to UV light. They loved watching him change very quickly and it was a great way to talk about why we need to wear suncream. He comes with a younger figure, who I think is likely supposed to be his son, various small accessories like flip flops, a tube of sun cream and a swim tyre which will float on water.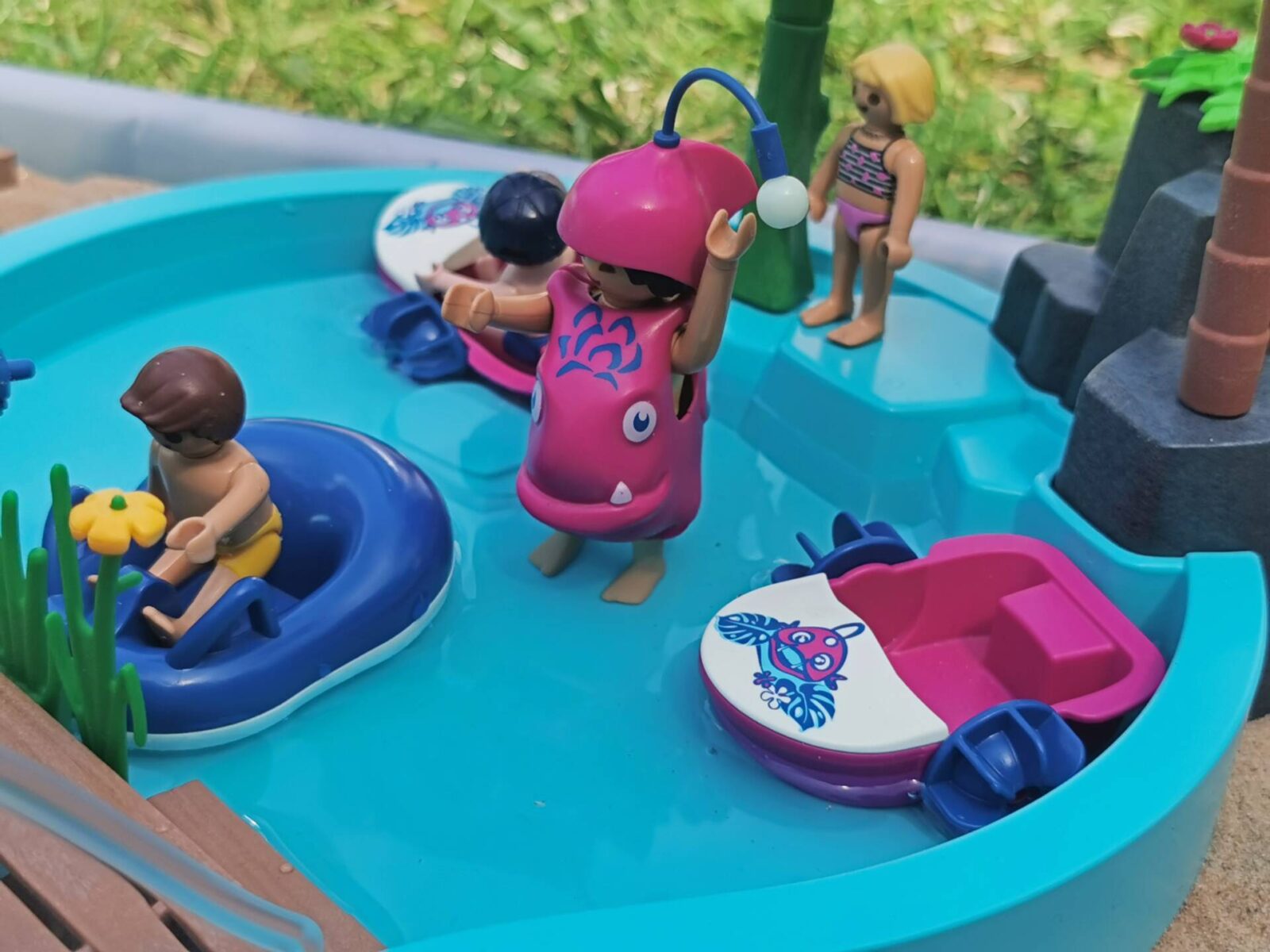 Both boys have loved playing with the Playmobil toys. Considering there's a 5 year age gap between them, I think that's pretty impressive.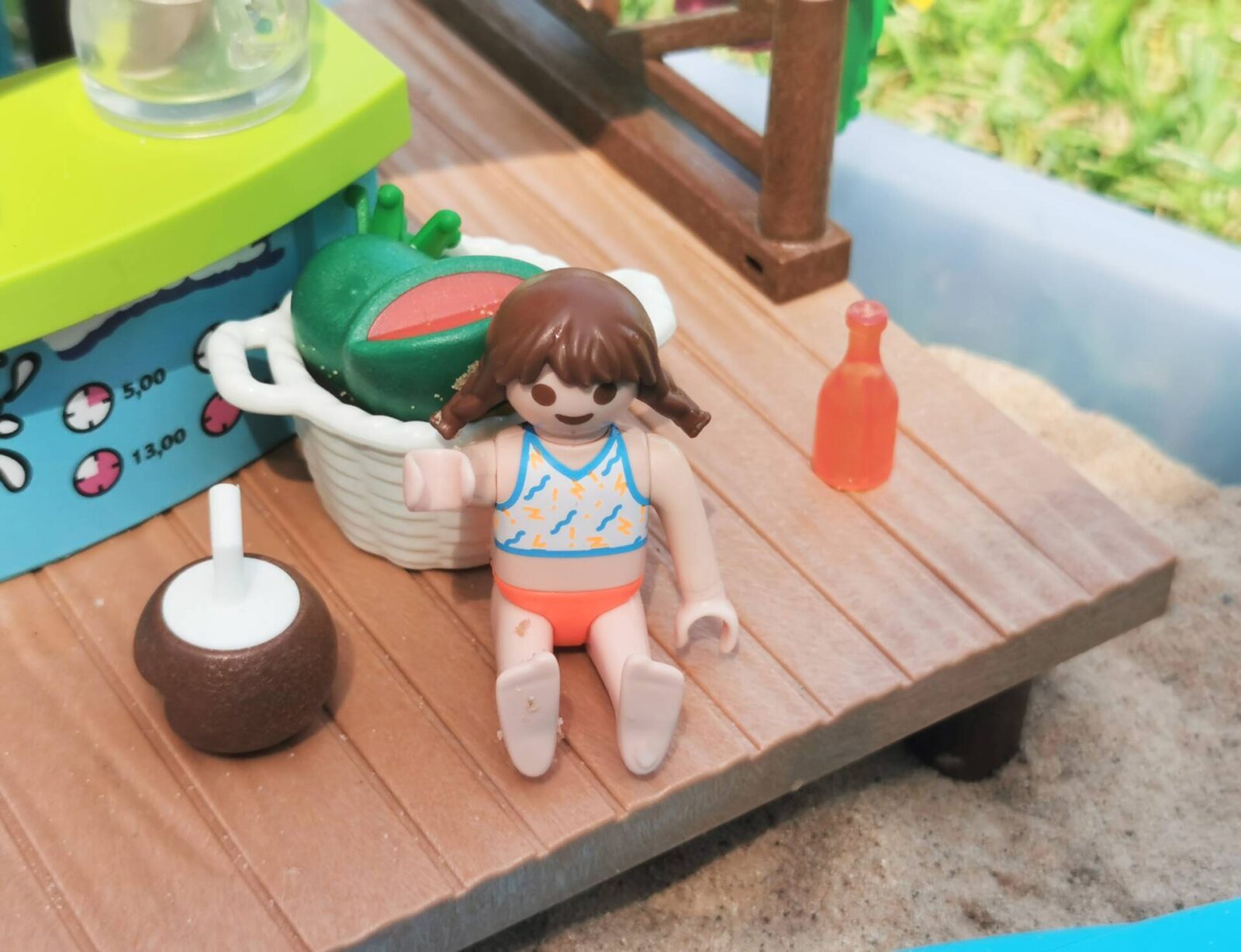 The 8 year old enjoys setting up the sets, arranging the accessories and creating 'scenes' whereas my 3 year old will sit for ages ( which is a rarity in itself) and make the characters play together, doing voices for different ones.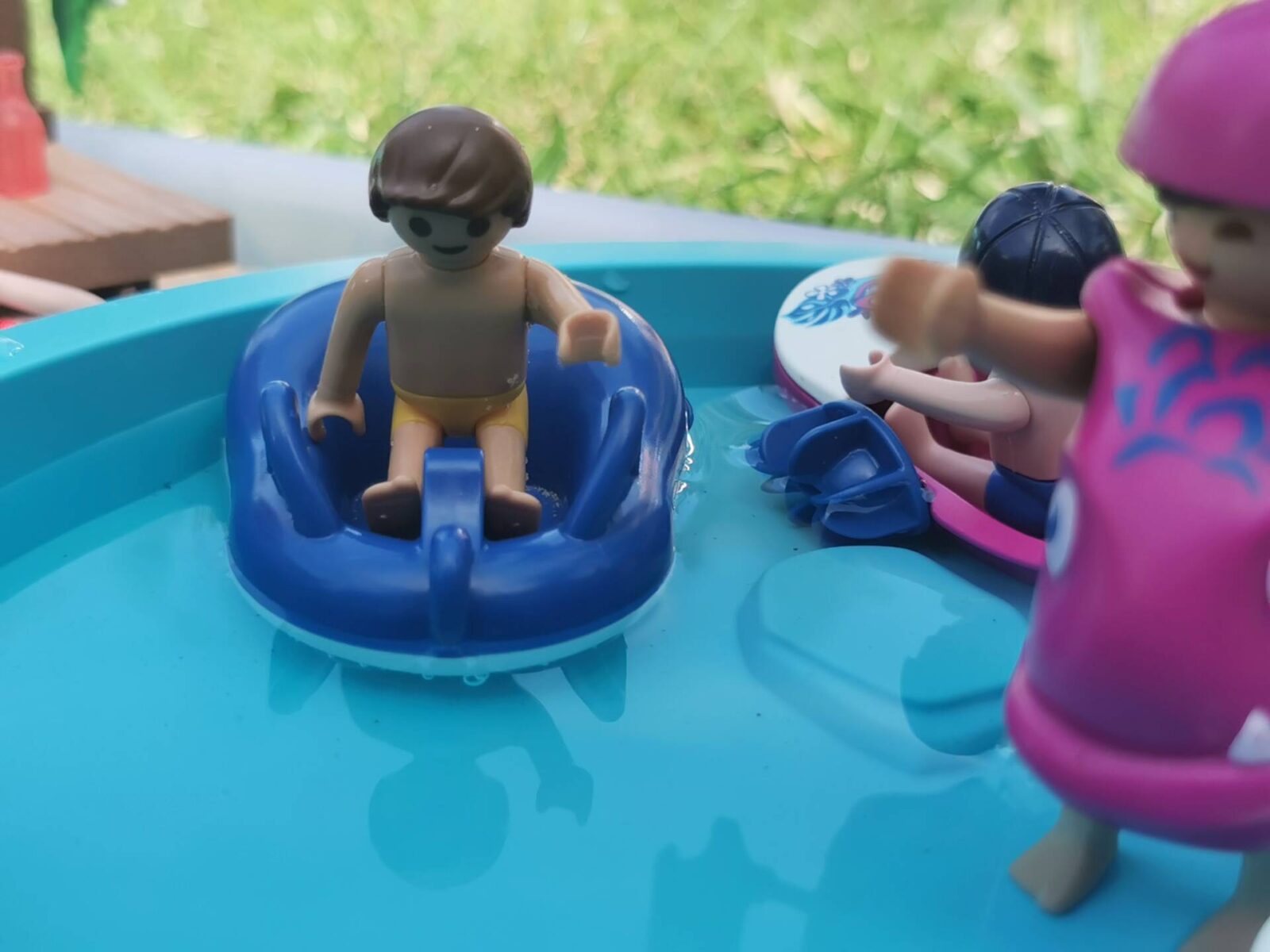 We have quite a few Playmobil playsets already but they're all transported related ( my kids both love vehicles) so these three sets were a welcome change to the type of playsets we have.