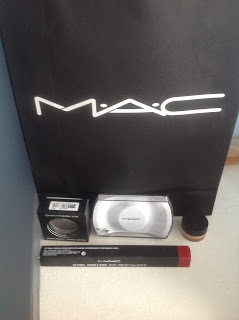 Last night was my hen do, so some of the girls decided to have a make over at the MAC counter in Fenwicks.
You pay £30 for a 60 minute make up application. The £30 fee is redeemable on MAC products. We booked quite a while ago by going into the store. You pay in advance and they issue you with a receipt which you MUST bring at the time of appointment
I went in with my make up on – there was no way I was walking round Newcastle with a bare face! The girl talked me through what she was going to do and gave me some wipes to take my make up off (MAC face wipes smell like wet dog).
I was very impressed with the girls make up application skills, she was friendly and helpful and did exactly what I wanted but it looked so much better than I anticipated. I also had false lashes applied (anyone else useless at putting them on?!). I went for flawless matt foundation, with a touch of bronzer, blusher and highlighter, dark defined eyebrows and black and silver smoky eyes with bright red lips.
The blending of the foundation was fabulous, despite the panic I felt when I saw the amount she put on! When she'd finished with the foundation brush I looked fab (even if I do say so myself). I wish I had the time and the patience to get my make up this good everyday.
The make up lasted easily from time of application – 5pm until I rolled into the hotel at 4am.
I didnt take a before and after picture but I will put a couple up mid hen do!
I chose some new products with the £30 –
Overall I was very impressed. I got a fab make over with a look I couldnt achieve on my own, I got to choose some new products and looked fab for my hen night.
The MAC experience was great, the only whinge I could really have was, it was extremely busy and was very crowded during the make over.
The lipliner on my lips.
Au natural other than the fake lashes – which stayed on overnight and bright lips (excuse the floorboards behind, new stair carpet is eagerly anticipated).