We finally got married! It feels so strange saying that, but dead nice too! My other half and I got married on Wednesday 22nd May in Cyprus – our four year anniversary. So I'm now officially a wife!
I'd like to share a couple of pictures with you and give you some details about the people we used in Cyprus in case any one finds this post and needs a little reassurance abour marrying abroad.
The wedding planner

The Wedding Counsel
We spent hours looking on the internet for ideas and thoughts about our wedding, we finally came across Alison from the Wedding Counsel who offered wedding packages varying from paperwork alone too the full blown – sorting out your life wedding! Another reason we decided to go for Alison was she offered a wedding in the Troodos Mountains, which was where we knew we wanted to go. We didnt want to travel all the way to Cyprus to get married in a hotel.
Alison was truely amazing from start to finish, answering all of my ridiculous questions, letting me make so many changes and constantly reassuring me, especially just before we flew when I started having last minute panics about what we hadn't done, or what we'd forgotten.
It was so nicely to finally meet her when we got to Cyprus, and to put a face to the friendly emails!
When we first got to Cyprus Alison took us to all the appointments we needed to attend, flowers, cakes, church paper work etc, I was very grateful of this as it meant when everything was out of the way we could enjoy a little holiday before the wedding day itself (we were in Cyprus 10 days before the wedding).
The photographer
We chose
Dimitri Katchis
we we were so impressed with. He met us prior to the wedding and was extremely lively and seemed to be on the same wave length as us. We didnt want traditional wedding pictures – and I think what we got were amazing.
The reception
Our reception was held at The Doria which is a stunning traditional taverna overlooking the sea. The sunset on the night of the wedding was so pretty. Michael, the owner was great, we literally dumped a bag of table decorations on him and he created a stunning effect. It was exactly as I'd hoped for.
The food at the Doria was gorgeous, we actually went back to eat there a couple of nights after the wedding, our wedding meal was a traditional meze.
The wedding cake
We used Love Island Cakes for our two tier wedding cake. It was gorgeous, exactly what we'd asked for and it tasted amazing. We had a layer of Victoria Sponge topped with a layer of Banana and Toffee – yum, not one slice was left.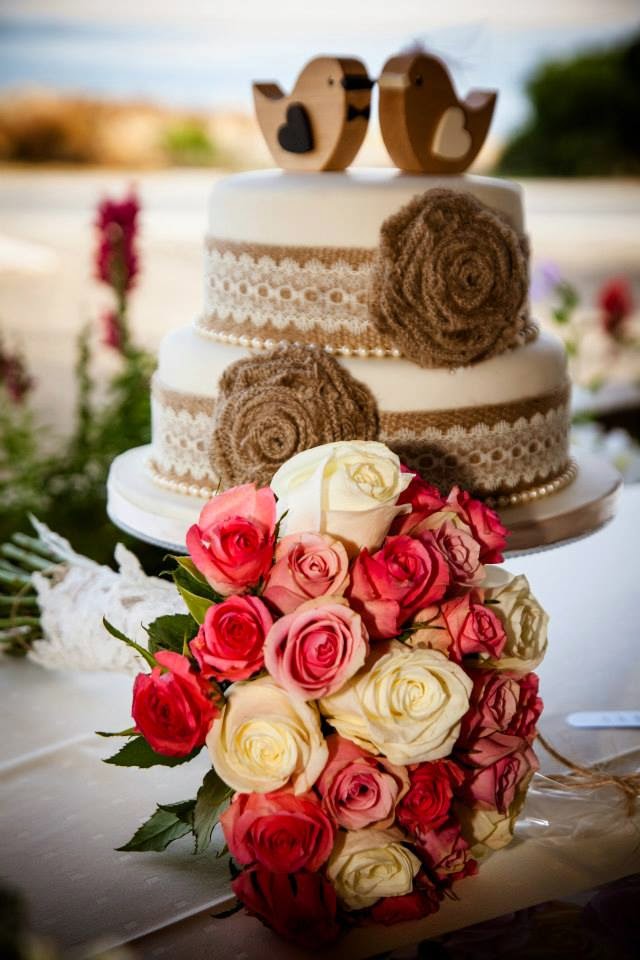 Hair and Makeup
My hair and make up were chose by me after a lot of research. I am quite anal and a little awkward, especially when it comes to make up, but I can honestly say Karen Hall did exactly what I wanted, but better than I'd imagined. She gave me eyelash extensions two days before the wedding (which are the best I've had) before coming to do my make up on the morning of the wedding. She was extrenely friendly and instantly put me and my Mam at ease. I was massively impressed with her work and would recommend her to anyone either marrying in Paphos or evening just holidaying there and fancying a treat.
I chose Renoir for my hair for the big day and again was very impressed, Rachel was patient and friendly and my hair lasted all day
Overall I was VERY happy with the way things went. The wedding day was very relaxed and went smoothly and all the people that we dealt with were helpful, friendly and put us completely at ease. I wouldnt make any changes to how I used or what we picked, other than choosing a different hotel to stay in prior too and after the wedding. Although the Elysium was rather magnificent from the outside and the grounds were gorgeous it wasn't what wed expected. I found it rather snobbish and the rooms no where near 5*. Looking back I'd have prefered to stay somewhere slightly cheaper, more central and then spent and extra cash on nights, meals and trips.
I'd also like to mention Thunder Motorsports in this blog post as they were fantastic. They took a group of 14 of us out twice during the two week holiday and we had an absolutely amazing time, reasonably priced, English speaking guide and extremely friendly people. They can't be faulted.