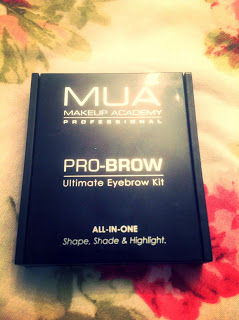 I have seen this on numerous blogs recently and was desperate totry it, though initially I did struggle to find it in my local Superdrug. Iended up having to wait until I went to the Metro Centre to purchase this. I amvery pleased to say – it was worth the wait!
The packaging is basic but doesn't look cheap. The kit comes in asmall sturdy black case with a good sized mirror in the lid. The design of thekit is quite impressive, and it looks strong and less likely to fall apartinside your make up bag (I often find the packaging on some cheaper productsaren't very long lasting).
The kit contains 4 eyebrow grooming products- 2 eyebrow powders,a highlighter and a clear gel to set your eyebrows with in addition to theproducts the kit also contains a tiny set of tweezers and an angled eyebrowbrush.
MUA have only released one shade of these kits which is designed tofit all brow shades, so you may need to mix the shades until you find the shadethat suits you best. Luckily the dark shade is perfect for me. I have sparse brows which are quite fair, so I usually have themtinted and also pencil them in with a brown pencil. I like them to look quitedefined and I'm also a little addicted to plucking, which is probably one ofthe reasons they look so sparse.
The powders are well pigmented and easy to use. The brush waseasy to use although a little short, for my club hands! I found it easy to drawa good shape and I used the other end of the brush to apply some of the settinggel over the brow, although I don't think it's very necessary. The bristles onthe brush are firm and small enough to create any shape.I was a fan of the highlight in the kit as well, it looks fabunder the brow before using your eye shadow. It is actually the same tone as myskin but brighter.
The tweezers although very small and a little blunt are useableand are able to pick away a stray hair or two. Personally I wouldn't use these,I have tweezers which I love and are perfect for me, but most of the time I getmy brows waxed of threaded. I found that the powder lasted very well on my skin, at no pointdid I have to reapply. Once it was on it stayed on until I wiped it off with aface wipe.
I have to say I am massively impressed with this kit. It'sperfect for me and for the bargain price of £3.50 it is officially AMAZING. Ithink the kit will last quite a while as you only use the tiniest bit ofproduct, but will definitely re purchase it in the future. Who needs HD browswhen you can pick this little beauty up for £3.50.
Check out MUA on Facebook MUA on Facebook
Check out MUA on Twitter MUA on Twitter
MUA are currently having a 3 for 2 sale on all new face products – if you get in quick!