I was recently lucky enough to be offered the chance to work with the fabulous
Tiffany Rose
.
Without any formal fashion qualifications, Tiffany London has founded and built a multi-million pound fashion label. Tiffany began her career as an interior decorator's assistant for Nina Campbell, working later as a marketing manager for a London law firm. At the end of 2003, after entertaining the idea of owning her own business for a number of years, she founded Tiffany Rose, a maternity label specialising in occasion and bridal wear.

Inspired by her pregnant sister who was searching for a dress to wear to a wedding and with an initial investment of just £1,000, Tiffany recognised there was a gap in the market for beautiful maternity wear designed to flatter pregnant figures and to ensure women feel fabulous during all stages of pregnancy. Incorporating exquisite fabrics, elegant styles and classic tailoring, Tiffany Rose was born heralding a permanent change in the way brands and consumers view maternity wear.

From the outset, Tiffany Rose has been proud to support British manufacturing with each and every garment designed, draped and manufactured in the UK – a luxury rarely afforded in fashion. With an in house design team based in Surrey and manufacturers across England, the company has developed a skilled network of partners, which allows the business production flexibility from 'design to rail', unrivalled expertise and unmatched quality control.

Heritage and service are rooted in the brand's key values with fashion and retail being in the London family since the early 19th Century: Tiffany's great, great grandfather founded the renowned British fashion house "Louis London & Sons" in 1851 and the business was subsequently run by three generations of the London family.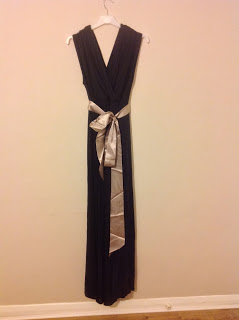 I was sent the gorgeous
Alessandra long gown in liquorice
to review on my blog. The dress is absolutely stunning, and came nicely wrapped in tissue paper, with the recent Tiffany Rose brochure.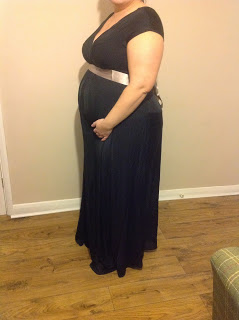 I apologise in advance for the terrible photo's. I wasn't feeling particularly photogenic, so I cut my head off!
The dress is extremely flattering and elegant. It comes with a mik coloured sash which can be added around the waist to completely change the look of the dress. The dress is made from 95% acetate and 5% elastane, so has a nice stretch, allowing you to wear it, even with a growing bump. It feels comfortable and not at all tight over my stomach which was really nice, and because its floor length I can get away with some shoes that are a bit more comfortable and lower than I would usually wear with such a pretty dress.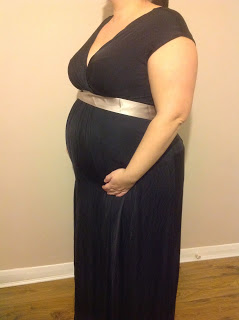 The dress is lined and fits really well, and to be honest, looks like it could also be worn even if you're not pregnant, so you have the excuse to keep it even after your little one is out.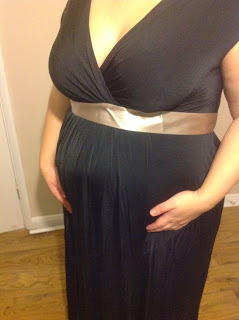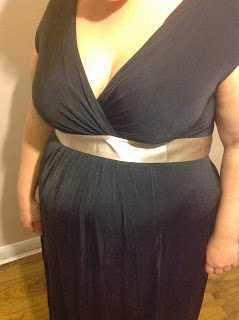 The style of the dress makes it suitable for any occasion. It can be dressed up by adding the sash, meaning it could also be suitable as a bridesmaid dress, perfect for the black tie dinner you might be going to at Christmas, or even for a winter wedding.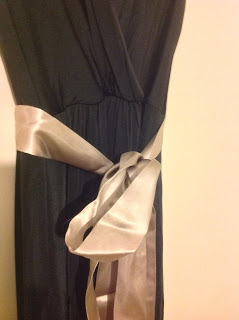 I'm going to wear this to my work night out, whilst I won't be able to drink or dance around as much as usual, I will at least look and feel like I've made an effort.
Currently Tiffany Rose is sold in over 80 countries with international sales growing to 60% in 2013. Tiffany Rose garments are a favourite with celebrities and have been worn by the likes of Holly Willoughby, Emma Bunton, Myleene Klass and Kate Silverton in recent years.
I've really struggled to find nice clothes during my pregnancy so its great to find a company offering maternity items that are both stylish and elegant.
(PR Sample)