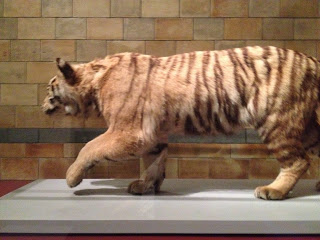 My husband is a complete history/dinosaur/bone geek and one of his favourite places to visit is the Natural History Museum.
When I was looking for wedding gift ideas for him, I came across
Dino Snores for adults
which is held a couple of times a year at the museum in London. I decided that rather than buying him a watch he'd leave lying in a draw or some cuff links he'd go nowhere to wear, I treat him to an unusual experience, that he'd remember forever.
Although we got married in May, the only date we could work round was the even held on 19th October, which coincided with my 29th birthday. We decided as well as the night in The Natural History Museum we'd book four nights in London as a birthday treat, and as it happens, it also turned out to be the last trip away we'll have together before our first baby is born!
The tickets cost £175 each for an adult non member of the museum, so it's by no means cheap, but it did sound very exciting!
Prior to the even we were sent through e tickets and asked to complete a pre order menu for our evening meal, then all we had to do was wait for the date.
When the 19th October finally arrived we arrived at the Museum roughly about 7pm, there was already a queue starting to build, so we joined it and waited in anticipation for the museum staff to open the doors at 7.30.
We were signed in and given a camping mat (luckily the member of staff realised I was pregnant and offer me two mats), we were then left to make our little camps in the main hall of the museum.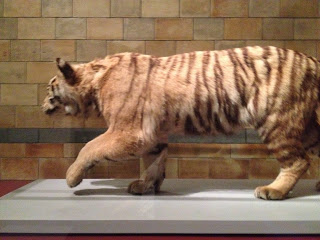 We settled down in the corner near the case containing the tiger! We were very close to the bar and close enough to the toilet for my pregnant bladder to cope.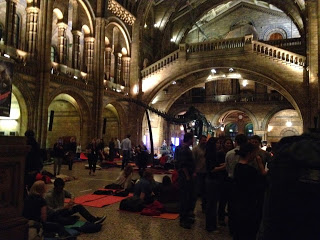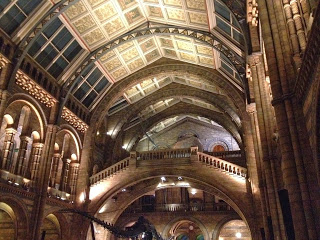 It was such a unique experience to see the museum so empty and quiet, without hundreds of noisy children.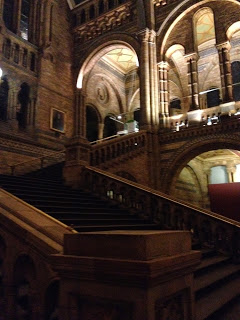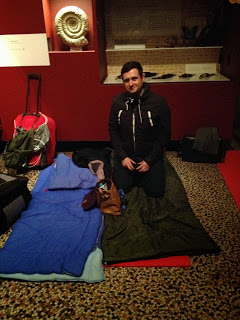 After
we got our little camps comfortable we were expected to meet in the
cafeteria for our evening meal. We all had designated seats on
certain tables. I was a little disappointed with this, our table
consisted of us, two couples and a group of four (who unfortunately
did not stop to catch a breathe and talked constantly throughout the
entire dinner). Dinner consisted of a three course meal, which we had
pre ordered (although ours was wrong) and some 'party games' small
give aways and an over excitable compare! I was quite pleased when it
was over.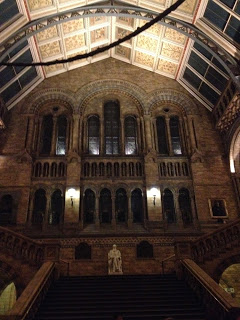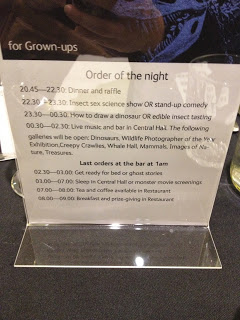 After dinner we chose to attend Dr Erica McAlisters' insect sex show in one of the lecture theatres. It was extremely funny and interesting and the audience were in stitches throughout. She certainly knows her stuff.
The next options were insect tasting or a 'how to draw a dinosaur'. Being pregnant I didn't think insects would be the most suitable, so we had a little wander around, took some photos and we managed to get some drinks at the bar as the queue had died down.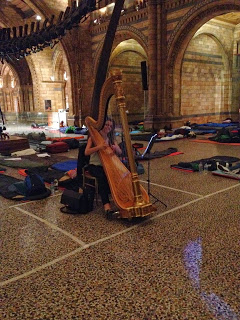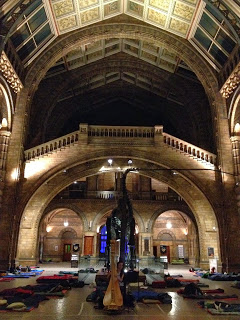 There
were certain exhibitions open for the next three hours or so, we we
wandered round those. Hubby was so excited to go back to the Dinosaur
exhibition without having to queue or fight his way through the
crowds. It was lovely to be able to spend time really looking at
things, without being pushed along in the crowds.
The museum
itself is beautiful at night, with the corridors and exhibitions
dimly lit, everything has am eerie, calm feel to it.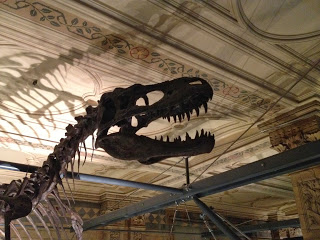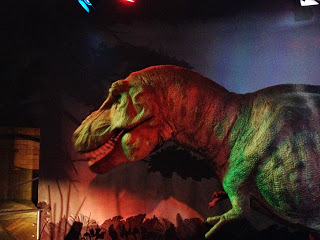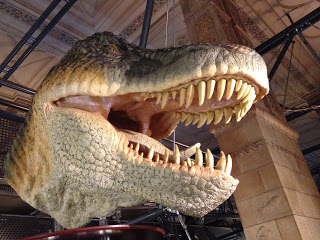 The
Wildlife Photographer of the Year exhibition was also open for us to
view. Some of the pictures are truly stunning and entry usually costs
£12 each.
Once
we'd tired ourselves of the exhibitions I settled myself in my
sleeping bag, listening to the relaxing harpist, whilst hubby
trundled off to look for the ghost stories and the all night movie
marathon. He stayed up for the entire night whilst I was exhausted
and managed to get about 3 and a half hours sleep.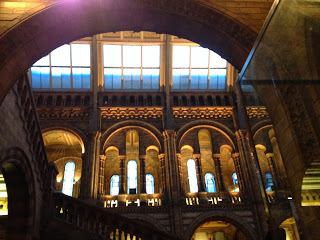 I
woke up at around 7am, to the sound of people packing away their
belongings and to the sun shining through the windows – it was a
pretty impressive sight! A cooked breakfast and a coffee later and we
were slightly more awake and all packed up ready to go.
I would say
this is a once in a lifetime experience, although hubby would tell
you, he's returning with our first born as soon as he's out of
nappies! It was such a fabulous experience to be in the museum at
night, and to see so many of the exhibitions without the massive
crowds. I would recommend it to those with any love for museums,
especially those who are dinosaur fans!