Cable and Cotton are a company who offer a pick and mix lighting service, where you are able to select your own colour combinations of string lights or buy pre selected sets. The lights are extremely pretty and perfect for any lover of anything whimsical and shabby chic. The lights can be used in so many ways, including to highlight something in your home, feature lights for a wedding or even as super funky Christmas lights. The options are endless.
I was excited when I found out they'd started selling
Big Lamps
too. The Big Lamps are available in three different sizes (12 inch, 15 inch and 18 inch) with two different fittings (ceiling spider and table stand). I was even more excited when I was asked whether I'd like to try one. The Big Lamps start at £19.99 for the standard 12″ ceiling lamp and go up to £39.99, you can also add a table lamp stand for an additional £8.95.
They are literally a giant version of the string lights.
The Big Lamps are available in 13 different colours. I chose Anais Green to try which is a very bright vivid green. It's very similar to the colour of our living room curtains.
The Big Lamp arrives pretty much folded in half which was initially a little confusing. It does come with clear instructions of how to get it ready to be put up though.
Inside the delivery you will get the light shade, a concise set of instructions, two balloons and a lampshade ceiling fitting. Should you require it, there is also a helpful self assembly video to help.
As the shade comes folded in half you have to push it out so it becomes lightshade shaped, once that's done you inflate a balloon inside the lampshade, basically blow it up whilst it's inside the shade. Once it's inflated, you're supposed to clip the balloon opening with a peg, but I couldn't get it to stop the air escaping s had to tie a knot in it instead. When it's blown up it should fill the inside of the shade reducing the creases and giving it shape.
The instructions say that once it's inflated you should spray the shade with water to get rid of the crease (there's quite a deep one round the centre of the shade from where it's been folded). I didn't have anything to spray water with so instead used a damp sponge and dabbed at the crease instead which seemed to work just as well.
After it's been wet you need to leave it overnight to dry. I clipped ours to the curtain pole and left it to hang. Once you've checked it's completely dry the next day you can pop the balloon and voila – you've got a perfectly shaped lampshade.
The fitting is easy to slip inside the hole in the shade. My technical assistant (aka my hubby) did say that he found it quite difficult to manipulate the shade enough to get the bulb fastened back in place but he did it pretty quickly so it can't have been too much hard work.
It looks great once it's up. The light looks really pretty coming through sight gaps in the shade. The colour looks fab too. It goes really well with the green walls on our stairs and it brightens up an otherwise dreary door way.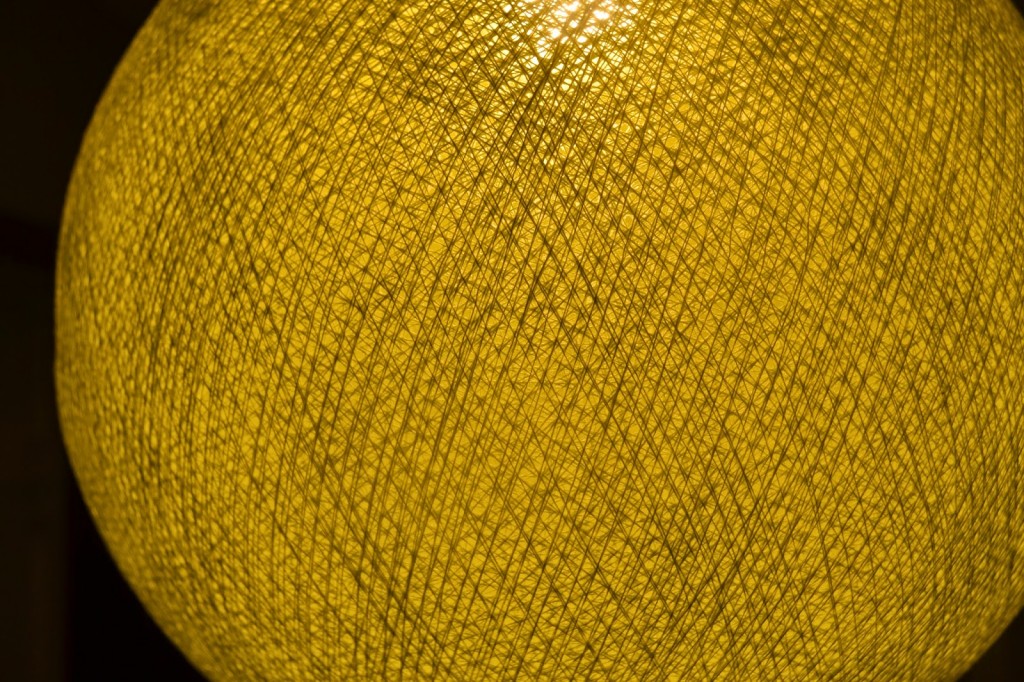 I absolutely love how unique the shade looks, you'd struggle to find anything as pretty and delicate as the Cable and Cotton shades. I'll admit it did take a little time to prepare to be put up and because I'm so impatient waiting overnight was a nightmare but when it was up it was definitely worth the wait.
I'm massively impressed with the quality of the Cable and Cotton Big Lamps, even my hubby said he thought it looked great (he's not the most observant fella so it really must look good). I like I might NEED to buy one of the Big Lamps with the table lamp fitting for our dining room and maybe some string lights for our bedroom, they're just too pretty!
*Disclaimer – I was sent this shade free of charge for the purposes of review however all thoughts and opinions are my own*