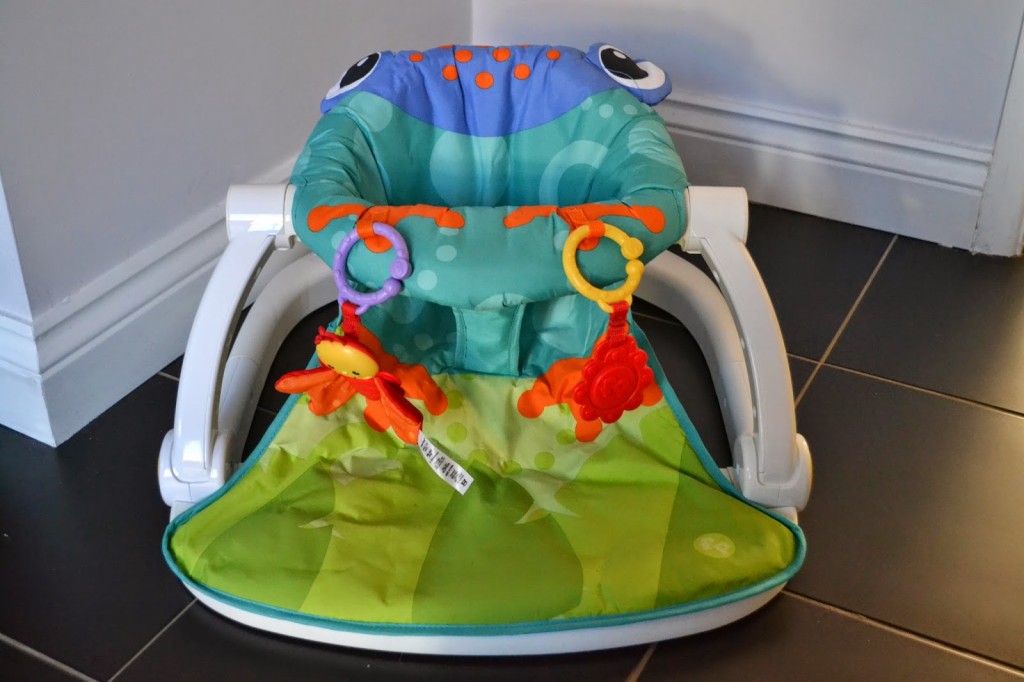 Unboxing and setting up the seat was really easy (no help from hubby required) no screws and batteries were required so it was a simple case of pushing each part it the correct bit until a click could be heard and putting the seat pad into place and you're ready to go.
The seat pad is fully removable and washable should there be any spills or accidents. It's also very quick drying. I haven't washed it yet but we have wiped it down a couple of times, so unless it's super messy or you have a nappy incident a wipe that's probably sufficient.
Little Man had a tasty but extremely messy turnip lunch this week while sitting in his floor seat. Not surprisingly it ended up everywhere! Thankfully once he'd finished the mess was easily wiped off the seat with a damp cloth, leaving no stains or marks.
The seat is padded enough to be comfortable but study enough to help aid your little person to sit up safely. The seat is angled so there's no unnecessary pressure or force on little legs.
Little Man has been able to sit up by himself (just about)for the last few weeks. He will sit happily playing until he forgets what he's doing and topples side ways. We had been using a mound of cushions around him prior to the seat arriving but the floor seat is much more practical and safe. It can also be transported from room to room without any hassle.
We use it on a morning when I want to have a shower. I put it just outside the open bathroom door and Little Man will happily chirp away to himself ( and his little friend, the butterfly) in the floor seat while I'm able to have a shower that lasts more than 30 seconds. He loves the textured feel and crinkly noise from the butterfly. Presumably it feels good on his gums too as he loves to chew both it's wings and the ring its attached to the chair with.
The base of the seat is sturdy and doesn't rock or move despite the bounciest, wriggliest baby being sat in it. I feel confident that Little Man is safe and secure and unable to tip the seat over.
The seat is a nice height for me to sit on the floor next to the Little Man and feed him too, particularly if we are at Nana's house and don't have his high chair.
One of my favourite things about the floor seat is how it folds up for storage and transportation. We're off on a little trip to Yorkshire in a couple of weeks and this will be a perfect addition to our packing as it takes up very little room but will keep him occupied and safe while we're in a different environment.
Overall I'm impressed with the seat. As the Little Man is getting older it will help encourage him to sit up and help him strengthen his back and shoulders.
The only thing I think Fisher Price could add to the seat is a detachable tray which could affix to the front of the seat, making it a perfect transportable high chair for food on the go. It's not always possible to have a high chair when you're out and about of visiting family, but this could easily double as a high chair as well as an interactive baby seat.
*We were sent the seat to review. Opinions are honest and my own*