I absolutely adore personalised products and I'm a sucker for keepsakes. I've got both a scrapbook and a memory box for the little man's first year, and we also had casts done of his tiny little baby hands and feet when he was just two weeks old. I love being able to hold on to those precious memories, especially when time creeps past so quickly.
I recent came across Live, Love & Create. A small family run business, based in the historic town of Brigg, North Lincolnshire, famous for it's annual horse fair, speciality shopping and picturesque riverside walks. Live, Love & Create specialise in pottery painting, personalised gifts and a variety of other craft techniques.
The Live, Love & Create studio is also home to a tea room and gift shop which showcases handmade British made crafts from local makers and their own range of personalised gifts, ceramics, prints and paintings.
As well as allowing a creative space in their studio to make your own arts and crafts, they offer family days and workshops for both children and adults and have recently branched out into the scary world of online sales.
Even if you don't live close enough to visit the studio, the studio can come to you!

In their new online shop one of the products available to buy is a 20cm x 20cm ceramic tile with the opportunity to have your child's drawing hand painted directly onto it.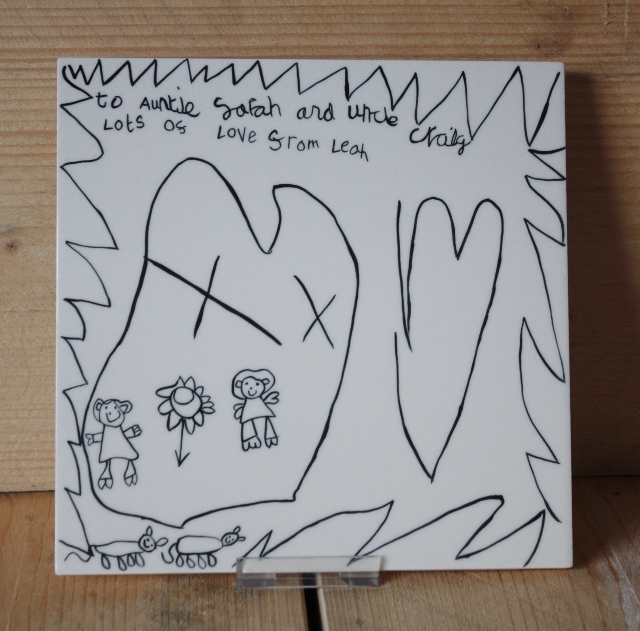 I think it's an usual and long lasting way of remembering those early scribbles and drawings and it'd make a fantastic gift idea for grandparents.
It's a simple process –
Get your little person to create their picture on a 20cm x 20cm piece of paper, and return the finished masterpiece to Live, Love & Create via post or scanned and attached to an email.
Live, Love & Create then create an exact copy of your child's art work onto a ceramic tile before it is glazed and fired in the studio kiln. Once it's finished, it's carefully posted back to the recipient. A simple procedure for the customer and child and a beautiful piece of handcrafted art work from Live, Love & Create. The hardest thing you will do as a customer is, deciding where to display it!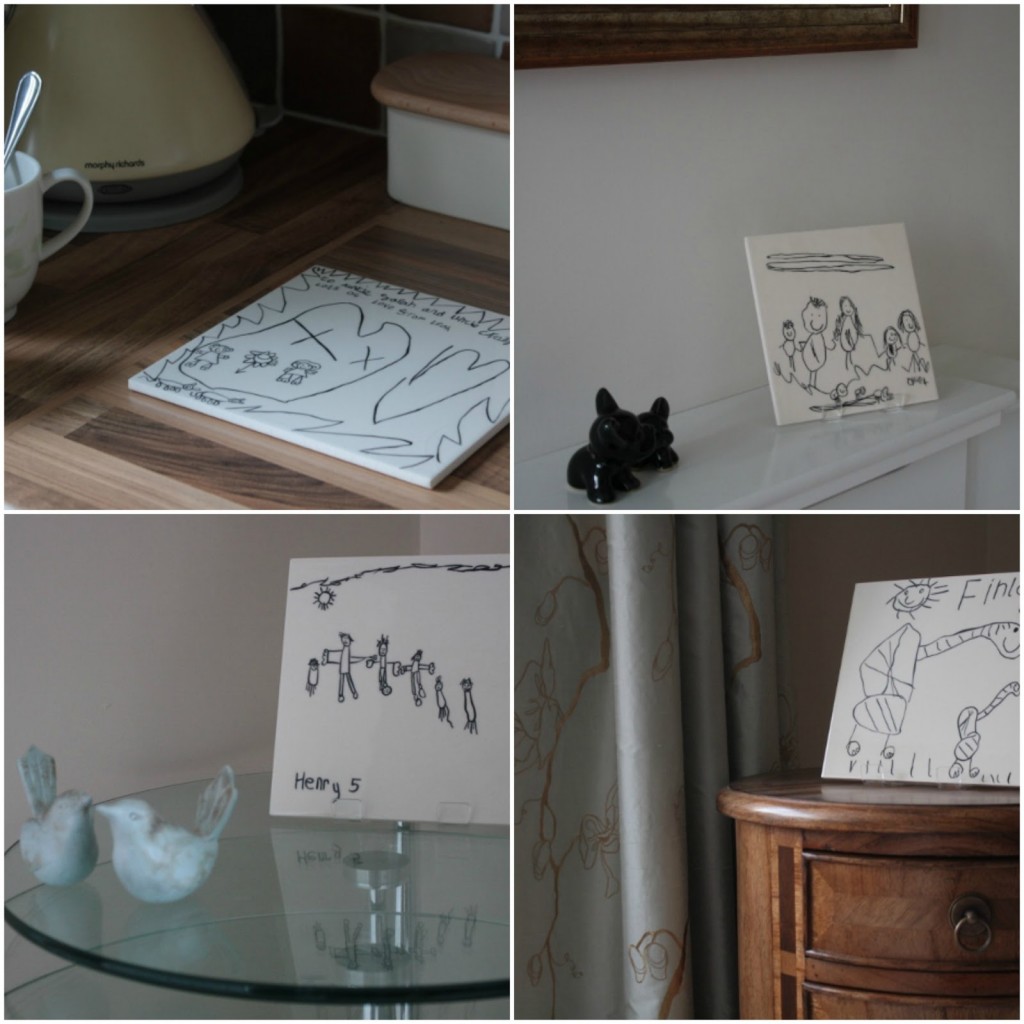 Each tile can be ordered online and costs a very reasonable £26, which also includes free delivery.
Live, Love & Create have very kindly offered one of my blog readers the chance to win one of their fabulous tiles complete with your child's drawing featured on it.
To be entered into the competition, you need to complete the rafflecopter form below. You must sign up to Live, Love & Create's newsletter to be eligible for the draw.
Terms & Conditions
Winner will be drawn via Rafflecopter entries.
Details will be verified and if found to be false ALL of your entries will be disqualified.
Winner will be contacted via email and Twitter (if your handle is provided).
You will have 14 days to respond to winning notification otherwise a new winner will be picked.
The prize will be arranged, produced and delivered by Live, Love & Create.
As an additional incentive, everyone that signs up to our newsletter will also receive a 10% discount code to use on future tile orders.
*Please make sure you have signed up for the newsletter properly!*