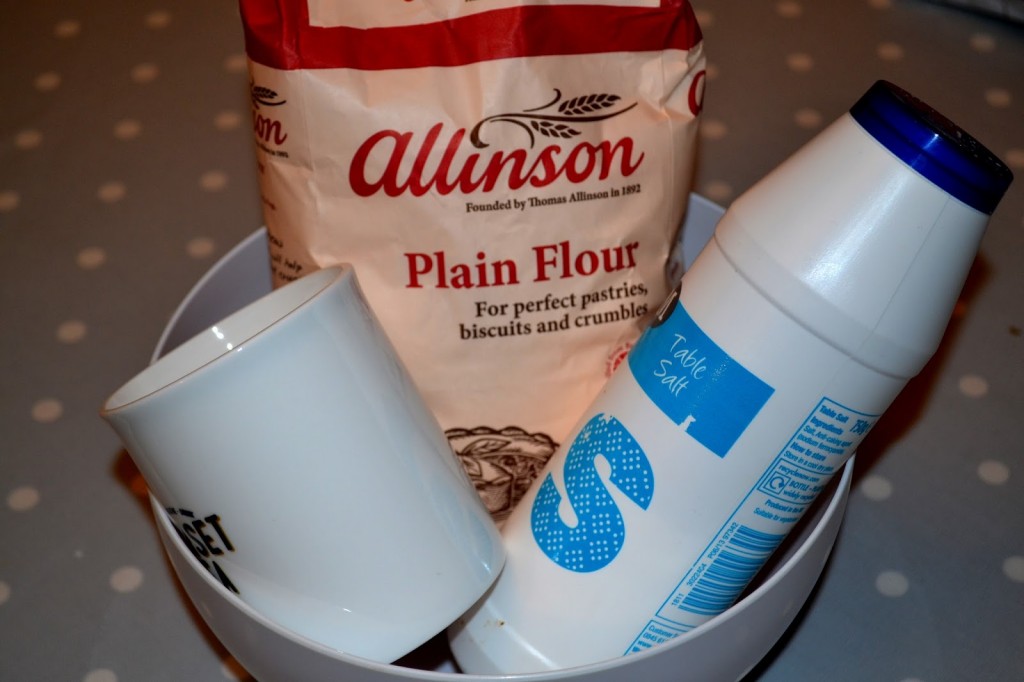 I remember making salt dough decorations many years ago with my Mam. As it's the little mans first Christmas I thought making some decorations would be a nice and long lasting idea. What I love about salt dough is how simple and cheap it is to make.
Ingredients
1 cup of plain flour
1 cup of salt
1/2 cup of cold water
Mix everything together in a bowl, your mixture should be a thick paste, make sure it's not too wet otherwise it won't harden properly.
Once you've got the correct consistency, take a chunk of dough and roll it out into the shape you need. We decided to create some hand prints and some festive tree decorations using cookie cutters.
I found it easier to lay the shapes out onto a baking tray before trying to get the little mans handprints. After much rolling and re rolling we finally got some decent prints.
Make sure if you're intending on making hanging decorations to make a hole somewhere to thread ribbon or string through.
When you're happy with your designs put them in the oven. After a few attempts I've found 100 degrees for 3-4 hours is the best time. It allows the dough to harden without burning.
After the baking time is up you'll need to make sure they're completely cooled before you start with any kind of decoration.
For decorating I used selection of this we already had. I don't think you need to use a specific type of paint particularly if you intend to varnish it when you're finished. I used both Acrylic and Enamel paint.
Then basically decorate anyway you like! We went for festive reds and golds. I wish we'd had some glitter as I think sparkly hand prints would have looks fab.
I left our decorations to dry overnight and then the following day covered each one with a thin layer of varnish to seal the paint and give them extra shine.
I'm quite impressed with how the decorations turned out, so much so we're including them in with the Grandparents Christmas present.
If you're looking for a quick, simple and cheap way to make some Christmas keepsakes, Saltdough is the way forward!