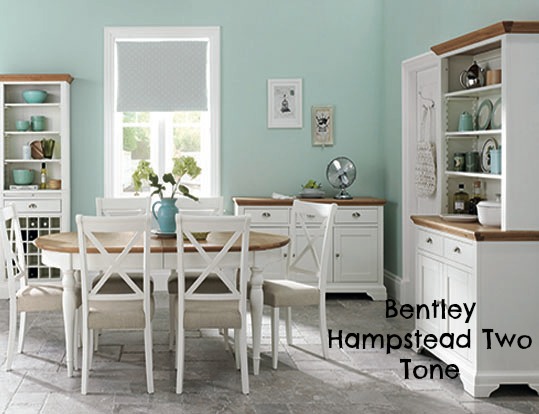 I quite liked our dining room pre child but since the rein of the little man began, I've started to think it feels quite cold and not really very family orientated.
We actually spend quite a bit of time in the dining room, the kitchen and dining room have had the wall between knocked through to make a nice sized open plan space. We have french doors which lead out onto the patio and it's quite a pleasant place to spend time when the weather is nice.
In our baby free days we chose very pale colours. The walls are a shade called 'Frosted Steel' basically white with a hint of silver. It was nice at the time but it's not an ideal colour for sticky hands, nor does it feel very cosy. I've always felt that a family home should have a cosy and warm dining room, somewhere you can spend time and do things together as a family.
I've been looking for ideas online for redecorating the dining room, to make it a little more family friendly.
One of the main priorities for me, is a more traditional, good quality dining room table.
I love the
Bentley Hampstead Two Tone
dining room table and chair set from
Rodgers of York
. It's airy and light but looks homely and elegant. It's made from solid Oak and looks like a timeless classic, something that would see our family grow and get older. I really like the shape too. I've never had anything but a rectangular shaped table, so a oval one would make a nice change, and likely make our dining room look bigger than it is.
Not only does the table and chairs look perfect, the rest of the range is great. I love both the full size and the half sized side boards. I can just imagine cake stands and mismatched crockery lined up along the shelves (and all our junky hidden away safely in the drawers and cupboards).
Rather than our plain boring walls, I'd love to redecorate with some bright wallpaper. If you read my blog you'll know I'm huge shabby chic fan so I'd probably chose some floral wallpaper like this
Vintage inspired Sanderson wallpaper
. I think I'd use it on one feature wall, the wall where we hang our pictures, and paint the other three walls a bright and summery shade of yellow.

I think the white furniture of the Bentley Hampstead set would work extremely well with the floral wallpaper.
We currently have a black tiled kitchen and dining room floor at the moment which is a complete nightmare to keep clean. I would really like something much more practical and easier to keep clean.

Both
wood and laminate
flooring is a must for a dining room, particularly when you have a messy baby! It's much easier to keep clean than tiles or carpet.
When I return to work in January and our household budget returns to normal I'll be kitting out the dining room as soon as possible.
*PR Collaboration*
.
Furniture Origins Provence