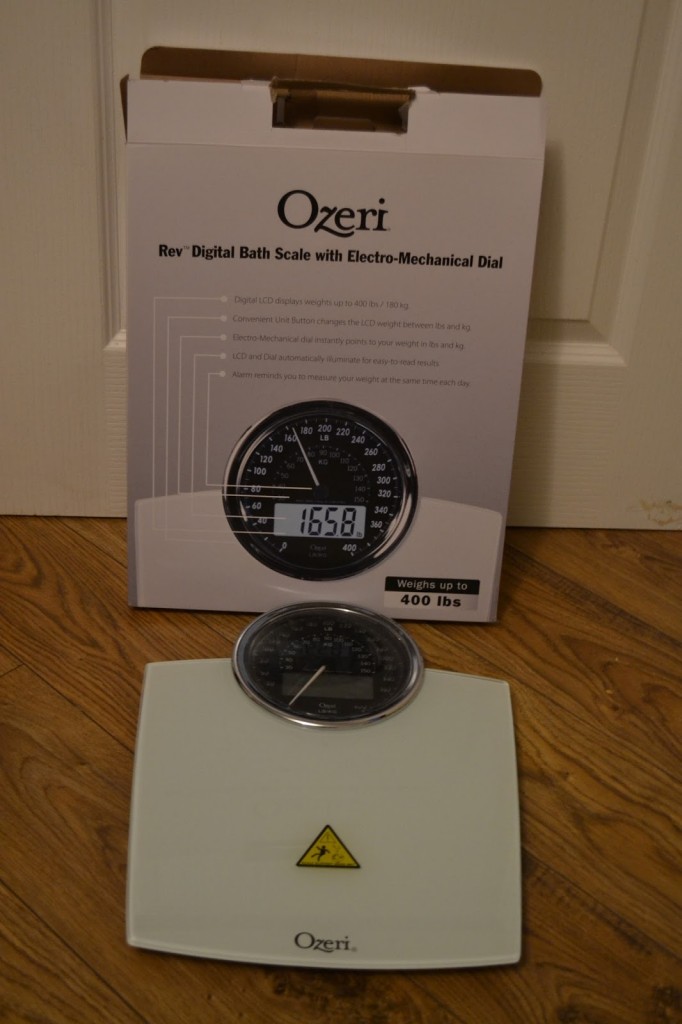 If you've read any of my previous posts, you'll know I've reviewed a couple of other Ozeri products and been suitable impressed, so when I was recently offered the chance to try out the Ozeri Digital Bathroom Scale I jumped at the chance. They're currently a very reasonable £19.99 on Amazon.
We didn't have scales in the house until the Ozeri package landed on our doorstep, so it was a rather exciting/terrifying time.
I've been trying to loose the baby weight since the little man was born. I've lost a tiny bit but still have quite a way to go. I usually go to Boots once every few weeks with my 50p to get weighed, but it is a bit of a trek just to use the scales. Having a set of scales at home will be a lot easier to keep any eye on those very slow decreasing pounds and save me both time and effort travelling too and from Boots.
The first thing I noticed after unwrapping the scales from their box is how stylish and modern they look. They're very slimline and not in the least bit bulky. The footplate is large and made of tempered glass which is impact resistant. The scales that can take weights up to 400 lbs (180 kgs).
The design looks sleek and simple and the scales can be easily stored under something (ours are currently under the TV unit in the living room). The information that comes with the scales does advise against using them in a humid or steamy room (which I did think was a little surprisingly as they're called 'Bathroom Scales', and I don't know many bathrooms that aren't humid or steamy). To be fair though, I prefer using scales downstairs in our house as the floors are much flatter and give a more accurate reading.
I was pleasantly surprised to find the scales are delivered with batteries. They take 3 x AAA batteries to work and thankfully they are provided. It's nice not having to hunt round the house for something that fits or to specifically buy batteries before you can use your new product.
The scales have a very clear digital LCD display which lights up. There's no bending or squinting, it's very easy to see the numbers under your feet. You can even get weighed in the dark if you feel the need. Your weight can be shown on the scales in pounds or kilograms but a simple change of the setting, you simply click a button on the underside of the scales.
Personally, I would have liked the option to see my weight in stones. I'm old school so need to convert the weights so I can understand them. Obviously that's not really a difficult thing to do with the help of my trusty phone but I do think being able to see it on the scales themselves would be a lot easier. The scales also have alarm which activates to reminds you to weigh yourself at the same time each day.
When you use the scales, there's no need to turn them on or touch any buttons, they start working as soon as you stand on them. They also turn themselves off automatically too. So you literally get weighed and then walk away.
The scales appear to be accurate. When I get weighed I tend to step on and off at least three times to make sure the weights are the same. Each time I've done this with the Ozeri scales the captured weights have been exactly the same. I've been weighing the little man on them too. Now that he can sit still and upright, I can get a good idea of his weight. It's a help when I don't have time to take him to the baby clinic.
Overall, I'm impressed with the Ozeri scales. They look good, are made of durable glass and the design is very modern and simple. Other than the fact they don't display stones I can't find any faults. They look good, they seem pretty hard wearing and they're brutally honest with your weight!
*I was sent the scales for review purposes. Opinions are my own*