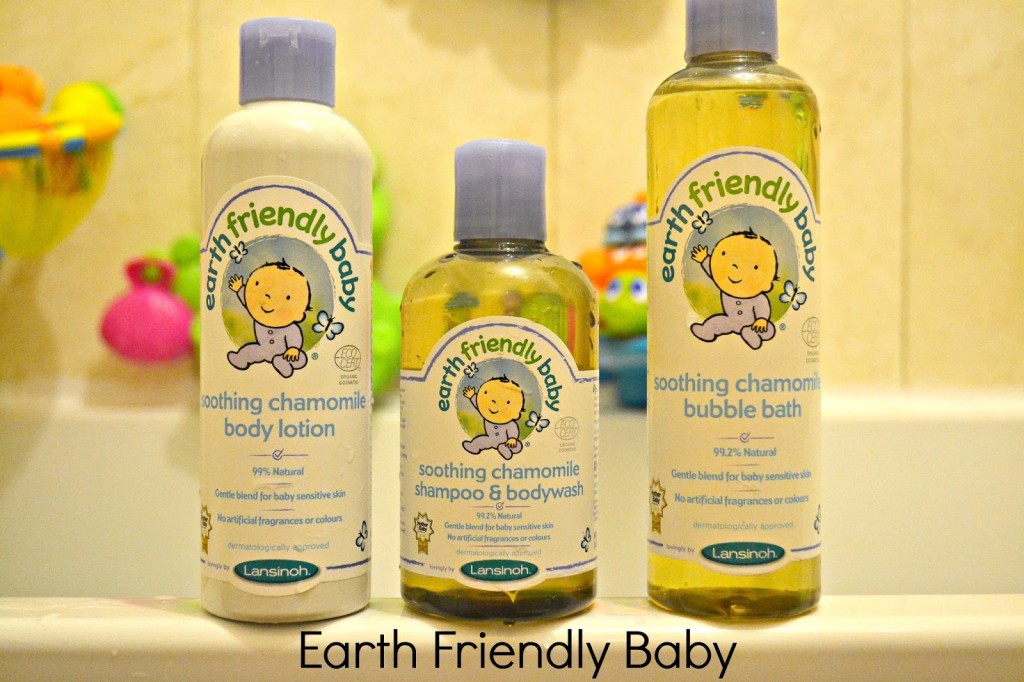 Bath time is the little mans favourite time of the day and we're always on the look out for things to make it even better.
We were recently sent some products from Earth Friendly Baby who are part of the Lansinoh brand, famous for their breastfeeding knowledge and fantastic Lanolin nipple cream. Earth Friendly Baby was created in America by a father of three but joined forces with Lansinoh in 2011 and is sold across the UK in stores like Tesco and Boots.
The products are available in Calming Lavender, Soothing Chamomile and Happy Mandarin. We were sent three products from the Soothing Chamomile range ; – body lotion, shampoo and bodywash and bubble bath.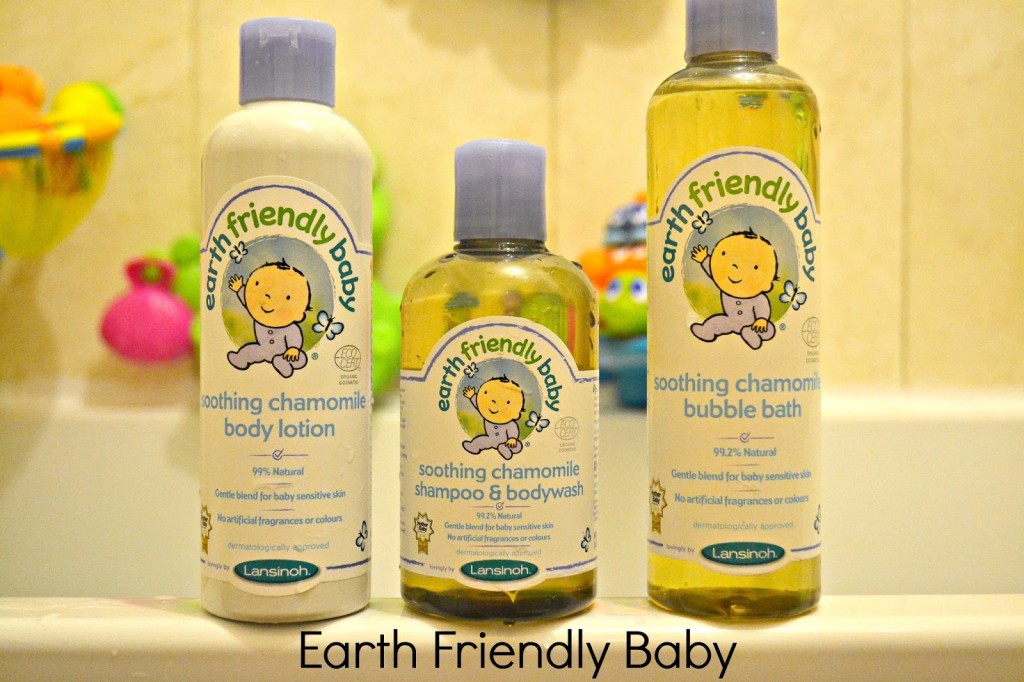 Each product is made in the UK and created using naturally derived ingredients and certified organic extracts. None of the products are tested on animals and are suitable for even young skin.
Soothing Chamomile body lotion
The body lotion is very light weight and absorbs into skin extremely quickly. There's no stickiness or residue left on the little mans skin or my hands. It has a faint citrus scent and is really pleasant to use. Chamomile which is one of the main ingredients has anti inflammatory and soothing properties which I think has helped get rid of the little patch of dry skin the little man has had on his back for a while. I've been using it on his skin after his evening bath, before bed, gently rubbing it in whilst massaging his legs and arms. I think he's found it quite calming and seems to have enjoyed the recent addition of a massage to his bedtime routine.
Soothing chamomile shampoo and body wash – £4.25
I'm a huge fan of 2 in 1 products at bath time. They save time and juggling and this is a great product. The consistency is just right – it has quite a luxurious feel to it and lathers well. It's soft and gentle on the little mans skin and quickly and easily washes of the remnants of his tea and whatever he's decided to hide in his hair during the day. The scent is quite faint but again has a slight citrus scent, although different to the body lotion.
Soothing Chamomile bubble bath – £5.99
The bubble bath creates a small amount of bubbles in the bath water. It smells very much like the shampoo and body wash. It seems to work well in collaboration with the other two products.
Overall I'm impressed with Earth Friendly Baby. The products are kind to the skin, clean well and contain natural ingredients and no nasty extras.
*We were sent the products for review purposes. Opinions are my own*