The building
Barrow in Furness Travel Lodge is located on the edge of a main road, though traffic noise is not noticeable when you're inside your room, set amongst commercial buildings and factories, the location is less than idyllic but rather surprisingly, you can hear the sea if you're room is at the rear of the building.
The travel lodge doesn't look huge in size but it's set over 2 floors with both single, double and family occupancy rooms available. There's a good sized car park at the front of the building with 54 spaces which are free to park in at no extra cost.
Our stay was a Sunday evening so I had expected the Travel Lodge to be quieter than a Friday or Saturday night and I was right. The car part was about a quarter full when we arrived at 4pm but had filled up a bit more by the time we went out to find food.
The travelodge is about a mile from the town centre of Barrow in Furness. We had a little drive through and picked up some bits from Morrisons but didn't really do much else there. We found Barrow Park quite close by too. We had a lovely stroll round the park while the little man investigated. He enjoyed running amongst the ducks, playing in the park and pointing at the pretty flowers.
The travelodge is literally about ten steps away from a Domino's pizza which was quite handy. We ended up eating pizza for tea. which meant we didn't have to go hunting for a restaurant nearby.
Check in
Check in was via a manned reception at the front of the building. The female member of staff was super friendly and polite and engaged us in conversation, asking us about our journey and our reasons for visiting the area. She explained she was happy to help if we had any questions about the local area, places to eat and things to do and informed us that our continental still breakfast was also included in the room rate. We later found out she was called Shona from another member of staff.
Check is available from 3pm and guests are expected to check out by 12 noon. You can extend your check out time by 2 hours to 2pm (which is ideal if you want to have a lie in or are sleeping off a hangover) but there is an additional charge of £10 per room.
The room
Our booking was for 2 adults and 1 infant so after our quick and issue free check in we were directed to our room. We were on the ground floor of the building, literally round the corner from the reception desk in room 19. The room was bright and airy, with a huge window across one wall of the room letting in lots of natural light.
We were given a reasonably sized room containing a king sized bed with a pull out bed underneath and a travel cot. The bedding was clean and bright which with no marks or ageing. The travel cot was already erected next to the bed and the mattress covered in a sheet. We were provided with two firm but very comfortable pillows each, which was a welcome addition (there's nothing worse than hunting for extra pillows at bed time).
I found the bed surprisingly comfortable, especially considering it ended up being three of us in it! The little man decided the huge Travel Lodge bed looked much more comfortable than the travel cot and ended up sleeping between Hubby and I. The mattress was firm with no sagging in the middle and it was ideal for my dodgy back.
The room was basic and clean with the added extras of a TV, tea and coffee making facilities, 1 set of towels and two toilet rolls. We did have to request a further set of towels as there wasn't enough for the three of us but this was quickly and easily done by popping down to reception.
There was a hand desk/dressing table with a large forgiving mirror in front of it, thankfully the lighting around the mirror was great. One of my pet hates is poor lighting in hotel rooms, I hate not being able to put my make up on properly or see what I actually look like!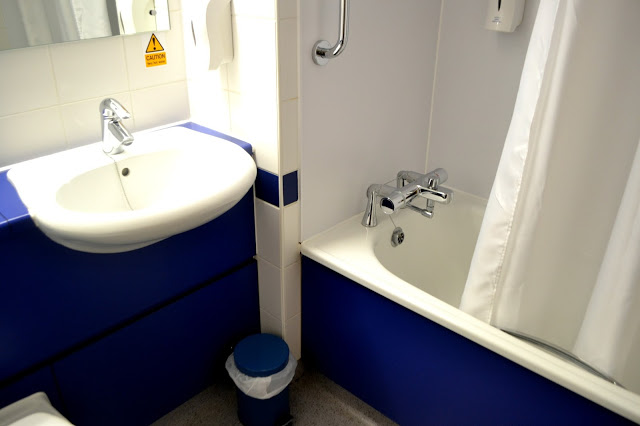 I was pleased to see the shower was over a bath in the hotel room, the little man likes to have a bath before bed and he finds it much more relaxing than a shower. The bathroom toilet, bath and sink were clean though the floor was a little grubby and could have done with a scrub. Travelodges now have a supply of shampoo/body wash affixed to the shower wall which is perfect if you've forgotten to bring things from home.
Whenever I stay in a Travel Lodge I always pay to use their WIFI, as I hadn't booked the room this time it wasn't included on my booking so I paid for it once we were there. Sadly, despite two phone calls to the WIFI support team they were unable to establish a connection and we couldn't use it during our stay.

We found out that breakfast was included with the room rate. As the hotel has no on site bar or restaurant, breakfast is provided in packed lunch box style and the contents are suitable for a quick breakfast on the go. Should your room rate not include breakfast, the boxes cost an additional £4.95 per box. At check in we were asked if we'd like to collect breakfast from reception or whether we'd like it left outside out room and at what time.
Things that were great
The lady who was on reception at check in was fantastic. She was extremely helpful and friendly, and couldn't have done more to help us during our stay. She rang the WIFI support team for us initially, helped my husband reset his useless phone and even let us store a bottle of milk in the staff fridge for the little mans bed time bottle.
Things that weren't great
The picture on the TV was quite poor and slightly unclear, I'm not sure whether this was to do with the aerial at the hotel or simply the TV, it didn't cause use too many issues but I can imagine someone staying over after a hard day at work, wishing to relax in front of the TV may be slightly more annoyed.
The WIFI didn't work. We paid to be able to use it for 24 hours but it wouldn't work on either of our mobiles or my laptop. We made two calls to the WIFI support number (0330 660 1141) but they were unable to rectify the issue and help us establish a connection, we were assured a refund would be given but it can take up to 5 days to be returned – not really an issue if it's the £3 payment you've made but not great if it's a payment for a week of usage.
Overall
The travelodge was well equip, clean and comfortable. I was really impressed by the service we received from staff, not only at check in, but throughout our stay. The lady who was juggling cleaning and front of house during our check out was equally as helpful and friendly, Our stay was quiet, comfortable and pleasant, had we not had issues with the WIFI it would have been perfect.
*The stay was complimentary. Opinions and thoughts are my own and are honest*