There's nothing better than turning the lights down low and lighting a scented candle, relaxing as the scent encapsulates you into somewhere calming, invigorating or simply somewhere that smells amazing!
I have a passion for strong, unique fragrances and now the Autumn the nights are colder and darker I always feel much more cosy and content when I have a candle flickering away in the corner.


I was recently introduced to a company called MBotanicals, a London based company selling natural and organic skincare products and soy wax candles. Their hand poured 100% soy wax candles are scented using phthalate free fragrances and essential oil blends and come in a range of 6 fragrances including Citrus basil, Tobacco and Vanilla Bean.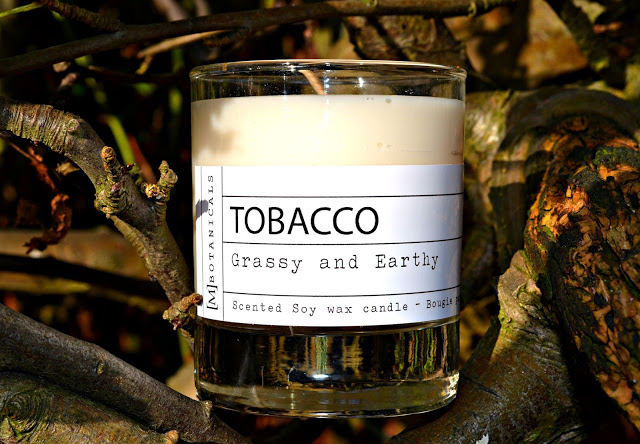 I was sent the
Tobacco scented candle
to try out. With it's simple packaging and 20cl glass tumbler container,the candle certainly looks the part, it looks expensive and chic and I love the simple style. It fits in nicely in my dining room.
Described by MBOtanicals as –
"green and fresh with a top note of citrus and Juniper Berries and woodsy notes of vetiver. This wonderful scent begins with top notes of lemon, orange, and verbena;. followed by middle notes of juniper berry and hay; all sitting on base notes of labdanum and vetiver"
I absolutely love the scent, although I was initially a little unsure. It has a strong, masculine scent and is perfect for Autumn. The smell is very comforting and warm, it makes me think of thick cream fur rugs, open fire places and the crackle of logs burning. It's without a doubt, a colder weather scent.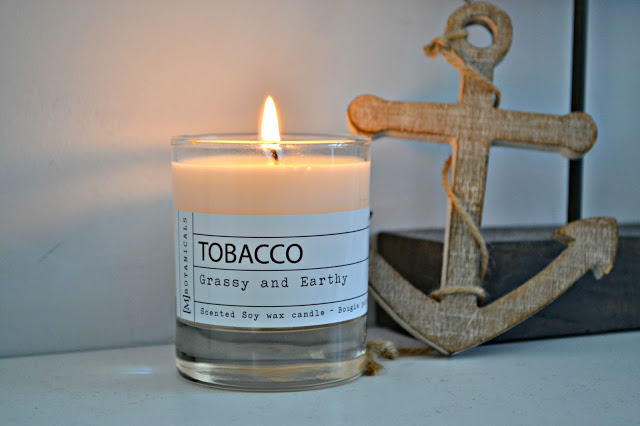 MBotanicals Soy candles are vegan friendly and can last up to 50% longer than typical paraffin candles. They have a much clearer burning flame as soy candles contain no toxins, carcinogens or pollutants.
I'm really impressed with the MBotanicals candle, it burns clear, doesn't tunnel and the smell is to die for. Each candle has a burning time of approximately 38 to 40 hours and at £15 I think that's a pretty good deal.
If you're looking to expand your candle collection or you're looking for a pretty gift, I would thoroughly recommend MBotanicals. I must get round to trying their skincare products next, the Prickly Pear Rejuvenating Facial Elixir sounds amazing.
*PR Sample