The Something Special TV series that is broadcast twice each day on CBeebies and is a firm favourite of both kids and adults. Justin and Mr Tumble use Makaton to help children learn how to communicate and develop language skills in an engaging and exciting way. The little man is a huge fan of Mr Tumble and it's one of the children's shows I actively encourage him to watch, he's picked up loads of Makaton signs and symbols which can only be a positive thing when he starts nursery and school.
The show has won BAFTA awards so it's no surprise to see interactive learning toys available to buy to compliment the program. The little man was recently sent Textured Mr Tumble with fun sounds from Golden Bear Toys to try out and it's become his new favourite companion
Mr Tumble is brightly coloured and eye-catching for little people. He features a soft, hugable body and is suitable for use from 10 months.
Mr Tumble has a range of features to stimulate and engage little people. His outfit consists of different textured material which is ideal for younger children to explore with touch and his recognisable fun sounds are activated by a light squeeze of either hand. The sounds encourage repetition and help children learn new words and phrases.
There's a small mirror hidden inside Mr Tumbles iconic spotty bag which is the perfect size for little fingers. The little man loves looking at himself and posing in it. The stars on his waistcoat light up brightly and for older toddlers, the shoe laces on his shoes can be used to help learn how to tie laces.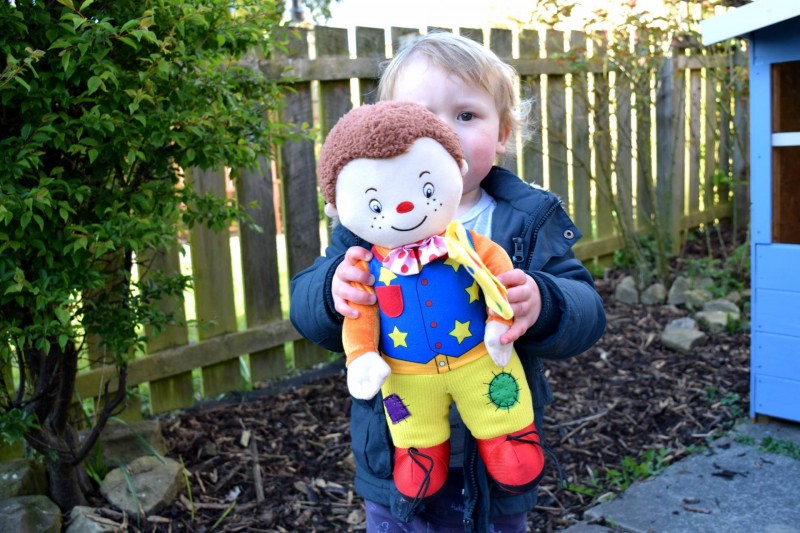 Mr Tumble goes all over with the little man. He loves listening to his sounds and watching the lights on his waistcoat while we're in the car but most of all he loves cuddling Mr Tumble while he watches Something Special on TV.
I really like the Textured Mr Tumble from Golden Bear Toys. The quality is really good and it's a really engaging, well made toy which is perfect for my toddler.
Mr Tumble costs £29.99 which is a little pricy, but I honestly think it's worth it. It can be used from 10 months on wards so has great last ability.
*We were sent Mr Tumble in return for an honest review*