Tis the season of Santa and lots of them!
Tonight we've been to visit another, this time at Fenwick Newcastle.
We visited last year and had a lovely time so when the tickets eventually went on sale ( they were cutting it a bit fine this year we thought!), I quickly booked for the three of us to visit again.
We spent the afternoon in a very wet though slightly festive Newcastle before heading to the Terrace Restaurant on the third floor of the Fenwick building. We were second in the queue and were welcomed through the door by a very friendly man just after 5pm. We were quickly signed off the guest list and offered drinks, apple or orange juice for the kids and either bucks fizz, festive fizz or Elderflower Presse for the adults.
The table looked Christmassy, with a cracker each and flicking candle in the middle. It was on the tiered area of the restaurant, with plenty of space around us.
The staff were maybe a tad over enthusiastic at the start, we were approached and asked if we wanted drinks before we'd even taken off our coats or taken a sip of our welcome drinks.
Shortly after we sat down, the little man was brought a colouring book, cardboard reindeer antlers, a badge, some crayons and a chocolate snowman lolly. I was impressed that the member of staff gave the lolly to a parent rather than the little man. Santa also made an appearance, popping over for a chat and reminding the little man to eat his tea and singing 'Jingle Bells' with him.
We hadn't been sat long when we were asked if we'd like our food bringing out (this year the food was table service rather than carvery style like last year). The food came quickly, without any fuss and looked nice. It was hot, the portion sizes were good and certainly wasn't the worst Christmas Dinner I've ever eaten however, it seemed to lack flavour.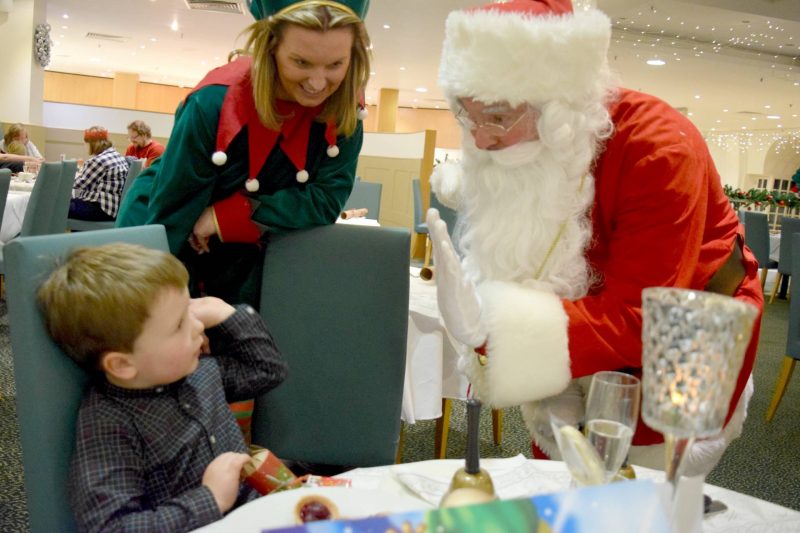 During the food, Santa and a elf returned to our table and chatted away and we were able to take some photographs before he moved onto the next table. Other than seeing Santa move between the tables and some Christmas music in the background, there was no other entertainment for the children.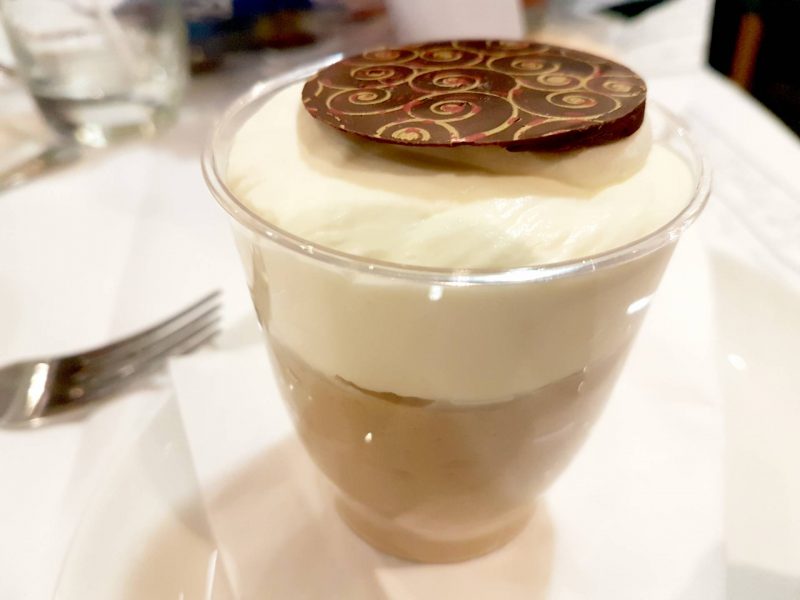 After our main courses, we were brought desserts, again, they were ok, but nothing really more than average.
Once the food was eaten, that's pretty much it. There's nothing else and no further activities for the children. We sat briefly after our food but the little man was quite bored, so we packed up and took a slow walk back to the car.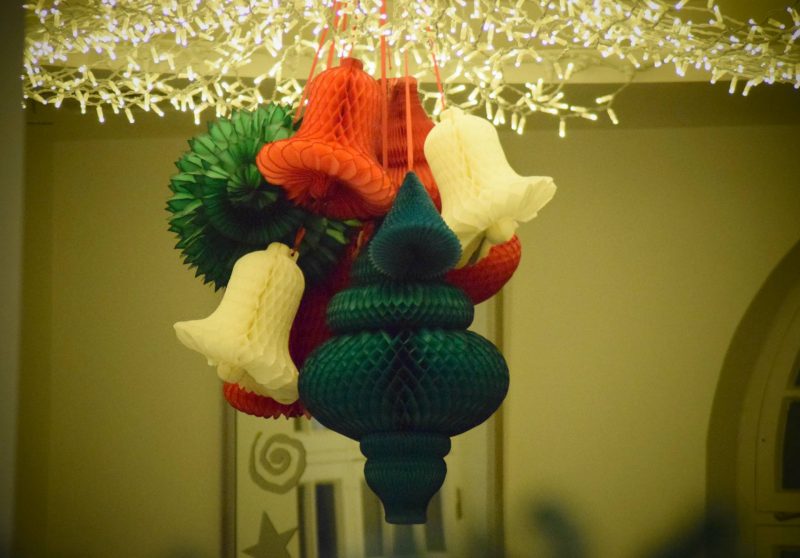 The restaurant only seemed to start to fill up as we were finishing. The arrival times for guests were staggered this year which meant the restaurant seemed quite empty during our visit. It seemed to lack atmosphere, last year we chatted to the tables nearby as the children excitedly waited to see the main in red, this year the three tables closest to us were all empty during our meal.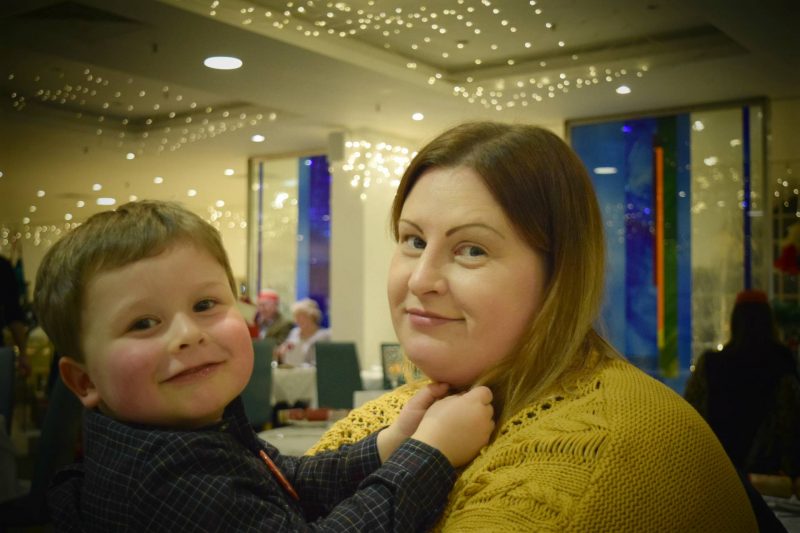 I couldn't fault Santa or the elves at all. They were very jolly and friendly and made an effort to speak with both the children and the adults. Every time Santa passed near each table, he waved or spoke to the children. He took his time to come back around, posing for photographs and encouraging the children to talk to him.
Although the staff were super friendly, we did feel quite hurried by some of them and a little like we were on a conveyor belt. Hubby and I had literally just finished our mains and a waitress tried to take away all of our plates. The little man is three and slow eater so his full plate and the fact he was still eating should have indicated we weren't finished.
Whilst I can understand the staggered start times to ensure a smoother food service, it meant the restaurant felt quite empty and lacked the excited buzz it had last year.
Last year, the cost for the three of us was £33 however, this year it was a whopping £55! That's quite a price rise for something that didn't appear to have had any positive improvements. I don't think it's particularly good value having recently experienced some similar events for less than half the price which felt more geared towards children.
I think one of the major flaws for the Tea with Santa event is the lack of present for the child. It didn't seem to matter too much last year as the little man was younger but this year it seemed like a bit of an anti climax for him. I suppose you could argue that a child shouldn't HAVE to have a gift but try and explain that to a three year old Santa brings gifts to good boys.
This year, we just didn't feel the love for Fenwicks. It lacked atmosphere, didn't feel like it was tailored to children and in my opinion, too expensive in comparison to other local Christmas events.