Noddy is a relatively recent favourite in our house. The little man loves watching the TV series on Milkshake and I have fond memories of it from my own childhood.
The little man was excited when we discovered that Kuato had teamed up with Dreamworks Animation to recreate the Noddy Toyland Detective game which is based on the popular TV series.
The game has been designed with teachers, parents and children to help develop a range of literacy skills and aptitudes so it's something I am happy for the little man to use. It was developed by the multi-award winning team behind Dino Tales, Safari Tales and Dino Tales Jr and is available for download via the App store and Google Play, for just £2.99.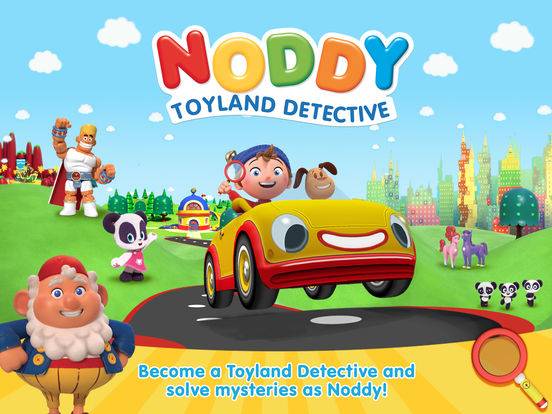 In the game, children can join Noddy as he becomes Toyland's most famous detective in an adventure filled with storytelling, learning and creative fun!
Playing the game can help younger children with their reading and storytelling abilities, sentence structure and memory. It's also a great way to help with word knowledge and comprehension and I think it's ideal for it's suggested age range of under 5 years.
Children can take part in mini-games, interact with characters like Bumpy Dog, Revs, Pat-Pat and the Panda Pockets, Fuse and the Naughticorns. Children can become a Toyland Detective themselves and use the 'Who, What, Where Book' to solve mysteries.
I love that once children have finished the activities and solved the mysteries, they can read a narrative photo storybook. It's a great way for parents to interact and enjoy the game with their children.
I think the little mans favourite bits of the game are painting and decorating Revs car, completing the jigsaws and driving Noddy's car around the screen.
I'm also a huge fan of the fact the app contains no advertising or in-app purchase options. It means I don't need to worry about what else the little man is seeing or that he may accidentally click to purchase anything extra via the app. It's refreshing to see that the app has a passcode-protected 'Grown Ups Corner,' which has a range of features that you can change things like the length of your childs screen time.
The Noddy Toyland Detective game is probably one of the best apps we have on the iPad for the little man. It's lots of fun and at just £2.99 I think it's totally worth the money.