Calling all parents and carers to be part of THE biggest ideas-sharing activity in the UK!
Last year the (Infant & Toddler Forum) ITF launched the #rethinktoddlerportionsizes campaign to help raise awareness, that it's not just what we put on toddlers' plates – it's also how much. Using the helpful portion size plates images, the campaign showed parents how much food should be offered to young children. The feedback from parents was one of genuine surprise at the amount of food recommended for 1-4 year olds. However, there was also a real appetite for more information on how they can feed their toddlers the right balance of foods in the right amounts.
I was involved in the campaign, and tried out the very helpful Tot it Up food tracker which was a great addition to the #rethinktoddlerportionsizes campaign.
This year, the Infant & Toddler Forum are asking parents and carers to Think Toddler-Sized and to share their suggestions on ways in which we; can make feeding toddlers easier. The ITF have created helpful guidance on what foods and in what amounts we should be feeding toddlers, but we know that for this to be used by everyone caring for little ones, it needs to be practical and easy to use.
The ITF has joined forces with the Pre-school Learning Alliance, Netmums and PACEY to ask you, as those who care for and feed toddlers, to take this expert advice and put forward your suggestions on what else is needed. Whether you already have a method which you use to feed toddlers or if you have an inkling of an idea, they need YOU to help solve this challenge!
Judy More, Paediatric dietitian and member of the ITF, says: 'Last year's campaign reinforced what we already knew, that some parents find feeding their toddlers a challenge as they are not sure about the best foods to offer, and how much they should expect their toddler to eat. However, we know that those caring for toddlers are constantly innovating to solve everyday challenges. So, who better to recommend practical ideas to help take the guidance and make it easy for everyone to use'.
Sign up here to take part and then add your details here
What you can win
There will be one prize of £1000 and two runners up will each win £500. There will also be spot cash prizes of £100 for commenting and engaging on the forum.
The Challenge
Your answer to the Think Toddler-Sized Challenge could involve repurposing something already in the kitchen, an app, or something brand new that you create from scratch. How can you take all the ITF's guidance and make it PRACTICAL and easy for all parents to follow every day at every meal?
I've been asked to spread the word about the Think Toddler-Sized Challenge and encourage my readers to get involved and enter their own ideas. The most important thing to remember about your ideas is –
1. Which types of food in the right balance – carbs, protein, dairy and fruit/vegetables
2. How often different types of food should be offered every day
3. How much should be on the plate – think toddler portions
I've decided to take part in the challenge myself. My own idea is a simple one but a great way to ensure your toddler is eating the correct amount of the each food group.
Using small stackable bowls that fit inside each other, you can measure out portions of carbs, protein, dairy and fruit/vegetables which should be offered to your child each day. It would give parents a rough idea of what their child should be eating and offer parents reassurance for portion sizes.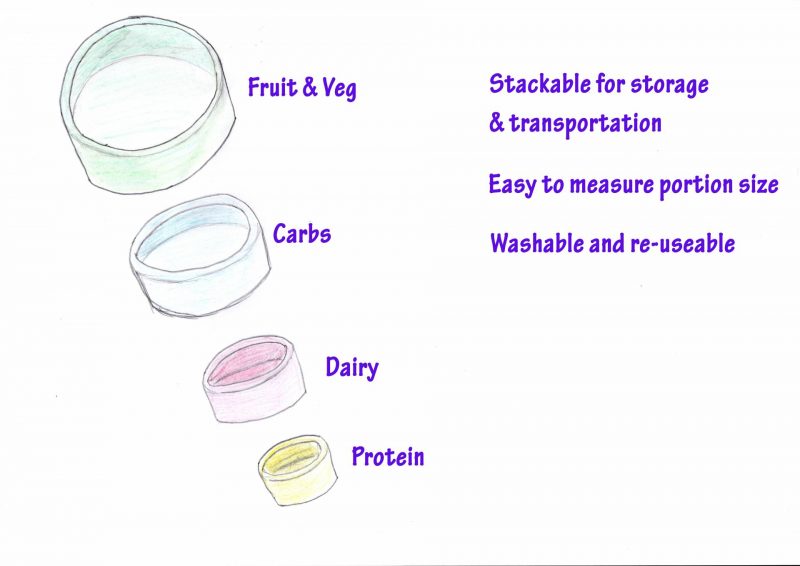 I made some simple paper versions of the design to give you more of a visual idea of what I mean. The bowls would be lightweight and easy to split inside a handbag or change bag so that they could be taken out of the house.
They're simple to use and would help parents have a visual guide to correct portions which would be much easier to use when out and about than a set of scales.
Your idea doesn't need to be a complicated one – just one that will help with the way we feed our toddlers.
How can I take part?
Signing up to submit an idea is easy, just follow the steps below for your chance to win £1000.
Click 'Join Co-Creation Community' and sign up and either login with your Facebook or Twitter account OR click 'Register for a new account' and sign up with your email address

Once you've registered, scroll down to our 'Featured' Challenge and click 'View Full' to see the competition in more detail

Once you've read more about the competition and looked at the Toddler Guidance link, click 'Add your Idea' to submit your Idea

Every idea will be reviewed and a decision made on whether to take it forward to the next stage.
Collaborative post