I was recently asked to be an official Peppa Pig Blogger and sent a great range of Peppa Pig and Co products for the little man to use over the Summer months.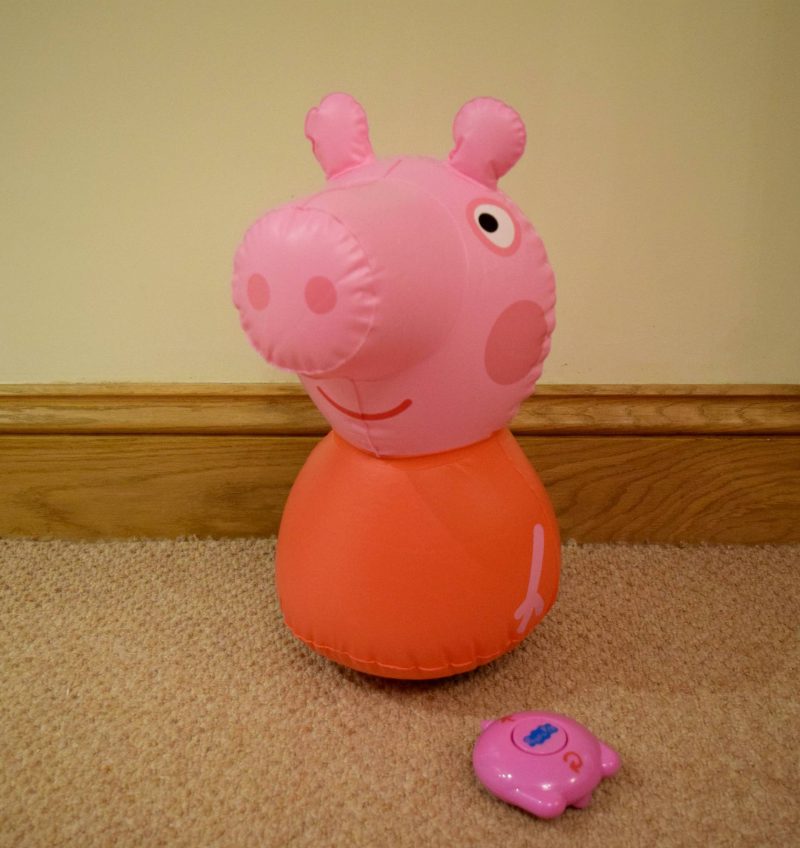 First up is the fab remote Control Inflatable Peppa Pig from Bladez – RRP £24.99. Peppa is super easy to inflate and is such good fun. She takes 6 batteries in total (2 in her and 4 in the remote control) and once they're in she moves backwards and forwards and even does some spins. She plays the Peppa Pig theme tune while she moves and can even be used outside if your little person doesn't want to miss out on the sunshine.
The little man loves chasing her round the room and making her spin in circles. She's pretty robust and has withstood the little mans boisterous ways but if you do have an accident, she has a special puncture repair kit with her.
The Inflatable Muddy Puddle from Bladez – RRP £12.99 is such a lovely idea for younger children and I'm sure parents will love it as much as me, because there's no mess!
You inflate the muddy puddle and add some water and it's ready to go. It has floating Peppa Pig characters inside which are instantly recognisable to little people. It's perfect for indoor play and a great sensory tool for babies having 'tummy time'. It's ideal for taking on holiday as it folds down really flat when emptied of air and water.
The Peppa Pig Campervan shape sorter from Meld – RRP £15 has entertained the little man for ages. He loves putting the shapes through the matching holes before emptying it and starting again.
The brightly coloured campervan has four different shaped holes and eight coloured wooden blocks and is a fun way to encourage hand-eye coordination and shape and colour recognition.
*We were sent the products in return for an honest review.