Hubby and I have both been to Edinburgh many times, but never with a toddler in tow.
Before Christmas we managed to pick up return train tickets for Edinburgh for just £20 in the Virgin sale. That combined with two nights in the Jury's Inn hotel, meant our trip cost a very purse friendly, £75.20!
The train journey from Durham to Edinburgh is rather special on a bright day. Travelling along the coast with views across the sea and sprawling fields is one of my favourite train journeys.
Day One
After arriving in Edinburgh we headed straight for the hotel, hoping to ditch our bags and start exploring. The hotel is literally just off the Royal Mile and a very short walk away from the train station if you exit via the Market Street exit.
The hotel is in a pretty good spot, just behind the Royal Mile. You can access it straight from the Royal Mile via a set of steps at the rear of the hotel or down a slight bank further along the Royal Mile if you need a more accessible route.
Despite being almost two hours early (check in is from 2pm), we were able to check into our room early. We were given room 228 on the second floor. We were in the second half of the building ( through the double doors away from reception, the same side as the restaurant).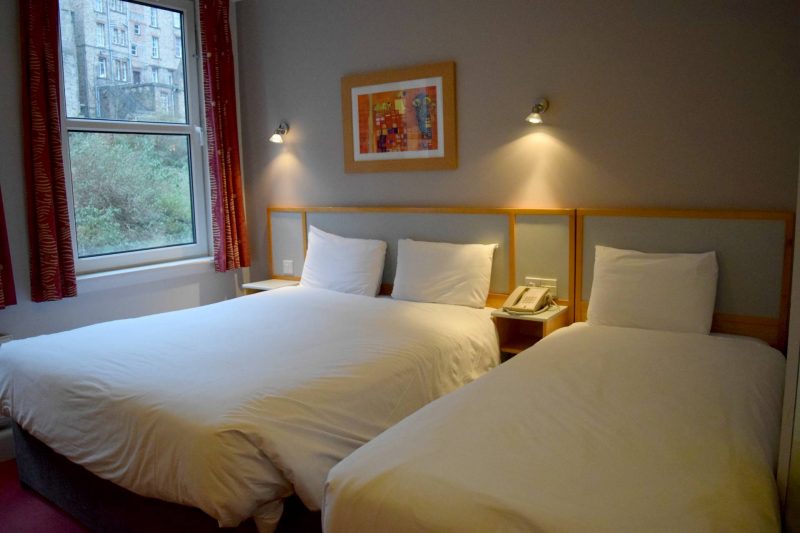 Our room was quite spacious, especially for a city centre hotel. It had a large double bed and a single bed for the little man (guess who actually slept in it though!).
The room was a little grubby with a bit of dirty carpet, thick layer of dust around the skirting boards and the sink in the bathroom had a layer of gunky around the plug. For the price we paid we managed to live with it though. It did however, have quick Wifi, a flat screen Freeview TV, complimentary toiletries, hair dryer and tea and coffee making things. The beds were also really comfortable which is always a plus point for me.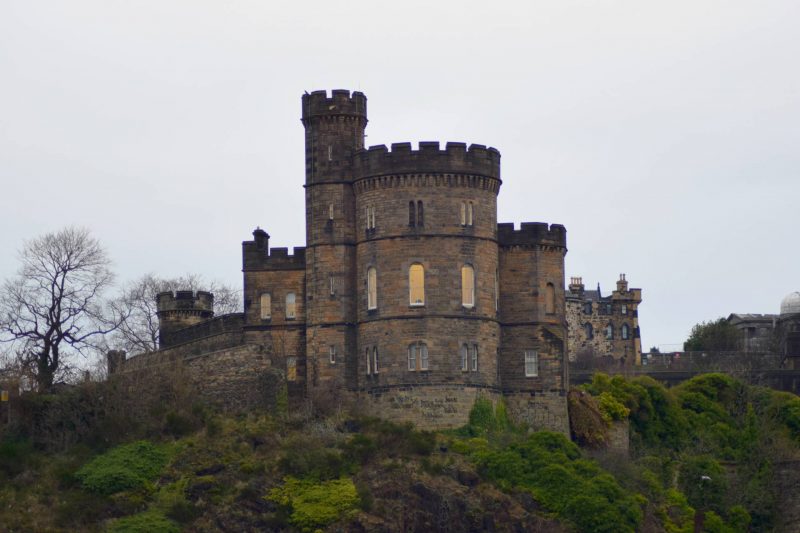 We dropped our bags off in the room and headed out to explore Edinburgh. I love the buildings in the city, especially round the Auld Town. The Royal Mile which was right next to our hotel is one of the main parts of the old town and slopes down from Edinburgh Castle to Holyrood Palace and Holyrood Abbey. There are so many amazing buildings and quirky little alleyways to peer down.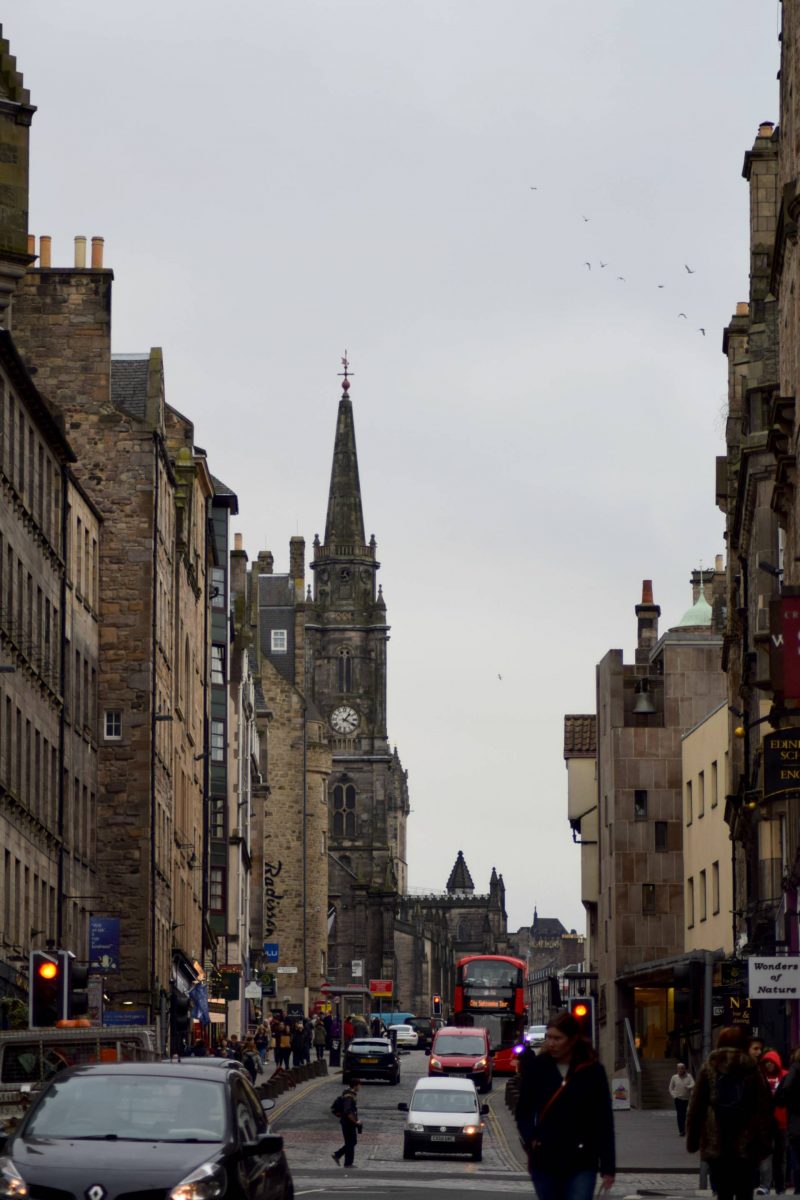 The streets were busy midweek but much calmer than it is on a weekend.
We stumbled across the National Museum of Scotland which is one of four national museums in Scotland. It's on Chambers Street in the city centre, with a bus stop outside. It took around 15 minutes to walk from our hotel to the museum but you could opt for the bus or a taxi if you'd prefer.
Whilst it does look big from the outside, I don't think it really gives you an idea of how vast it actually is until you go inside. Admission to the museum is free but a donation is recommended. I liked the fact that you're not pestered for a donation upon entry, I like to enjoy my visit and then donate on the way out – the amount will depend on how much we're enjoyed it.
As soon as we walked through the door of the museum we spotted the Museum Brasserie so we headed straight in for a late lunch. I had vegetable soup and a half a Macsween spicy hagis sandwich for £7.00 while hubby opted for Cullen Skink and the little man had home made fish fingers. The food was delicious and reasonably priced, by far the nicest museum food we've ever had.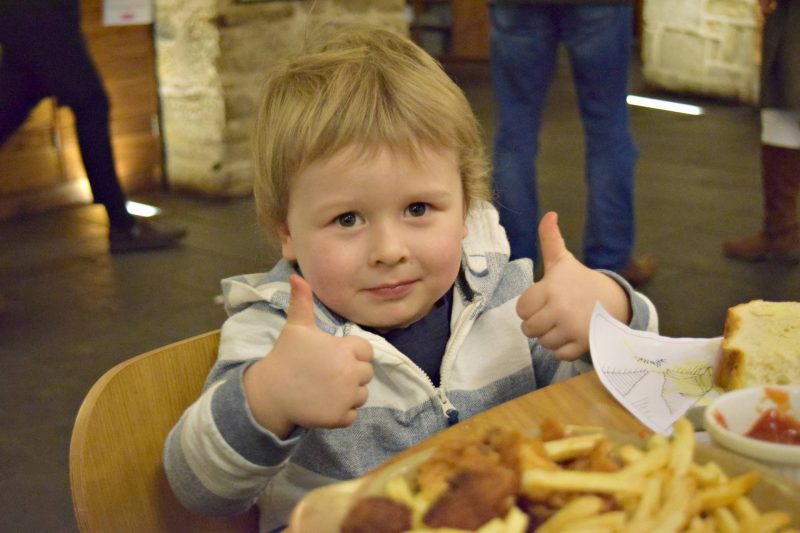 After we'd filled our tummies, we headed off to explore the huge museum. It has so many things to see any do and we really enjoyed wandering round.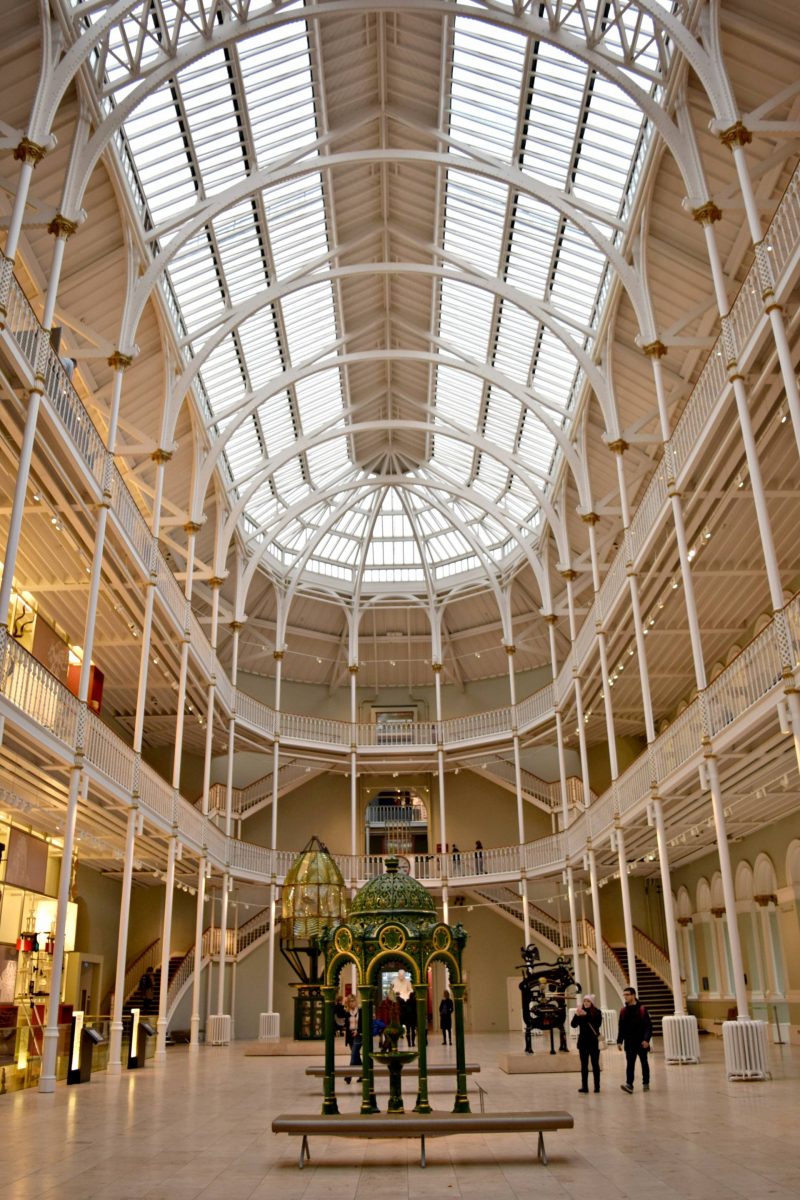 The bright and airy main hall is so beautiful. It was quite quiet when we visited so it felt really calming and peaceful just sitting looking at the glass ceiling.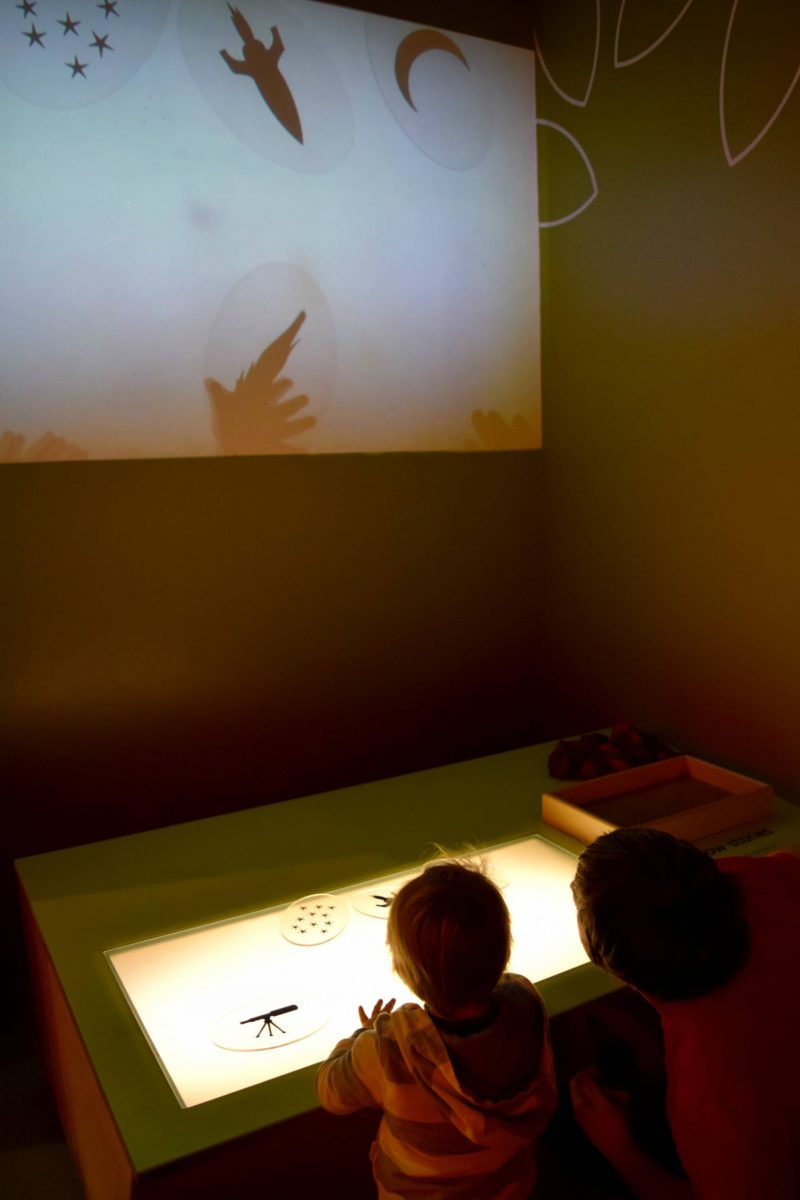 There are so many great things to see and do inside the museum, we were there for hours and could have stayed even longer if it hadn't been time to close.
After the museum closed we walked up to Edinburgh Castle to take some pictures. It was dark by this time so the castle was all lit up. If you want to visit the castle during opening times, it's £16.50 for an adult and £9.90 for a child aged between 5 and 15 years.
We popped to Sainsbury's for a hotel picnic and headed to bed after a hectic day.
Day 2
We got up bright and early and had breakfast in the hotel (it was £8.50 each for Hubby and I and the little man was free. Our booking didn't include breakfast but you can add it anytime before 11pm for just £8.50 but if you wait until the morning of the breakfast, it costs £10 each.
Tummies full, we found a nearby bus stop ( if you decide to use a bus in Edinburgh, make sure you have the correct change or expect to be ridiculed by rude bus drivers) and headed along to the zoo.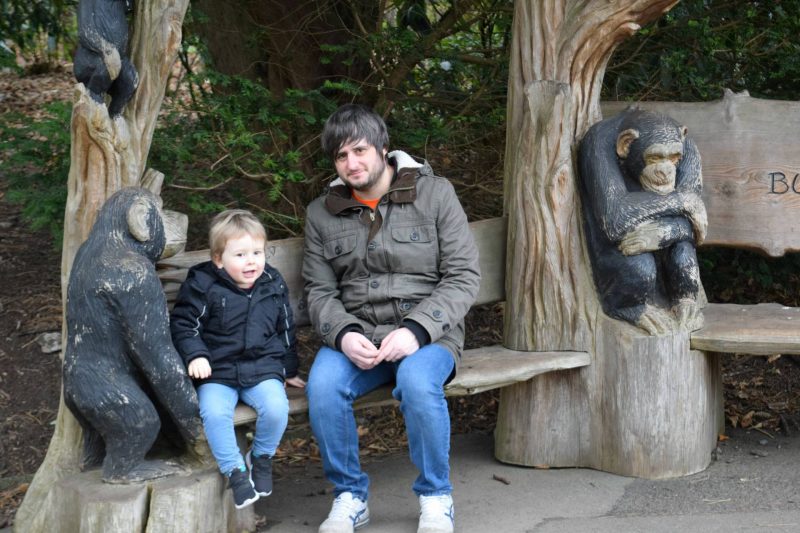 Tickets cost £18.50 for adults, £14.00 for children and under three's are free. The zoo was really quiet during our visit, most likely because it was a week day and it was very chilly!
Sadly, there were quite a few closures when we visited. The penguin parade and walk through aviaries were closed after the Scottish Government's announcement of an Avian Influenza Prevention Zone in Scotland. The lion enclosure and koala territories were also closed due to maintenance.
Despite the closures, we still managed to spend three hours wandering round the rest of the zoo and we even managed to climb right to the top of the hill to check out the view.
After tiring ourselves out at the zoo, we hopped on the bus to rest our legs before going to see the Greyfriars Bobby statue back in the old town. Grey Friars Bobby was one of my favourite films as a child. I used to watch it over and over with my Nana and Grandad. If you aren't aware of the story, it's the tale of a Skye terrier who apparently spent 14 years guarding his deceased owners grave before his own death in 1872.
Unfortunately Greyfriars Kirk was closed to the public so we couldn't learn more about the history but we did walk through the kirkyard and check out the graveyard for Greyfriars Bobby.
Weary and hungry we had a quick evening meal at Bella Pasta we headed off for another comfortable nights sleep in the Jury's Inn.
Day Three
After a leisurely breakfast in the hotel we packed up our things and left our bags at reception while we made the most of our last morning before our train home.
The little man wanted to return to the National Museum so we headed along the busy streets to explore his new favourite place some more. We stayed until the very last minute before heading back to collect our bags to get the train home.
We had a great few days and we'll definitely head back to Edinburgh soon to check out some more of the beautiful city.