Easter is quickly approaching and I'm sure, like us you're looking for fun, family friendly activities to enjoy. Here are a list of purse friendly events in the Durham area that are easily accessible.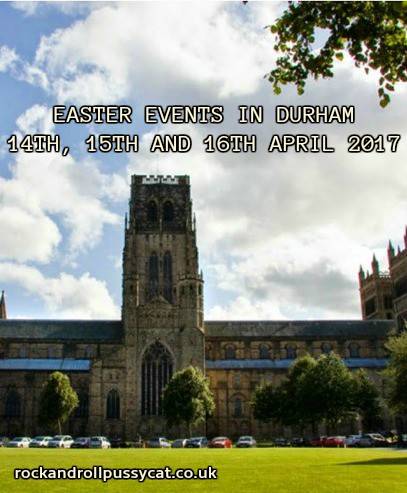 PRINCE BISHOP SHOPPING CENTRE, DURHAM CITY
Friday 14th 11 am – 4 pm – Pet some cute and cuddly farm animals.
Saturday 15th 11am – 4pm – Get up close and personal with birds of prey from York Bird Of Prey Centre.
On Friday and Saturday there will also be an Annual Easter Egg hunt around the street with free chocolates for every participant, collect an entry form Bertie's Play Barn to join in. More info here.
WHARTON PARK, DURHAM CITY
Saturday 15th and 16th April 11am – 5pm
Mobile animal farm and a self-led egg hunt ( £4 for each child). On Saturday afternoon there will be face painting and a ceilidh band playing. Sunday will bring a brass band and free indoor and outdoor craft activities. Tickets for the animal farm and egg hunt can be bought from the Heritage Centre. More info here.
THE BOWES MUSEUM, BARNARD CASTLE
Friday 14th
Easter themed drop in craft activities for all ages, and an Easter themed trail. Normal admission charges apply.
Children must be accompanied by an adult, for whom normal admission applies. £10.50 for adults and free entry for children under 16 years. More info here.
LOW BURNHALL, DURHAM
Friday 14th 11am – 3pm
Easter themed trail with a chocolate prize at the end. Booking essential
Tickets cost £2.50 per child. More info here.
DURHAM DALES CENTRE, STANHOPE
Easter Sand Art
13th – 14th April 11am – 3pm
20th – 21st April 11am – 3pm
£2.00 per decoration
Easter Egg Trail
Hunt the grounds of the Durham Dales Centre to find the hidden clues and claim your prize. Everyday 9am – 5pm, £1.00 per trail.
Easter Arts & Crafts
Egg decorating, Paper crafts and more.
Everyday 9am – 5pm, £1.00 per activity.
More info here.
BEAMISH MUSEUM, STANLEY
Numerous activities including an Easter egg trail round the museum, make an Easter bonnet in The Pit Village school, learn about egg dyeing or make a paper flower at Pockerley Old Hall. You decorate an egg in the Dentist's waiting room before rolling it in The Town park.
Buy a tasty and freshly baked hot cross bun from Herron's, make a Easter card or rabbit finger puppet at the farm.
Or why not try your hand at egg jarping at 11.00am and 3.00pm at Pockerley Old Hall on Easter Monday.
All of the events are included with the price of your unlimited ticket. More info here
RABY CASTLE, STAINDROP
14th, 15th and 16th April
There's an Easter Egg hunt around the grounds and all that complete will receive a treat at the end. There are crafts to make, face painting and giant games on the lawn.
Activities are included in the admission costs. £12 for adults and £6 for children. More info here.
CROOK HALL, DURHAM CITY
16th and 17th April
Kids can meet the Easter Bunny who will be passing out chocolate eggs to all children who complete his Easter Treasure Hunt. There will also be Easter Games and a story telling session inside the house.
Admission charges apply. £7.50 for adults and £5 for children. More info here
DURHAM UNIVERSITY BOTANIC GARDENS
Sunday 16th and Monday 17th April 2017 – 10am to 4pm
Family friendly Easter chick hunt around the gardens.
Normal admission charges apply, no further charge for participating in the Easter event. Adults £4 and children £1.50.
More info here.
BOWLEES VISITOR CENTRE, BARNARD CASTLE
Saturday 15th April – 11am – 3.30pm
Face painting, Easter bunny trail, egg decorating, mask making and other family friendly crafts. There are also two egg decorating sessions with Artist Anna Harding which must be booked in advance by ringing 01833 622145.
No booking needed for the other activities and visitors can drop in at any point during the day.
£5 charge for children. Adults are free.
More info here.
HEAD OF STEAM, DARLINGTON
Sunday 16th April 10am – 4pm
A range of Easter activities including an egg hunt, face painting, crafts.
£1 entrance fee per person, family members go free.
More info here.
NEWGATE SHOPPING CENTRE, BISHOP AUCKLAND
Saturday 15th April 10.30am – 2.30pm
Children are invited to dress up in Easter costumes and join in the Easter parade( leaving from the Newgate Shopping Centre at 11am). There's an Easter Egg hunt around the town centre with the winner
receiving a giant gold egg. There will also be face painting, a tombola and a raffle with some live entertainment.
Free event. More info here.
How about something a little less Easter related?
THE GALA THEATRE – DINOSAUR WORLD
15th and 16th April – booking essential
Families can meeet a host of impressive creatures, including every child's favourite flesh-eating giant, the Tyrannosaurus Rex, a Triceratops, Giraffatitan and Segnosaurus. An interactive show which is suitable for ages 3+. More info here.
Do you know of any other Easter events in Durham that I've missed? Feel free to send me the details and I'll add it to my list.
Before setting off for any of the events above, make sure you check they're still running by contacting the venues directly.