The little man absolutely adores his wooden railway track and trains and will happily play for hours. We have a range of different types but Bigjigs is one of our go to brands. We were recently sent the BigJigs Medieval train set to review and the little man was super excited.
There's no disguising what's in the box! The colourful box shows you what's included with the set and rather handily how you can layout the track.
The box is jam packed with 46 wooden pieces to keep your little person entertained for hours. It's suggested that it's suitable for 3 to 10 year olds but I can honestly say Hubby and I love creating tracks just as much as the little man and it's a lovely creative toy we can play with together as a family.
The set contains various pieces of interchangeable wooden track and engine with two carriages. There are also various double-sided Medieval characters such as a King and Queen, Knights and even a Joker. There's also a wooden castle turret which the train runs through and the figures can stand on top of. The castle turret slots together and lies flat when not in use so it's ideal for storage challenged homes like ours.
The little man couldn't wait to put the Medieval Train Set and quickly set about rearranging the characters and accessories. The only assistance he needed was the use of the box to follow the layout and me to help put the track through the castle turret as it was a little fiddly.
He loves that the train can travel underneath the castle and come quickly down the track.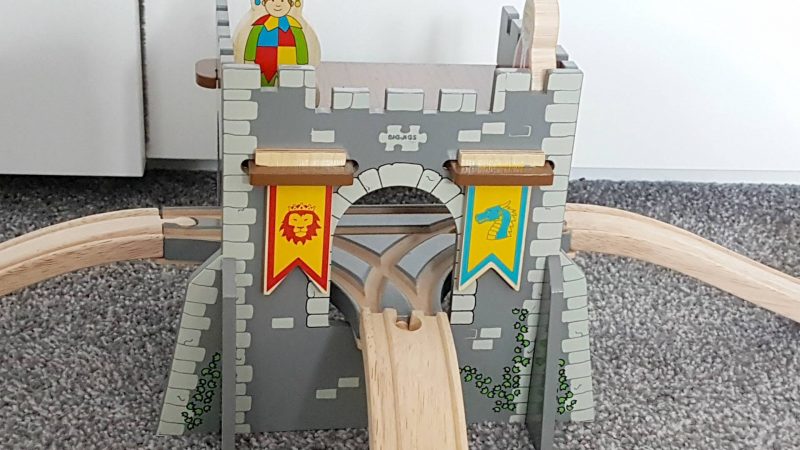 The set can be added to any other BigJigs wooden railway set and we've also found it fits easily to our other wooden train set brands too. On the BigJigs website we've found a fantastic wooden drawbridge that matches the Medieval train set perfectly and that's already been added to the little mans Santa list.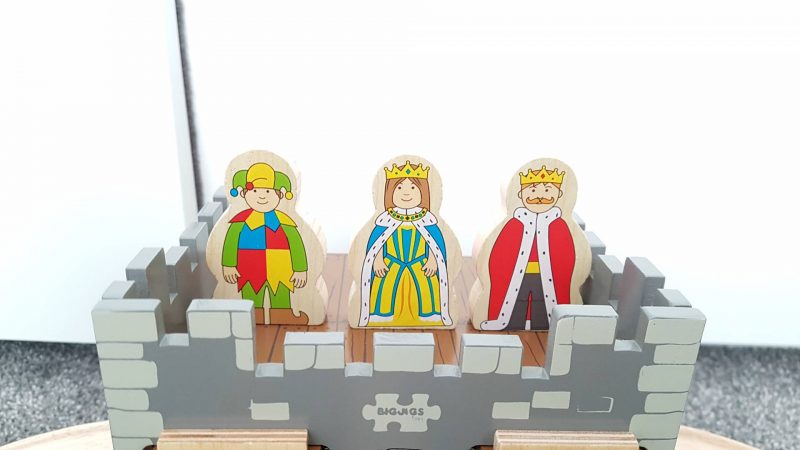 The train and carriages couple together with magnets at the front and rear and will join to any other similar style trains.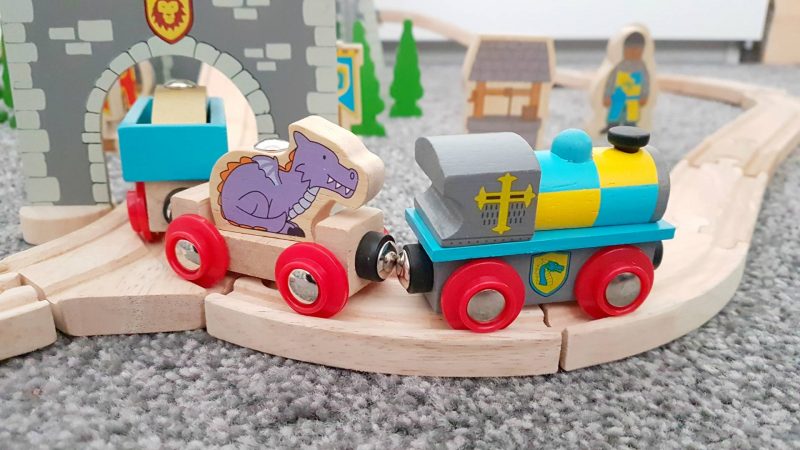 The chunky train that comes with the set is pretty impressive. Rather than just a single train it also has two brightly coloured carriages. One will hold the golden treasure and the other a cute purple dragon. Both can be removed though so the carriages can carry anything that your little person might like.
I think the Bigjigs Medieval train set is a wonderful wooden railway starter set or add on set for your current wooden railway. The quality is great, the colours are bright and vivid and each piece is robust and well made. The little man loves to play with it and it's already a firm favourite within our house.
* We were sent the train set in return for an honest review.