We planned a while ago to visit Thomas Land at Drayton Manor over the Summer. However, the rubbish weather and the fact it didn't feel like we really had a Summer made us keep putting it off.
We made a last minute decision a couple of weeks ago to drive down and visit.
We were lucky enough to get very discounted entry which made our break more of a bargain. I was able to get in for free using my work pass and the little man and Daddy paid just £20 with the Adult and Toddler ticket offer. The offer is only valid during Staffordshire school term time and allows a toddler aged three years and under to visit with an adult for just £20.
We did have a couple of issues with our tickets, the lady at the ticket desk seemed awfully confused and tried to charge us three different prices. We eventually payed what we were supposed to and wandered through the gates to Thomas Land.
We were glad we chose to visit on a Friday rather than the weekend as the queues were minimal. We were able to get round the pack easily despite there being a lot of pushchairs.
Upon entry to Drayton Manor, you'll see Thomas Land is just passed the ticket booths. Whilst still connected to the main park, Thomas Land feels quite separate and away from the bigger rides.
The first thing we saw in Thomas Land was a fab song and dance show from The Fat Controller and his friends. The little man was mesmerised. We heard the show various times during the day and there was a crowd gathered each time.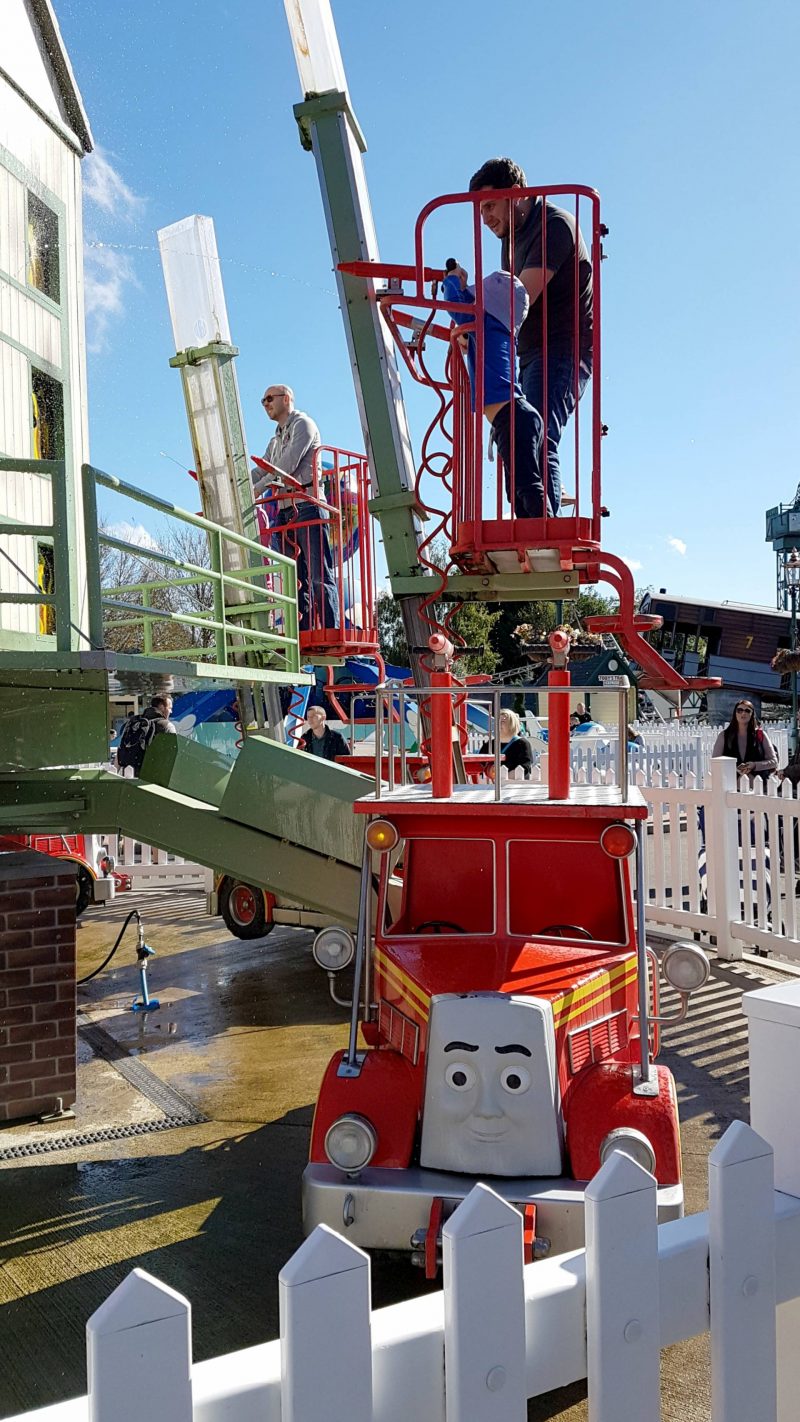 Our first ride of the day was Flynn's Fire Rescue. Children could either ride inside Flynn or stand on a risen platform on his back and fire water. The little man loved it, especially as he got wet from the splashing water.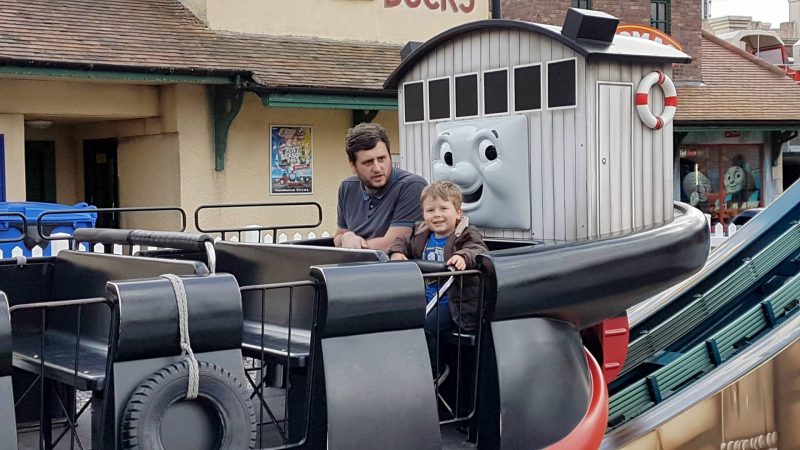 There are 17 Thomas themed rides and we rode almost all of them. The only ones we missed out were the Troublesome Trucks Runaway Rollercoaster and Cranky's Drop Tower as the little man was just a touch too small for them.
He absolutely loved being swung around on Rocking Bulstrode and giggled like a lunatic on Toby's Tram Express. He has no fear whatsoever and I imagine he'll be on all the scary rides before long.
He also enjoyed his ride on Winston's Whistle-Stop Tours which is a monorail that views you views around the whole of Thomas Land from above. Beware though, the only exit route for this ride is via the gift shop!
The little man said his favourite ride was the Sodor Classic Cars which travel around a track while kids pretend to drive them. I think the bit he liked best was a cow which farts when the car goes past – it's the simple things.
From Knappford Station at Thomas Land we jumped on Rosie to take is to the farm area where the Discover Thomas Exhibition and Terence's Driving School is. The little man loved the train exhibition and would happily have stayed all day watching Thomas, Edward, Rose and Stepney travel around the beautiful track. Terence's Driving School was also a hit, we'd initially thought he may be too small to ride the electric tractors round the track. However, he was actually pretty good and didn't crash once.
There were quite a few options for food but we did notice some of the kiosks and eateries were closed including AJs Ice Creams. We bought drinks from Sodor Airport and noticed they had a good selection of food and drinks including sandwiches, sausage rolls and milkshakes. The little man ate lunch at Mrs Kyndleys's ( at the end of the Rosie, Thomas and Percy Engine Tours train ride) and chose a 4 piece kids lunch box for just under £5. It certainly wasn't cheap but wasn't too much more expensive than we'd pay for his lunch in a restaurant.
I would recommend taking your own food if you can. It will save money and we saw plenty of places to sit and eat around the park.
We enjoyed a ride on the Polperro Express train which takes you for a short journey around some of the Drayton Manor Park. It was nice to see some of the larger rides close up but I can't help but feel that staff should maybe tidy up the route a little as it wasn't particularly scenic. This was the only ride we went on that wasn't part of Thomas Land.
We made the most of the sunshine ( yes, really!) and spent some time at Spencer's Outdoor Adventure Play Area. It's a huge wooden play area suitable for children. I imagine it will be a great place to spend time whether the weather is warmer.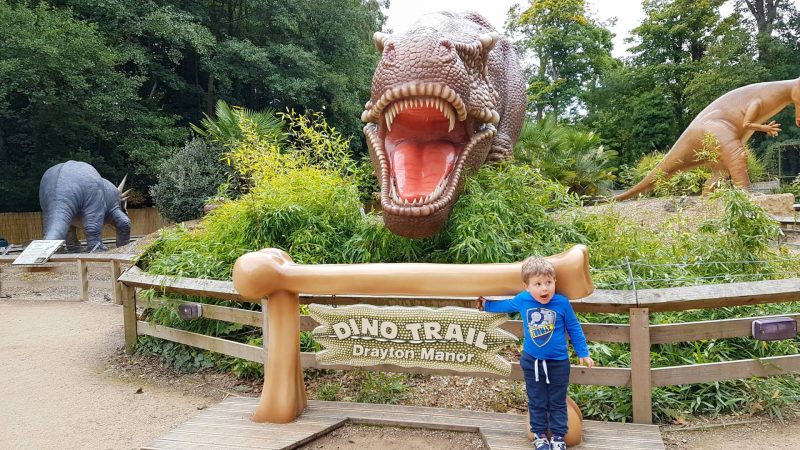 Just past the play area is the Dino Trail and the start of the zoo area. The Dino Trail was actually pretty good. Visitors can see huge dinosaur models and read up on interesting facts about them. The little man loved it.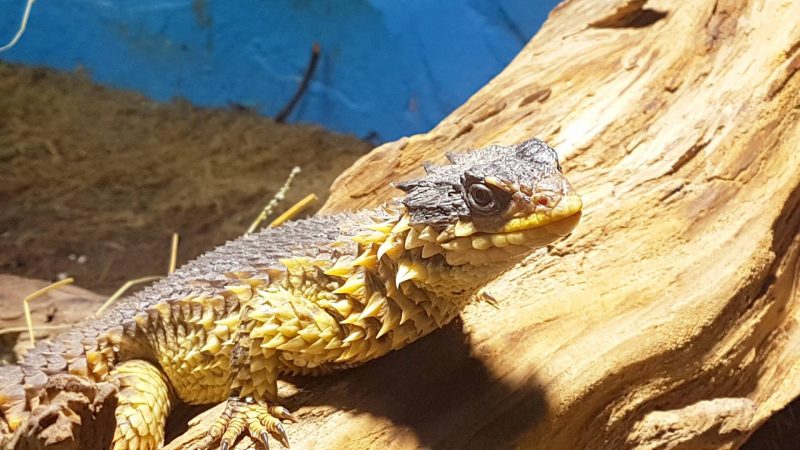 There are quite a few engines and statues dotted around the park which are perfect for photo opportunities.
We ended our day in Emily's Play Adventure area. It was a super clean and tidy soft play area. The little man loved the fast slides that looked like train tracks and jumping into the Fat Controllers ball pool.
Having never visited before, we were impressed by the amount of rides and activities available in Thomas Land itself. We probably spent around 80% of our day in that area.
There were quite a few rides off in the rest of Drayton Manor while we were there, including StormForce 10, Pandemonium and Bryan's Works Museum was also closed but that didn't affect our day as they weren't rides we'd go on.
The park was clean and we didn't notice a great deal of rubbish lying round. The toilets were ok and there were plenty dotted around a park but by the end of the day we did notice the ones in Thomas Land were a bit whiffy.
Overall we had a lovely day, the little man has asked to return numerous times, so there's a day trip sorted for next Summer!