Amaani at The Pump House is located just outside Durham City Centre and opened in January this year. Hidden away from the main road down a little track, you'd be forgiven for not knowing it was there.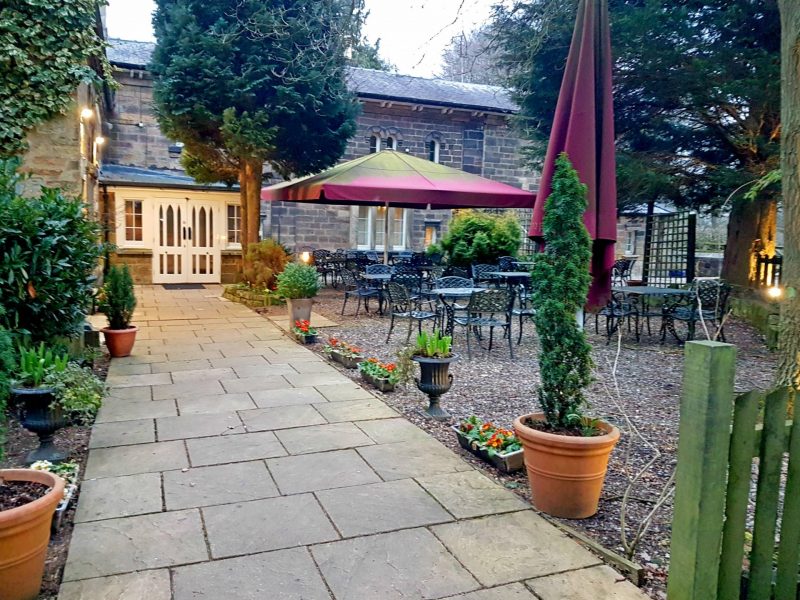 There is plenty of parking at the rear or a bus stop on the A177 which is a 5 minute walk away. The restaurant is open both at lunch time and from 6pm on an evening so you could even call in for a lunch time treat.
The outside looks great and I imagine it will be perfect for the warmer months, sadly, it was freezing when we visited so we could only give it a fleeting glance. There are plenty of tables and chairs and the leafy, gravelled garden feels worlds away from the busy city centre of Durham.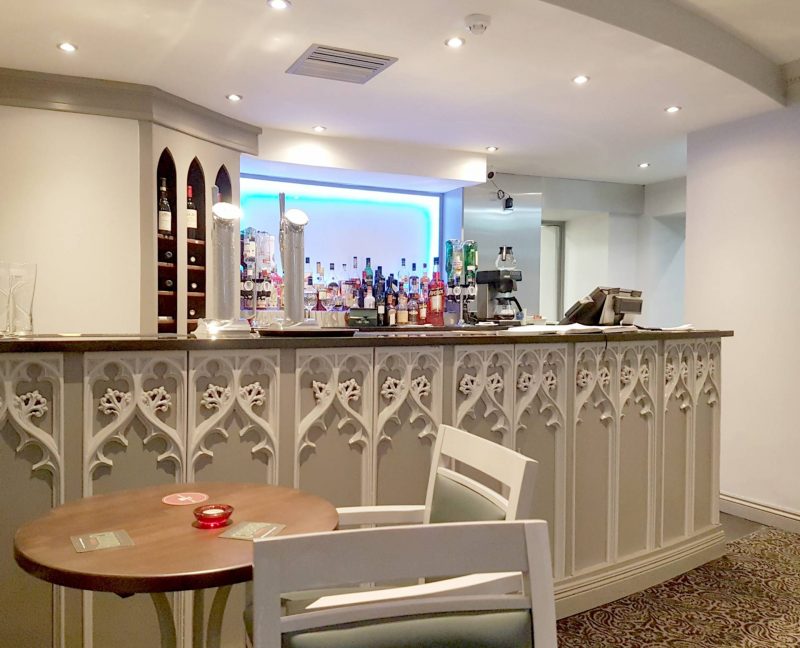 As we entered, I was impressed with the light, neutral decor and contemporary art work dotted around the restaurant. You'll notice there is seating both up and downstairs and when we visited at 7.30 on a Thursday evening, downstairs was pretty full.
We were seated at a table near the bar while we checked out the extensive menu. We were brought drinks, I was driving so went with a sot drink and hubby went for the draft lager which was Cobra. The bar is small but pretty extensive with a range of different bottles dotted around.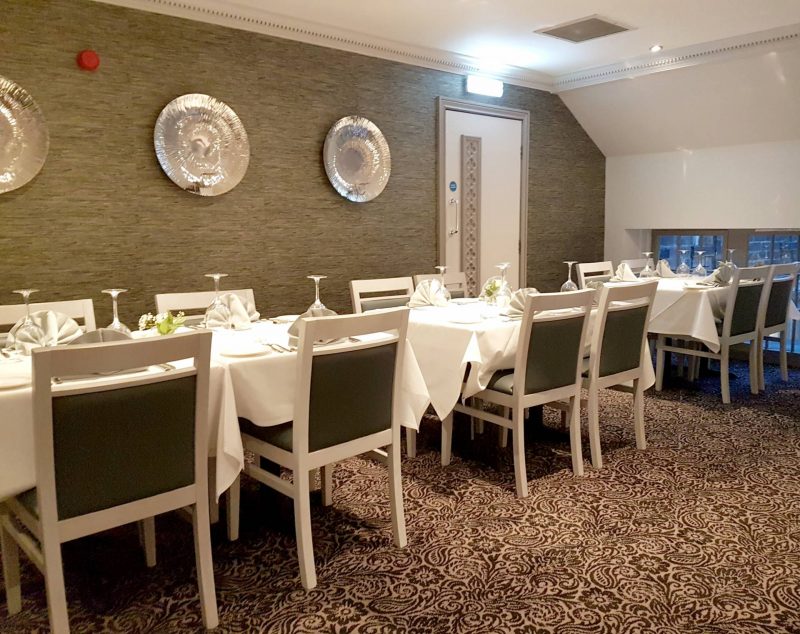 After deliberating for a while, our food order was taken at the bar table and we were escorted upstairs to our table.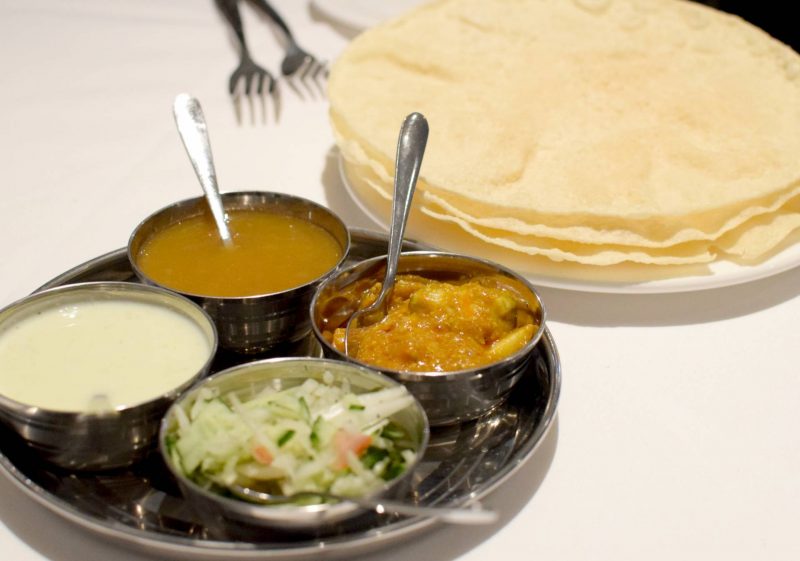 We were quickly brought a selection of poppadoms and dips to enjoy while we waited for the rest of our food.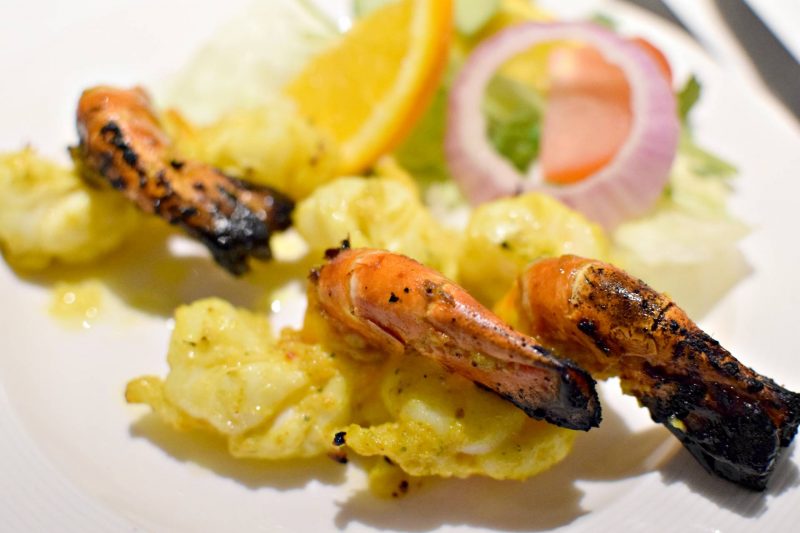 For my starter I chose Tiger Grilled Prawn (£5.85) and they tasted amazing. They were heavily flavoured with garlic and marinated in fresh lime and tandoori spices. The were cooked perfectly and I could have quite easily eaten more.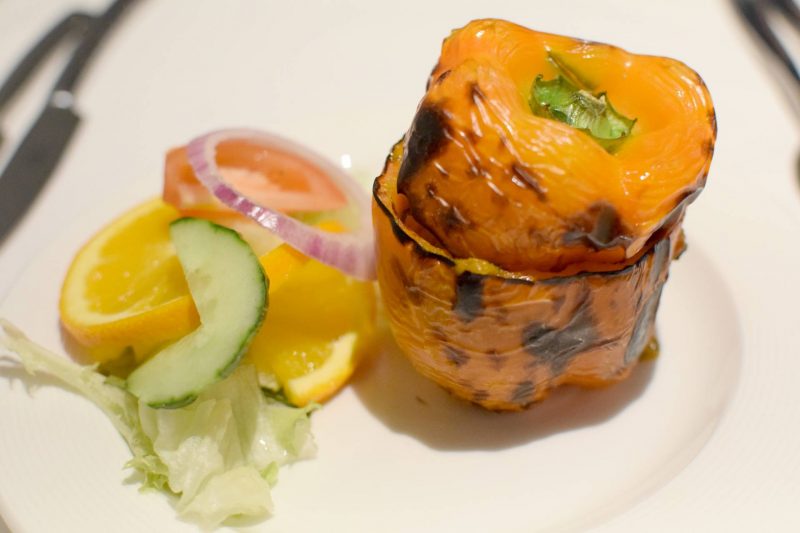 For his starter, Hubby chose the Chingri Mirch (£4.95). The portion size was impressive! The pepper was literally jam packed with prawns in a tasty sauce.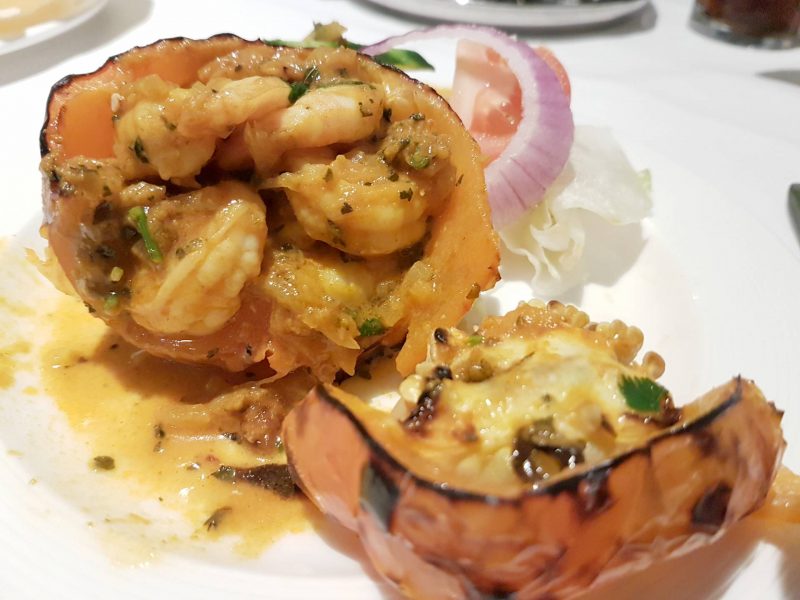 He really enjoyed it and didn't leave a morsel. The prawns were juicy and the sauce was thick and rich and worked perfectly with both the prawns and the grilled pepper.
After a very short wait, our mains were up next.
We'd both decided to choose something different to our usual go-to meals. I picked the Gost Kata Masala (£15.95) from the Signature Dishes part of the menu. It looked pretty impressive when it came out and the portion size was huge. In addition to the curry, there was also boiled rice, vegetables and salad. The curry was filled with huge chunks of melt in the mouth lamb and chunky vegetables. The sauce was very tasty but I was a little surprised by it's mildness. It was described as medium-hot on the menu but there was no kick.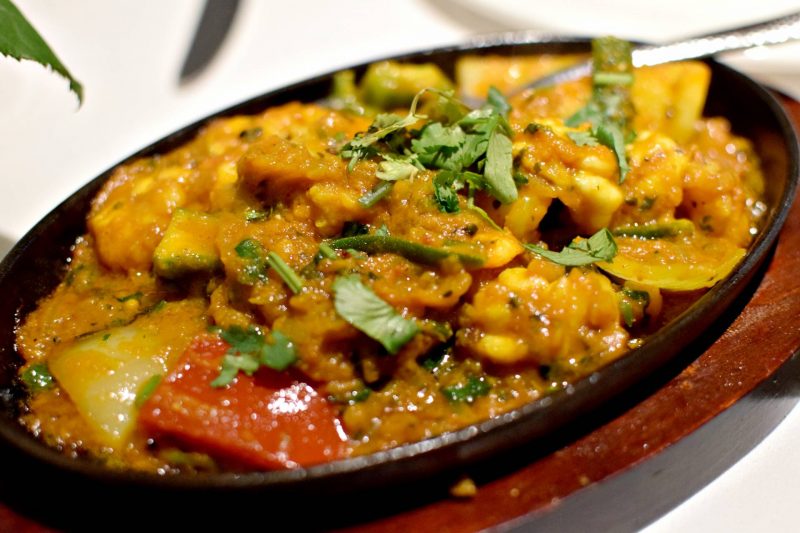 Hubby was very impressed with his King Prawn Sabsi Bahar (£14.95). It had loads of big juicy prawns and chunky veg in it. The sauce was quite tomatoey, but rich and tasty. Again, it was described as medium hot on the menu but it lacked a spicy kick.
He chose Cashew nut pilau (£3.50) to go with it and we shared a garlic naan (£2.85). The Naan bread was delicious, with just the right amount of garlic. It was perfect for mopping up any left over sauce.
We finished off our meal with a coffee, we weren't give a dessert menu so I'm not quite sure whether they do serve them but I can't comment either way.
We really enjoyed our meal, the setting is beautiful, the food was tasty and the waiters were all very friendly and polite. We will definitely return but next time I'll make sure we ask them to add a little extra heat to our food.
Amaani also offer a take out service if you don't fancy sitting in!
* Our meals were complimentary, opinions are my own.