If you've read my blog before, you might remember a post about my experience with TRX2®and another about my experience after using their products for 6 months. I was really impressed and I could see and feel a noticeable difference to my hair.
As well as their hair growth supplements, TRX2® have recently introduced their Advanced Care Volumising Shampoo and Advanced Care Bio-Active Conditioner. Both are designed to work in unison with each other to help give your hair instant volume, and I've been trying them out for the last month.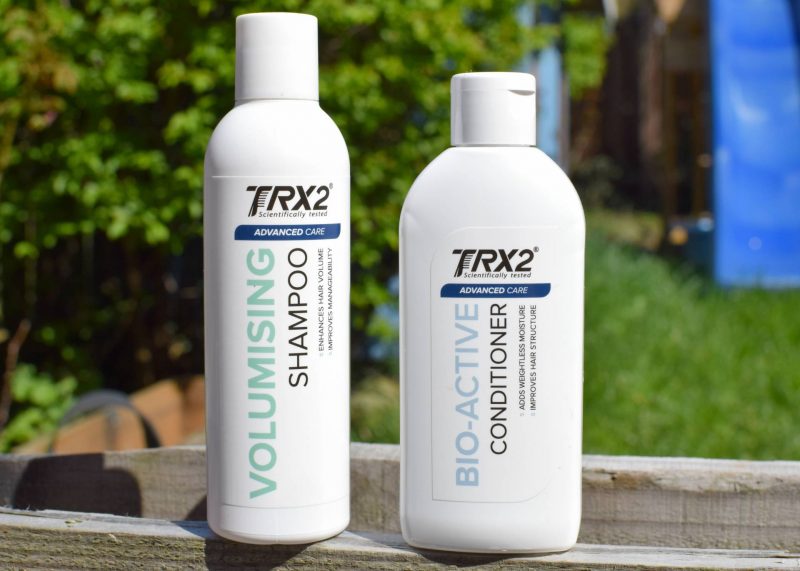 You'll notice that the packaging for both the shampoo and conditioner is very plain and simple. I think they look quite medicinal and professional rather than your traditional hair care product.
The shampoo comes in a 200ml bottle which last lasted me around a month with daily or bi daily use. The shampoo is quite thin in consistency and looks similar to 'baby shampoo' but with a much more pleasant scent. It has a fresh, citrus smell which can still be smelt when dry. It isn't over powering, but definitely helps me feel more awake when used on a morning in the shower.
I find I need to use a dollop of shampoo about the size of a 50p to be able to create a decent lather. It's not the soapiest shampoo I've ever used but does give enough lather to make me feel confident my hair is clean when I'm finished. I find it makes it feel almost squeaky clean, so I find I definitely need to use it with a conditioner on my dry, damaged hair.
The shampoo contains –
Tricholastyl™ which is a new hair-boosting complex with extract of an Indian tree and other naturally-based ingredients and has anti-glycation (anti-ageing), anti-inflammatory, and anti-free radical properties.
Hydrolysed Soy and Rice Proteins which is a natural volumisers that give weightless volume, reduce frizz and improves manageability.
When my hair is dry it feels very soft, nourished and much easier to style. I love to wear it with a slight curl but it usually drops really quickly however, since I started to use the TRX2® Advanced Care Volumising Shampoo, it holds a style much better and feels much bouncier around the ends. I haven't seen a great deal of volume near the root area but the rest of my hair does feel healthy and soft with no frizziness.
The shampoo is SLS/SLES-free, Silicone-free and Paraben-free so you can be confident you're not washing your hair in lots of nasty chemicals. It's also dermatologically tested and not tested on animals.
The TRX2® Advanced Care Bio-Active Conditioner is perfect for finishing of your hair washing experience. A very small amount goes a long way and I have over half of the bottle left despite using every time I have washed my hair with the shampoo.
I absolutely love the conditioner. it;s super smoothing and makes my hair feel amazing. It smooths down my fly away hairs and gets rid of any static, especially when I straighten my hair. It has a creamy citrus scent and there's a distinct smell of coconut.
The conditioner contains Hydrolyzed Wheat, Corn, and Soy Proteins, natural volumisers that pump hair strands full of moisture and Panthenol (Vitamin B5) which forms a sleek seal around the hair. It also contains Vitamin E, an intense antioxidant, Biotin, the wonder vitamin for hair, and Caffeine for a stimulating effect on hair growth. It also contains coconut oil which contains fatty acids, notably lauric acid, which can penetrate the hair shaft, reducing protein loss and nourishing the hair with nutrients.
I'll admit, I do think the shampoo and conditioner are quite pricey products but if you do have genuine concerns about the thickness and condition of your hair then it's something you would probably consider budgeting for.
I've really enjoyed using the shampoo and conditioner and my hair feels strong, smoother and much more manageable. Out of the two, I preferred the conditioner, it smells fab and I love how soft it makes my hair. I'll definitely be repurchasing when I run out.
* I was sent the products in return for an honest review.
®.