You might remember a few months ago, I posted about joining a TRX2® trial in the hope that my hair may be restored to it's former pre child beauty.
Back in April I was sent –
3 Months' supply of TRX2® Molecular Food Supplement for Hair
TRX2® Molecular Food Supplement for Hair helps to boost the absorption of essential nutrients within the hair follicle to support the production of strong, healthy hair.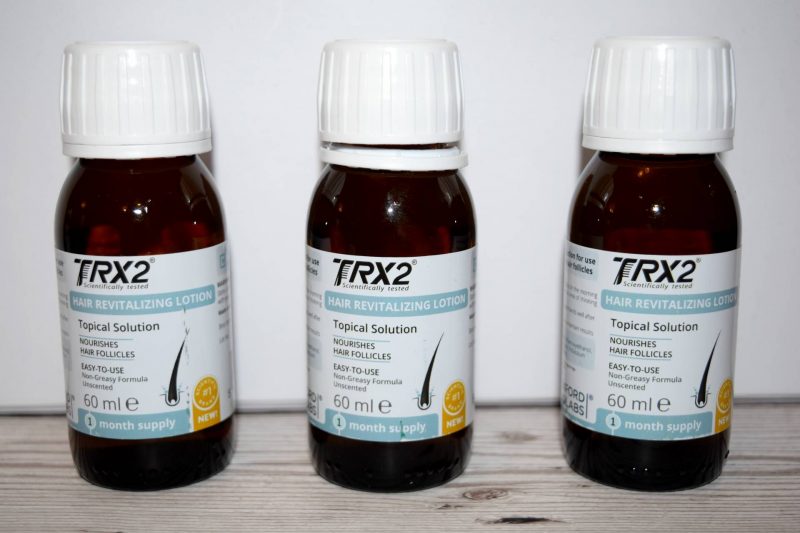 3 Months' supply of TRX2® Hair Revitalizing Lotion
TRX2® is a unique purified blend of naturally-based ingredients (potassium chloride, branched chain amino acids and nicotinamide) and is drug-free. It has been clinically-proven to boost the health and improve the appearance of hair. It's active ingredients penetrate into the scalp whilst nourishing and helping to revitalize hair follicles.
Creates using the expertise of Oxford Biolabs scientists, TRX2® is a safe and natural hair loss supplement that offers clinically-proven support for anyone suffering from tth effects of hair thinning.
"With an in-depth understanding of the science behind hair loss, and following an extended period of Oxford-based research, Oxford Biolabs® developed TRX2®, a naturally-based, scientifically-formulated molecular hair loss regimen".
Three months on and it's time to share my results and thoughts with you.
Prior to using the TRX2® products my hair was extremely thin and limp, particularly around the temple area. Pregnancy had caused an excessive amount of hair loss which I had never really recovered from.
You can see in the pictures, by temples were extremely thin and my hair line was starting to receed.
Since I started the trial, I've used no thickening products and have only had my hair dyed once.
Each day I've taken three TRX2® Molecular Food Supplement capsules and applied a squirt of TRX2® Hair Revitalizing Lotion to my parting and temple area morning and night. I found the capsules easy to swallow but I do think 3 is quite a lot to take. I had to take them together otherwise I'd have forgotten to take them at three seperate times during the day.
I found the revitalizing lotion a little more triciker to use. The pipet that is included is used to apply the product and you then need to massage it into the scalp before washing your hands. Every single time I used it it either ran down my face or into my eyes. I think a spray dispenser would have worked better for me. I also found the lotion made my hair greasy and my scalp a little flaky.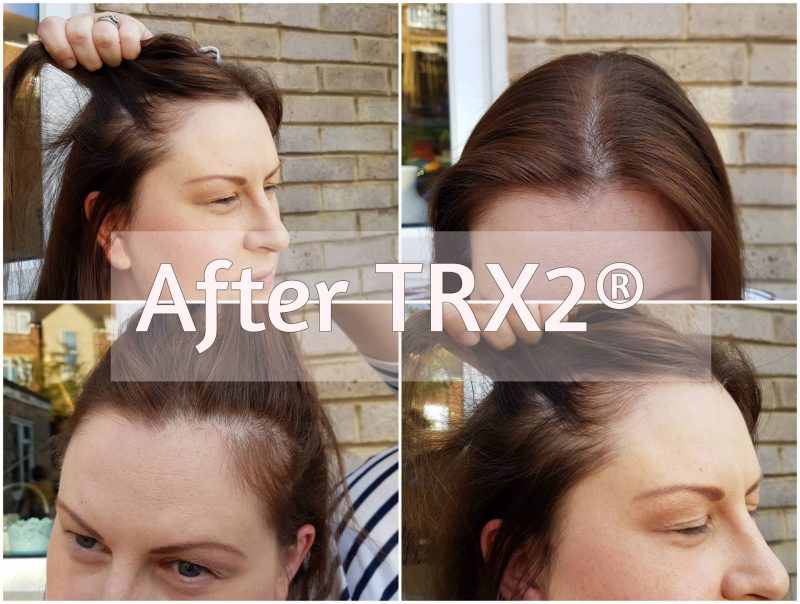 After three months of use I have got fine baby hairs growing along the front of my scalp and my temples look slightly less thin. I think my hair feels smoother and in better condition and I've found it holds a style much better than it did before. I think TRX2® products do work but it's worth bearing in mind how much it will cost and the length of time you'll need to commit to before you decide whether it's the right choice for you.
Results with TRX2® won't be instant. 10-15.7% of user see a visual improvements in hair texture and thickness withing 1-3 months, 15-35.1% in 4-9 months and 35-49.2% in 10-18 months.
I'd have liked to carry on the trial as I think over a longer period of time I may have seen more improvement but it's not something I could afford to carry on buying at this time.
TRX2® Molecular Food Supplement capsules – 1 month supply ( 90 capsules) – £47.96
TRX2® Hair Revitalizing Lotion – 1 month supply – 60 ml bottle – £42.36
Also in the range is a TRX2® Thickening & Styling cream and there is a TRX2® Hair Revitalizing Foam due on sale soon which I think may work better for me.
For more information visit www.oxfordbiolabs.com and www.trx2.co.uk.
Overall, I do think TRX2® works but you need to be in it for the long haul and be able to afford almost £100 a month for at least a year to see a substantial difference to your hair.
·
I am a member of the Mumsnet Bloggers Panel, a group of parent bloggers who have volunteered to review products, services, events and brands for Mumsnet. I have not paid for these products. I have editorial control and retain full editorial integrity. I will receive a voucher as compensation for my time.