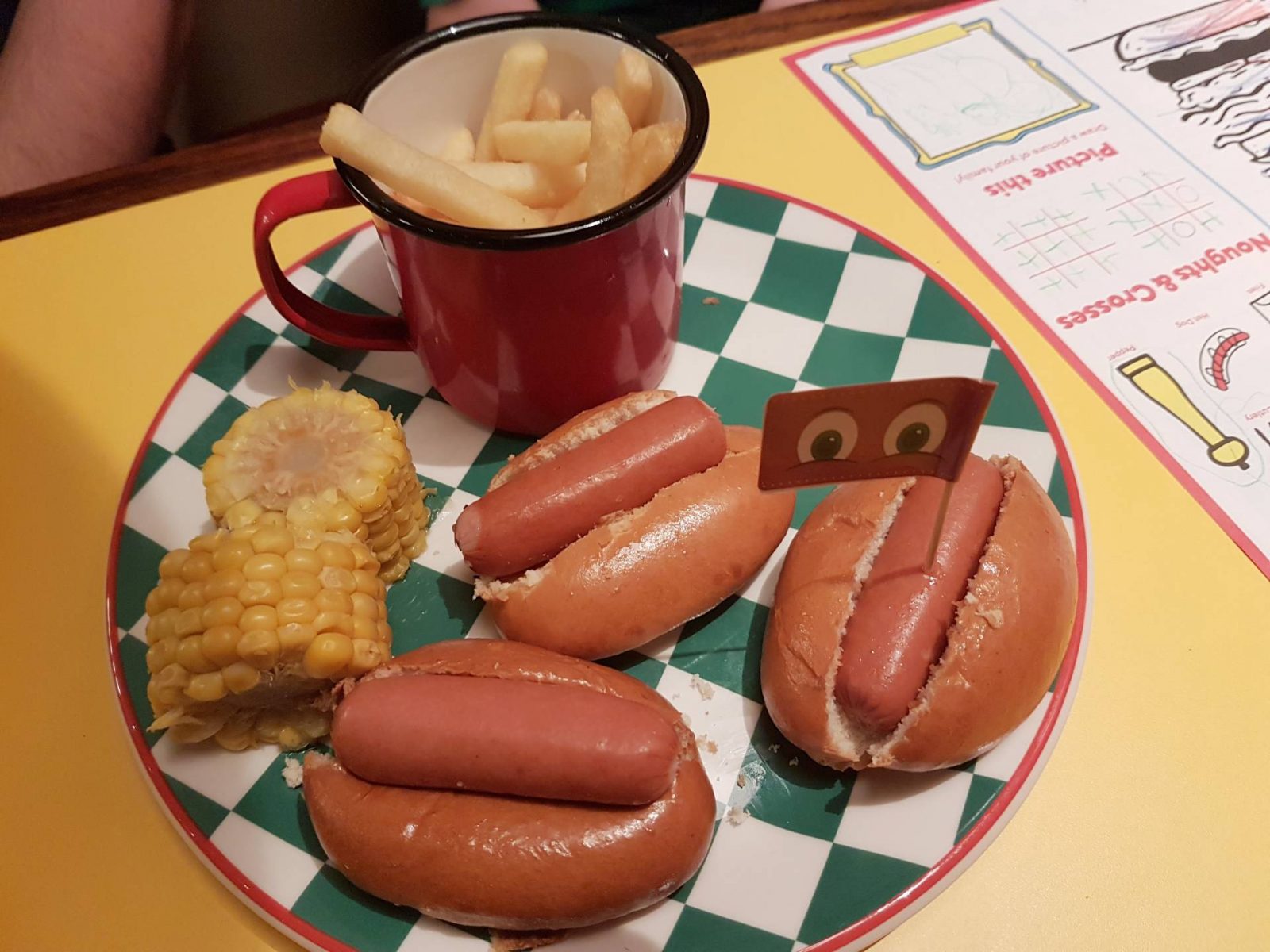 Frankie and Benny's is an American/Italian restaurant which serves breakfast, lunch and dinner. We're regular visitors and prior to the little man starting school, we'd often visit for their tasty, reasonably priced breakfasts. The atmosphere is always very laid back, making it the perfect location for a family meal.
We were invited along to the recently refurbished Frankie & Benny's in the Metrocentre to try out their new menu yesterday. We arrived at 1pm and the restaurant was very full, there was a short queue of people waiting to be seated but it moved pretty quickly.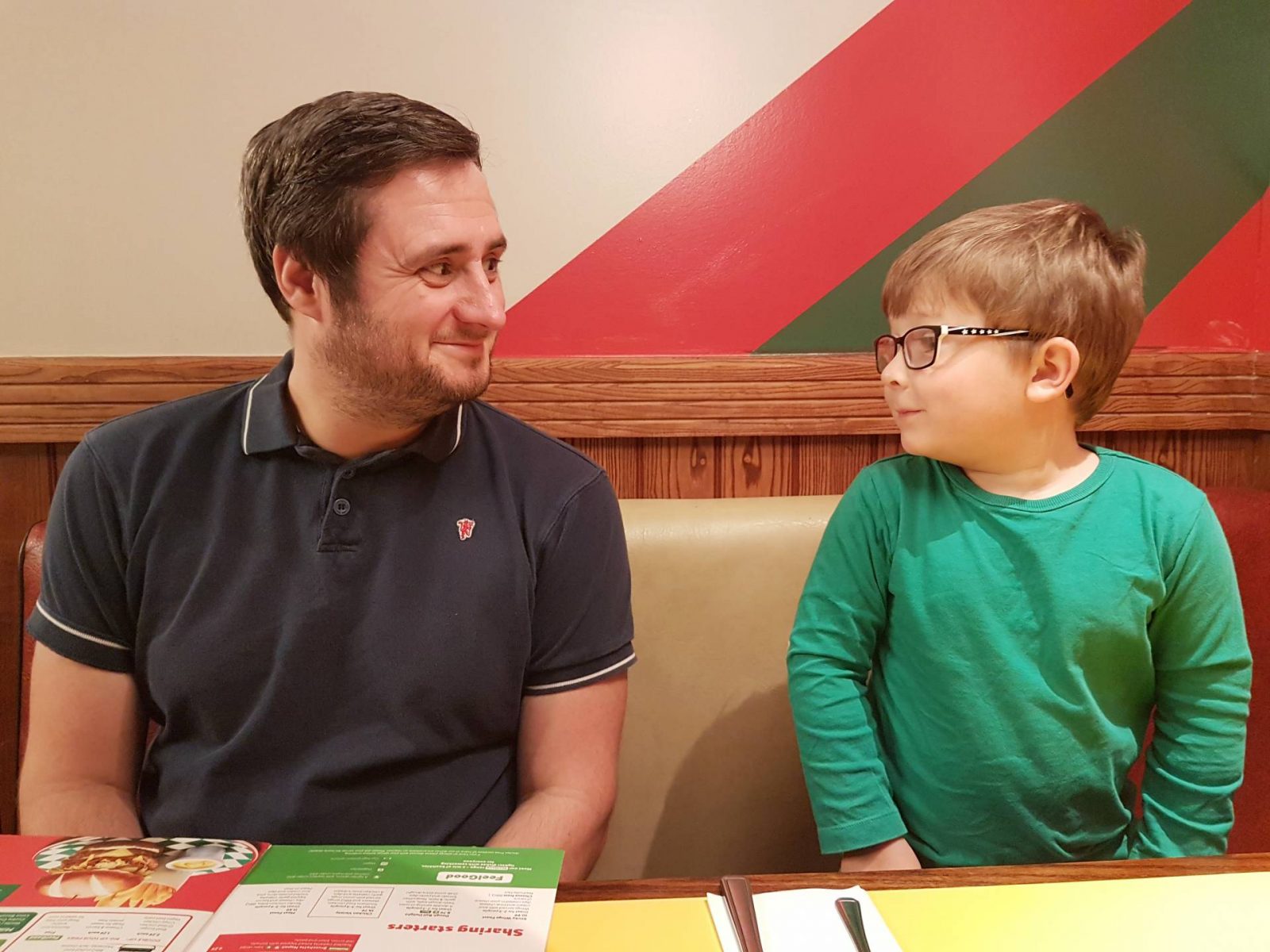 We were lucky enough to be seated in a booth towards the rear of the restaurant on the ground floor. The restaurant looks much more bright and airy than it used too and the lighting is much better.
After some colouring in and a look at the menu we ordered our food.
There were some new offerings on the menu, lots of which were healthier than I previously remember.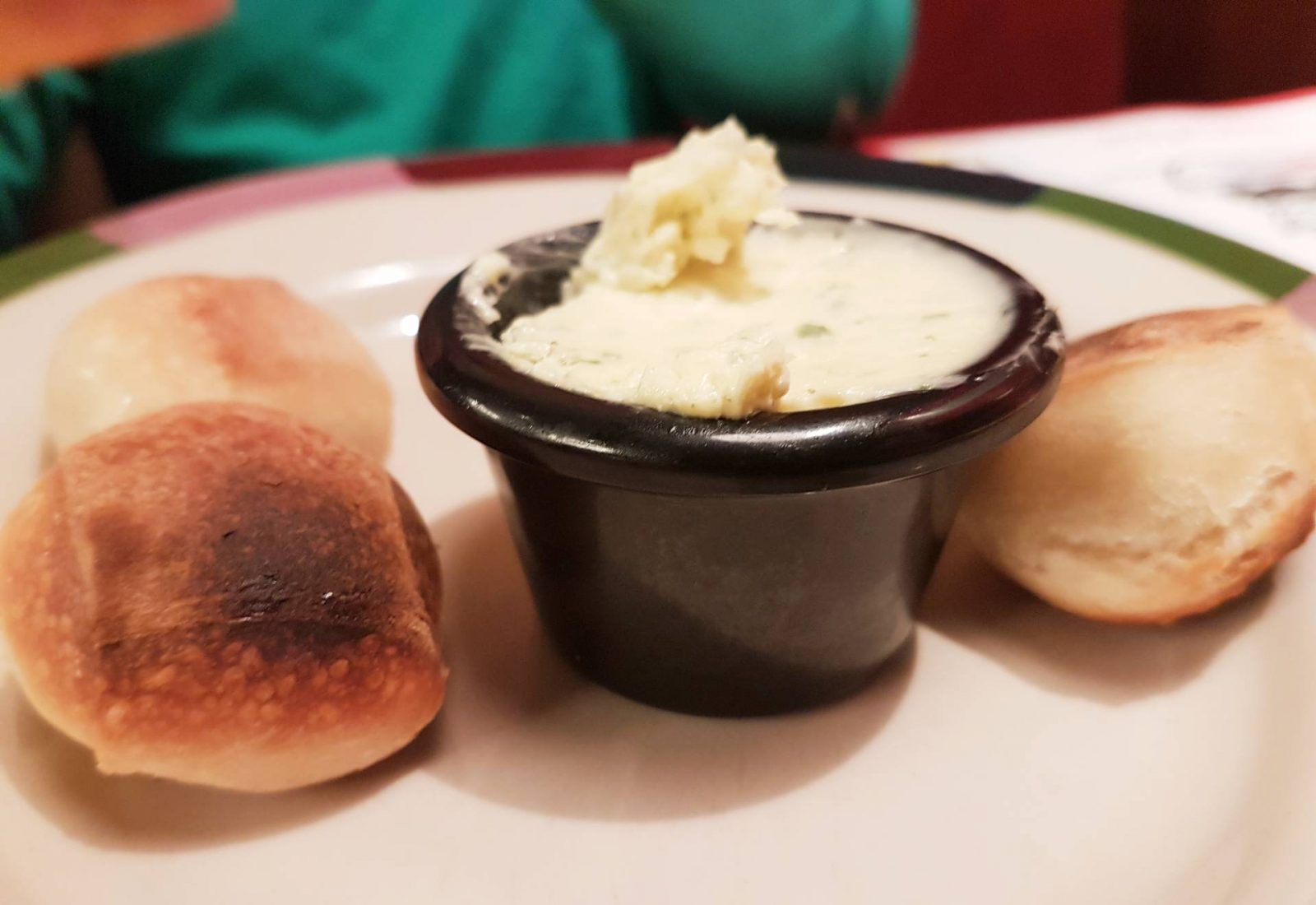 Children can choose from the Little Eaters (£4.99) or Big Eaters (£7.49) section of the children's menu which includes a main, two sides, dessert and a drink. A starter can also be added for an extra 99p.
The little man decided on dough balls (99p) from the children's menu. I think they should probably consider a different way to present them as the three little dough balls rolling around a normal sized side plate looked quite weird. They came served with a pot of icy cold and completely solid garlic butter which seemed a strange choice for a child. He dipped them into my sour cream instead which seemed to be more of a hit.
I chose the new recipe Fully Loaded Potato skins filled with bacon, cheese and chive (£5.29). The portion size was good with three potato skins jam-packed with oozing cheese. They came with a pot of sour cream sauce which was the perfect accompaniment.
Hubby opted for the new Super Slider Burgers (£7.49) and they looked really impressive. They consisted of three miniature burgers ( mini cheese, Southern fried chicken and crispy crab and cod) and totally looked the business. I'd say they're more suited to those with a big appetite as the portion size was quite big. I'd never have managed to eat all of them and a main course but he did! He said they were delicious and they certainly smelled good.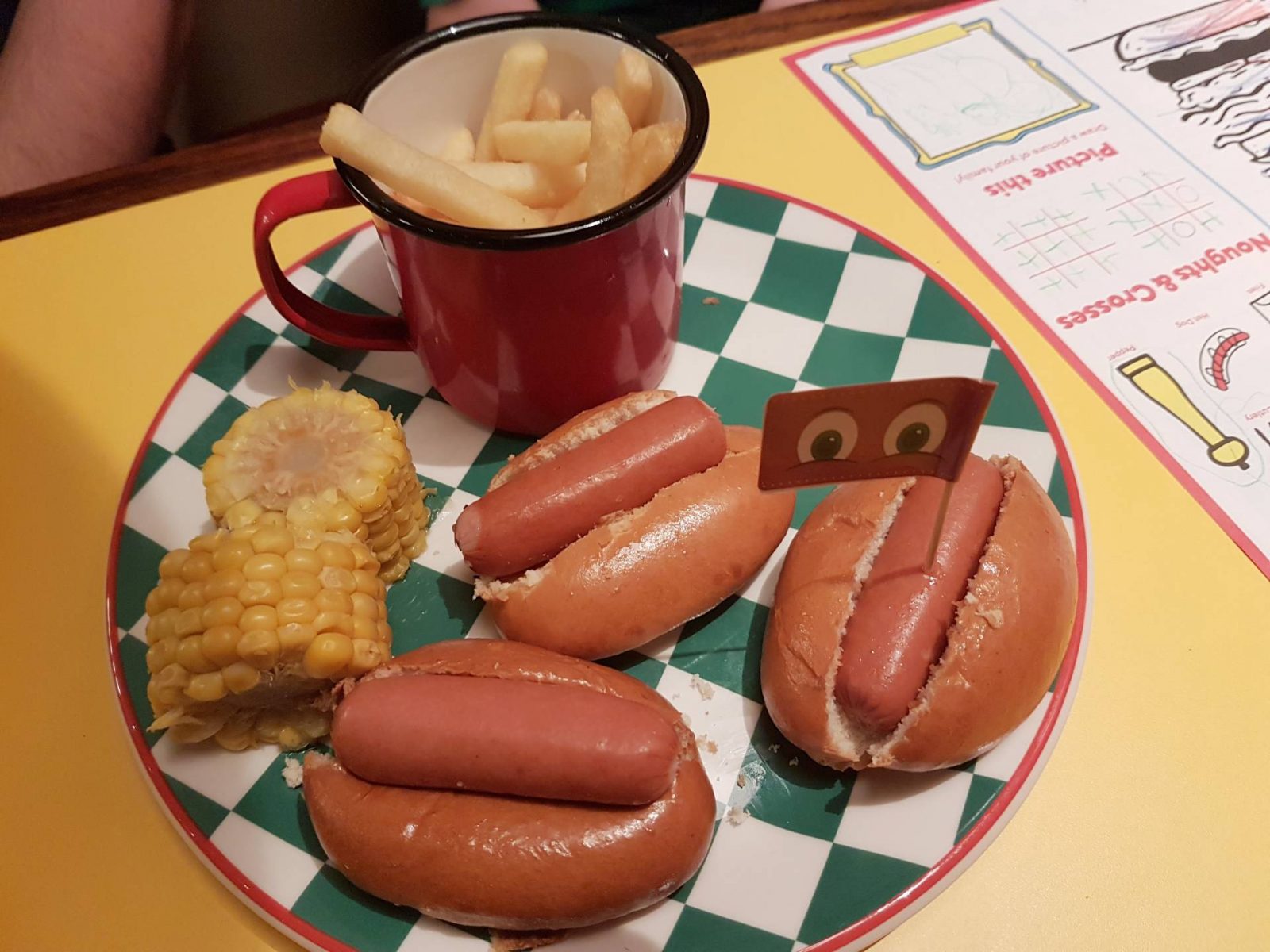 For the little mans main course he chose the Hot Dog Trio from the Big Eaters section of the children's menu. He chose corn on the cob and fries as his sides. They were a huge hit and he wolfed almost all of them down.
I chose the New York Deli burger (£15.29) as my main and it looked amazing when it arrived. It consisted of a 6oz beef burger covered in Monterey Jack cheese, thick slices of pastrami, sauerkraut and gherkin with a little pot of dill mustard to accompany it.
It comes serves with fries but I upgraded them to cheese and bacon fries for an extra £1.29. If you're looking for something healthier, the 'FeelGood' choice gives the choice to remove the bun from your burger and swap your fries for salad or corn on the cob.
My burger was really tasty but I had to take out some of the sauerkraut as there was just so much. I will definitely order it again though.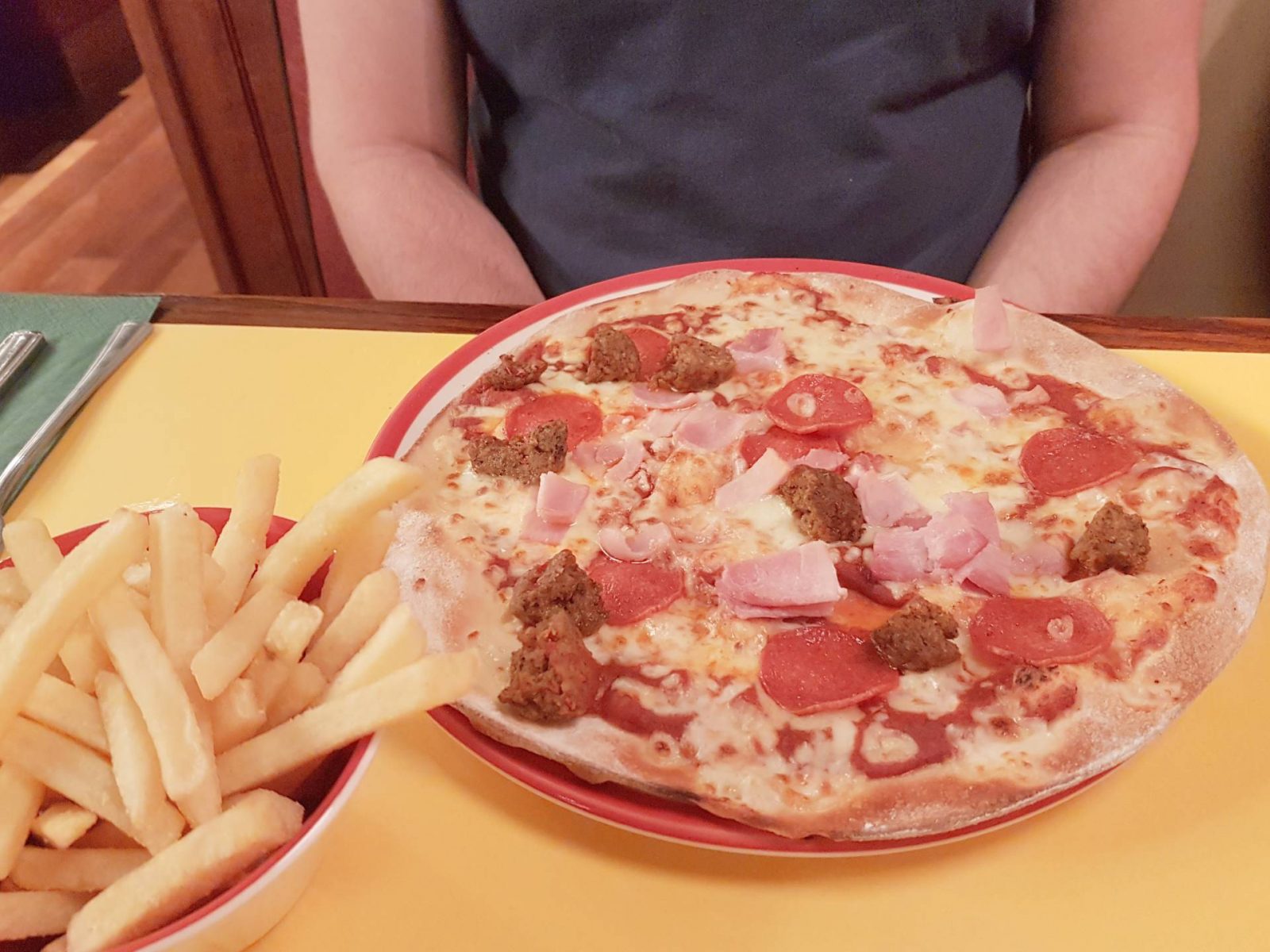 Hubby went for the Meatball Deluxe pizza £14.79) which had pork and beef meatballs, pepperoni, ham, mozzarella and cheddar cheese on it. He said he really enjoyed the pizza and it was full of flavour but I do think it was a relatively small in size for something just under £15.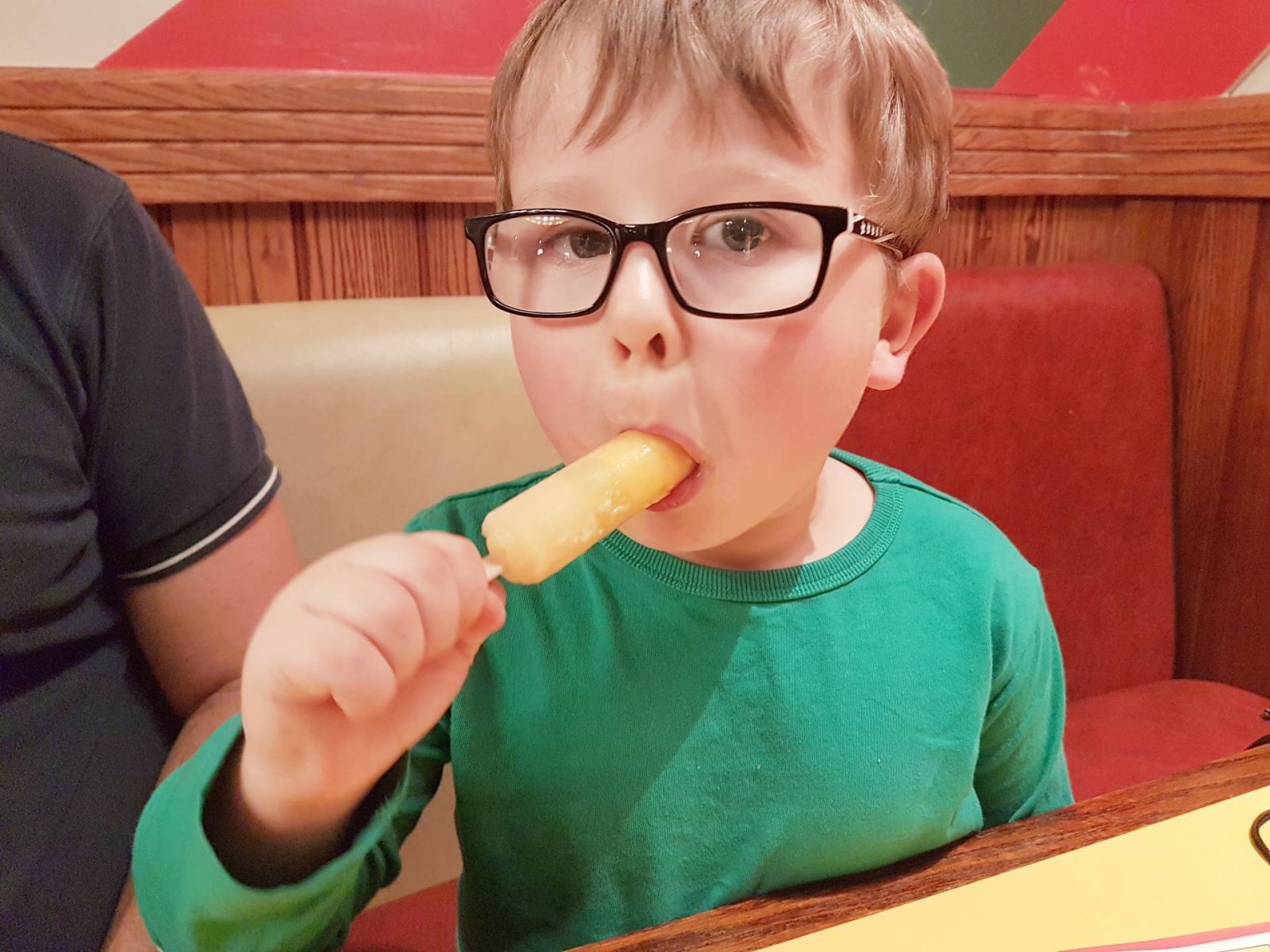 Despite the fact we were totally full after our starter and main course, we knew we couldn't miss out on a tasty dessert.
The little man asked for a Pip Organic Tropical Ice Lolly ( his usual choice) to finish off his meal but we'd opened it and he'd had a lick before he realised it was actually the Pip Organic Rainbow Lolly. He ate a small amount but then decided he didn't like it.
I usually go for something chocolatey for dessert but I decided to give the New York Cheesecake (£5.79) a go during this visit. It comes with a scoop of vanilla ice cream and you can choose for it to be served plain or with strawberry or salted caramel sauce. I chose salted caramel and it was absolutely delicious. It was a pretty big portion too and despite the fact it tasted amazing, I couldn't quite finish it.
Hubby decide on the Cookie Monster freakshake £5.99, a vanilla and chocolate milkshake dripping with cream, chocolate malt balls, cookie pieces and chocolate sauce. I had a sneaky taste and it was nice but so sweet, definitely one for those with a sweet tooth.
As always, our meal at Frankie & Benny's was great, it's always high on our list for a family friendly meal out in the Metro Centre. The service was great and the food arrived very quickly despite the restaurant being extremely busy.
Our food was delicious and not badly priced. I think the children's menu is quite extensive and reasonably priced. I also like the fact you can use the FeelGood options on the menu to make your meal as healthy as you want.
Have you eaten at Frankie & Benny's before?
* Our meal was complimentary and in return for an honest review.