Product sent for review
When I found out I was pregnant with Little E there a few things I was excited about, obviously there's the brand new baby but I also loved that I'd be able to choose a new pushchair and a new change bag. They're both things that you'll use consistently for a few years, so for me, was important to choose something long lasting, practical and good value for money.
One of the change bags I'd used with Big E was by Skip Hop so I was very grateful to be offered one from their range to review. After much deliberation and comparisons on their website, I chose the Skip Hop Forma backpack in black.
The Forma is probably one of the most practical and well designed change bags I've ever tried out. It's well made, very spacious and is completely unisex so perfect for both parents.
It's available in two colours, black and grey and is made from a slightly shiny, quilted effect material. I chose the black because I thought it would be less likely to show any marks, so would look cleaner for longer!
The Forma is incredible spacious and I can fit in so much. I'm a huge over packer on days out and I can easily take everything we need in the Forma. I can fit in a full change of clothes for both Big E and Little E as well as a stash of nappies, wipes and feeding equipment.
The zip around opening on the opens up wide enough to see straight into the bag so there's no frantic rummaging when you're looking for something quickly, perfect for when you need to do a super quick nappy change.
The Forma comes with a cushioned changing mat that tucks nicely into a pocket inside the bag. It's not huge but wide enough to use on public changing tables or if you need to do quick change on the floor.
The pocket on the front of the Forma can be used to store the two packing cubes that come with it. One cube is insulated which makes it great for storing ready made formula or keeping expressed breast milk cool.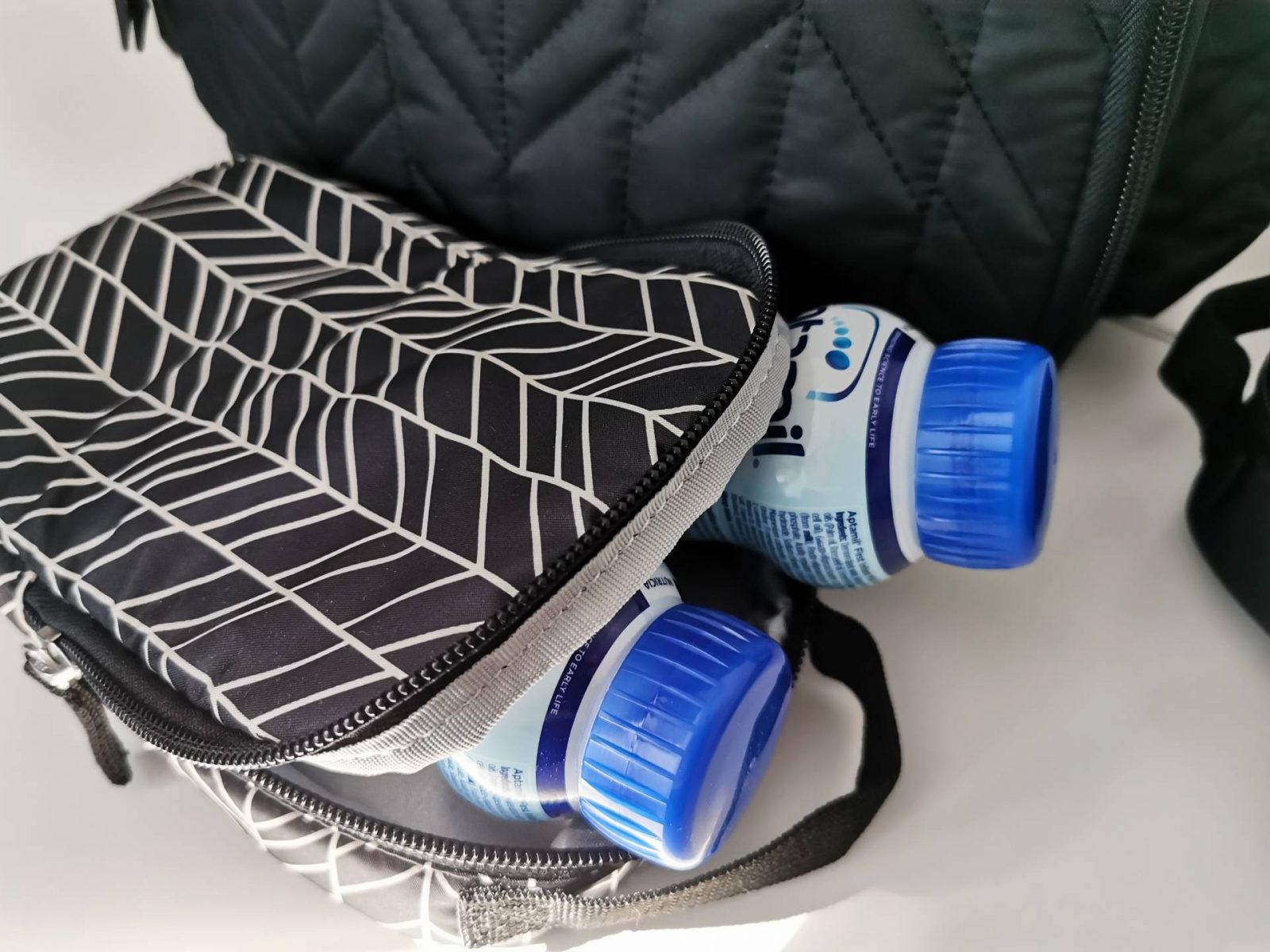 The other cube is mess fronted and can be used for storing other bits and bobs. I keep a couple of nappies, a muslin cloth and some wipes in this one as it makes a quick and handy grab bag for nappy changes.
The Forma has super hand buggy clips which fasten the bag on to your pram or pushchair. I love that they're built into the bag so you don't need to buy separate clips.
I have back problems and find change bags that are similar to handbags with one strap really hurt my back and shoulder quite quickly. The Forma is in the style of a backpack so can be worn on your back if not attached to the pushchair so you're completely hands free. The shoulder straps are cushioned so no matter how much I overpack, the straps still fee comfortable and the weight of the back is distributed properly on my back.
The Forma has an impressive amount of pockets for storage. There are so many places to put stuff! On the outside there is a large pocket on each side of the bag, I use one packet for storing bottles and the other for keeping a packet of wipes handy. On the front of the bag there is is a large pocket which you can use to keep the storage cubes in or just on it's own ( I tend to throw my car keys and mobile in this one so they're easy to fish out ) and then in front of that is another, smaller zip front pocket which is the perfect size for storing smaller things like a pen, lip balm or hair bobbles.
I'm really impressed with Skip Hop Forma changing bag. It's a great bag for every day use and is really well made. It's a great size, especially if you have more than one child and has such an impressive amount of storage. It's a really practical bag and comfortable and easy to use
* We were sent the bag in return for an honest review.