Product sent for review
We've had some crazy hot weather in the UK recently and it's been a nightmare trying to keep my littlest man cool and out of the sun. We tried to buy a parasol but it turns out our pram is a bit awkward and we've been unable to find a universal parasol that fits without popping off every so often.
I received an email from Snoozeshade in the midst of the heatwave offering to send us their Snoozeshade original to try out. It was perfect timing, so I was happy to say yes.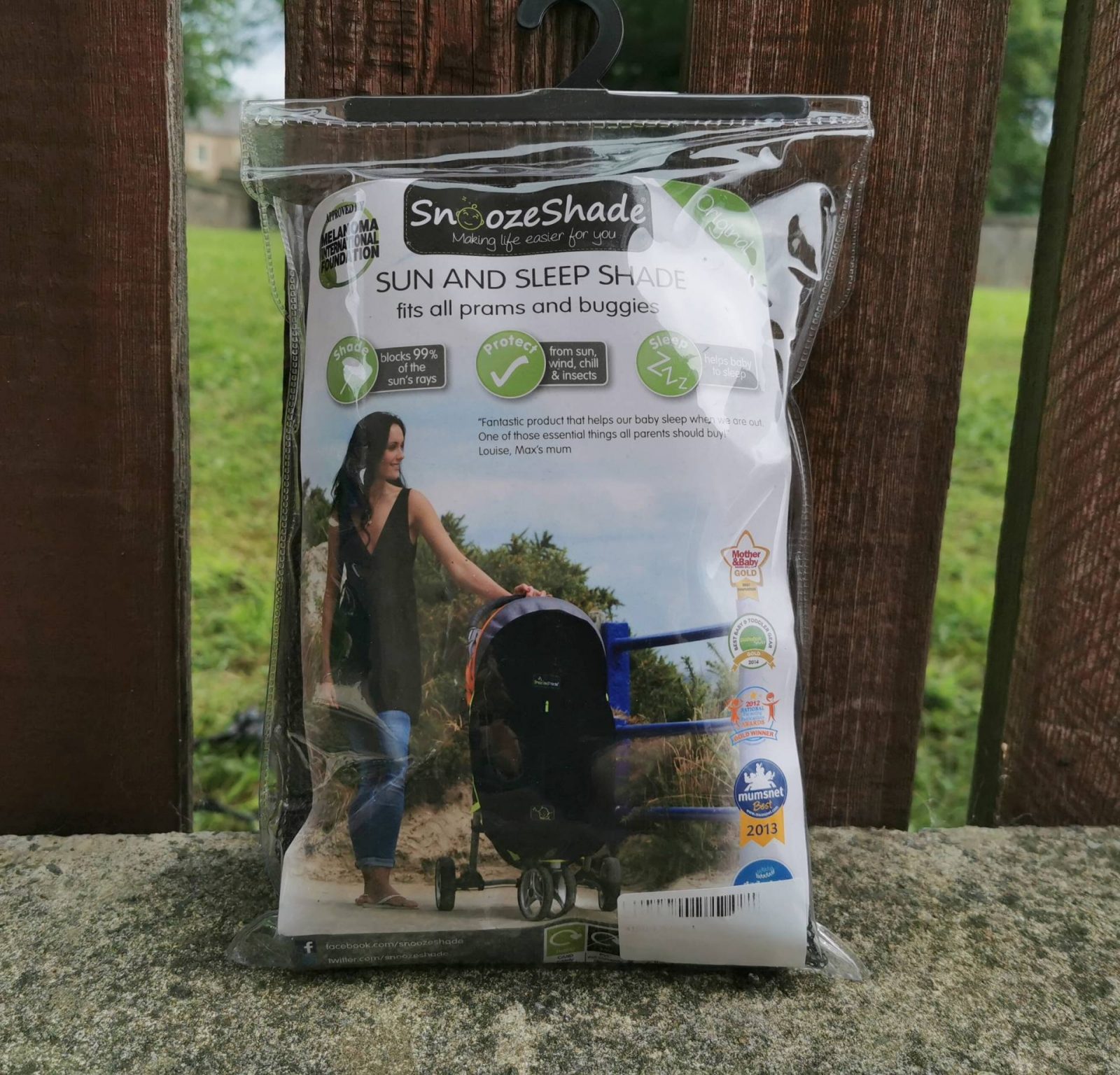 SnoozeShade is Britain's best-selling brand of baby buggy sun shades and sleep aids. It's won over 60 awards worldwide and blocks out 99% of UV. It was created by a British parent who wanted to create a solution to keep her daughter out if the sun as well as helping her to sleep on the go.
It comes with it's own net storage bag so can be folded up easily when not in use and stored underneath your pram or pushchair.
Snoozeshade is available in various different versions which are suitable for both babies and toddlers and they can fit prams or pushchairs. They also sell car seat canopies and versions to fit a travel cot and cot.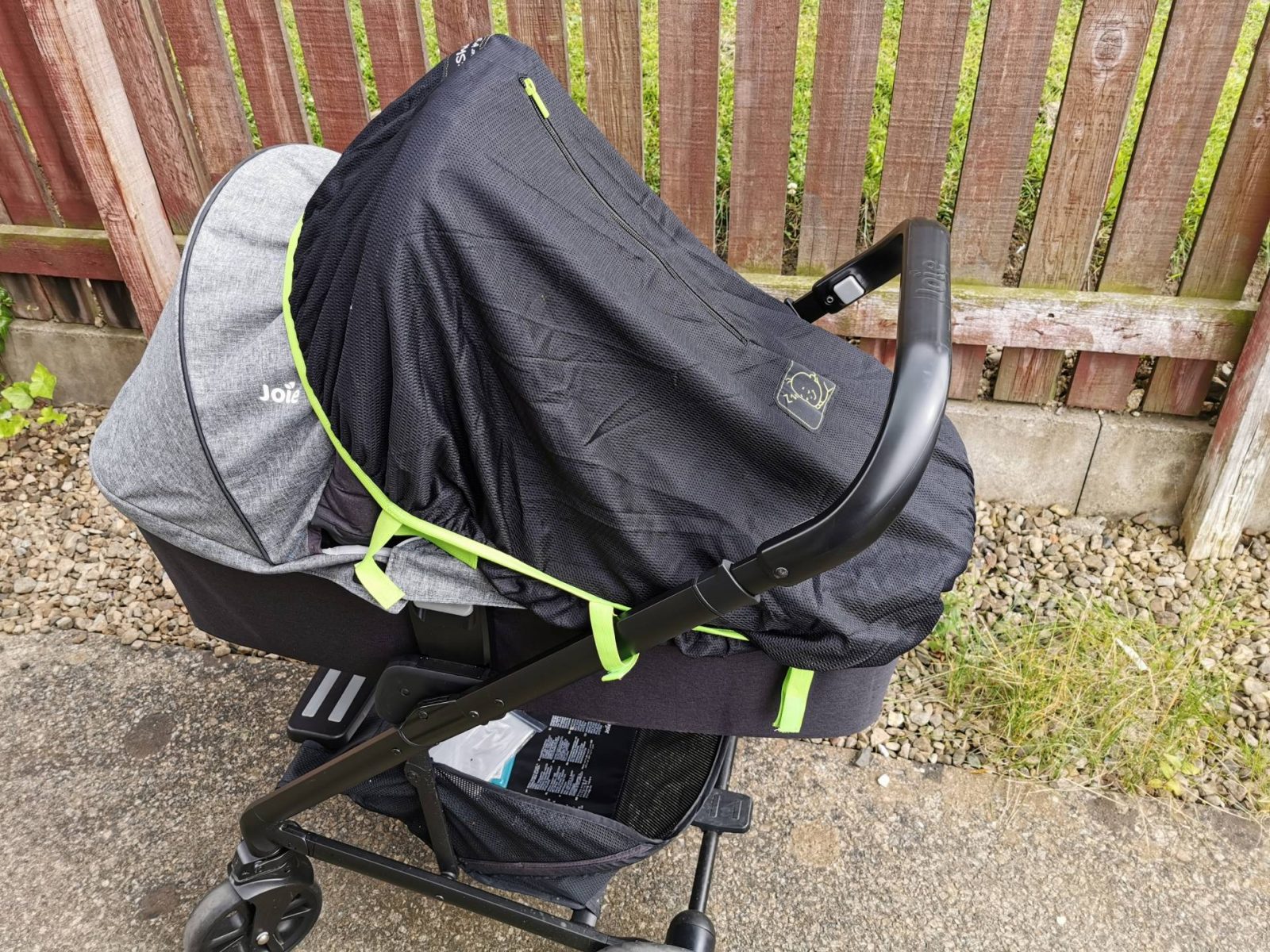 The Snoozeshade is made from a breathable black mesh that is very soft and stretchy, it also feels quite thick and durable. The material used means your child stays cool and comfortable without reducing any airflow.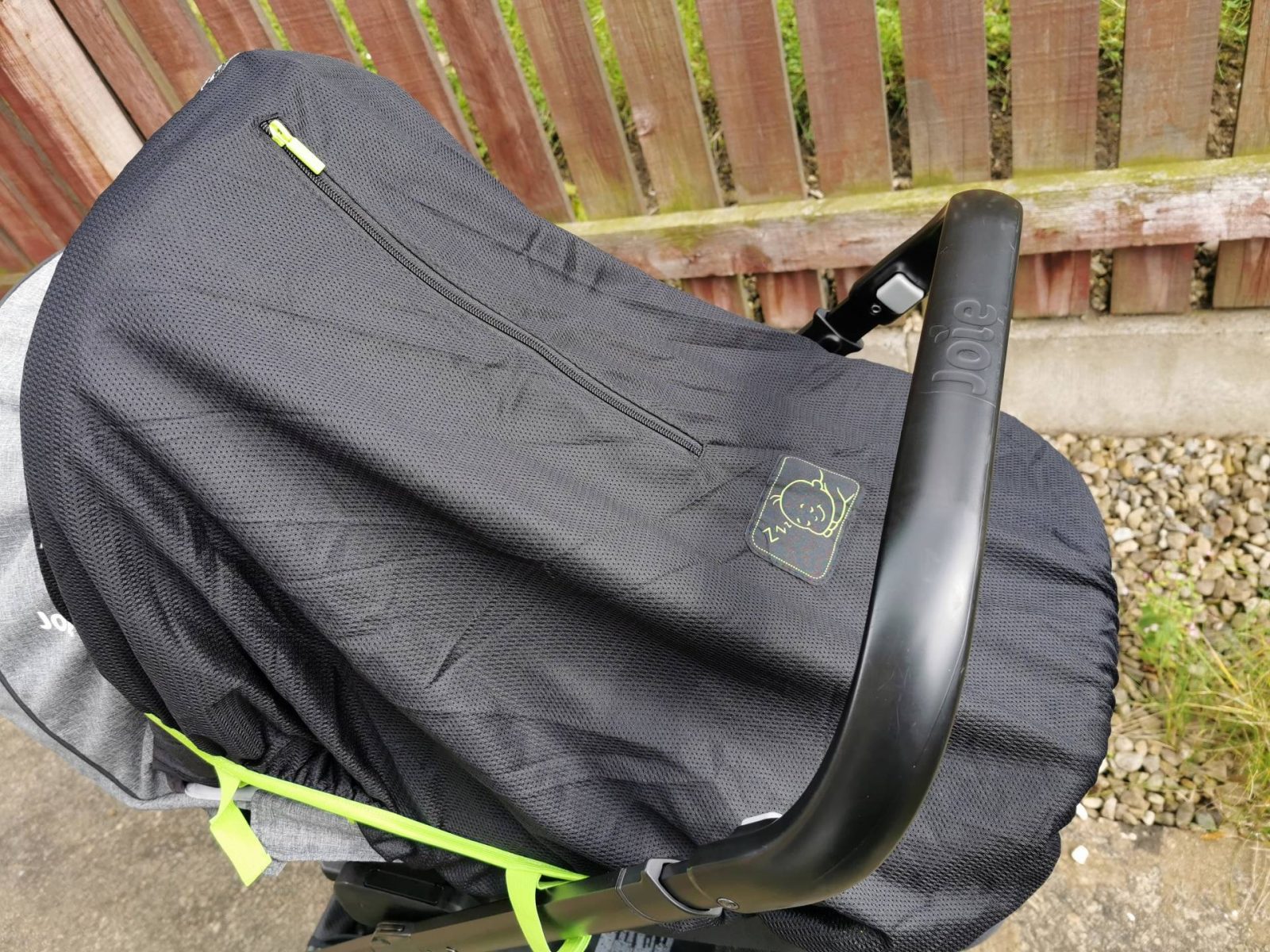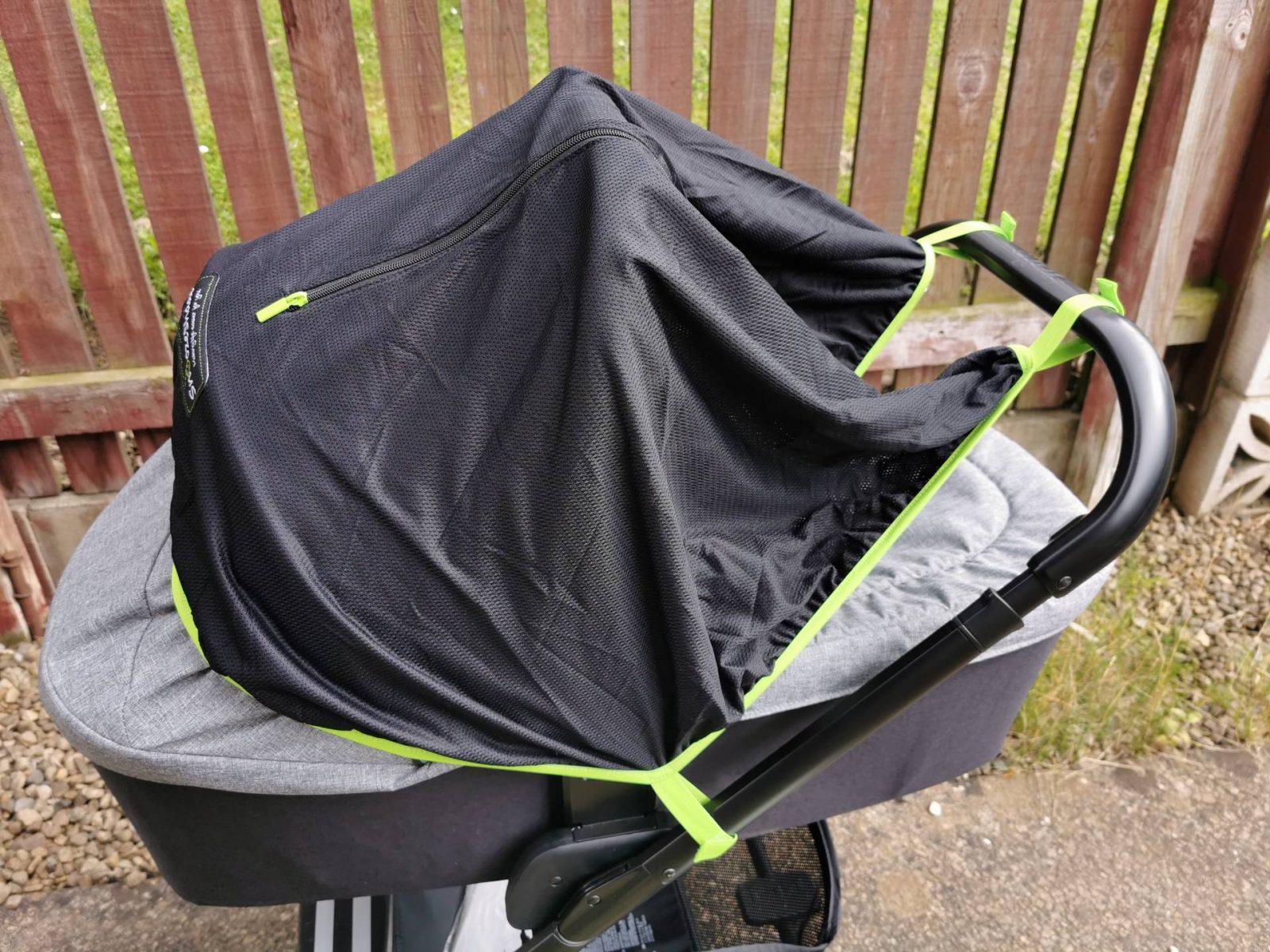 The SnoozeShade Original can be used in lots of different ways. It can be used to cover the whole pram or pushchair, like a black out blind to protect your child from the sun or to create a dark space for your child to nap more easily. You can use it to extend the hood of your pushchair so more shade is created or it can even be draped across your child's legs to keep them shaded or dry in light rain.
The Snoozeshade has sets of Velcro straps around it which is what you use to attach it to your pram or pushchair. We did have a few issues with the straps and found the majority of them came loose and popped off during first use.
The stitching didn't seem strong enough when the Snoozeshade was stretched out, or perhaps I was just unlucky. I ended having to stitch them all on again and they've been fine since.
The straps fasten around the frame of your pushchair and hold the Snoozeshade in place. It has a universal fit so will pretty much attach to any shape or type of pushchair or frame.
The Snoozeshade has a zip down the front so you can easily check on your child without removing it completely to look.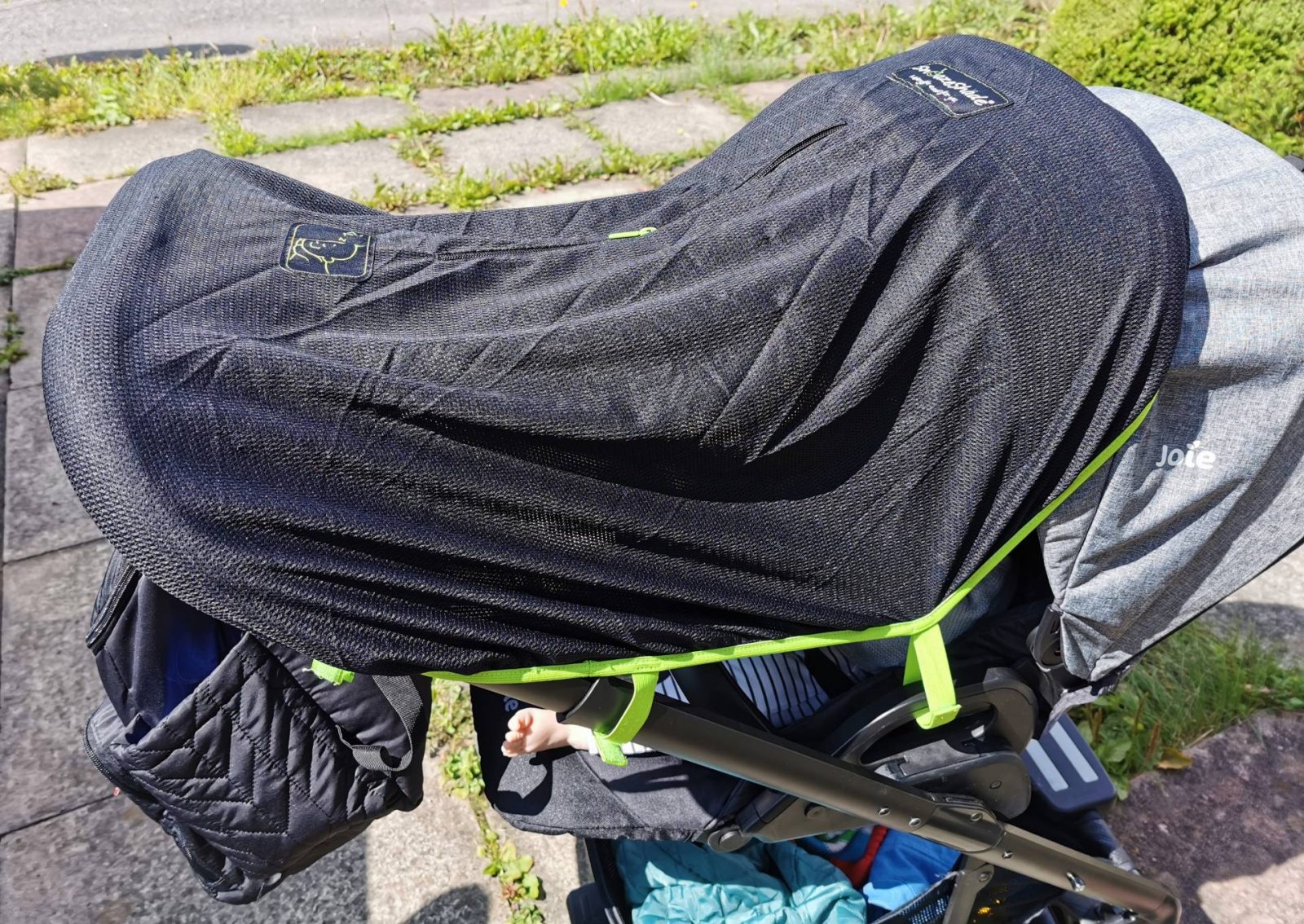 I really like the idea of the Snoozeshade. I feel reassured and happier that little E is safe from the harmful rays of the sun and it's much safer to use that a muslin cloth or blanket.
Not only has the Snoozeshade been great to use when Little E has been in the pushchair, it's been fab to use when Little E is out too. I've been able to create a simple and effective sun shade at at outdoor cafe and at the beach when we forgot to take the pop up tent.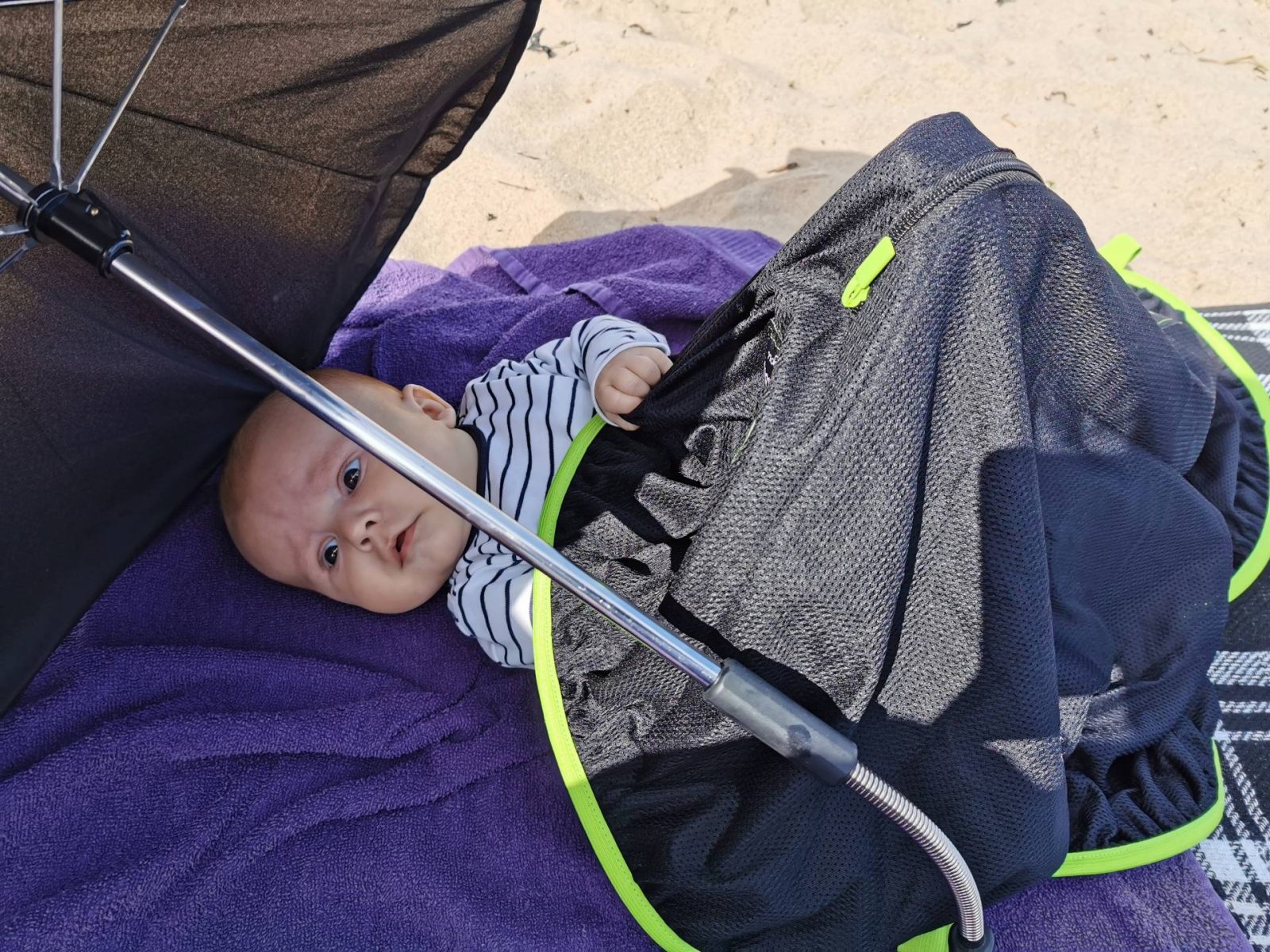 I think the Snoozeshade is a great idea and well priced at £19.99.
If you'd like to win your own, please complete the rafflecoper form below.
Terms and Conditions
1 x UK resident winner only, prize will only be posted to a UK address.
The winner will be notified through Twitter if used and by email
By entering the competition you agree to your details being passed to the company to send your prize.
The winner will be asked for address details which will only be used for dispatching the prize and then disposed of.
Competition ends 24th August 2019.
Winner will have 7 days to respond and accept their prize, otherwise a new prize winner will be chosen.
We were sent the Snoozeshade in return for a review.