AD – products sent for review/paid partnership
Peppa Pig and her chums have been firm favourites in our house for quite a while now. I don't think there's an episode we've not seen and Peppa Pig World is one of our favourite locations for a family day out.
The lovely people from Trends UK have sent Big E and Little E some Peppa Pig toys to try out and they've thoroughly enjoyed playing with them.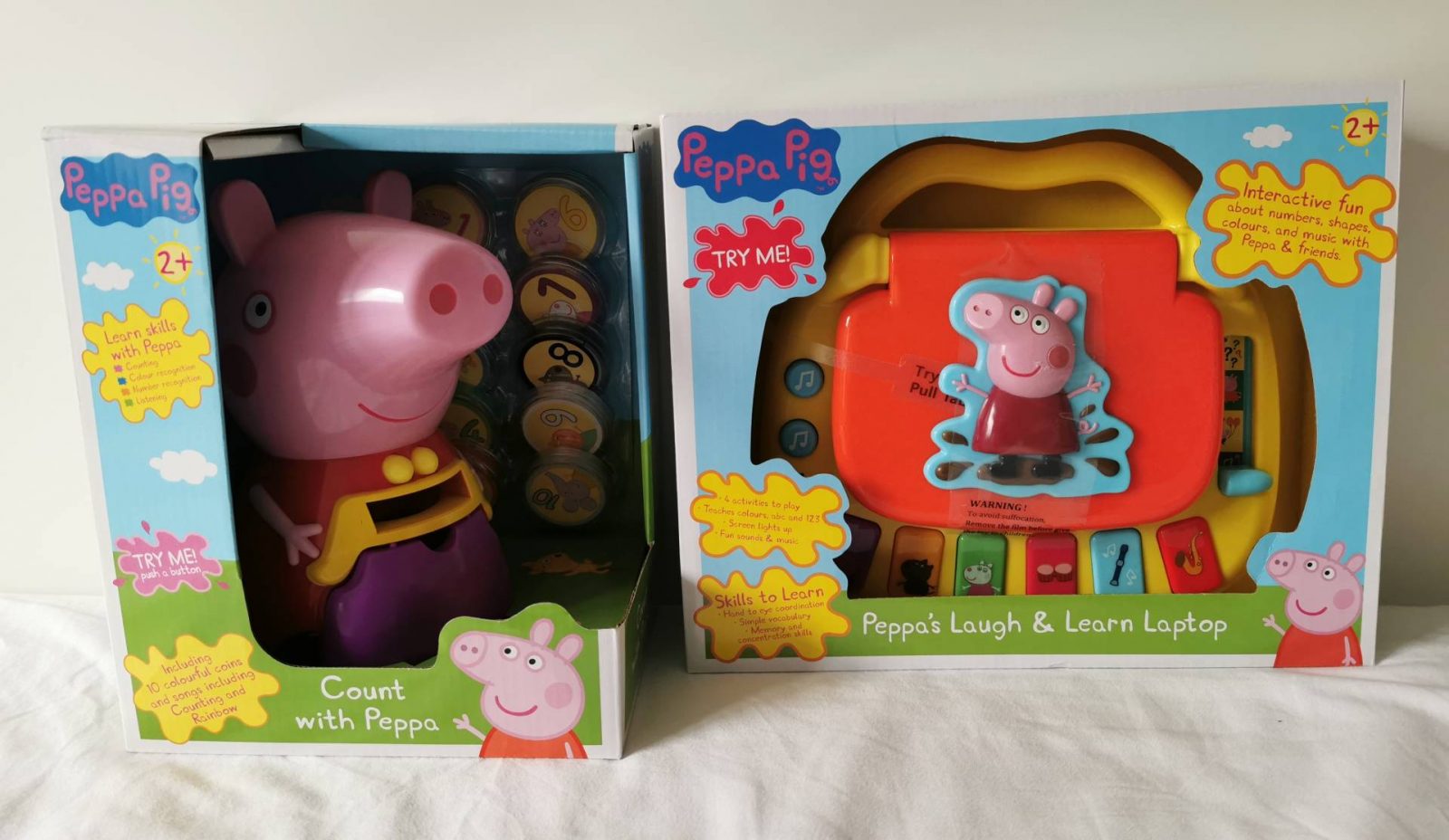 Peppa Pig Count with Peppa
Count with Peppa is a great toy to encourage counting skills, colour identification and picture recognition. Made from brightly coloured plastic, Peppa comes with 10 interactive coins that have various Peppa characters on them.
When children push the coins into the slot on the slot on the front of Peppa's purse, 8 different activities are activated. There are games to identify different numbers, colours and pictures and clever Peppa recognises which coins have been inserted and responds accordingly.
When not being played with, the numbered character discs fit safely into Peppa's purse so they can always be found next time.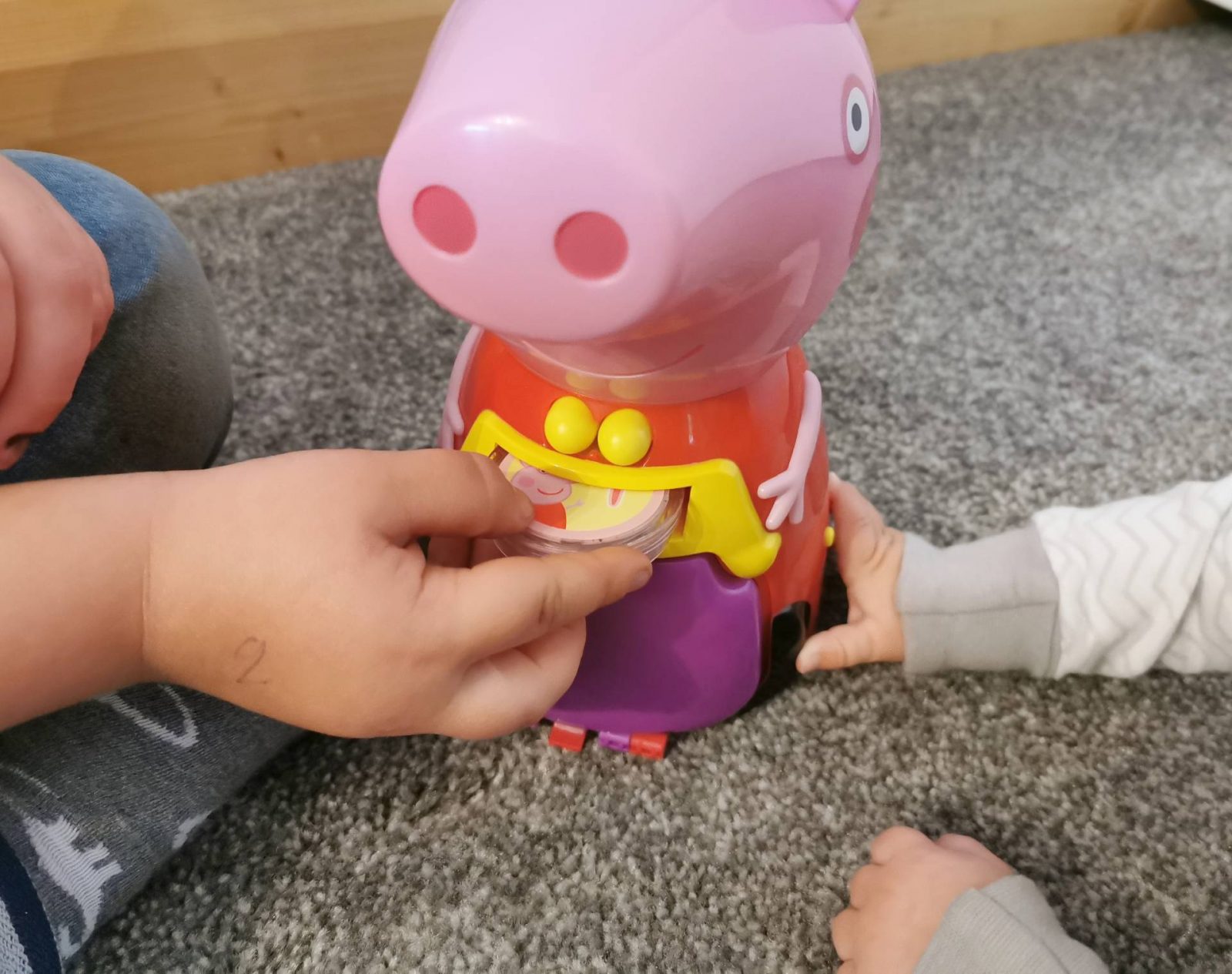 The toy also plays 3 different songs that are identifiable from the Peppa Pig TV series, they're catchy and little ones are bound to recognise them.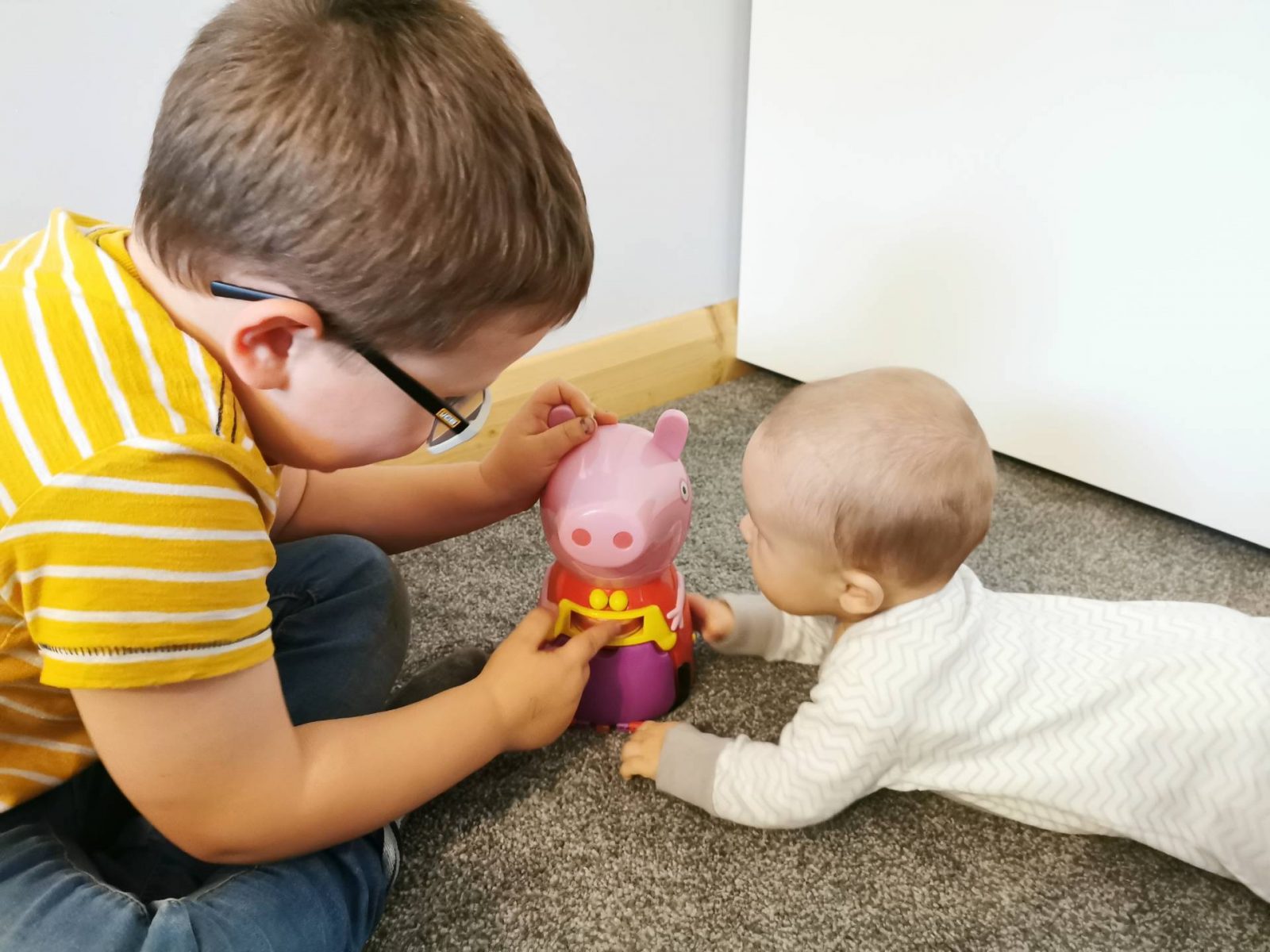 The Count With Peppa Interactive Money Box is really sturdy and seems pretty robust despite being made of plastic. It sits up well, even when your little brother insists on getting in on the action.
Count with Peppa is a lovely toy for younger children and a fun way to encourage learning. You can buy it at Argos.
Peppa Pig Laugh & Learn Laptop
The Peppa Pig Laugh & Learn laptop has been a huge hit since it arrived in our house. Both boys enjoy playing with it and will happily play with it together.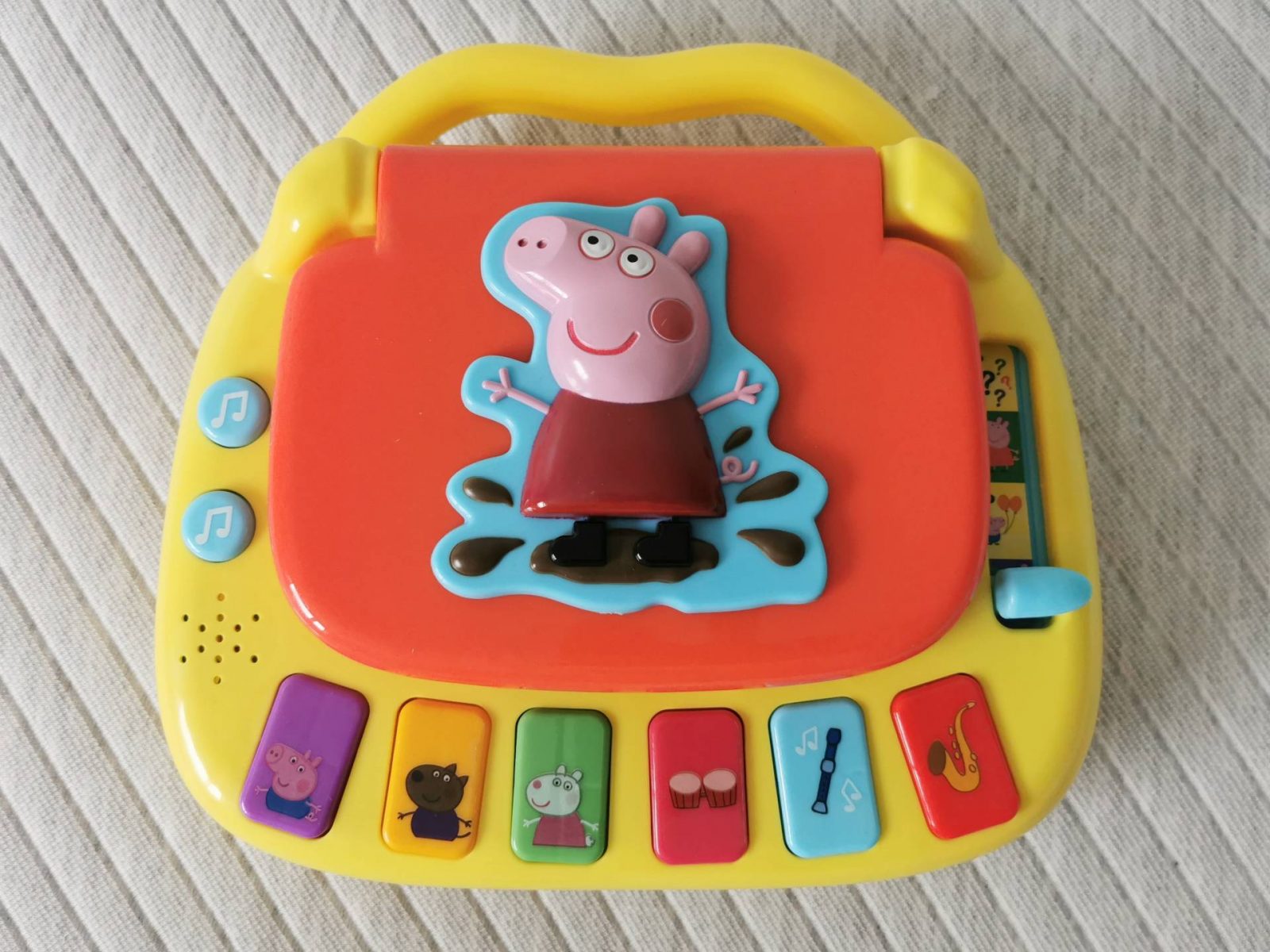 The laptop light weight, has a portable carry handle and is brightly coloured making it very eye catching for small people. It has a large chunky screen that can be flipped up just like a real laptop and big buttons which make it easy for small hands to press.
The laptop has four activities different activities for children – introducing letters, numbers, objects, musical instruments and colours.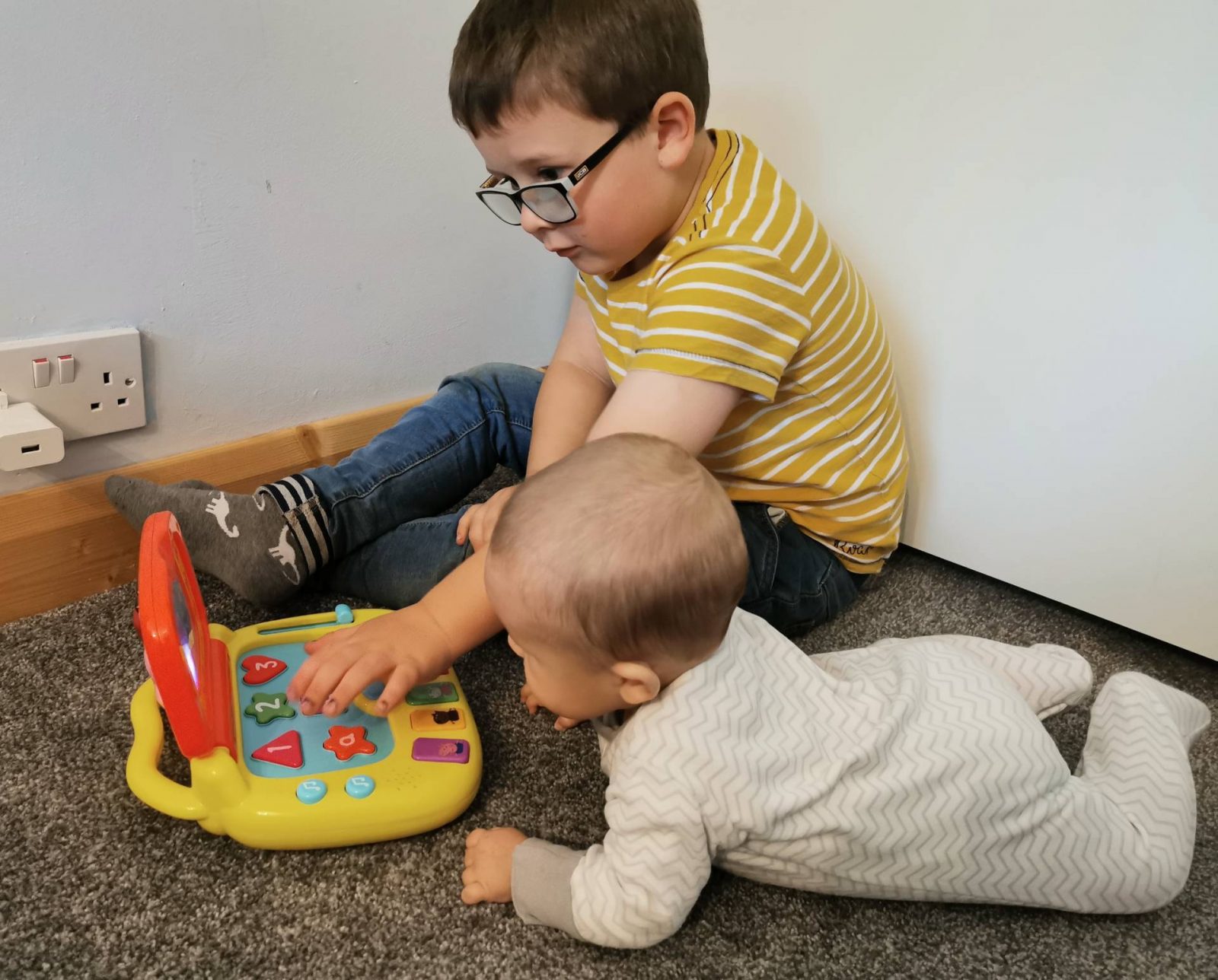 Children can listen to 6 fun tunes, funny sounds and piano notes in the song mode and there are so many other fun sounds and activities to choose from.
The Peppa Pig Laugh and Learn laptop requires 3 x AA batteries (included), is recommended for children 2 years but when fully supervised, my 5 month old loves pressing at the keys and watching his big brother play with the laptop. You can purchase it from Argos for £15, it'd make a great Christmas gift for any young Peppa fan.
One of my blog readers can win their own Count with Peppa toy too. To enter, all you need to do is complete the Rafflecopter form below.
Terms and Conditions
1 x UK resident winner only, prize will only be posted to a UK address.
The winner will be notified through Twitter if used and by email
By entering the competition you agree to your details being passed to the company to send your prize.
The winner will be asked for address details which will only be used for dispatching the prize and then disposed of.
Competition ends 26th October 2019.
Winner will have 7 days to respond and accept their prize, otherwise a new prize winner will be chosen.