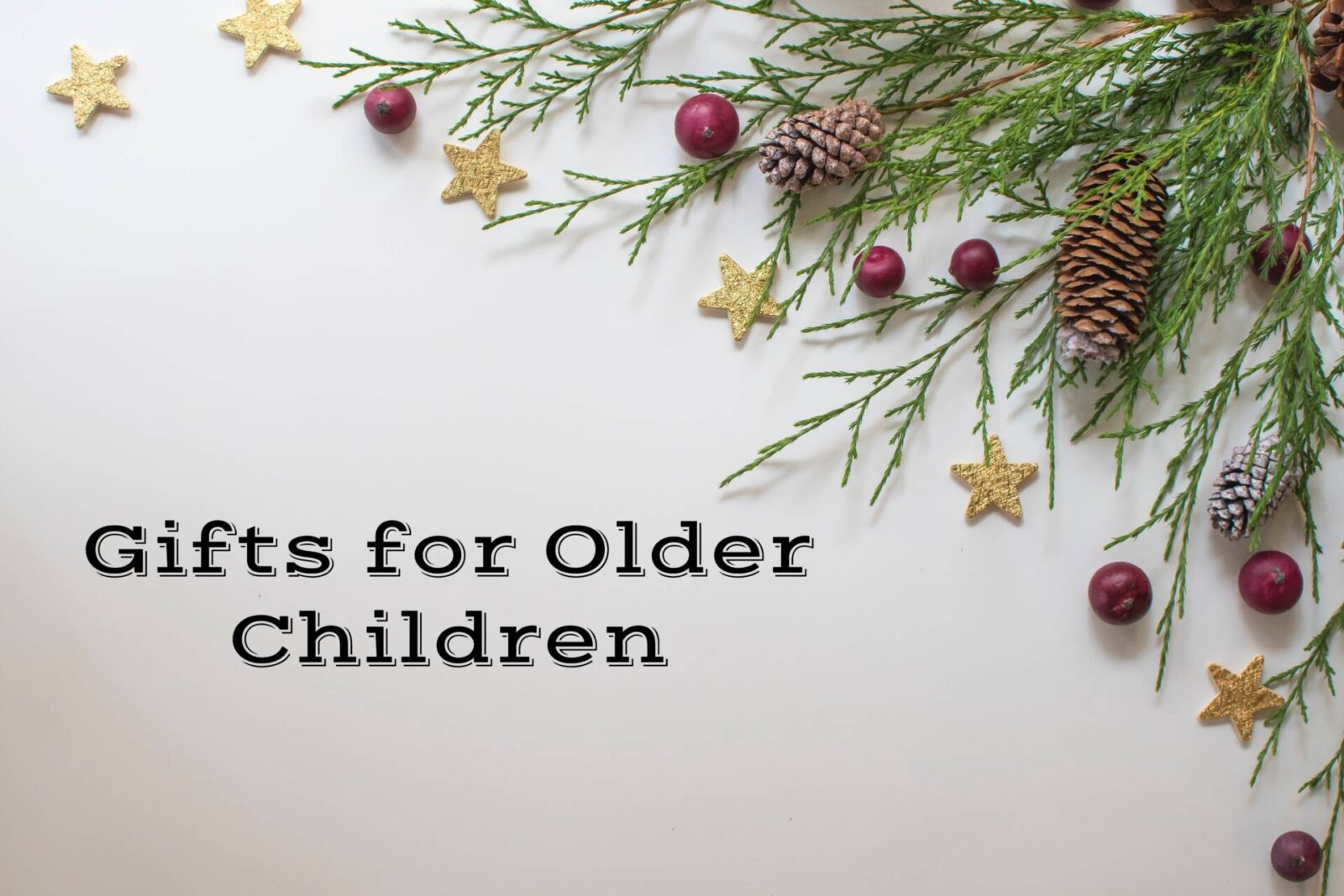 Products featured in this post include press samples and affiliate links.
I find as children get older, they become more difficult to buy for. There are so many gift options available in the shops and I sometimes find choice a little overwhelming.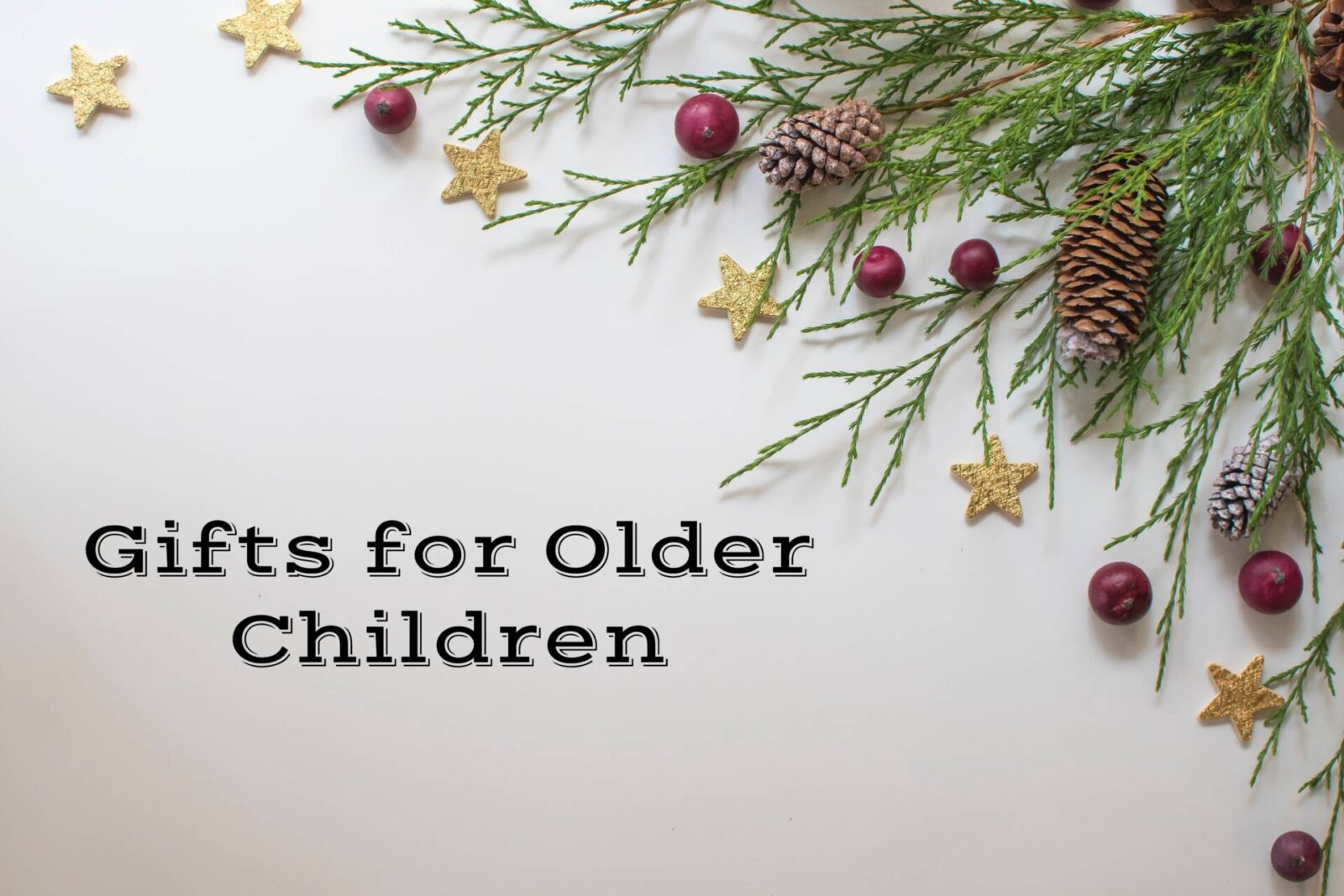 This year I've put together a selection of gifts that I think are most suited to children aged 6 to 9 years, I hope they give you some ideas if you're struggling for inspiration.
If you have a child who is interested in the world around them, I can't recommend Blue Planet II from Puffin enough. The book is a collaboration with BBC Earth and is full of beautiful illustrations that capture the wonder, beauty, and emotion of the landmark Blue Planet II TV series.
The foreword of the book is written by Sir David Attenborough, who talks about his early experiences of seeing a shark on the first underwater series the BBC made and how we should all learn what we can about the world we live in and protect it for others to enjoy in years to come.
The pages are split up into easy to read sections which are full of interesting facts that children will love to learn about. I love that there's a page of simple things we can all do to help protect our Blue Planet at the end of the book too.
Geomag is one of big E's favourite construction toys and he already has a couple of sets. They are high-quality, safe, Swiss-Made magnetic products that stimulate ingenuity and creativity through play, giving shape to increasingly stable and creative constructions.
Geomag Confetti consists of a range of magnetic rods, steel spheres and plastic elements which can be used to create a huge range of shapes and structures. The magnetic balls and bars fit together so easily, letting you create so many shapes and models – the only limit is your child's imagination!
I love that Geomag sets encourage creativity and logical reasoning and featuring all the components of STEM. The sets all tend to work well together too, so you can add to your collection over time or just use each one as a stand alone toy.
We always buy a board game at Christmas time. Silly Sounds is a light hearted. family friendly game where everyone gets to make the silly sound that is stuck to your head band.
It is suitable for 2-4 players and most suited to children 8 years and above. Players need wear a headband with a card holder and then 'spin and pick' to make a sound. If the counter lands on 'all play' then everyone playing has to make the same silly sound.
You can buy Silly Sounds from most toy shops including Smyths and Amazon and it will make the perfect game for some family fun on Christmas Day afternoon.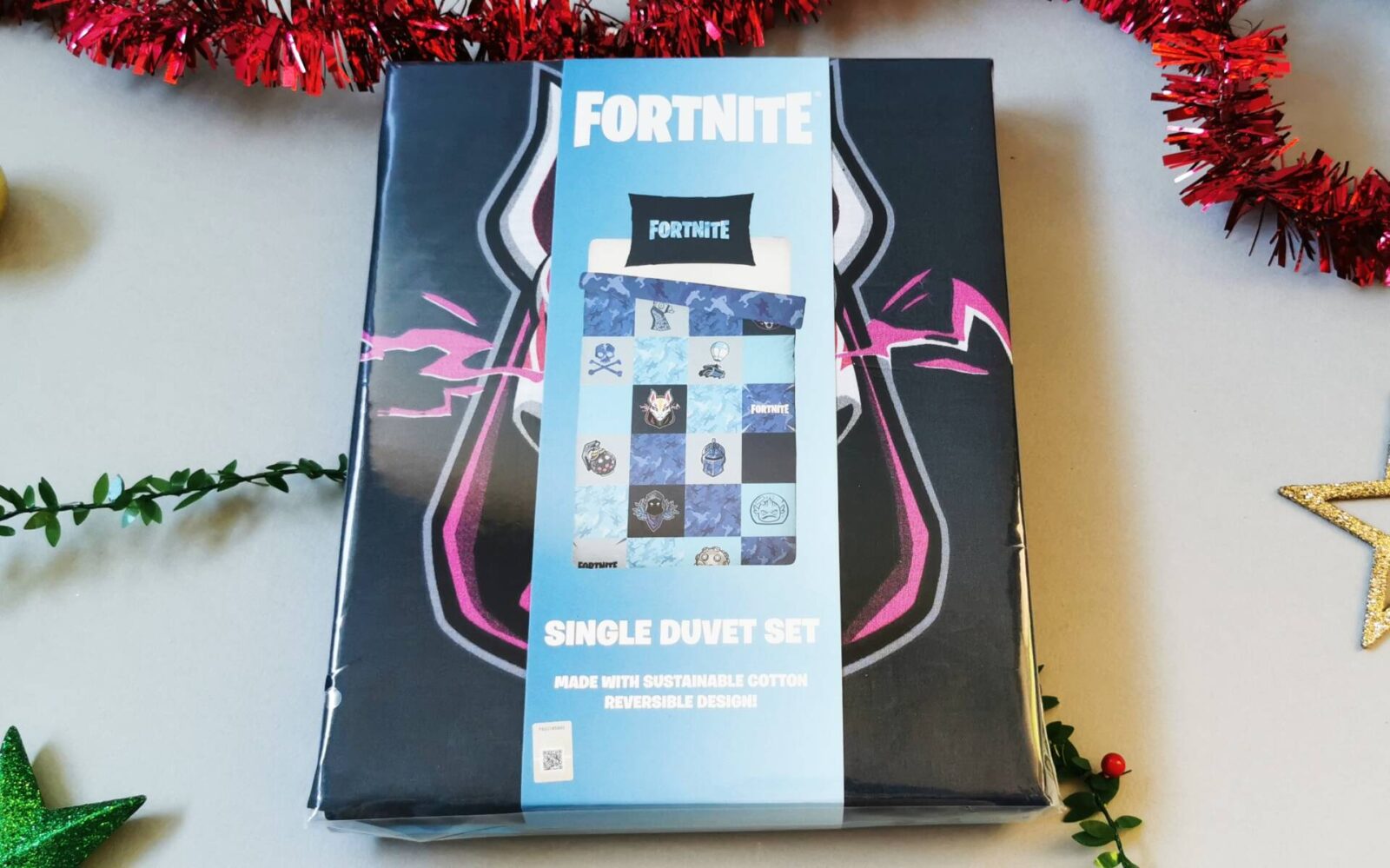 Got a fortnite fan? This single duvet and pillow case set will be a huge hit. It's made from Polycotton and is machine washable.
FORTNITE Official: The Chronicle 2021 is full of all the twists and turns of the last 12 months of the game. Epic Games have produced this official yearbook to let you relive your favourite moments from Battle Royale and test your knowledge of seasons that have been and gone.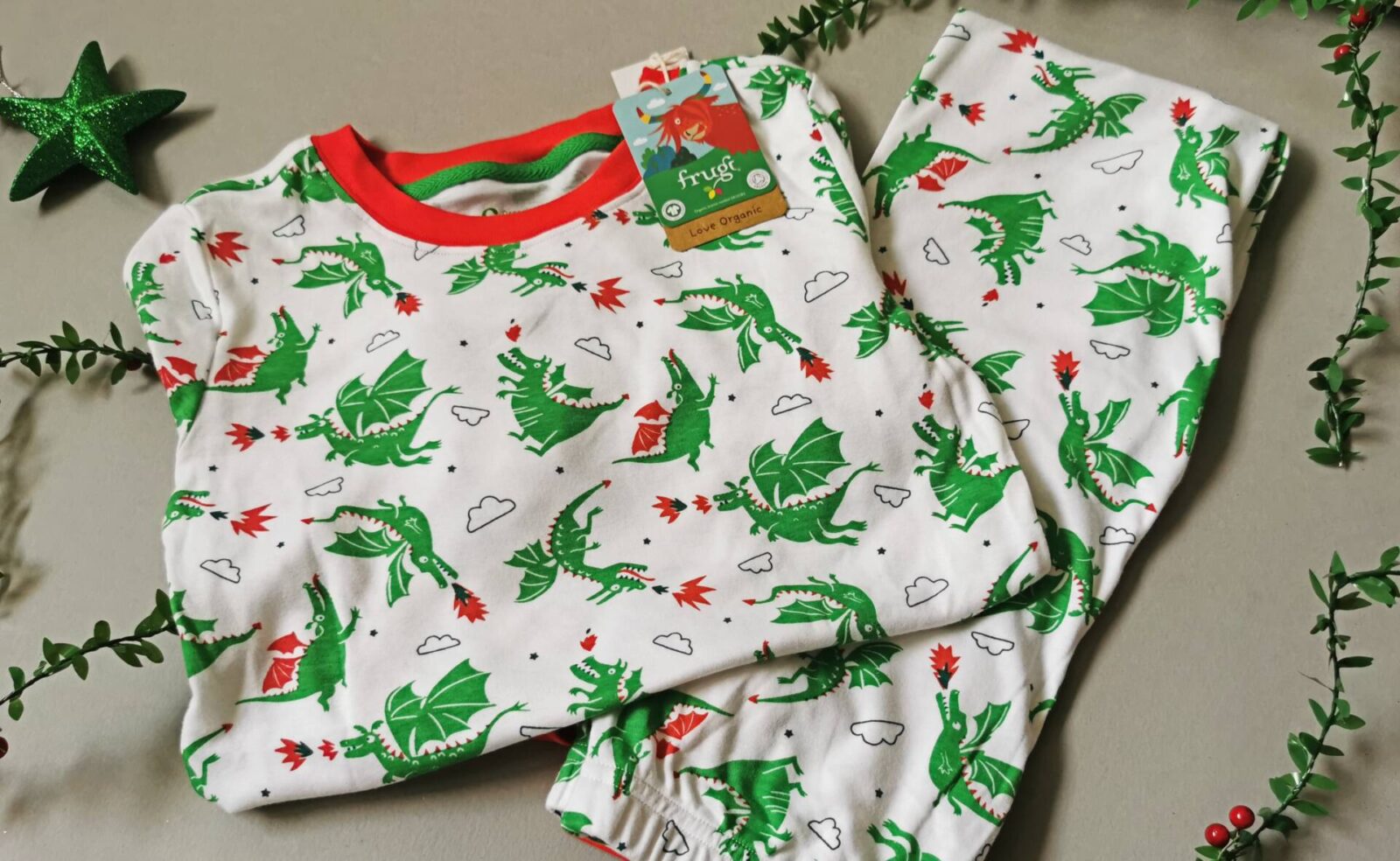 These gorgeous Port Issac pyjamas from Frugi would make a lovely Christmas gift this year. They're available in three different prints, including these cute Dreaming Dragons. The pyjamas are made from GOTS certified Organic Cotton Interlock fabric and the bottoms have a elasticated waistband. They're super cosy for cold nights and I'm tempted to use them for Christmas Eve pyjamas as I think the green and red colours make them look very festive.
Frugi have introduced a much more ethical way of wrapping Christmas gifts this year. When purchasing from their website you have the option to add their new organic cotton Furoshiki wraps instead of paper as a gift wrap option at check out. They are made using left over material from the factories and are made from 100% GOTS certified Organic Cotton Twill in the Christmas Croft print.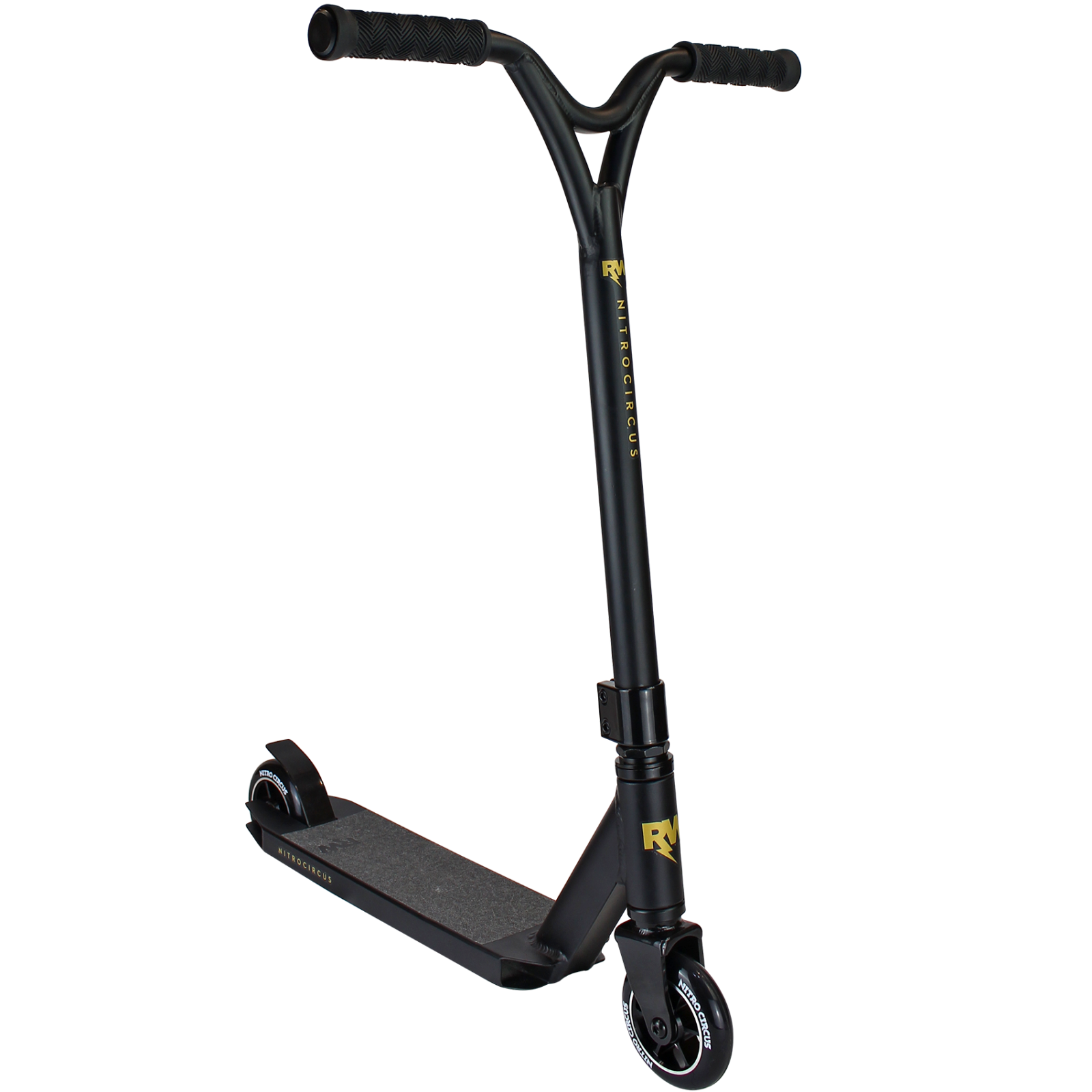 Skates is always one of my go to brands for outdoor equipment and this sleek Ryan Williams scooter would make a fantastic gift for a child who enjoys being outdoors.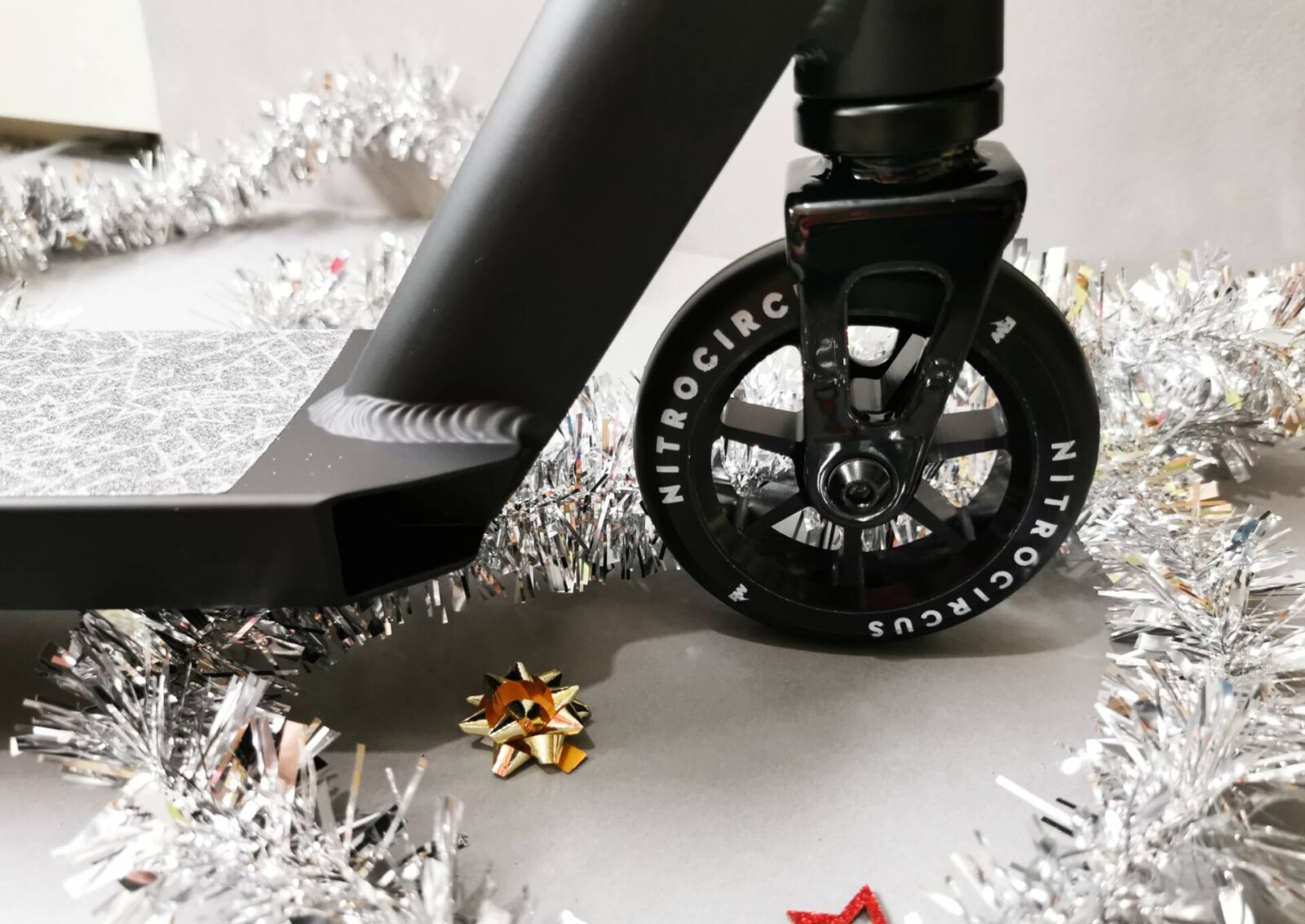 The Ryan Williams Replica Scooter is a great scooter for beginners. It's suitable for both riding and basic tricks. It's suitable for children aged 4 – 10 years and has a weight of 3kgs.
The bars on the scooter spin 360 degrees for tricks and has a HIC 3 Bolt Brake. The scooter looks so much more expensive than it is and will be a huge hit with any scooter fans.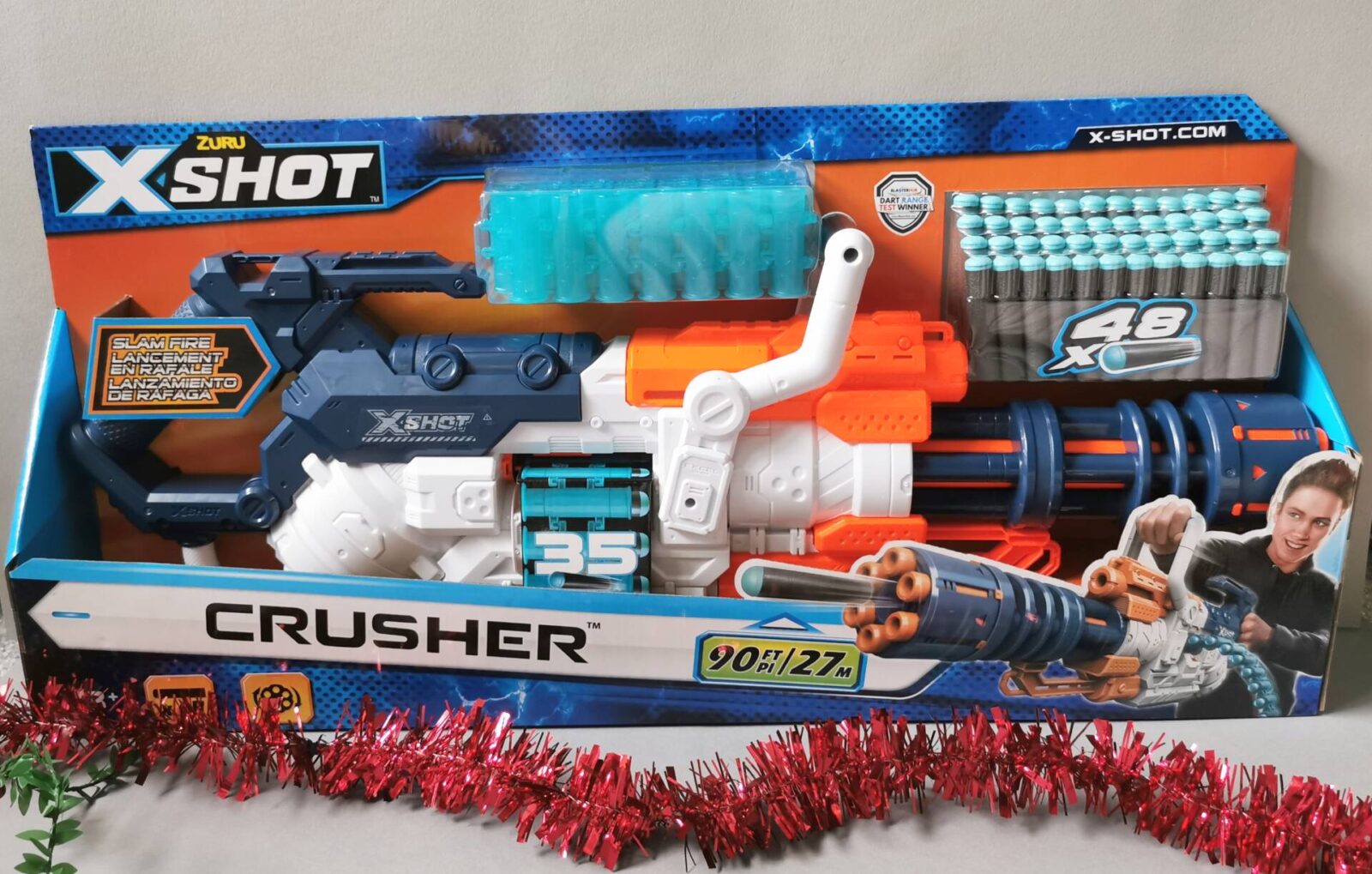 The X-Shot Crusher is the ultimate air blaster that can hit your opponents with a single-shot function from up to 90 feet away. It comes with a 35 dart belt and 48 foam darts.
You can blast up to 4-darts per second using the Slam-Fire mode and watch your rotating barrel release your next rounds of bullets.
Burnout Paradise Remastered for the Nintendo Switch gives you the complete original game plus 8 main DLC packs, including Big Surf Island, Burnout Bikes, and the hundreds of online challenges, embrace high-octane stunts and wanton destruction in one of the greatest arcade racers.
It's fully optimized for the Nintendo Switch in 60 FPS, including pinch-and-pull map control for ease of navigation and is suitable for children 7 years and upwards.
Big E loves David Walliams books. He loves reading them on a night before bed, with his Daddy. Code Name Bananas is the newest release from Walliams and is about a orphan named Eric who strikes up a friendship with a gorilla called Gertrude. Set in 1940's England during the way, the story is filled with fun, action and excitement.
The Beast of Buckingham Palace is about a young Prince called Alfred who has never known a life outside Buckingham Palace. Strange things start to happen and Alfred is thrust into a world of mystery, adventure and monsters.
The Hot Wheels Monster Truck Bone Shaker remote control vehicle has chunky, soft wheels and moves pretty quickly. It has working lights and a fast and powerful conduct. It is controlled in 2.4 GHz frequency allowing multiple other RC's to race at the same time. It comes with a rechargeable battery pack and a USB charging cable. It's a good sized vehicle and is easy to use, so ideal for children new to remote control vehicles.
I hope these ideas have helped with some inspiration for gifts.
Have you just started your Christmas shopping or are you already finished?