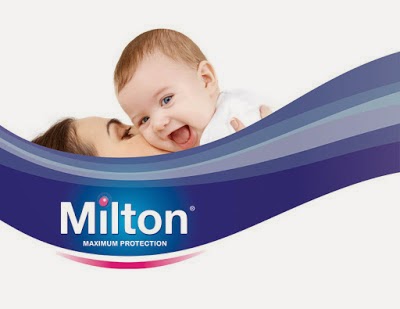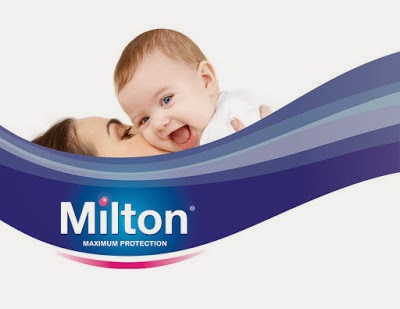 We're still sterilising the little mans bottle and usually use a Tommee Tippee steriliser which has a massive 6 bottle capacity. It does it's job without any issue but, it's huge!
We like our little trips away and it's just not suitable to transport in the car and use while we're staying in hotels or caravans.
Milton is a well known British brand, first made in London initially used during the First World War, before moving on to protecting babies. It's important to sterilise the equipment you use for your baby, as during their first 12 months, their immune system is still developing so they need extra protection from germs that cause gastroenteritis and other bugs and illnesses.
I was recently given the opportunity to try out a couple of Millton products.
One of them being the Milton Solo travel steriliser. It's a really compact size and can be used both as a microwave or cold water steriliser.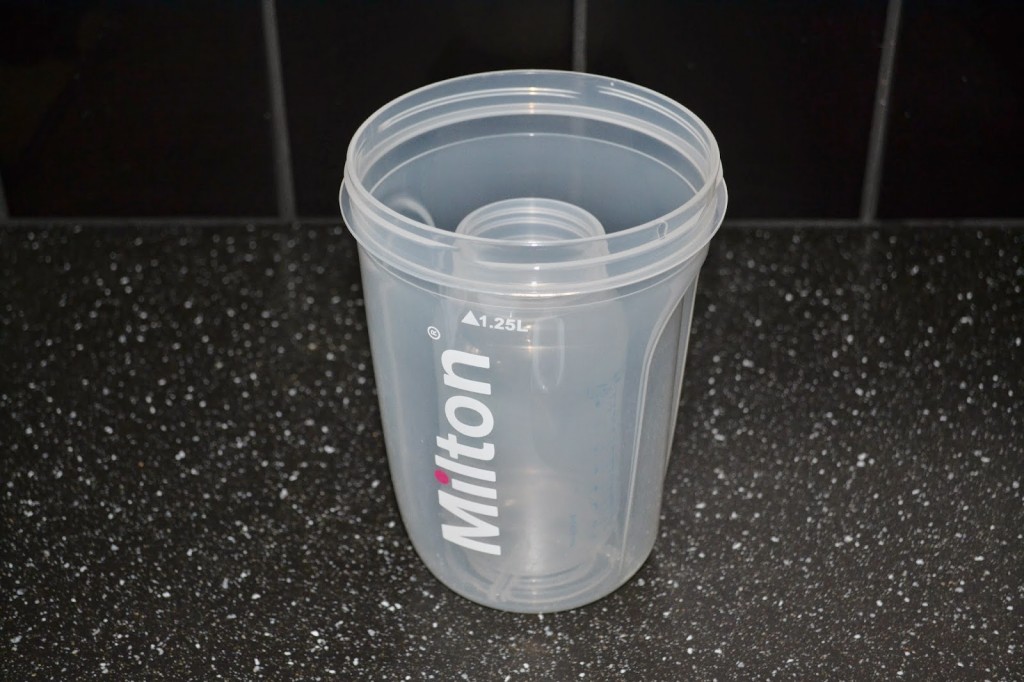 It's extremely simple to set up and use. You put your bottle (hole upwards) and components into the plastic container, fill with water so the bottle fills first and then continuing filling until the steriliser itself is filled to the 1.25l line.
I did find it easier to use with our Tommee Tippee bottles rather than our Dr Brown's bottles. I struggled to get all the bits from the Dr Brown's bottles into the container.
You then need to put in a quarter of a Milton sterilising tablet.
Close the lid and give it a quick shake. The steriliser is air tight and when sealed properly no water will come out.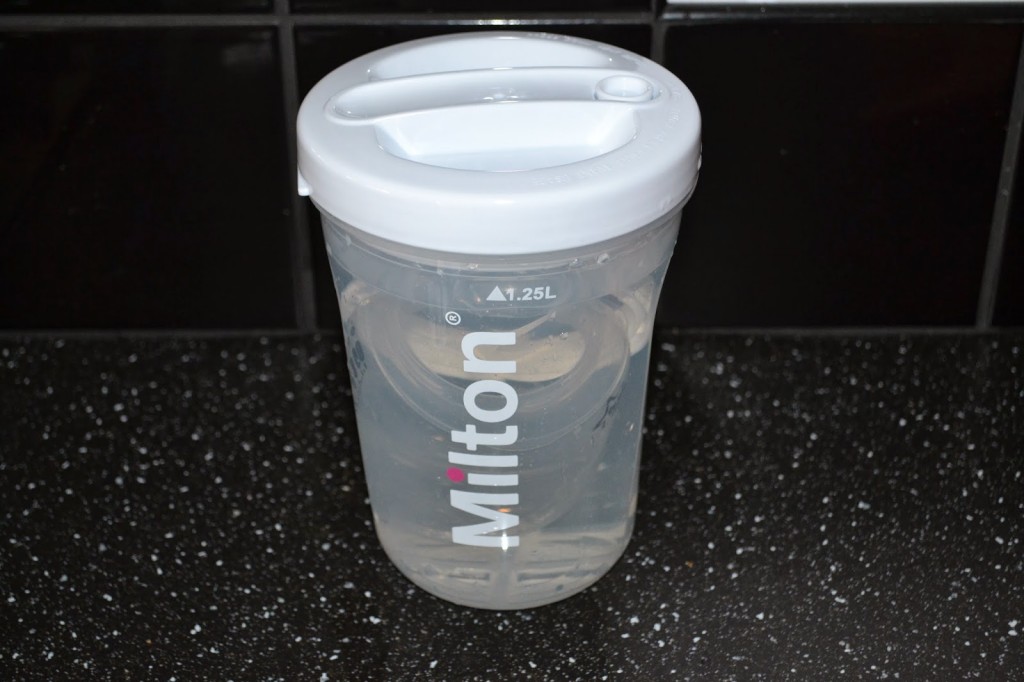 Then that's it, leave it for 15 minutes and you have one sterilised bottle. There's no need to wash or rinse the bottle, you can use it straight from the steriliser. If you keep the lid closed the bottle with stay sterilised for 24 hours until you need it.
You can also use it in the microwave, though I haven't tried it that way yet. I took this on our recent trip to Yorkshire and it was perfect for the very small apartment we were staying in as it took up a tiny amount of space.
Overall I'm really impressed with the steriliser. It's good quality, very small and light weight so perfect for travelling and transporting. I think it would be ideal to take abroad on holiday as it'd easily fit in your case and you can pick it up for the bargain price of £10.95.
Pro's –
Size
Weight
Ease of use
Variety of ways it can be used
Reasonably price
Perfect for travelling and holidays
Con's –
Users of larger bottles like Dr Brown's will struggle to get them in the steriliser
You can only do one bottle at a time
Quite time consuming to do only one bottle
The other item I've been trying out is the Portable soother steriliser. We don't actually use a dummy very often but I was intrigued by this item.
In essence, it's a tiny little steriliser which is designed to be the perfect size for sterilising dummies when you're out and about.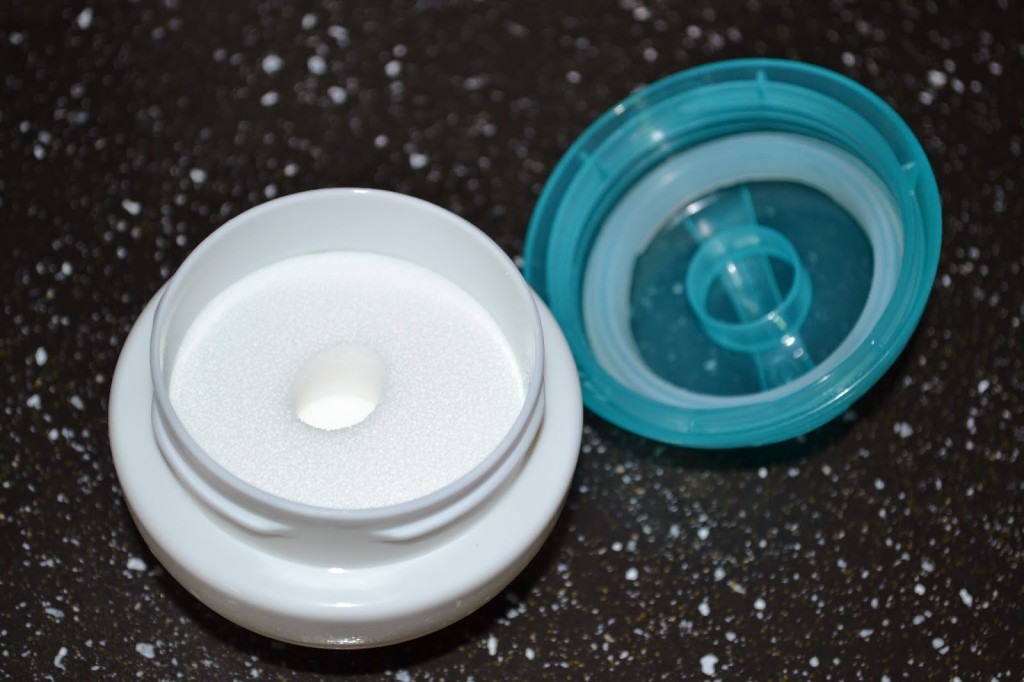 Before you leave the house, simply dissolve one of the mini sterilising tablets that comes with the mini steriliser in some water, add in two sponge cushions and screw the two parts back together.

The special sponges inside the steriliser absorb the solution and helps remove dirt from the teat of the dummy when in use.

To sterilise, you put the dummy into the hole in the centre of the sponges, replace the watertight lid and after 15 minutes the dummy is sterilised and ready to use, as with the previous steriliser, there's no need rinse.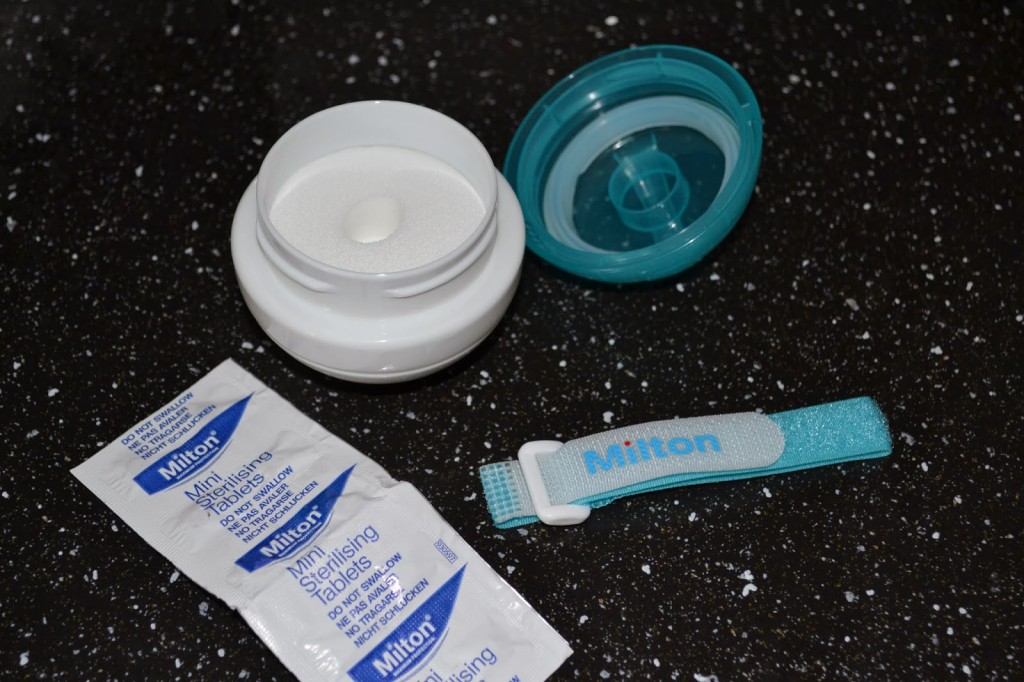 The solution in the steriliser can be used through the day, there's no need to keep changing it. The steriliser can be attached to your pushchair or change bag with the adjustable velcro strap, it means you won't have to go hunting for it when you need it.
The portable steriliser costs £6.99 and comes with 10 of the mini sterilising tablets. It's a great idea for a new baby gift. I tried out the steriliser in blue but it's also available in two other colours, purple and green.
I like the idea of the mini steriliser and it's simple to use but I imagine I would probably forget to take it out with me. I'm not sure whether it's just as easy to take a couple of spare clean dummy's in an airtight container.
Pro's –
Cleans dummies whilst on the move
Small and compact
Easy to use
Reasonable price
Con's –


I don't think it's an essential item
Larger dummies won't fit into the gap
*I was sent the items for review purposes. Opinions are my own*