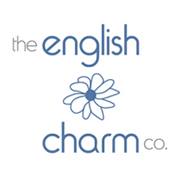 My favourite type of gift has to be a something that I can keep forever and look back on, remembering the time I received it, what was happening in my life and reasons behind it. I'm quite a sentimental soul.
Since the birth of the little man I've become a little obsessed with collecting keepsakes and mementos from his early days and months, so much so, I already have a rather large box filled with 'things' to keep. Whilst it's nice to keep things its not always practical so I was rather excited when I was given the opportunity of reviewing a beautiful piece of keepsake jewellery from The English Charm Company.
The English Charm Company is ran by the lovely Natasha who is based in Hampshire. Natasha designs and creates beautiful handmade keepsake jewellery which is perfect to give as a gift or receive.
Natasha offers a range of products including hand prints, finger prints, footprints or a child's drawing, all printed forever onto 99.9% pure silver. Each item purchased is sent in an elegant box with a beautifully tied ribbon, silver polishing cloth and care instructions.
After much deliberation and website viewing I opted for the Personalised heart shaped single charm*, a gorgeous charm suitable to affix to a bracelet or keyring.
What's really clever about The English Charm Company is everything can be ordered and created online or through the post, there's no need to visit Natasha in person.
To create my charm we were sent an impression kit through the post. The impression kit consists of two pots of coloured clay/putty which must be mixed together and rolled into a ball.
The ball is what will hold the finger print of your little person, ready for it to be created into a piece of keepsake jewellery.
I did need assistance getting the little mans finger print onto the ball as he was intent on trying to squash it or eat it! You do need to be quite quick when trying to get the fingerprint as the putty does start to dry quite quickly. When we finally managed, we left it to dry for a little while before parcelling it back up to send back to Natasha to create something pretty. You can read more about the process of how a piece of jewllery is created here.
Around a week after I'd sent off the finger prints a little beautifully wrapped little box arrived on my doorstep. After I'd unwrapped the pretty little gift box I was greeted with a gorgeous heart shaped charm with the imprint of my little mans finger!
The charm is quite large, much larger than I'd expected. It has a chunky look which I really like. I'm not really a fan of delicate jewellery so a thick, chunkier style of charm is much more suitable for me.
The lines of his fingerprints aren't too prominent yet due to his age, so there's not a great deal of detail to his fingerprint. I'd like to get a similar charm made once he's a little older so the detail is a little stronger.
The heart shaped charm costs a very reasonable £50. Natasha has a range of products for all budgets on her website which you can check out here. I love the idea of a permanent keepsake made from forever lasting silver.
Check out the The English Charm Company on Facebook as there's a chance to win a £50 voucher.
*I was sent the charm in return for an honest review.